Florence » What to Do »
Flight school in the Skies of Tuscany with the Flying Club of Florence
The Florence Aeroclub Luigi Gori is at the disposal of whoever wants to try a flying experience in Tuscany.
Founded in 1927, the Aeroclub Florence offers to all, experts and newbies, the chance to experience the thrill of a flight in the skies of Tuscany on board one of the light aircrafts of its fleet.
The Aeroclub offers both sightseeing tourist flights aboard light aircraft and training flights for student pilots.
The Aeroclub pilots will take you over the Chianti area and to Siena, as well as to Elba Island as you fly over the most beautiful areas of Tuscany, letting you admire the region from an incredible point of view.
Tuscany Flying Trip
To pilots and student pilots, the Aeroclub offers the opportunity to participate in a special one-week program which includes eight hours of flight over Tuscany and other amazing destinations in Italy.
The 8 day program is as follows:
Day 1 - The first day an instructor at the Aeroclub school will show you the fleet and teach the necessary procedures for the flight. At the end of day, there will be an hour flight.
Day 2 - Flight from Florence to Siena, with visit of the town and lunch at a local restaurant.
Day 3 - The 3rd day you'll partecipate in a flight from Florence to the enchanting Venice, with sightseeing and lunch.
Day 4 - A day off to visit Florence.
Day 5 - Flight from Florence to Bolzano, in the middle of the Dolomites, with a wonderful flight over Garda Lake. Lunch included.
Day 6 - Special flight trip to Elba Island with a tour of Marina di Campo and the beach. Lunch and tasting of the local island wine Aleatico are included. During the return flight, a photo tour of the island is planned.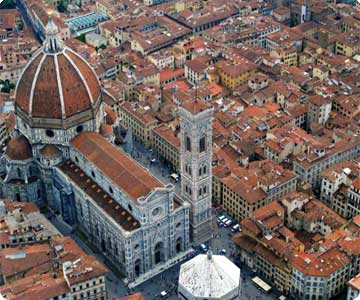 Day 7 - Final day.
This fabulous experience, at the price of 4800€ per person, includes:
8 hours of flight
6 nights in a 3 star hotel in the Florence center
lunches
take off and landing fees
taxi in visited locations
To read all the course's features, download this PDF document.
Aeroclub Florence
The Florence Aeroclub Luigi Gori is based at the International Airport Amerigo Vespucci in Florence.
See the official website for the Aeroclub Florence for more information on the school: www.aeroclubfirenze.it
You might also like:
What to Do in Florence | What to Do in Tuscany
Did you find this article interesting? Share it!
Questions? The right place to ask is our Forum!
(questions posted on Comments below will no longer receive replies: so post on our Forum!)
blog comments powered by

Disqus