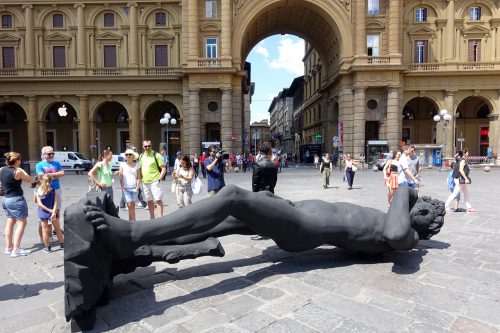 "A Michelangeleque Week" is starting tomorrow, July 14 through July 21, which coincides with the anniversary of his funeral in San Lorenzo on the 14th of July 1564.
The Settimana Michelangiolesca is an annual, multidisciplinary cultural festival, now in its 3rd edition, that is centered around the life and work of Michelangelo Buonarroti. Painter, sculptor, architect and poet. All of his work also reflects the theology, politics and ethics of his time. He was an intellectual, Christian artist who was deeply involved in the political setting of the Florence of the Medici up until 1534, when he left the city to return only after his death. His remains were honored in San Lorenzo, before being buried in Santa Croce.
Through the experience of today's artists, poets, architects, philosophers and art historians, Michelangelo's influence and power through the centuries will shine, hopefully making all of us continue to experience new emotions and interpretations of the artist's genius.
The week allows the general public to participate through various types of events, from an art camper van called I LAIKART that moves from square to square across the city to the project "Fairy Tales, Myths, Secrets" which will involve four well-known Florentine writers Enzo Carabba, Leonardo Gori, Marco Vichi and Anna Maria Falchi who will present four, never-published before short stories that revolve around the work and art of Michelangelo (July 14, 9:30pm).
The second edition of the award Cave Michelangelo (July 14, 10pm) will be given to noted artists, teachers and citizens in the fields of painting, sculpture, architecture, poetry, art history and art critique, collecting and sponsoring art.
Alessandro Haber, (July 19 luglio, 9,30pm) will read poems by Michelangelo Buonarroti, William Blake and Jan Fabre, who will have Riccardo Sandiford accompany him with piano pieces by Bach, Beethoven, Chopin, Prokofiev, Debussy and Scriabin.
The Basilica of San Lorenzo and Palazzo Vecchio will be the heart of the festival, both of which conserve valuable masterpieces by Michelangelo (starting at 9pm on July 14).
Of special note a special event to be held in Piazza della Repubblica on July 15: in collaboration with Studi d'Arte Cave Michelangelo, a true scale marble copy of Michelangelo's David will be on display. It is the natural continuation from last year's edition, when the large piece of uncut marble was on display in Piazza della Signoria and the sculptors started their work, chipping away "the excess". Since July 2015, the figure of David has been released from the block of marble and is ready to be seen. This work is entitled "Noi" which means "Us" in Italian, to identify with the collective identification to freedoms, equality and fraternity, to connect Michelangelo to the motto of the French Revolution.
Inside San Lorenzo, you will be able to see a marble statue by Fabio Viale of the Christ of the Pietà found in the Vatican as well as enjoy a concert of sacred music (July 18, 9,30pm) "Chi d'Amor s'arma vince ogni Fortuna" with Leonardo De Lisi (tenor), Claudia Pop (soprano) and Giacomo Benedetti (at the organ).
Many more events taking place that involve contemporary artists, writers, sculptors and more – take a look at the program below!
Program
Thursday, July 14


6-9pm:

Inauguration of the marble work by

Fabio Viale "Souvenir Pietà", Basilica di San Lorenzo
9:15pm: start projections inside the Sala d'Arme at Palazzo Vecchio
9:30pm: Fairy Tales, Myths, Secrets. With Marco Viti, Enzo Carabba, Anna Maria Falchi, Leonardo Gori. Giovanni Micoli will read stories of the 4 authors. In Sala d'Arme, Palazzo Vecchio
9:30pm: The Art Camper, "Michelangelo. David". Le Cure, Area Pettini
10:00pm: Presentation of Cave di Michelangelo Award. Four awards in each of the four artistic disciplines in which Michelangelo excelled, in addition to awards for Art History & Critique and Collecting & Sponsorship. The award winners are: Mina Gregori, Adolfo Natalini, Mimmo Paladino, Virgilio Sieni, Giuliano Gori, Paolo Iacuzzi in the Sala d'Arme at Palazzo Vecchio  
Friday, July 15


3:00pm

NOI. Open to public exhibit the copy in 1:1 scale of Michelangelo's David. Piazza della Repubblica
9:15pm: start projections inside the Sala d'Arme at Palazzo Vecchio
9:30pm: Of Iron and Fire, Marble and Light – Homage to Alberto Burri with Aurelio Amendola, Edoardo Nesi and Giuliano Serafini. Sala d'Arme, Palazzo Vecchio
Monday, July 18
9:30pm: 'Chi d'amor s'arma vince ogni fortuna' sacred music concert with Leonardo De Lisi (tenor), Claudia Pop (soprano) and Giacomo Benedetti (at the organ). Basilica di San Lorenzo
9:30pm: The Art Camper, "Michelangelo. The 3 Pietà". Novoli, Piazzetta S. Maria Ausiliatrice – via Baracchini
Tuesday, July 19
9:30pm: Spiritual Guards. Michelangelo, Blake, Fabre readings by Alessandro Haber with Riccardo Sandiford at the piano. Sala d'Arme, Palazzo Vecchio
9:30pm: The Art Camper, "Michelangelo. The Sistine Chapel". Galluzzo, Piazza Acciaiuoli
Wednesday, July 20
9:30pm: The Art

Camper, "".

Ugnano, Piazza della Crezia, lecture conducted by Florence mayor Dario Nardella and artistic director Sergio Risaliti

Thursday, July 21


9:30pm: The Art

Camper,

"Michelangelo. San Lorenzo". Sorgane, Piazza Istria