Cool Breezes & a Renaissance Skyline
It hardly seems possible as you walk out to the multi layered terraces at B&B La Paggeria, that you are less than 11 km from the Duomo of Florence - especially since it is so clear on the horizon. In addition, as amazing as it seems, even after all these years, Antonella, Paolo & Edoardo, the owners and your hosts, are just as taken in awe of the skyline of Florence as the guests. It is here in the hills north of the city of art and history, that you will find your home while in Tuscany.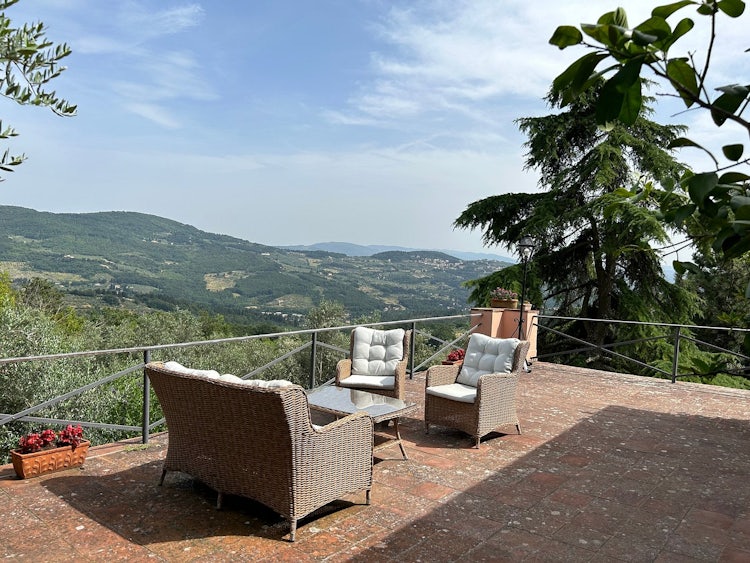 But I get ahead of myself, the 4 bedroom bed and breakfast is set snug in the hills just outside of the city of art, museums and monuments. It is a fantastic discovery for travellers who prefer to combine the city life with a casual atmosphere and the promise of a genuine country dinner while on holidays.
Book Direct with B&B La Paggeria
Blending the Old with the New
The original construction actually dates back to the 1800's but the renovations to the garden and common area exalt what modern architecture can do for an antique building. The large glass windows which flood the shared living room with light are spectacular. In the early morning light, the sunlight on the wood floors and it felt warm and welcoming. However, the central fireplace promises the perfect meeting point for those brisk fall and winter mornings. It is easy to immaginare a hearty homemade breakfast with a fire crackling nearby.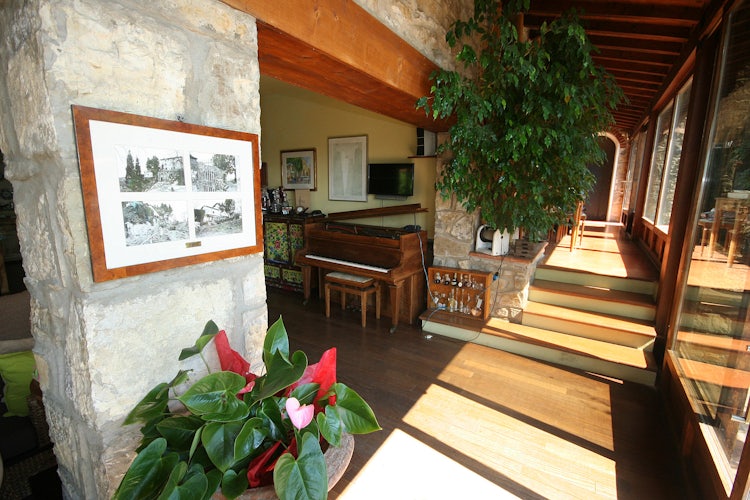 The intricate yet harmonious play of tiered gardens leading to panoramic pool were another prime example of combining the old with the new. I loved the alcoves that the green landscape created with the use of wood beams and colorful summer blossoms. And it wouldn't take a stretch of imagination to imagine dinner on the covered patio under the stars and overlooking the distinctive outline of the Duomo below.
The classical concept of a B&B, a room within a real home which captures the spirit of the location and a hearty authentic homemade breakfast, has found fertile ground at the La Paggeria. The dining room and living room, decorated in an intriguing mix of vintage, the hint of an international influence and pieces which are typical Tuscan, feel as if you have truly walked into someone's real home and not a staged setting.
Pull up a chair at the table, curl up with a book in front of the fire or rub in some san tan lotion and meditate on the patio in front of the splendor that is Florence and the pool below within the olive grove. The spirit of Tuscany is woven into every little aspect of the bed and breakfast La Paggeria, and the helpful and attentive nature of your hosts will remind you why Florence is the best place to base yourself while on holiday.
A Review of B&B La Paggeria
We loved: the typical Tuscan scenery so close to Florence with an elegant & comfortable decor
Ideal for: couples or families with a small child looking for tranquility & relax, as well as good excuse not to drive
Bringing Everything just a Bit Closer
Antonella was a cheery sight; her enthusiastic energy wraps around you immediately. We had just hit one of the first truly hot days of the season which I left behind as I stepped over the garden threshold. It took all of Antonella's charm to coax me to take my mesmerized gaze from the Bell Tower of Giotto and relax in a shady corner. While I choose which table gave me the best view, she snuck off and brought back a cool drink, a fresh baked cake and a treat for my four legged co-pilot.
I can imagine the relief a guest must feel once they enter into La Paggeria after a long flight, train ride, navigating traffic or tracking errant pieces of luggage. Even if you did take them up on the offer for an economical shuttle service, it must feel good to enter through the garden gate and immediately be spoiled 360°. The scenery, the hospitality, the accommodations and Tuscany blend seamlessly promising yo — your best vacation ever.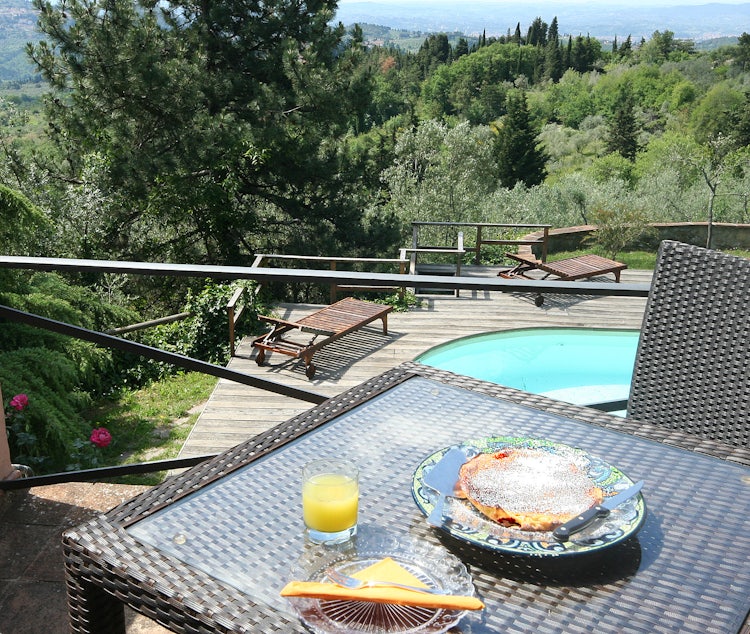 With only 4 bed and breakfast rooms, there is never a crowd and many times with the coming and going of the guests — except maybe at breakfast or meal time — you might even feel like you are the only one at home. The attractive multi-layered terrace, an invention of Paolo, provides everybody with their own little nook of tranquility, to nurse a cup of coffee, nibble on some snacks, or pop open a bottle of prosecco.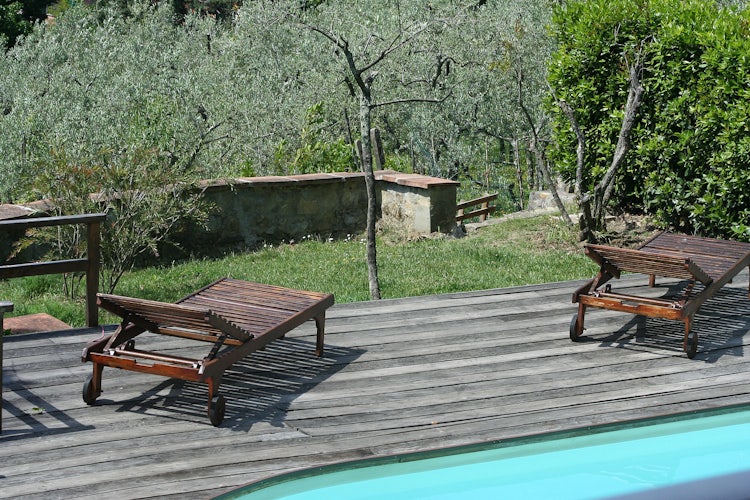 Among the Olive Trees
With such a romantic backdrop, it might seem that they would only cater to amorous getaways or intimate marriage ceremonies. But that's just not true. There are two rooms that can accommodate up to 4 occupants: a cozy triple room, which can become a quad upon request and a double with a full size single bed. The first has it's own private terrace and is great for a family creating an adventure in Tuscany. All rooms feature WiFi, AC and all necessary bed and bath linens.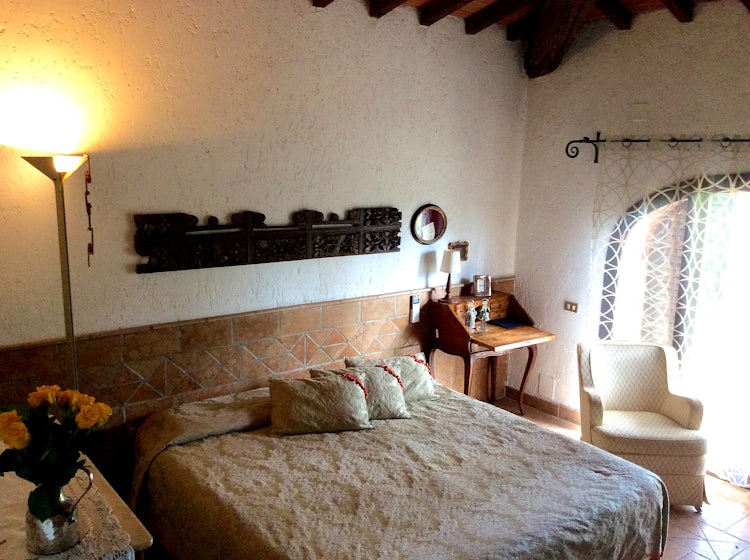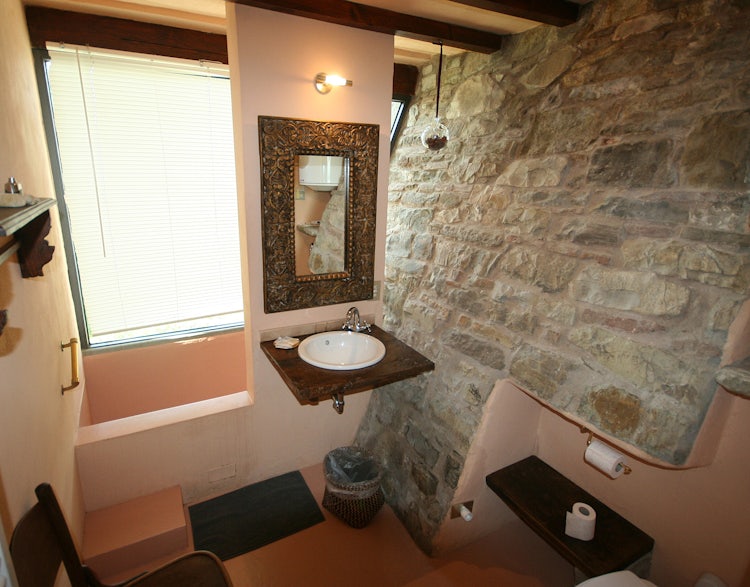 B&B La Paggeria in a Glance:
Type: self catering holiday apartments & vacation villas
Location: Florence or Fiesole approx 30 mins
Distance: Lucca (1 hr 15 min) or Greve in Chianti (1 hr)
Transport: a car is useful, however there is bus service within 1 km of the accommodations
Rooms: 3 rooms
Sleeps: 12
Type of board: Breakfast, meals upon request, & cooking classes
La Paggeria is animal friendly, and if you are traveling with your dog, they are welcome. Antonella and Paolo have two dogs of their own so they know what it means to travel with your four legged buddy. And judging by the way my little buddy gobbled down her treat, they know how to treat them right!
Showing Off Tuscany
For those who don't know the geography around this splendid city, it might seem impossible to be so close to it all yet find yourself in an atmosphere which highlights nature and silence. To be more precise, there is Florence down below, an easy trip with the local public transport — frequent orange ATAF buses that take you into the heart of the city and then there is rest of Tuscany, reached via train or urban bus lines.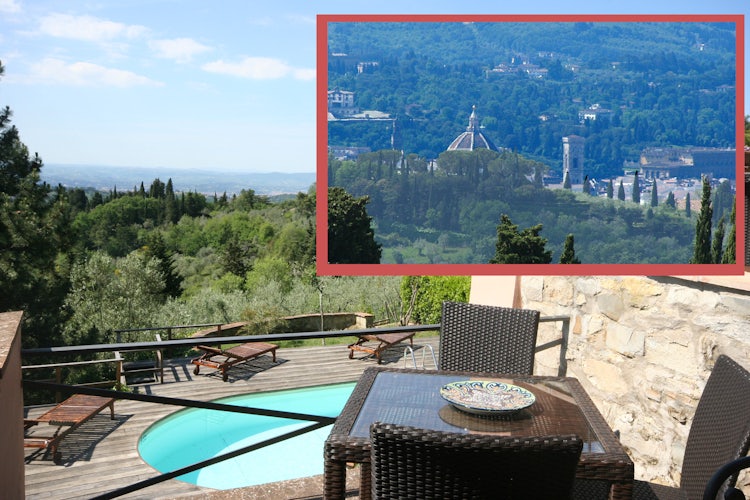 So many guests park their car and don't think of it again — to the point they begin to wonder why they even have it in the first place. Antonella and Paolo, or maybe even Edoardo, are available to help you organize tours and wine tasting closeby at two of their favorite vineyards. If you let them know in advance, the will take care of the details, reserving your space and providing a minibus to shuttle you around. (There is a small service charge.)
La Paggeria is very, very easy to use - and we are here to help you with the bus times - shuttle and trains and even reservations.
Mugello is at their back door, the birthplace of the Medici family that ruled Florence with an iron hand. The rich shades of green hide trails for trekking or biking, vineyards, sunflower fields, castles, outlet shopping and the famous villa Demidoff with the newly restored Giambologna statue/fountain.
Or you could drop in on Fiesole: a Roman amphitheater, marvelous museums, picture perfect panoramas over Florence — I bet you didn't even know this is where Leonardo da Vinci experiment with his theory on flying...using his apprentice Thomas as a guinea pig?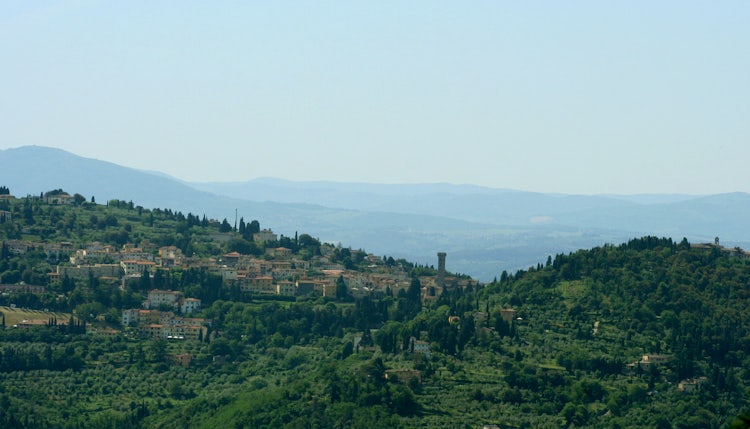 Eating with Friends . . .
There are so many great restaurants in the city, however, I do wonder who would want to eat out when you can come back home, catch those fresh country breezes and sit out on the terrace for a dazzling sunsets. Then after the evening entertainment in the form of the dawning of the twilight stars, you can savor a home cooked meal on the patio. It is here that, in the company of a small group, you can make new acquaintances, exchange discoveries about Tuscany and share stories about your day.
Even more fun is getting involved in the cooking process, starting with a visit to the market, selecting the fresh fruit, vegetables and cheeses that in a cooking lesson you can learn how to transform into a fabulous meal. Antonella, is the mastermind behind the desserts but Edoardo will guide you through the secrets of the Tuscan kitchen.
These moments are precious to us. We learned our "trade" while on the job and the best part is when we hear that someone has had the best vacation ever!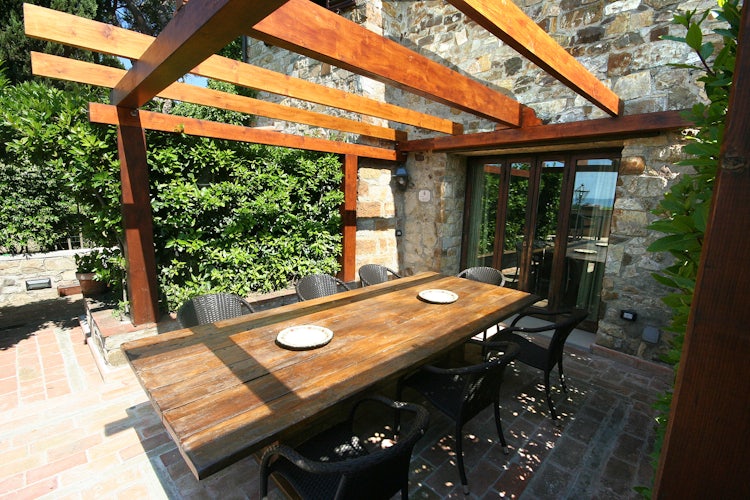 Reserve Now at B&B La Paggeria
And it happens often (to hear how La Paggeria figured in a memorable vacation). Antonella told me about the letters and cards she gets from past guests; even after a couple of years they still remember our hospitality. You won't be able to forget your stay at La Paggeria, because "it is not just another hotel room", it is their home: a garden filled with roses, olive trees and beautiful window over Tuscan and the Florentine skyline.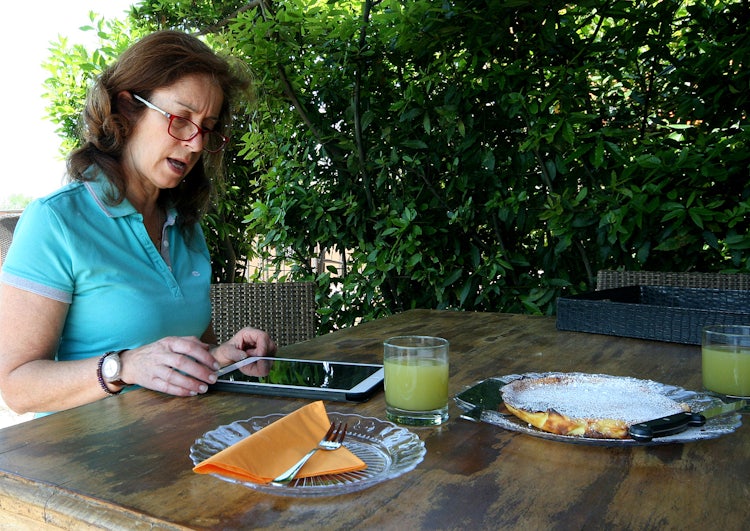 This is a Sponsored Article but reflects the honest opinion and experience of the author. More details »