A week or so ago I let you know we were planning to go to the Hard Rock Cafe for their Easter Brunch on Saturday March 24th. These family events the Hard Rock has been organizing around the most popular holidays have been a hit with my little girl. She loves getting out of the house, enjoys participating in the planned activities – this one had an Egg Hunt planned – and just eating out, although she's not a big eater since she's more busy playing! We like that she's having fun while we manage to get out all together as well.
I thought I'd share a bit of the event and brunch to help anyone deciding whether to join in on another future family Saturday event, like their Halloween Bash or Meet Santa.
Upon our arrival, the fun was already starting. The entertainment was already beginning and others were sitting down to eat, the Born to Life team was telling the kids to eat so that they could go join in the fun after!
In the meantime, we set out to check out the buffet brunch which included many sweet options as well as savory: apricot crostata, muffins, yogurt with granola, fresh fruit salad, yogurt, croissants (various types, the chocolate ones were delicious!), toast with many jams and Nutella at hand. For the savory part, there hard boiled eggs (can't forget them for an Easter brunch, right?), soft scrambled eggs, prosciutto ham, cooked ham, sliced cheeses, bacon, sauteed mushrooms. I have to say I have gone to other brunches that included a few more things that were missing on this last one and that I hope they will bring back: pancakes, waffles and hashbrowns! For me, these are part of American style brunch!
A quick bite for my kid and then the kids were called out to go play!
Check out my plate with a little bit of everything yummy…. I think I added the chocolate croissant afterward.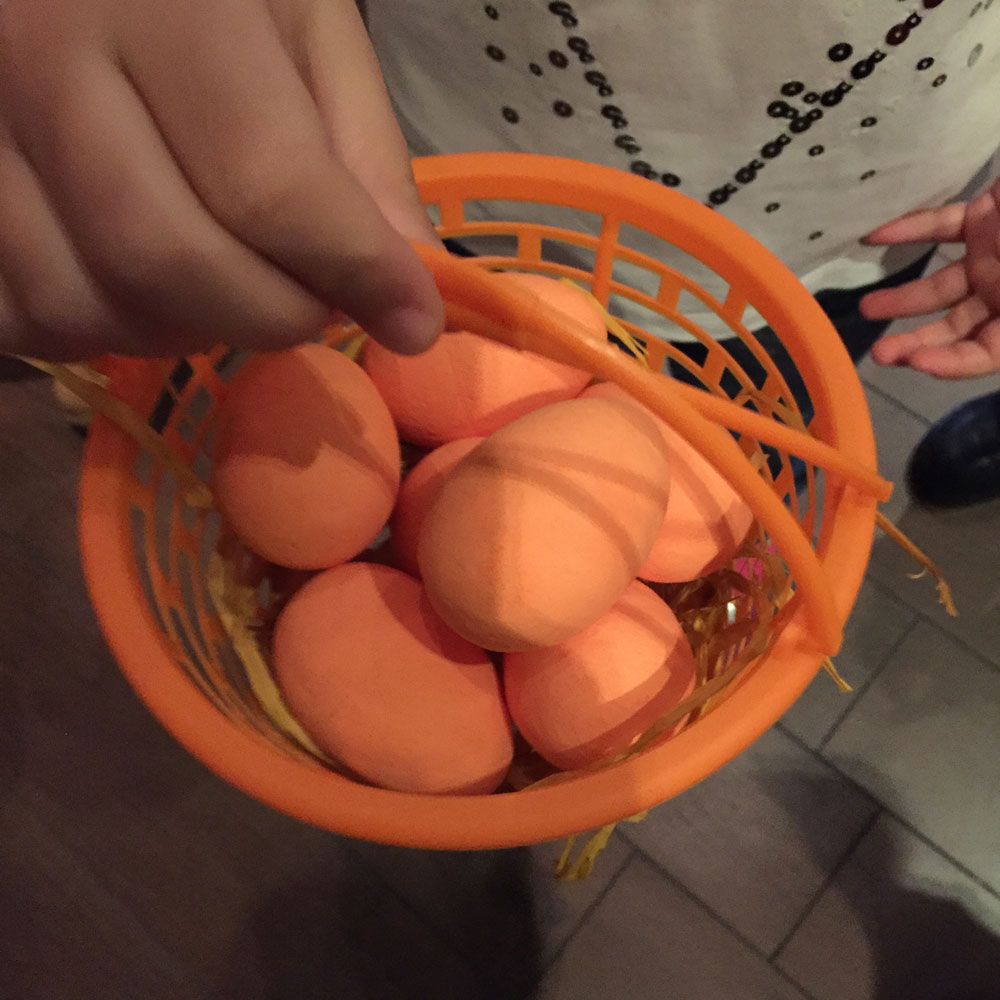 Time for Easter Egg hunt! I went to check out what the kids were doing – a few group games, but soon the Easter egg hunt was started. The team had Styrofoam eggs in various colors and divided the kids up into teams, each one had a different color. So it wasn't enough to find eggs, they had to find their color and fill up their basket. I thought it was pure genius in ensuring that the bigger faster kids did not take all the eggs away from smaller kids.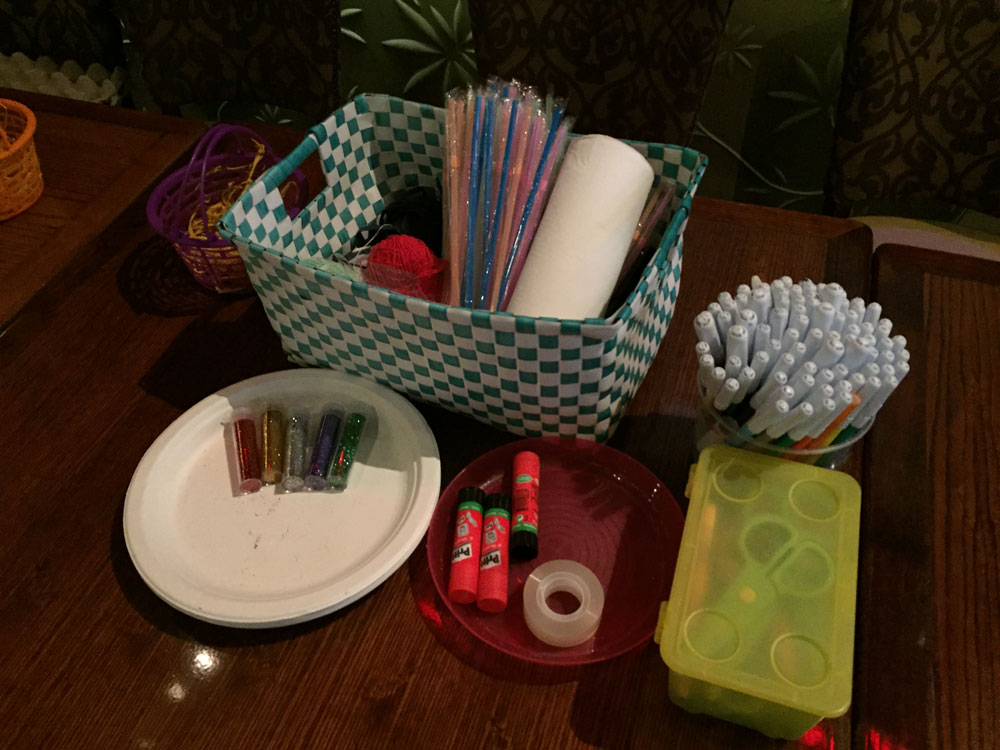 The main activity table was set up with lots of stuff to then decorate the eggs that were found. Lots of glitter and markers, yarn and straws. There could have been more glue since kids were often waiting for those small sticks.
Here's my girl coloring her egg.
A view of the table and all the kids busy at work.
Here's some of the eggs halfway done, with glitter and a straw to hold them up.
SURPRISE! After the egg hunt was over, Bugs Bunny makes an appearance as the Easter bunny!
He then ensured the kids (and some adults) had more fun dancing around :).
To end the morning, we decided to take a picture with Bugs! My one year old wasn't super excited about that one ;-). We enjoyed a delicious brunch out and everyone had a fun morning so we considered the brunch a success!