How to book Florence museum tickets to not wait in line
Florence is known as the "Cradle of the Renaissance" for its palaces, churches and museums,turning the city into an open-air museum that attracts millions of visitors from all over the world every year, year round.
One way to not waste time in lines is to pre-book museum tickets, certainly for the Uffizi Gallery and Accademia Gallery, which are Florence's most visited museums. Here's how and where to book Florence museum tickets!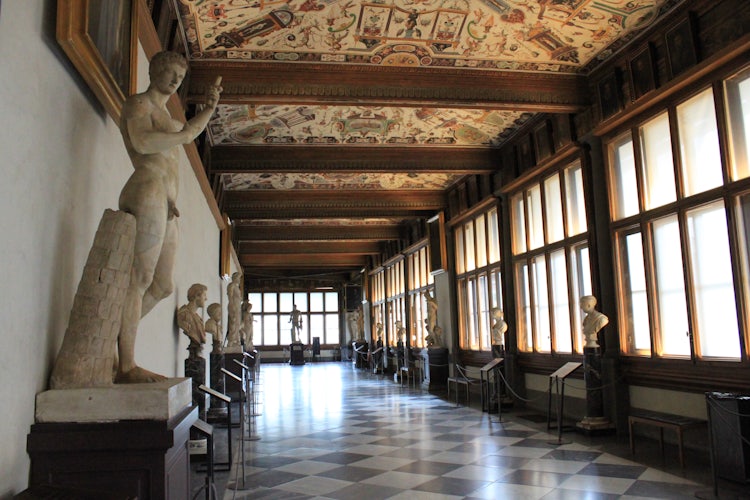 How to pre-book or buy museum tickets
Please note: All pre-booked tickets have an extra pre-booking fee added on. It goes from €2-4, depending on the museum.
Here's the low-down for buying museum tickets ahead of time for the STATE museums in Florence:
By telephone: The cheapest solution for pre-booking museum tickets in Florence is by phone! The call center number is +39-055-294-883. This is only for State Museums (the Uffizi and Accademia Galleries, the Bargello, Pitti Palace, etc. See the full list of State museums in Florence here). Why is it the BEST way? Because you don't have to pay ahead of time. You are given a booking# and with this, you present yourself about 15-20 minutes before your reserved time, pay only then as you pick up for your tickets and then proceed on your visit. Remember, though, that Italy is +1 Greenwich time and you have to call when the call center is open: Monday – Friday, 8:30am to 6:30pm, Saturday 8:30am to 12:30pm, closed on Sundays.
Online on the official website: B-ticket.com is the official partner website to pre-book tickets for all of the State Museums in Florence. It is the online version of the call center, so the cost of the ticket is the same as if you booked by phone through the call center. There are two drawbacks compared to the call center: 1. you PAY UPFRONT when you pre-book, since you book with a credit card and 2. you CANNOT MAKE CHANGES to your tickets once they are purchased, and the tickets are non-refundable.
on-site: you can always buy tickets at the museum directly, the day you visit, at the base ticket cost (no extra fees added on). You don't have to pre-book tickets for any museums, we just generally recommend it for the Uffizi and Accademia because of the long lines there are the general entrance ticket line which make you lose precious time in Florence. If you're time is limited, we recommend getting tickets for those two museums ahead of time.
Additional options for museum tickets:
BOOK A GUIDED TOUR, TICKET IS INCLUDED: The museums DO NOT OFFER guided tours of the museums directly themselves, other than on special occasions. So if you want to join a guided tour, they are offered by local tour agencies and the tours include TICKETS to ensure you skip any lines. A great source of guided tours is Viator.com (an international company belonging to the TripAdvisor network - DISCLAIMER: this is our affiliated link) which groups together all tours offered by local companies. This makes all the tours easier to find. Generally, if you're interested in visiting any museum with a guide, you book your tour, a meeting point is set and you go into the museum together as a group, the tour leader has your ticket. All tours include museum tickets, so don't buy tickets separately! There are many tours, including walking tours, which make perfect sense if your time in Florence is limited. There are large group tours as well as small group tours, as well as private tours: take a look at the options to find something you would enjoy. If you want small, personal guided tours, we have found the tours offered by tour company Italy-Tickets.com to be excellent!
How about booking CITY museums? Here's how you book city museums:
You can book tickets for Palazzo Vecchio, Santa Maria Novella, the Brancacci chapel and other city museums online through this page: http://ticketsmuseums.comune.fi.it/
But do you need to? I would say most city museums never have long lines, unless there are special events going on, and you can just wait a short time and buy museum tickets directly when you go visit.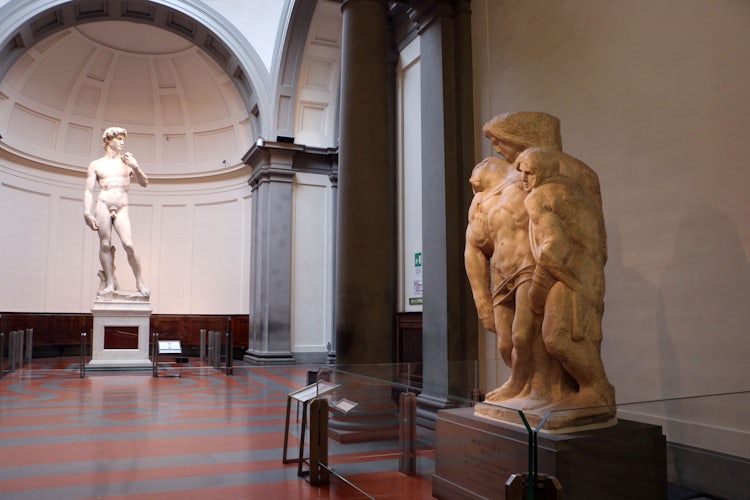 Which museums should you visit? Which ones need pre-booking?
While you're visiting Florence, you'll want to visit lots of these museums but which ones? Check out our top recommended sights to see in our 2 day itinerary.
Are you wondering whether you need to book ahead for some and not others? You do for some museums: keep reading to see our recommendations on when to book and which ones, as well as additional tips on how to buy and where.
Book the Uffizi Gallery and Accademia Gallery in HIGH Season
We call Florence's busiest season the "high season" and this is roughly from May until September. During this time, there are so many people downtown it often becomes difficult to walk through Piazza Duomo (don't try it in a hurry!) and the lines at the city's major museums are long, with waits of over an hour... but only if you don't book your museum tickets ahead of time!
Generally speaking, it is good practice to book Florence museum tickets in advance if you're coming in the high tourist season, which can actually start around Easter, quiets down a bit and then picks up with the warm weather and continues until the end of September. I personally think that the extra cost of the pre-booked ticket reservation is easily justified by the time you save not queuing in front of the museums, in essence giving you more time to discover more of Florence. Booking ahead does mean you need to decide on a date and time to visit, as tickets are sold for specific entrance times. This is particularly true for the Uffizi Gallery and the Accademia Gallery, the city's two most visited museums.
If, on the other hand, you want to leave your visit to Florence flexible, either consider getting the Firenze Card or prepare yourself for the lines and prepare to make conversation with fellow people waiting in line, visitors who come from all over the world and which might make the long wait a bit more interesting!
During the rest of the year
Florence does have a quieter or "low" season, from November until March, when the number of visitors are definitely lower. It doesn't mean the city is deserted but with less numbers, the city center is a bit more enjoyable 😉. All joking aside, during the rest of the year, the lines at the Uffizi and Accademia are shorter as well as impossible to predict. You can take your chances and NOT book ahead of time, enjoying the city just like the locals in its "off-season". You might be pleasantly surprised to walk right in at the Uffizi on the day you decide to visit.
With limited time in Florence, always book ahead!
If you're in Florence for a limited time, like with only a day or two in the city, then do not leave it to chance and pre-book museum tickets. If you only have a few hours in Florence, I would suggest you book your tickets ahead of time and not spend even half an hour in line! You will want to make the most of the time you are in Florence.
The Uffizi and Accademia Galleries are Florence's Most Visited Museums
The Uffizi Gallery, with over 2200 works of art, is one of the most visited museums in all of Italy with almost 2 million visitors just last year. Even though Uffizi tickets can be reserved easily online or by phone, long lines still form every day in front of the museum and visitors wait 2 or more hours to be able to get inside. The museum, however, does offer the chance to shorten the wait by pre-booking tickets online or by phone and we highly recommend to book your tickets ahead of time, particularly for the Uffizi Gallery.
It is important to know that the Uffizi Gallery does limit the number of admissions at any one time for security measures and sets aside the number of these spots it will sell in advance. These advance tickets are sold through various channels, including authorized resellers. During the high season, some dates can be sold out on one website and still be available elsewhere so it makes sense to check your dates and book your Uffizi Museum tickets as soon as you know when you'll be in Florence. Just remember that the Uffizi Gallery is always closed on Mondays.
Among the other museums in Florence which merit booking tickets ahead of time is the Accademia Gallery. At the Accademia is where you'll find the original marble statue of David by Michelangelo and his Prisoners, as well as other masterpieces by Perugino, Filippino Lippi and Botticelli. Just like the Uffizi, the Accademia is visited by over 1,2 million visitors every year.
The long lines at the entrance on via Ricasoli wind around the nearby corner. To avoid queuing under the sun or rain (there is no portico to protect from the elements as there is at the Uffizi Gallery), we highly recommend you book tickets ahead of time.
The Bargello, Pitti Palace and Other Museums in Florence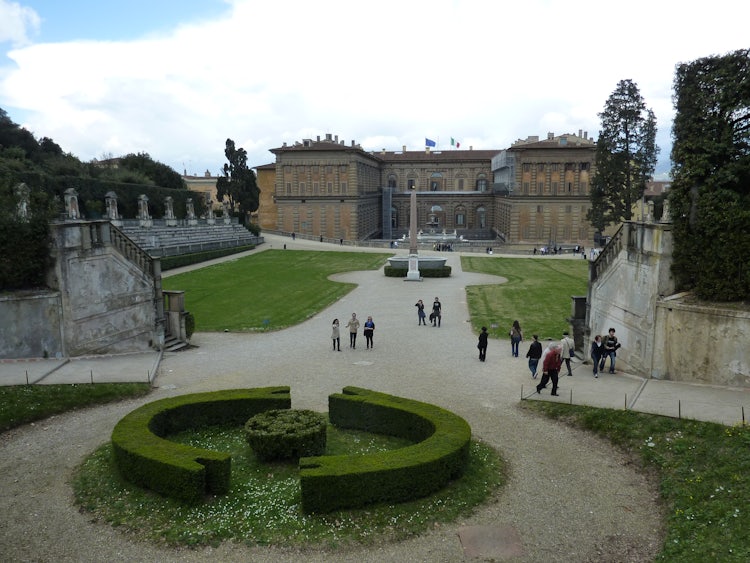 Even though other Florence museums, such as the Bargello National Museum with its great sculpture collection, the Pitti Palace with its several museums and the Boboli Gardens, and the Medici Chapels with more sculptural masterpieces by Michelangelo, are not as busy as the Uffizi and the Academy, it's still useful to reserve tickets for these museums if you're visiting during high season. For these museums, you can reserve tickets online three days in advance while for the Uffizi we recommend getting them much before.
First Sundays of the Month are FREE!
Since March 2019, the Italian Ministry of Cultural Heritage modified free entrance to all State museums every month to ONLY 6 months of the year, from October through March. This means that the Uffizi, Accademia and the rest of the State museums in Florence (see the list here) are free on the first Sunday of the month from October through March! It also means you CANNOT book advance entrance on that day and will need to wait in line along with everyone else. Read more about the Florence museum 3 day Firenze Card pass here to decide whether it is convenient for you, since you can book entrance for those days if you have the card. Lines can be long on those free Sundays, so be prepared!
Only in Florence for a few hours?
Regardless of the time of the year, if you're visiting Florence for only a few hours (as is the case for many doing day trips from cruise ships that stop in Livorno), I highly recommend you BOOK your museum tickets ahead of time. You don't have much time to dedicate to Florence so you don't want to spend time in line. Booking your tickets ahead of time will be one way to ensure you have more time to see beautiful Florence!
Guided Tours are a fun and interesting way to visit museums... and to skip any lines
We found it is a great way to visit both the Uffizi and Accademia museums (and the rest of Florence) because a licensed tour guide can explain the importance of the main artworks in a simple and interesting way that makes history and art quite fun! We recommend Viator because it offers a wide variety of tours (which in turn also include the ticket to the museums) as well as combinations of museum tours with walking tours of Florence. Take a look at the many tours offered, there are many options for group size, time of the day, duration of tour and places you visit.
Have any questions on booking museums or where to buy them from? Post your questions below!
Disclaimer: This post includes affiliate links. By buying through our affiliates,
you support our website and keep all the info we offer on here free!