Learn how to marble paper Florentine style
First off, this is a fun activity! You won't regret letting your inner child come out to do something creative, even if you think you can't draw or paint or anything similarly related. What am I suggesting you try? An art workshop learning how to create marbled paper!
This is a special activity you should try when you're in Florence, it takes just a few hours out of your day (plan for it in the morning so that you give your work time to dry to take home). It is appropriate for a couple or a very small group and is perfect for a family with children to give the kids something fun and new to try aside from visiting museums or other attractions. It is fun for both adults and kids, as I can attest ;-).
The workshops take place in the small atelier of local artist Francesca Vannini, who opens her working space to the public offering workshops in many types of mediums. If you're an artist, you might want to try something new and different, such as fresco painting or mosaics, but if you're interested in just getting your hands a little messy, learning how to marble paper will be a fun way to get into the life of an artist in the span of a short morning.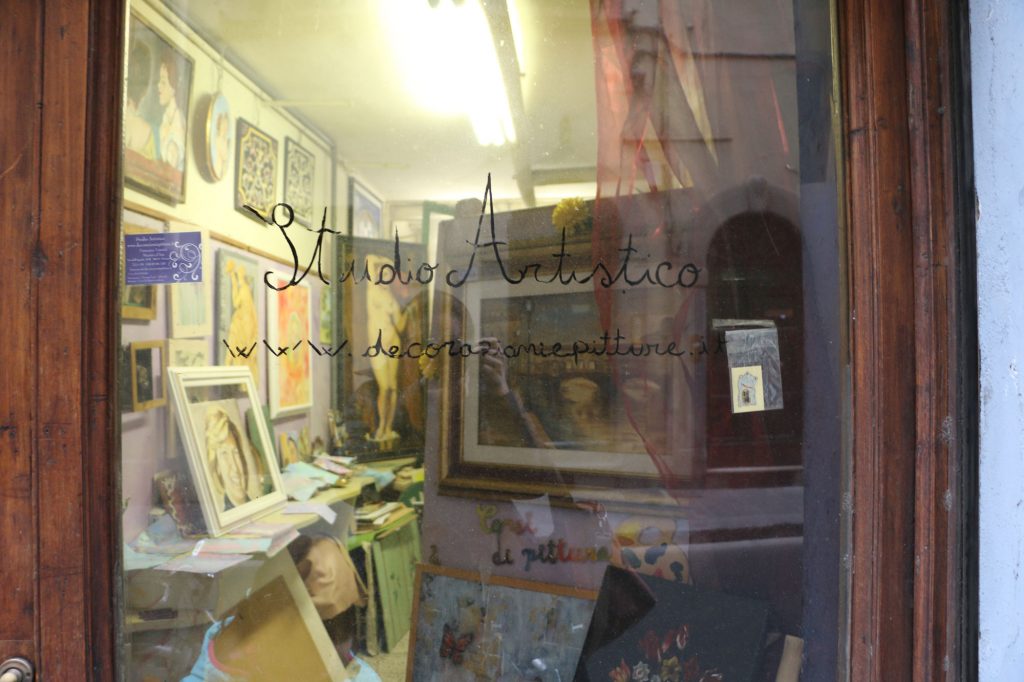 Francesca's Studio Artistico is on Via dell'Agnolo, 29R in the Santa Croce neighborhood. This is her entrance, it is a very small storefront so you might miss it easily.
Francesca, an artist trained at Florence's Academy of the Fine Arts, is an extremely kind and gentle soul. She is friendly and always will welcome you with a smile into her studio, as she did us. Here she is on the day I arrived with two little 5 year olds with me to try out her marbled paper workshop. She had little aprons for them and another one for me. She quickly set out to show us what we would do, with the right amount of explanations to give me some information on the process while not losing the attention of the little ones.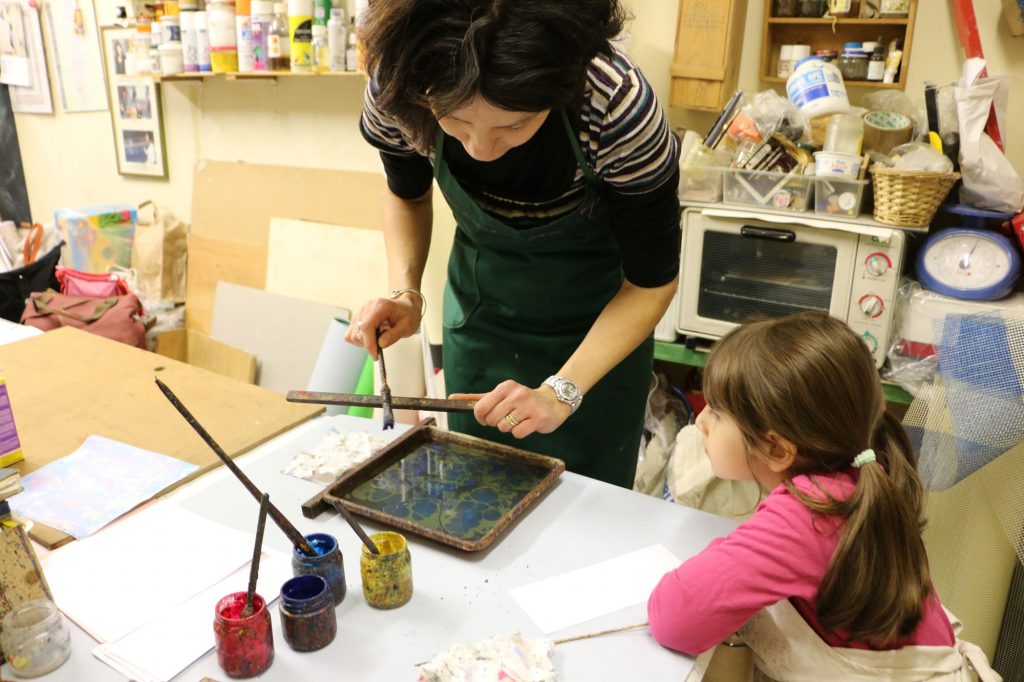 I knew my kid and her friend would love the workshop because they already love to color and paint, I loved to draw, color and paint as well but have lost this over the last few years. So I was looking forward to trying out something completely new.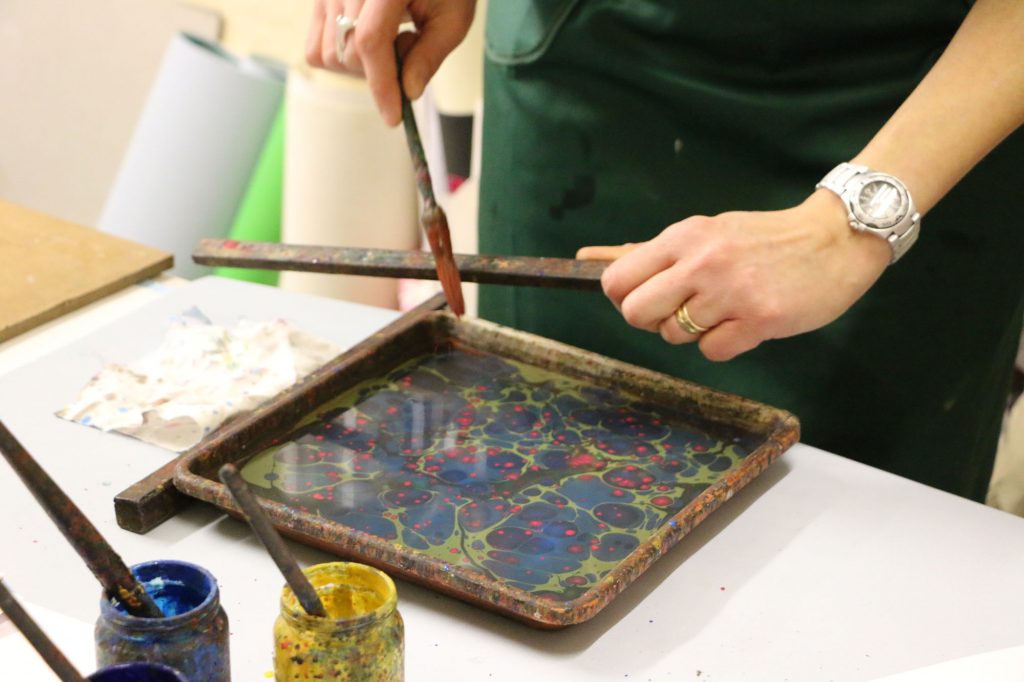 I've included lots of photos to illustrate some of the steps Francesca took to show up how to marble paper, but I think it is simply just better to try it in person! If you're interested, make sure to visit Francesca's website and see all the different types of classes, then contact her directly for availability, cost and book. The workshop's are offered by request, so if she's free, she will make sure to work with your schedule while in Florence.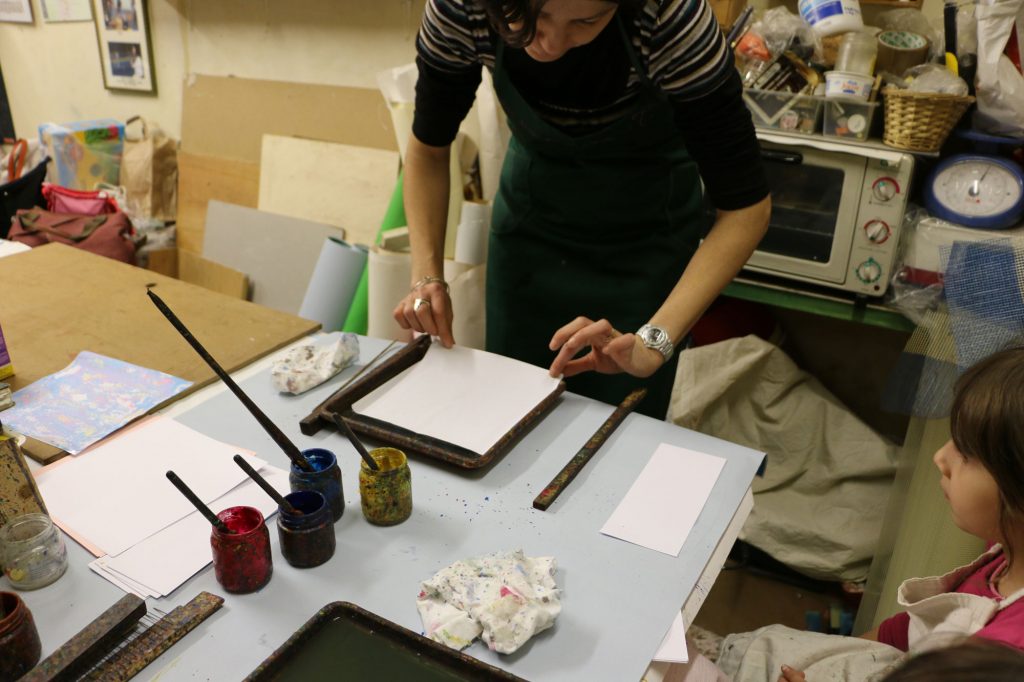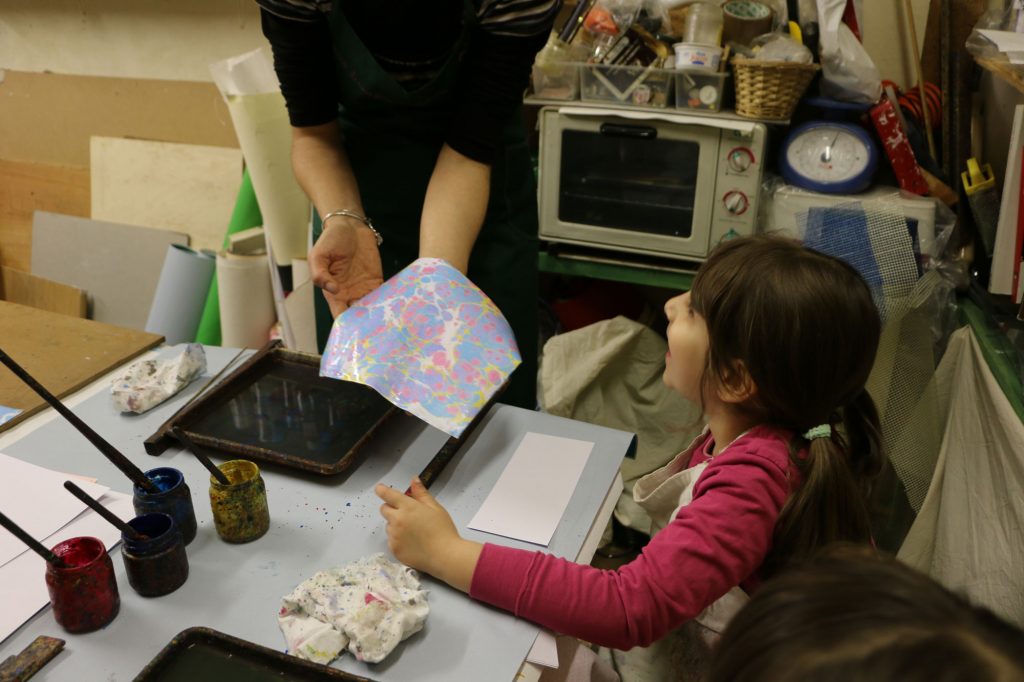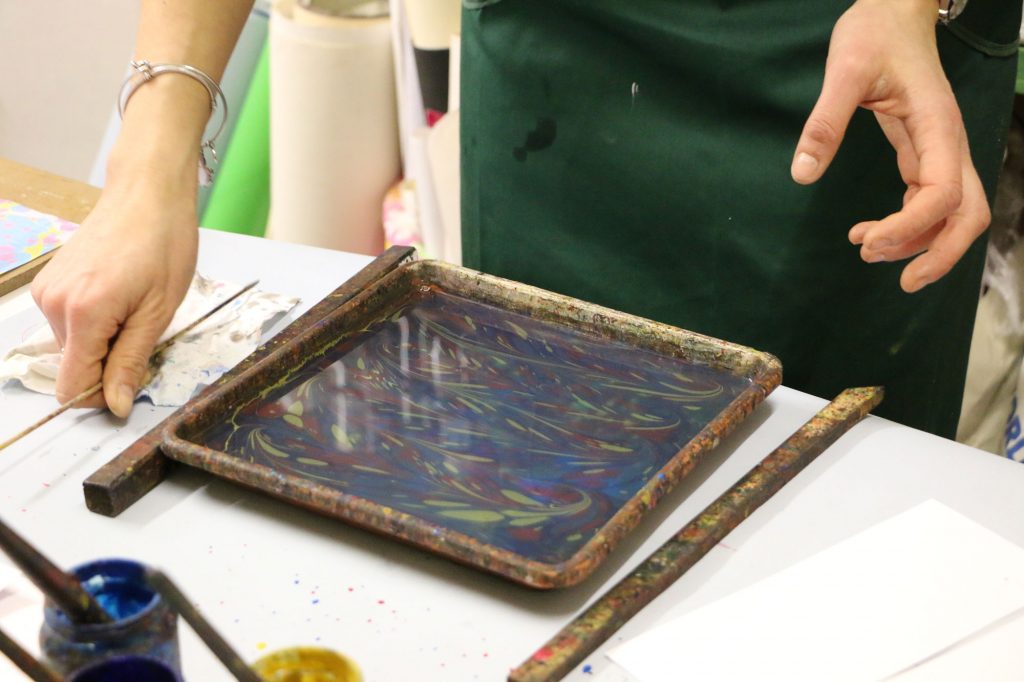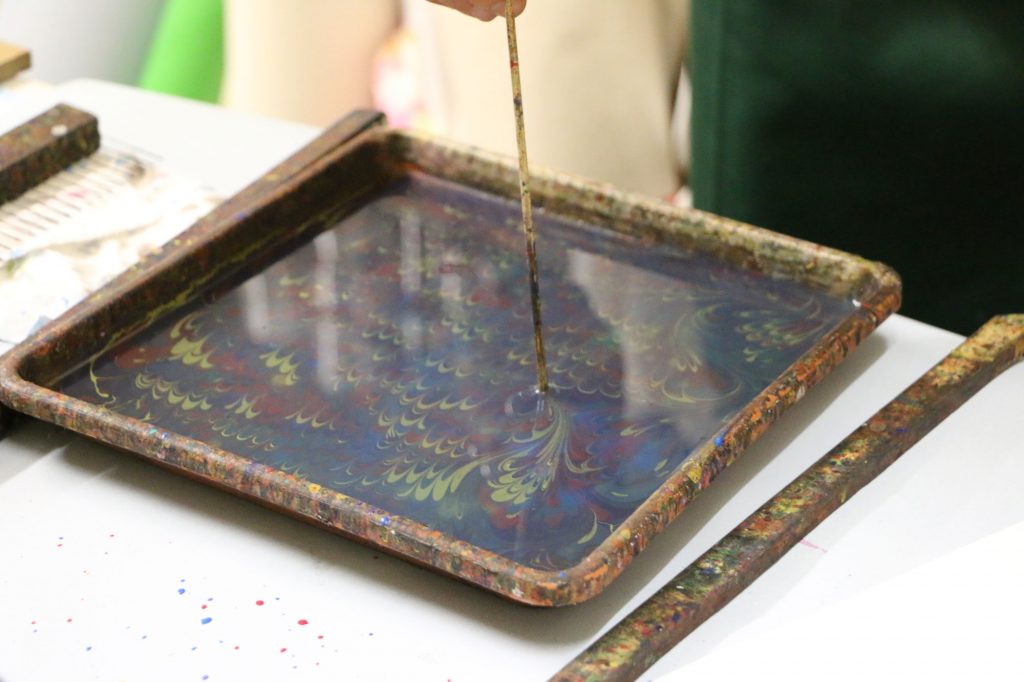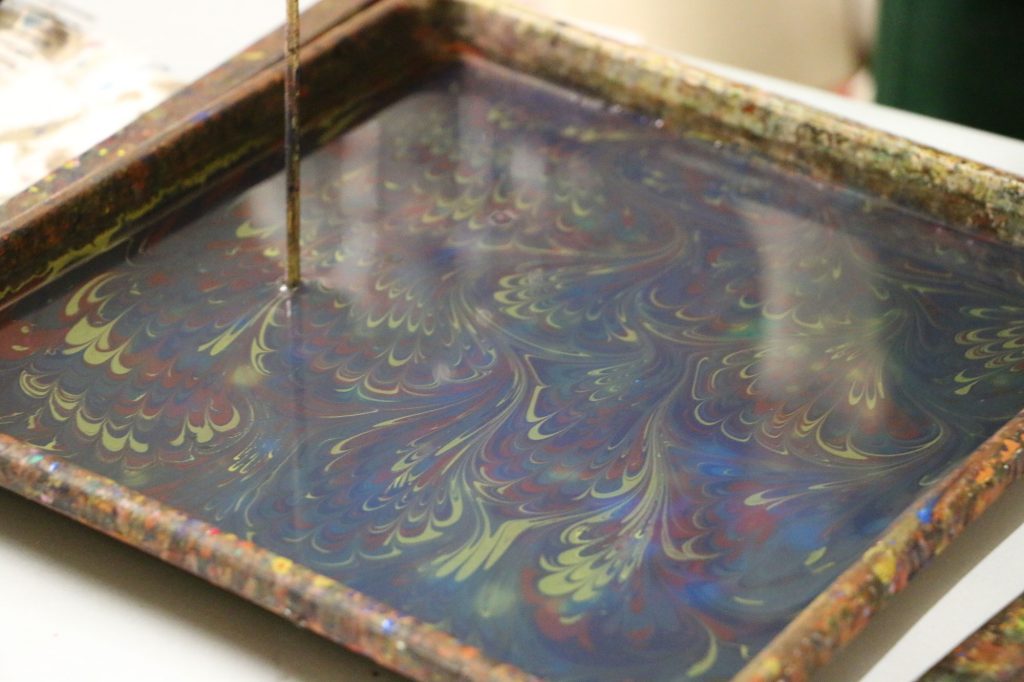 This is the peacock design unique to Florence's marbled paper tradition. She did it magnificently in her demonstration, we were not as able to do it on our own.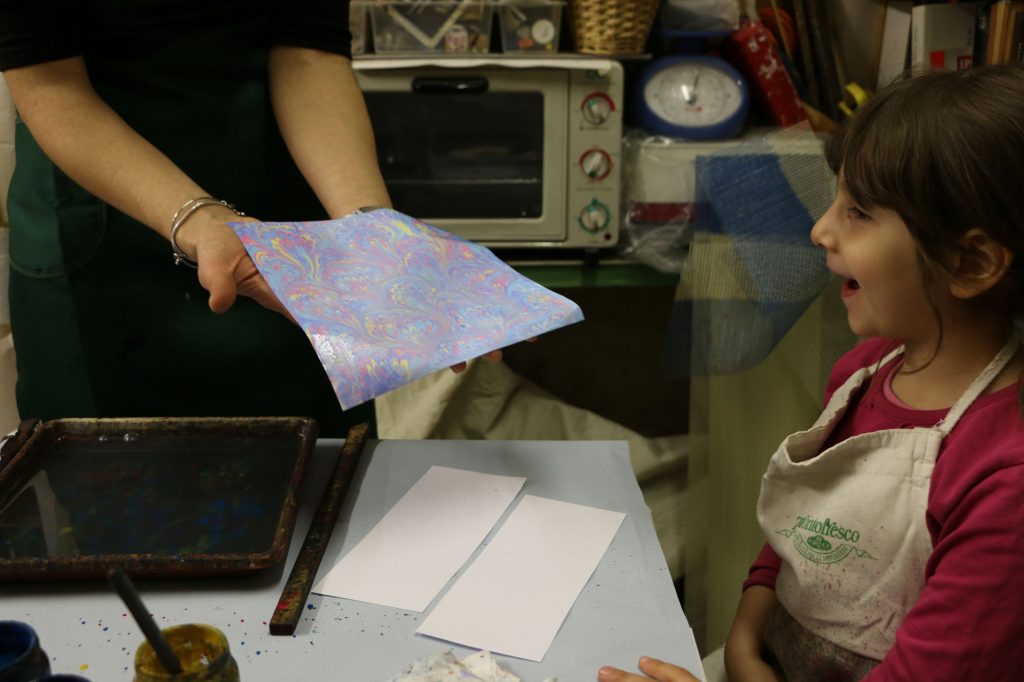 Look at the marvel on my kid's face, she thought it was MAGIC at first…
then quickly got settled in creating her own designs! 😀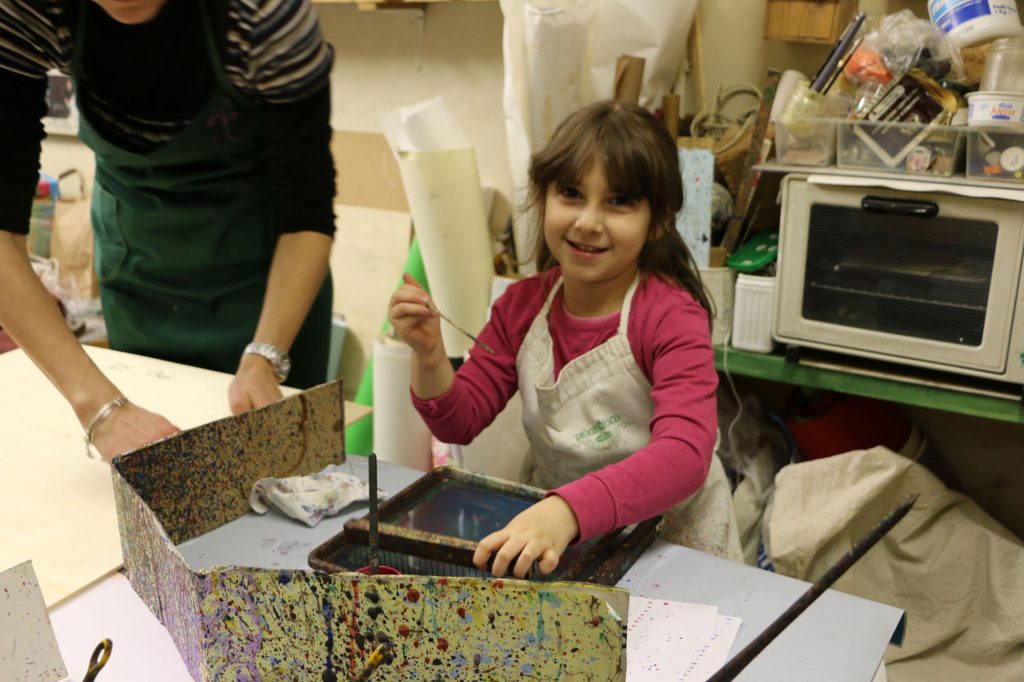 Super happy to experiment!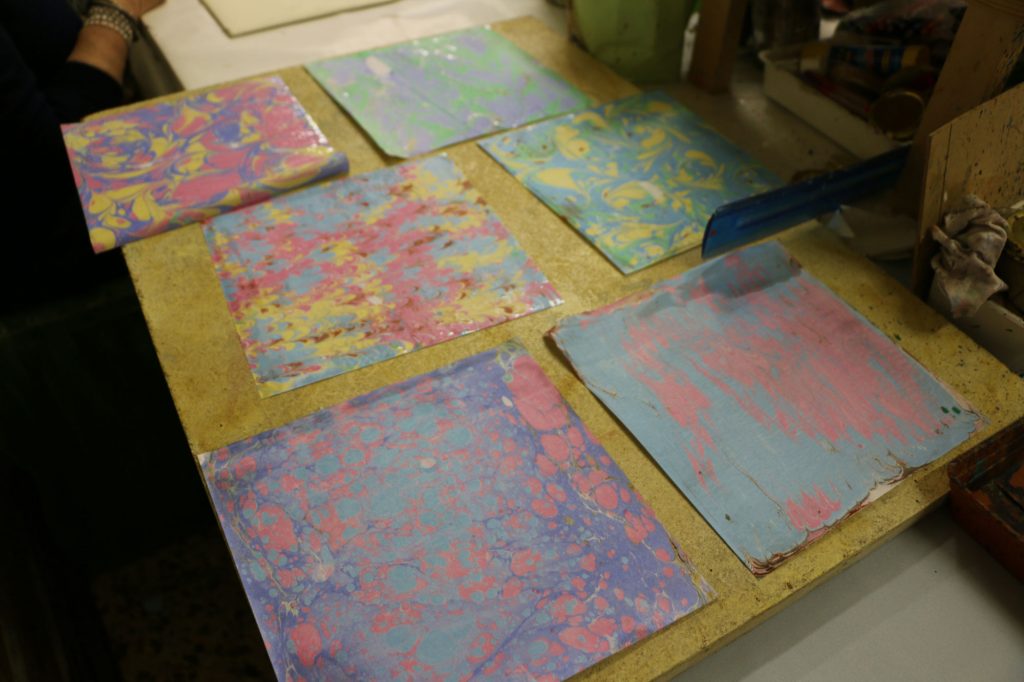 Here are some of our creations set to dry.
What can you do with marbled paper? You can basically use it as decorative paper to line boxes, cover books or notepads, cards, pencils and anything else you can think of. We left the atelier with a decorated pencil!
Here are some more examples: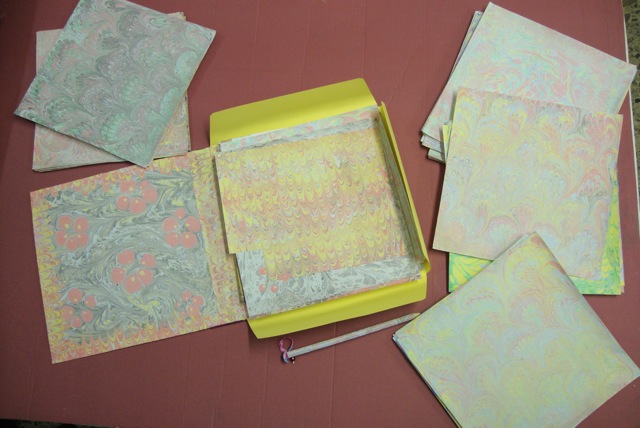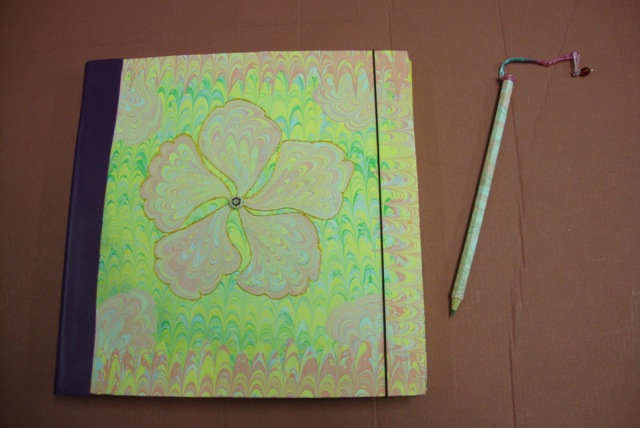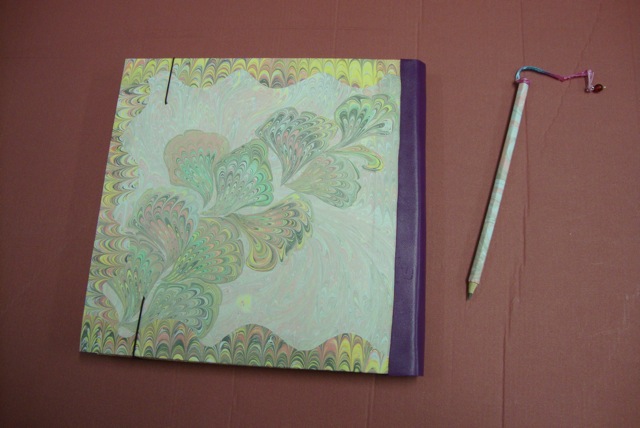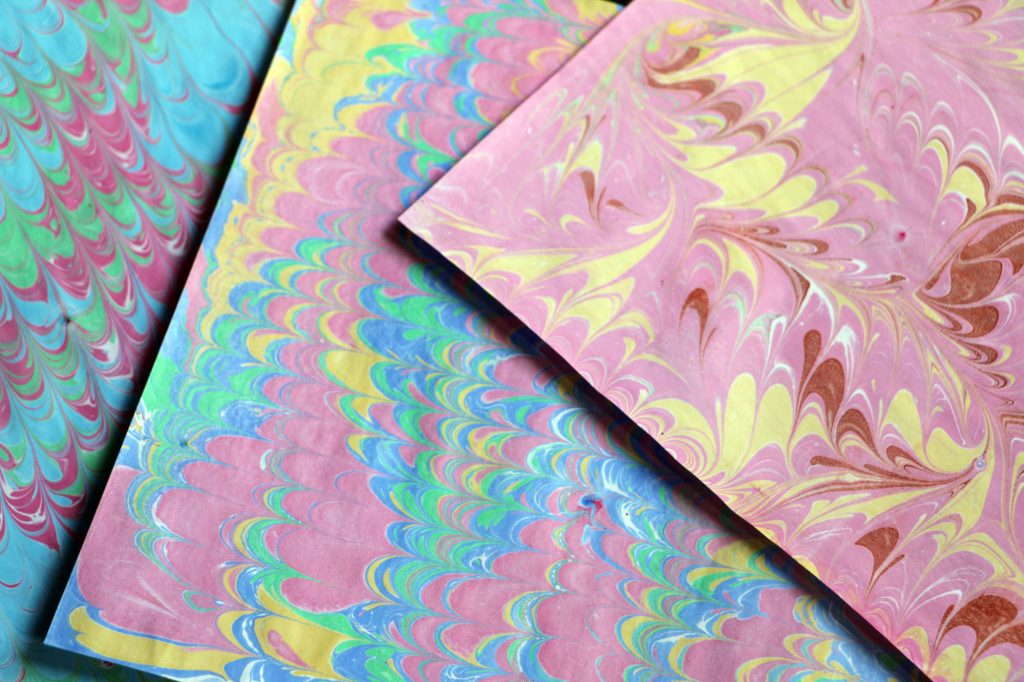 Here's a quick look at our finished and dried paper – I loved the class and had so much fun! I highly recommend you try it on your visit to Florence. Check out Francesca's website and book your workshop with her directly! She offers lots of different classes, you might find something else to try as well. Her studio "Decorazioni e Pitture" is located on via dell'Agnolo, 29r, you can email her at info@decorazioniepitture.it or call her on her cell phone at +39 338 8586705 to get in touch and ask for availability and total cost. ENJOY!