Since mid-June, visitors to Florence have an extra option when arriving by car to NOT enter the city and park and ride the tramway into town. Just outside the town of Scandicci, a large parking lot was open with spots for cars and buses called Villa Costanza and is found off the A1 motorway. Anyone driving to Florence either from north or south can exit on this new exit from the A1, park and catch the tram that takes you directly to the center of Florence in less than half an hour. The trams depart every 3-4 minutes throughout the day, thus making this new parking lot one of the best options for anyone visiting Florence for the day without having to worry about parking or traffic.
Where is it
The parking lot is a paid parking lot just off the A1 between the two exits Firenze-Scandicci and Firenze-Impruneta. There is a big sign "Parcheggio Villa Costanza – a pagamento" along the roadway to mark the exit to the parking lot. You can exit regardless of which direction you're traveling in. You essentially exit the A1, park, cross the lot to the new tram stop called Villa Costanza and hop on the tram to go into Florence.
On return, use your ticket stub to pay at the automatic machines and then decide which way to head on the A1: you can continue your trip in the direction you were driving in or return the way you had come. This is possible because there are both automatic payment booths and a Telepass lane as you enter and exit the A1 and parking lot.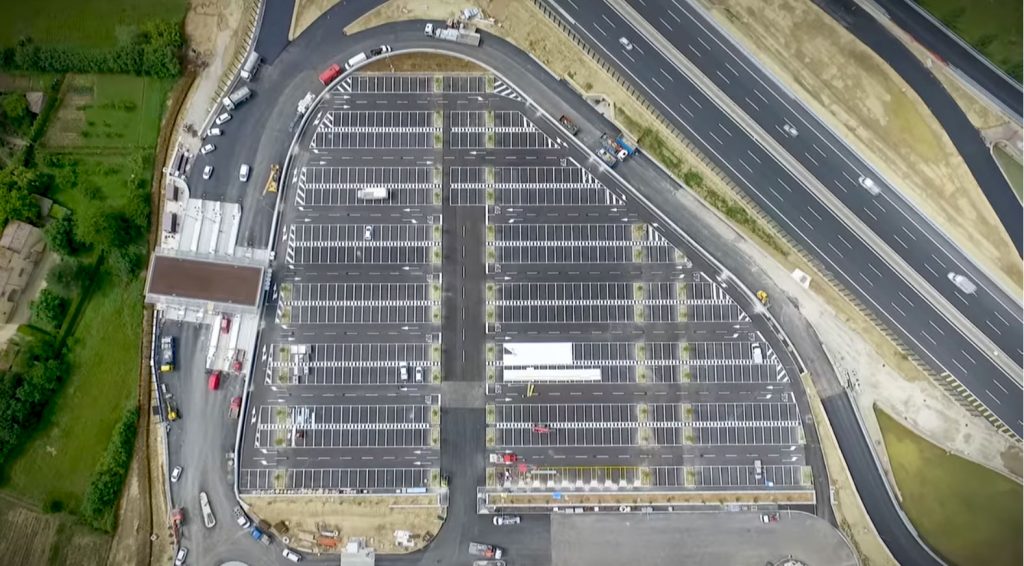 How many spots and hours
The new lot has 505 spaces for cars, and of these 10 are reserved for disabled permit users and 25 spots for large buses.
At the same time, another parking area outside this lot has been constructed to be offer local residents and visitors to the park and access the tram stop in Scandicci: this lot has an additional 160 spots for cars and 7 spots for disabled users.
The availability of spaces can be checked even before exiting the A1 through a display panel mounted along the roadway. The lot is open 24/7 and is video monitored. Staying in Florence for a few days? Stay here, as it is the cheapest option!
Camper vans can also park at Villa Costanza, where you can take advantage of the security services as well as toilets. But there is no electricity or water connections nor can you dump sewage. But again, parking here is very convenient for anyone arriving in Florence and not wanting to deal with traffic, ZTL restrictions or finding parking in town!
How much does it cost
Tariffs are based on hourly use, from a minimum of 30 minutes to a maximum of 24 hours. Weekly, monthly, and annual passes will soon be available as well for both cars and buses. EDITED 08/2018: 7 day, monthly and yearly passes are available, take a look to see if it is a convenient solution if you're in Florence for a week or less since the weekly pass (€20) costs less than in other lots in the city.
Costs are very reasonable, especially compared to costs of parking lots in Florence. Fees for cars are: the first hour 1 euro, 2 euro for 4 hours, 4 euro for 8 hours and 7 euro for the entire day. There is no other parking lot in all of Florence that offers these rates! You also get 5 minutes free at the very start to essentially drop off passengers and then leave the lot. You can pay at the automatic machines or use a Telepass.
Tourist buses can also park here (25 spots): thanks to an agreement between Unipark and Eurolines-Baltur, over 40 lines of inter-regional and international bus routes can stop here for a discounted rate, at 100 euro for the day. During the promotional period right now, the costs is actually 50 euro. Bus spaces can be booked on the official website for the parking lot.
The services
Within the area, visitors can find a tourism info point, restrooms and food at the FlorenceGate cafeteria and local products at a market.
The entire project was built by Autostrade per l'Italia in just 12 months, with an investment of over 16 million euro.
For more details, you can visit the official site for the Villa Costanza parking lot: http://www.parcheggiovillacostanza.it/