Elegant, with Great Views amidst locals
When looking for accommodations in Florence Italy be it for holidays, business or a long stay, the area Oltrarno offers a genuine Florentine atmosphere, quiet neighborhoods and easy access to coffee shops, parks and panoramic views of the historic center.
Though often explored for its more reasonable prices, this area actually offers a tranquil setting escaping the throngs of loud visitors and touristy-gimmicky shops. Here are ten of our favorite options:
1) Old Bridge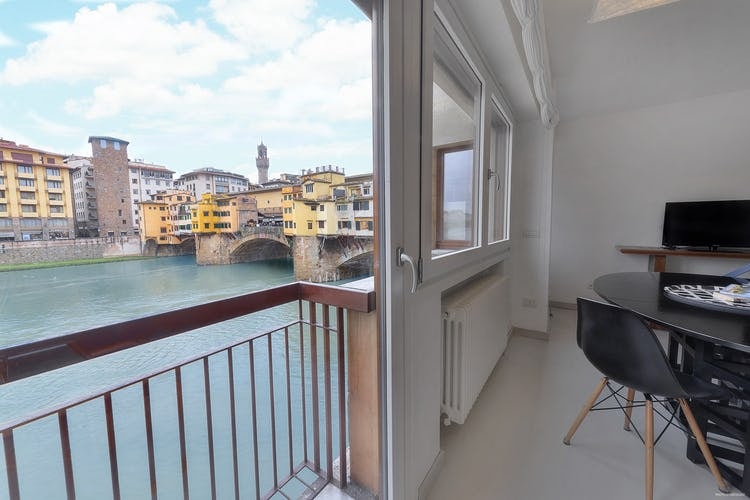 The family-run vacation accommodation Old Bridge promises the beauty of Florence with the warm hospitality well known throughout Tuscany and Italy. Situated along the Arno River, it features not only unique panoramic views but also an inviting and relaxing atmosphere for travelers as they explore the beauty of the city and its surroundings. Both the living/dining room area and the second bedroom have up-close views overlooking the iconic Ponte Vecchio, or what many know as the "Old Bridge". This incredible vista is what gives this apartment its name, but what makes it a favorite among guests includes the warm hospitality and accessories that accompany the view.
2) Oltrarno Apartment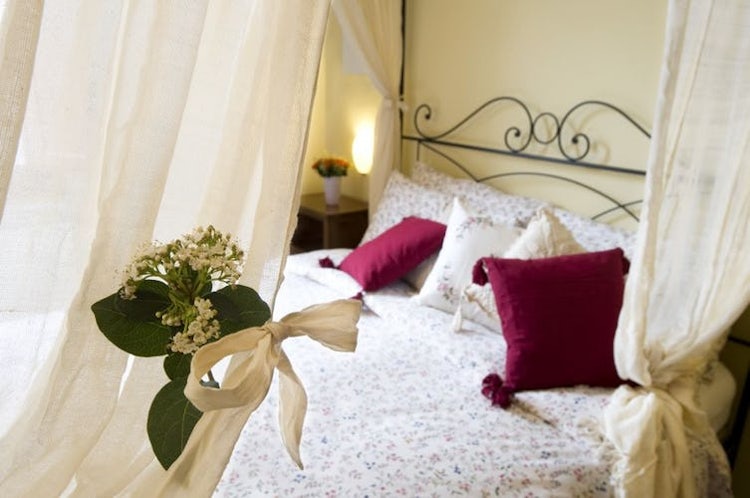 Situated in one of the more authentic areas of Florence, this charming apartment of approximately 50 square meters is on the second floor of a historical Florentine home from the 17th century. Recently restored and refurnished, Oltrarno Apartment can comfortably host up to 4 guests. The bedroom looks out on the garden of red terracotta rooftops characteristic of our Tuscan cities and has a romantic bed in wrought iron with gauzy cotton curtains, an antique wardrobe and Liberty style walnut dresser with 18th-century mirror.
3) Gold Bridge
Less than 350 feet from Ponte Vecchio, the apartments at Gold Bridge will feature not just great views but several comforts for your holiday pleasure such as air-conditioned rooms, en suite bathrooms, coffee machines, free toiletries, hairdryer, WiFi and a flat-screen TV. These spacious and modern bathrooms will help you relax after a long day touring the city and nearby museums, art galleries, and antique shops.
4) Continentale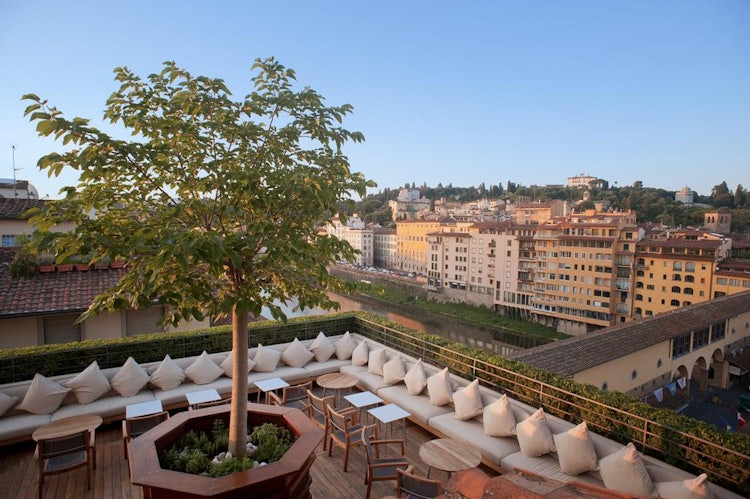 Boasting exquisite views over Ponte Vecchio, the Continentale is a unique design hotel. Enjoy chic, contemporary décor, a glamorous atmosphere, and customized service. Owned by the Florentine fashion label Ferragamo, the Continentale is themed recalls the elegant beauty of Italy in the 1950s. Amenities include a bar, 4 relaxation rooms, massages and beauty treatments by Comfort Zone, and cocktails in La Terrazza, the hotel's rooftop bar offering panoramic views of the Ponte Vecchio and River Arno.
5) MaggioTerrace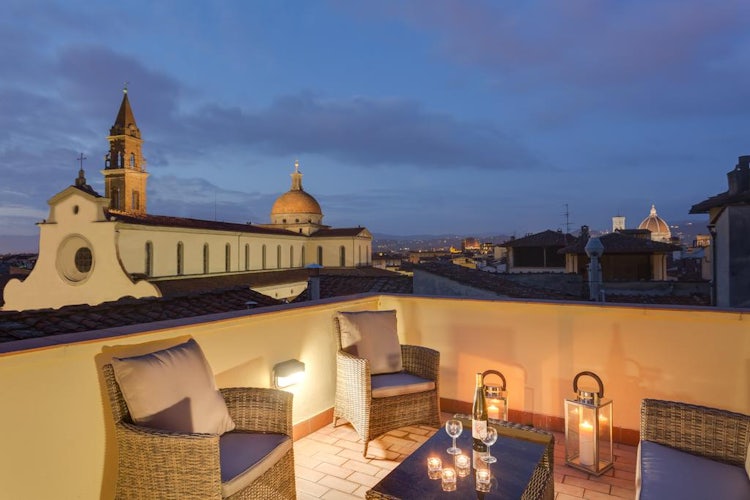 If you are looking for great views and just a bit of local nightlife, the apartment MaggioTerrace is for you. The unique panoramic view from the rooftop terrace, especially for sunrise and sunset, is well worth the stay. The added touch is the restaurants just outside your door in the active square Santo Spirito. You will find locals love to visit this area which is loaded with several lovely monuments, museums, and churches.
6) Foresteria Valdese di Firenze
Quite unique - a garden in the city center. The price point at Foresteria Valdese is readily accessible to singles, families, and travelers on a budget. Yet, even with the budget-friendly price, these accommodations get rave reviews about their cleanliness, well kept with modern bathrooms, WiFi and air conditioning. The proximity to all the action including monuments, churches, and museums, entices even the locals to enjoy the city and savor an evening meal in one of the city's more friendly "piazzas".
7) Residenza D'Epoca Toscanelli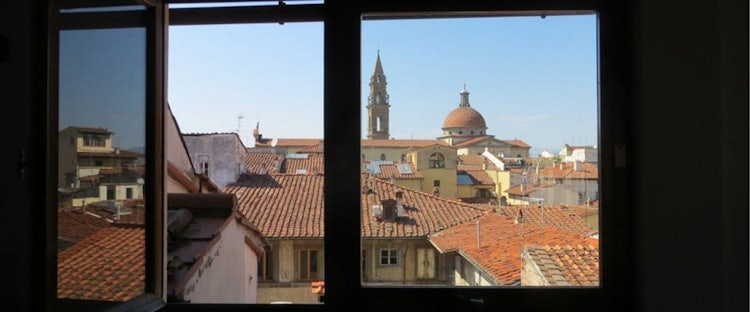 Beautifully restored with a deep appreciation of what makes a vacation special, the Residenza D'Epoca Toscanelli opens its massive antique doors to a tranquil haven in the city center of Florence. Starting with the well-thought-out bathrooms with their large and wide showers, wooden floor mats and super-sized showerheads, and a selection of special teas and coffees & fresh bottled water in every room, the owners have found ways to ease the tired and weary traveler into the, sometimes frenetic, life of the city center of Florence.
8) Residenza di charme pressi piazza Pitti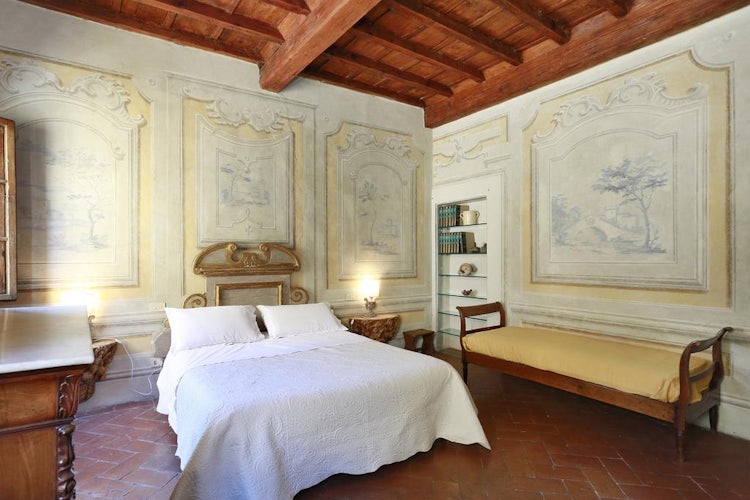 Just minutes from the massive Palazzo Pitti and the monumental gardens of Boboli, this one-bedroom apartment just speaks of the Florentine culture from yesteryear. The owner of Residenza di Charme has ingeniously mixed the historic architectural characteristics of this building from the 1600s with the modern conveniences you will want while on holiday in the city. While boasting antique furniture, frescos on the walls and ceilings it also offers a balcony and garden area for a little quiet outdoor time.
9) Specchi Su Pontevecchio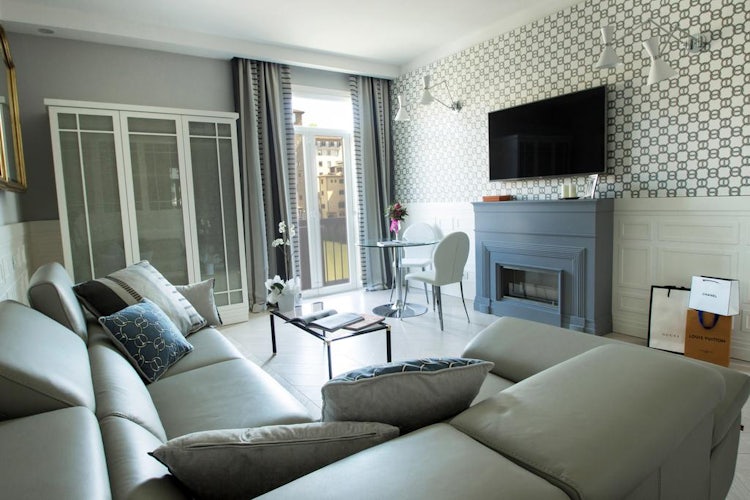 The English translation of Specchi su Pontevecchio is literally, a mirror on the river - and from this lofty position that's exactly what you feel like while watching the reflections of the historic Ponte Vecchio, one of the more famous bridges crossing the Arno river that flows below. So, besides the awesome panoramic views of the Florentine skyline and many major monuments, what does this apartment offer? Excellent location, elevator access, and modern amenities.
10) Hotel Lungarno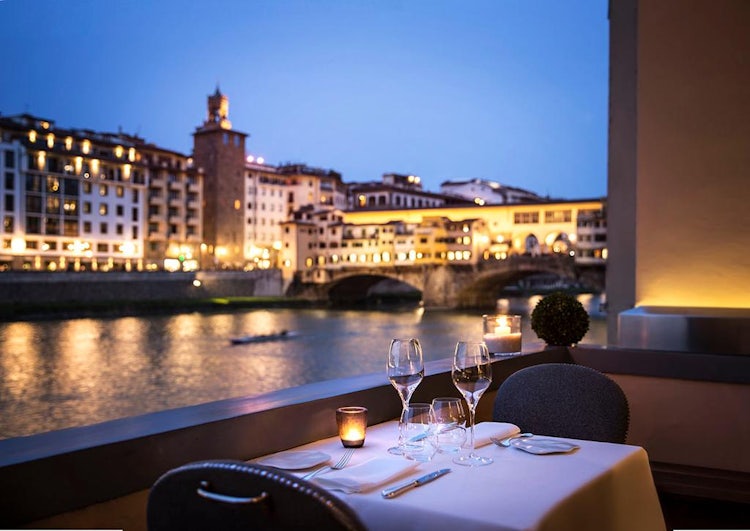 Sometimes you just need to be a bit spoiled. Besides the beautiful suites and rooms, Hotel Lungarno features an onsite restaurant which has been named in major restaurant guides. Its menu of traditional, yet creative cuisine combined with its prime location will have you enjoying relaxing and delicious meals along the Arno river. We also love that it puts you within easy walking distance to all of Florence's most famous sights and activities.
More Options in Florence
If you want a general list of apartments as offered through AirBnB, you can search across the entire center of Florence (disclaimer: affiliate link).
With so many places to choose from in the historic center of Florence, it can seem overwhelming to narrow it down to just one or two. Read through our guides on the top romantic accommodations featuring lodgings that will promise to surprise you.
Traveling with the family? You will probably prefer a place to stay that will accommodate larger groups in one room and have extra activities on site to make it fun for everyone in the group on holiday. Check out our list of top family-friendly accommodations.
We know what it is like to plan a once in a lifetime vacation - where you want elegance, charm, and extra services every step of the way, and that is why we create a list of our top deluxe accommodations list. Here you will find places to stay that have extra luxury all the way. But we also know that some would rather invest in the activities instead of the accommodations - so we also have a list of our top budget-friendly accommodations.
The team at Visit Florence doesn't just write about accommodations, we visit them to give you an insider view of what makes these places so great. Browse through our reviews for more detailed information on your preferred Florence Accommodation.