The beautiful villa near Florence is easily reached by taking the Firenze- Siena super strada towards Siena and exiting at San Casciano Val di Pesa. A group of ancient cypress trees stand tall at the entrance to Villa Il Poggiale.
As you approach the hotel in Chianti, you will sense the charm of a family country home in the historical yet elegant Villa il Poggiale. The villa hotel offers B&B accommodation perfect for those wishing to relax in the quiet of the Tuscan countryside, admiring its grand beauty but also not far away from the main sights of interest in Tuscany.
The Tuscan countryside ambiance
The atmosphere you will find at the villa in Chianti is intimate, similar to that you would find at an old friend's family home, while encountering the "honesty bar" in the main hall where you can mix and serve your own drinks justing joting down your room number and what you drank. Another particularity: having your own set of keys to the villa so you can come and go freely all throughout your stay, not having to worry whether the reception is open or not after a certain hour.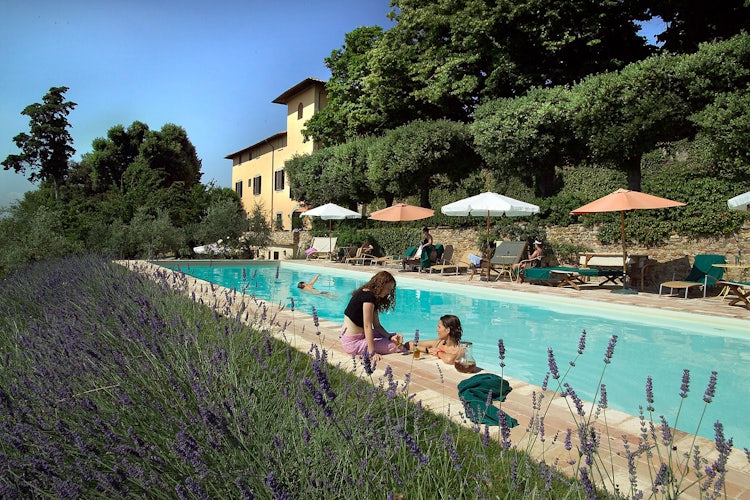 The villa's large frescoed main hall and various sitting rooms contain comfortable armchairs and sofas where guests can sit and read comfortably, chat with friends or just relax. The rooms are furnished with canopy beds and decorated in natural colors with frescoed ceilings. Each room and suite has its own private bathroom to complete a comfortable setting for your holiday in Tuscany. The villaoffers a buffet breakfast served each day in a charming breakfast room during the winter and outside in the veranda during the summer.
La Fonte Country Lodge
If you're looking for a bit more privacy for your family, just 100 meters behind the main villa is a separate cottage with a living room with fireplace, fully-equipped kitchen, two rooms that can host a total of 5 people, each room with its own bathroom. Like the rooms in the main villa, the lodge has a flat TV and Wi-Fi access.
Amenities and more
The villa offers a stay in the Tuscan countryside with all of the many modern comforts we've all come to expect: free Wi-Fi access, a large panoramic swimming pool during the summer months and a spa center with sauna and beauty treatments, a restaurant offering Tuscan dishes made with fresh, quality ingredients and a small meeting room for anyone wishing to organize a business event in the heart of Tuscany.
The villa is also the perfect setting for special events, such as a wedding ceremony or reception, an anniversary or special birthday and places their years of experience in event planning at your disposal.
Explore Chianti and Tuscany from Villa il Poggiale, either on your own or with an organized tour that Villa il Poggiale offers: wine tastings, the Palio, truffle hunting and more. How about a cooking class? You have only to dream it and it is likely you can make your dream vacation in Tuscany come true at Villa il Poggiale.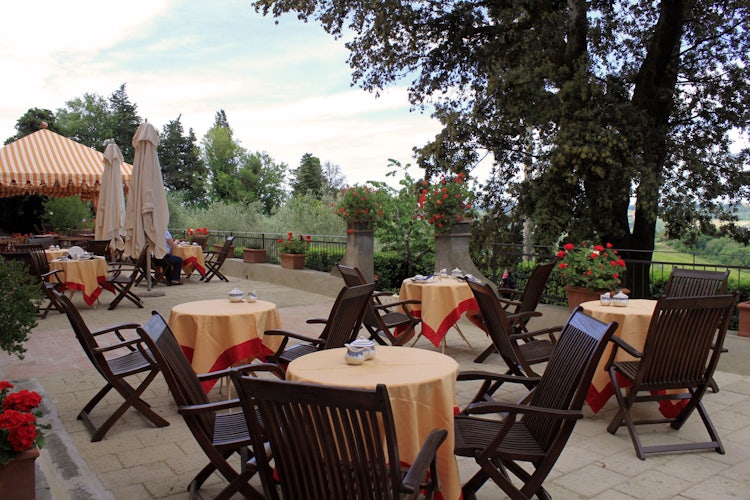 This is a Sponsored Article but reflects the honest opinion and experience of the author. More details »