Don't Be Weighed Down with Extra Baggage
The best way to enjoy the cobblestone streets, medieval towers, monuments and palaces in Florence is to be totally hands-free. Traveling light is possibile if you leave your bags at one of the two locations of Stow Your Bags luggage lockers to make it easy to roam and snap photos or to savor your gelato. No need to worry about lugging your bags from stop to stop, accidentally leaving something behind or being barred from entrance into one of the many beautiful churches or museums where large bags are not allowed.
The best solution to stash your luggage somewhere is with the conveniently located Stow Your Bags lockers, just a short distance from just about everything in Florence! With two locations in town, one just steps outside the Santa Maria Novella central train station and the other behind the Uffizi Gallery, you can choose which one is more convenient for you.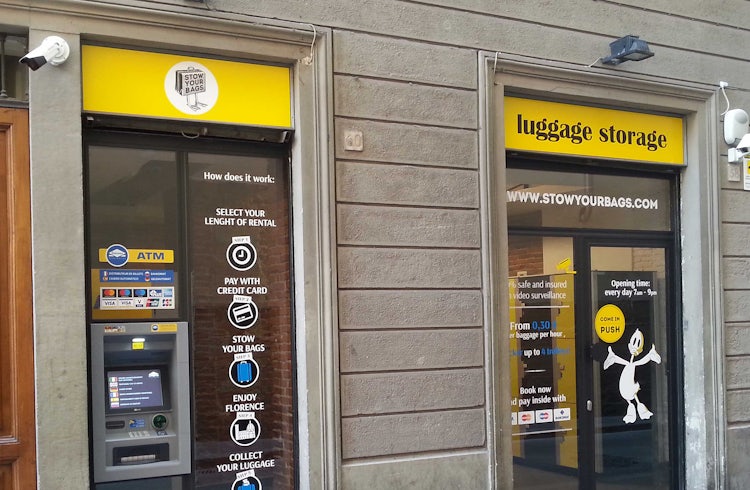 The first location, right in the middle of downtown Florence, between the final resting place of Galileo & Machiavelli and the government heart of the city, you can stash your belongings at the first of the two automated luggage deposits shops, located on Via dell'Anguillara, 58.
Instead, if you just arrived in Florence at the main train station, Santa Maria Novella, you can choose to leave your luggage nearby at Via dell'Albero, 22 before heading off to see the main sights in Florence. This is definitely the more convenient location if you are traveling by train and are visiting Florence for just a day: you don't have to carry luggage or bags far before dropping them safely off for your day trip in the city of the Renaissance.
Visit Florence Without Worries
There are so many ways you can make use of these centrally located lockers. For example, for anyone who over-nights in the city center but needs to check out early, the two Stow Your Bags deposit lockers are perfect for safely storing your bags or backpacks under lock while making the last round of the city before heading on to the next leg of your travels. The service is invaluable if you have museum reservations where unwieldy bags are not allowed entrance (for example, the Uffizi Gallery and Accademia).
Stow Your Bags Reservation Now
Renting a car and visiting the city? Just because you are travelling between destinations and your car is loaded doesn't mean you can't stop and enjoy the sights. Remember to be smart and don't leave your valuables (that includes large luggage) in plain sight for snoopy thieves. The Stow Your Bags storage lockers are a secure, safe place to keep your possessions far from roaming eyes and hands.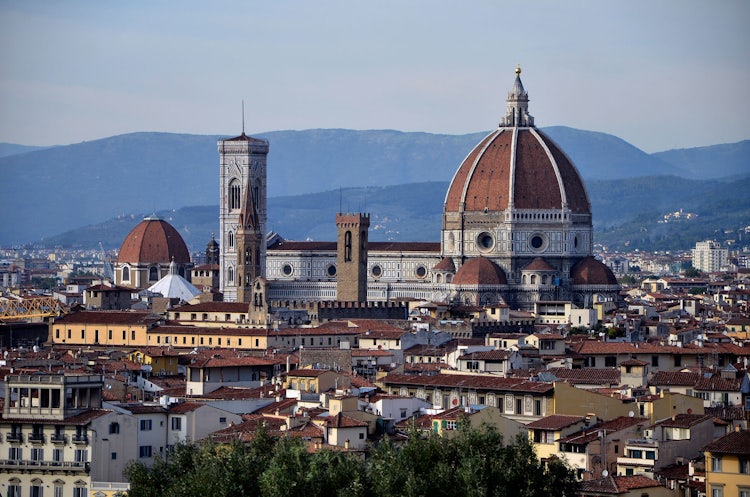 Heading to Pisa?
Then make note that you can also find Stow Your Bags luggage lockers just 2 short blocks from Pisa Centrale, the main train station in Pisa. As you exit the station, turn right on Via Filippo Corridoni, then turn left on Via Cristoforo Colombo. After crossing Via Amerigo Vespucci, you will find the luggage storage on your left at number 6. Works the same easy way as the lockers in Florence!
The position of both Stow Your Bags locker shops in the city are especially convenient for anyone driving into the city for the day and parked just outside the historic center so as to not deal with the dreaded ZTL zone.
Stow Your Bags is organized so that you can go in and out as many times as you like during their open hours - until 30 minutes before your time is up. So, even if you are already luggage-free, this is a great place to keep a few things handy for the kids (diaper bag, a change of clothes, etc.) or use it as a quick place to stash those lovely purchases you're making without heading all the way back to the car. There are two size lockers, standard and large, so that you can decide which is the one you need.
Keeping it Simple
Open from 7 am until 9 pm, Stow Your Bags lockers, with its video surveillance provides a safe and secure place for you to store your luggage while you take the next few hours (or up to 5 full days) to adventure into Florence, Italy and beyond.
A full day in Florence (7 am - 9 pm)
Two size lockers to accommodation either 2 small trolleys (standard size) for € 12,99 for an entire day or up to 4 small trolleys (large) for €17,99 (plus a 0,50 cent card fee)
The price gets better with the Discover Tuscany/Visit Florence Discount Code for -10%

Just use CODE: 334477
The fully automated service won't ever leave you stranded with no one to talk to! The easy to use VOIP communication system attached to the command center inside the locker area gives you instant contact with the administrative offices at Stow Your Bags who can override any situation with your locker.
If you can't get into the command center behind the closed doors because it is after hours, then you can send a message via Facebook, where it is possible to communicate with the administrative offices in case of an emergency.
The automated service leaves no keys to deal with and no signs of which lockers are occupied - its all for your safety. Reserve your space at Stow Your Bags with the knowledge that even if it is automated, which helps them keep the price down, you are never alone. The VOIP service is available during the opening hours of the locker room and someone can be on-site in approximately 20 minutes if physical assistance is required.
Angelo Falcone, one of the founders of the service, has assured us that it is virtually impossible to lose your booking code: you receive a print out when you check-in, and it arrives via email and an SMS text message on your phone. But if the travel gods are frowning down upon you, you can contact the offices via the Stow Your Bags VOIP and they can assist you from their end to get your treasured belongings back again.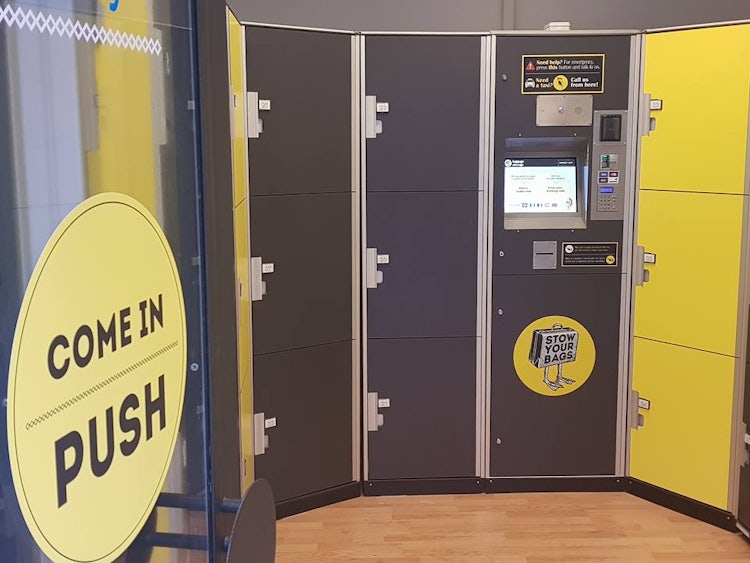 Make a Date or Be a Walk-in
For those who prefer to be fully organised before you arrive, then reserve your locker in advance - even a day, a month or a year ahead of time! When you are in front of the computer to book your ticket to the Uffizi Gallery or the Accademia to see David, you can also book your Stow Your Bags locker and guarantee your spot for just the time frame you need.
Rest easy: if you find it necessary to extend your time because you found the gelato of your dreams or let yourself daydream a bit longer than you expected on Ponte Vecchio, it is easy to extend your stay, even if you booked a specific confirmed time slot. You simply pay the extra time and then receive a new code to open your locker and pick-up your bags.
Those who travel with the "free spirit" approach and prefer not to be tied down to a schedule, can make use of the walk-in service at Stow Your Bags. The video screen within the storage area will request some basic info - length of stay and payment of course - and then you are set to go. Availability will depend on reserved spaces.
On-Site Inspection
We were just a bit curious about how easy all this was so we did a bit of "recon". By chance, we met up with a group of four who had made reservations and had four carry-on bags, three backpacks, and a few odds & ends to stash before they headed over to their Uffizi reservation.
In the City Center for easy access!
Between the Duomo, Palazzo Signoria & Santa Croce Church & near the SMN train station
see website to book
In a day and age where packing your bag to fit in an overhead compartment of a plane has become a virtual art, then placing your bags into these lockers will be a piece of cake. Four carry-on pieces of luggage will fit into the locker. I watched as they fit all four bags inside and still had room for a small backpack and a large purse.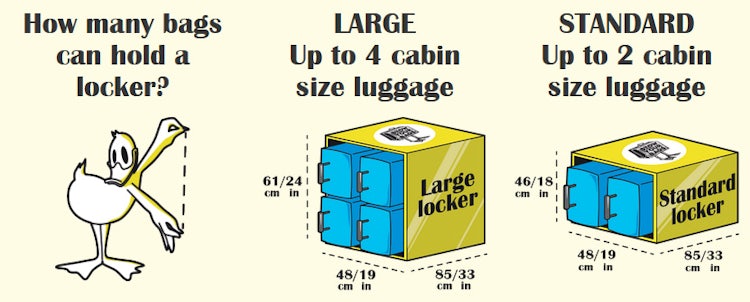 This group was ahead of the game and decided that the price per locker (same price whether you fill it with four bags or just a Philosopher's Stone) was a deal, so they took two lockers, one for the bags and one for the backpacks making it easy for them to come back and get any essentials or leave any purchase made along the way.
Unlike other storage centers near the station, Stow Your Bags has budget-friendly pricing with one locker - one price. You can fill it with as much or little as you like but the price remains the same! You can start with one carry on and then as you purchase wine, a leather jacket, and other souvenirs, you can fill up the locker at no extra cost!
Travel with Confidence
The Stow Your Bags lockers in the city center of Florence provide a clean, safe environment where you can economically deposit your luggage and backpacks while touring not just the city of Florence but beyond. The flexible time frame from just an hour to 5 days and the convenient pricing is perfect for the budget traveler making the most of their limited time in Tuscany whether they are in the city or heading out for a couple of days in the countryside.
Our on-site inspection found that the fully automated control center is easy to navigate and the system is user-friendly allowing for the possibility to speak to a real person (who is located in Italy) for emergencies and questions. We rank the storage center for baggage and goodies at Stow Your Bags as a great handy travel buddy while in Florence, Italy.
Stow Your Bags Reservation Now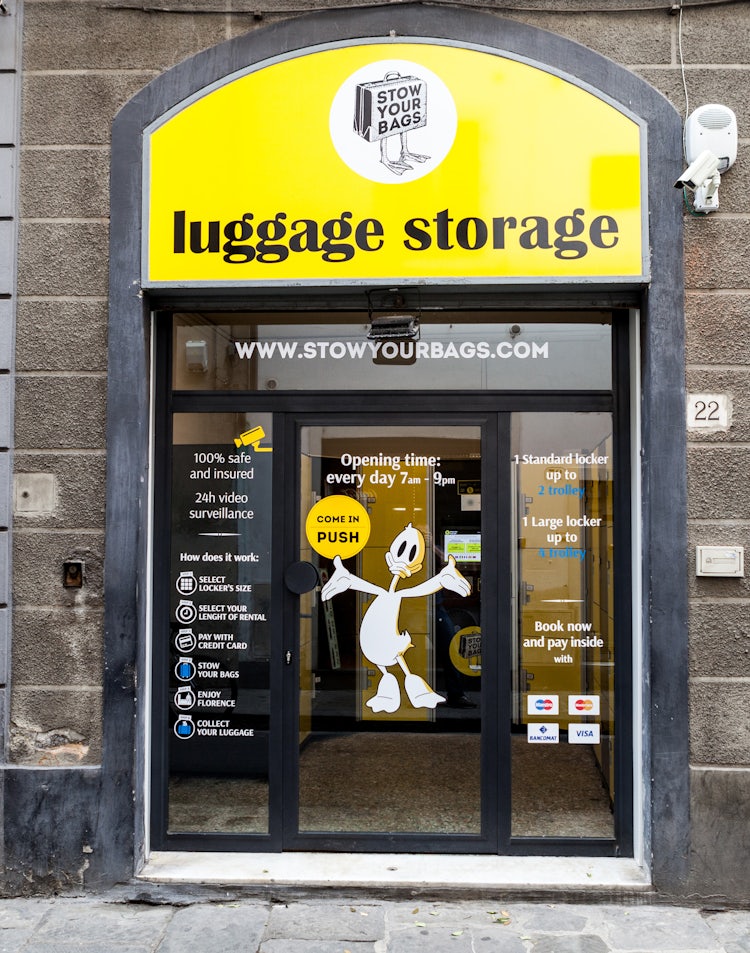 This is a Sponsored Article but reflects the honest opinion and experience of the author. More details »