Learn how to make fresh pasta... then enjoy it for lunch!
Have you ever tried making fresh pasta or wondered how difficult meat sauce might be to make? Want to learn some easy recipes to make back home to remind you of your trip to Italy? Then think no more about, I suggest you consider this small group cooking class in Florence!
Why book this cooking class?
it is fun!
classes are small
delicious recipes to learn to make and eat right after
A cooking class with market tour is a fun morning activity that will round out your travel experience in Italy. The cooking class starts with a visit to the San Lorenzo food market to get some ingredients for the class, then learning how to make pasta by hand and two sauces to go with the pasta. You also make tiramisu as dessert and then you get to eat it all!
I tried this cooking class first-hand and can highly recommend it: it was fun and delicious! I liked the small size, the interesting information we got during the tour and as the cooking procedes, then of course getting to taste and eat what we made. I got to learn how to make pasta by hand, as well as the sauces that accompany them and how to make tiramisù, a delicious coffee-based dessert. You'll learn how to make them while having a fun morning, enjoying a delicious lunch afterward and then being able to go back home and make it for the rest of your family or friends.
Why I recommend this class
I really liked several aspects, here are the main ones:
The small size of the group
We were 13 people on the day I tried it. Although it has a top limit of practically twice as many people (max is 25 people), I looked at photos and reviews of the tour and do not ever see very large groups. They do have the space in the class for more but the class is offered every day during the morning which makes is possible that you won't ever find yourself in a large class.
At a Glance
lasts about 5.5 hours, every morning
includes market tour of San Lorenzo
learn how to make fresh pasta, two sauces and dessert
includes tastings of several Italian specialties and wine during lunch
The delicious menu
We learned to make and enjoy simple yet delicious dished that are easy to try back home on our own. We made meat sauce, a fresh tomato sauce, fresh pasta by hand which we cut into tagliatelle to go with the meat sauce and made into stuffed ravioli pasta to go with the tomato sauce. We also made tiramisu to enjoy for dessert. The pasta was on large platters at the center of our table and we could eat as much as we wanted, there was more than enough for all to grab seconds. I was full by the end of my dessert! It has given me the courage to try making fresh pasta at home too now that I saw how easy it is to make. Of course, we also had wine while we made the pasta and ate our lunch. One of the first things asked is whether anyone in the group has any allergies or is vegetarian: the menu can be adapted to serve any special needs in the group.
It was fun!
I enjoyed spending the time chatting about vacations and plans while in Florence with the other class participants as we kneaded and rolled our the pasta dough and assembled our tiramisusfilled . There is a good mix of demonstraiton by the chef (with requests for assistance from the group) and then things we all get to do.
The pace was relaxed
We had about 5 hours, where we did a lot of things yet the class always moved at an easy pace and we never felt hurried. While we waited for the pasta to rest a bit, we enjoyed tastings of Italian specialties (it wasn't limited to Tuscany): dried tomato pesto from Puglia in southern Italy, olive pesto from Tuscany, "truffled" oil and balsamic vinegar on two types of cheese - pecorino and parmigiano. While it's likely you'll have most everything while in Florence or Tuscany, the tastings with explanations of where they come from and how they are made.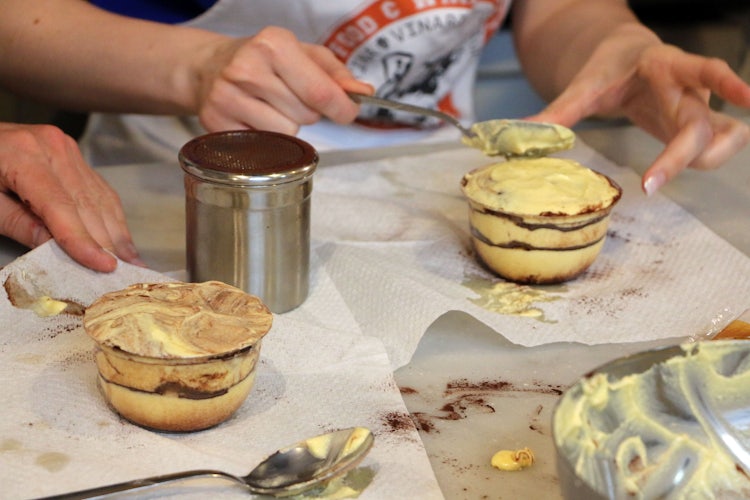 The interesting mix of information we got
A cooking class and market tour is not a detailed historical type or top attractions in Florence type of tour. Regardless, as we walked from Piazza della Repubblica to the San Lorenzo food market we got some food related historical notes as we moved past the Duomo and other sights. During the cooking class we received interesting details on Florence's and Italy's culinary traditions and dishes. Just as an example, during the food tour I learned some differences between cheeses made with cow's milk as opposed to goat's or sheep's milk: I learned you can't successfully add in extra ingredients to cow's milk at all and age them (except for mold, think gorgonzola), but you can to sheep's milk. That's the reason why we have flavored pecorino cheeses, such as with truffles or peperoncino. Every time I take part in a class or tour, I enjoy learning something new to share with you ;-).
Check the gallery below for more photos of my experience of doing this cooking class, I enjoying making the pasta and tiramisu - and eating it after! ;-)
Will you be trying this cooking class or another one while you're in Florence? Share with us how your experience goes!
DISCLOSURE
This page and website contains affiliate links. This means that if you make a purchase after clicking on such links (to Viator.com, Italy-Tickets.com, Booking.com, RentalCars.com, etc), Visit Florence will get a small percentage of the purchase price, at no additional cost to you. Thanks for your support! Read more details.