Florence » Eating and Drinking »
The Best Gelato in Florence
It's summer 2014 - and we've decided to update this popular article by going around all of Florence and doing some gelato-tasting!! Poor us! ;-)
We will revisit all of the gelaterias listed below plus a lot of new ones suggested by our dear fans on our Facebook page on a recent post. If you have any to suggest, post in the comments below or on the FB post.
* * * article will be updated as we do tastings * * *
Florence has a lot of good gelaterie and you surely can't go wrong if you have feel like eating a good cone of gelato, as ice cream in called in Italian. But as you try more and more gelato and became a sort of expert in the field of "gelato tasting", you'll see that at some places the gelato is just much better than at others - and here we give you a head start in pointing out some of our favorite gelaterie in Florence :).
First off, some brief notes you should know about ordering gelato. You generally pay at the register first, then go claim your gelato at the counter. You can get a cone or a cup, prices are listed generally on a display which indicate cup/cone sizes and cost. Generally small gets you two flavors of your choice, medium and large get you 3 flavors and extra large gives you the choice to get up to 4 different flavors! Choose well :) And now on to the important part...

See where the gelato shops are on the map »
Vivoli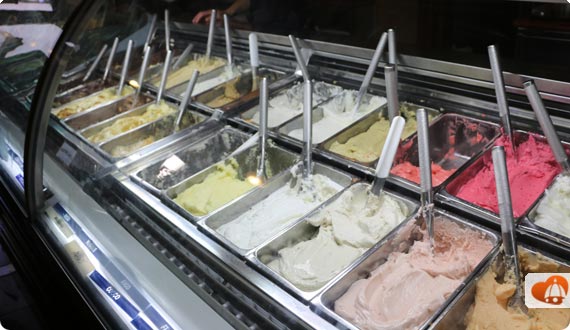 Many guide books (and comments on our FB post) vote that the best gelato in Florence is to be found at Bar Vivoli near Santa Croce.
We went back as part of our July 2014 gelato tour and we found the gelato to be creamy and true to its flavors, quite delicious. Not sure whether it is the best yet, as we are just at the start of our tour... but we wanted to try it at the beginning so that we could have something to compare it to as we go to other gelato shops.
I normally get a cone and found it surprising that they don't offer them here, just cups. Boo! Oh, well. I got a € 2,50 cup and got to choose 3 flavors: crema which is a plain cream flavor, stracciatella which has chocolate pieces inside and wanted to try a flavor a never get, the rice flavor. The rice has pieces of rice in it, it was very delicate. Overall, all very good flavors, creamy but not too much (I hate to have a coating of fat remain my mouth after eating gelato). The cup was full but portions were not generous... I found much more crema and hardly any stracciatella in my cup. My gelato-tasting partner (husband) had pistacchio, coffee and "fantasia" which had chocolate, dried fruit and cherries - the first two had great flavor and were quite delicious, the third was interesting (he got a bigger cup, at € 3,50). They weren't too sweet as had been my experience in the past... but I think I have to go back and have some fruit flavors next time!
Where it is
Via Isole delle Stinche, 7r - near Santa Croce, a bit difficult to find but you can do it ;)!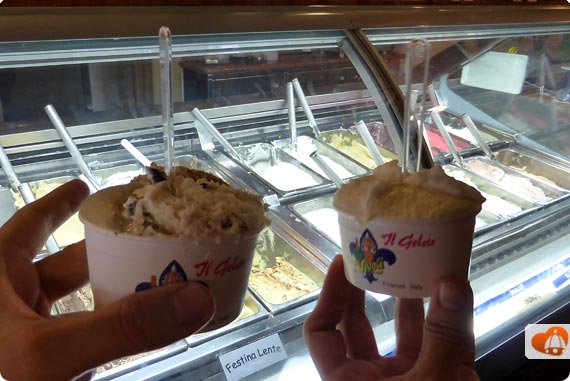 Grom
One of best gelato in Florence at the moment is at Grom. In just a matter of a few years, this gelateria from Torino has opened many shops across Italy and has opened shop in Manhattan, Malibu, Paris and Tokyo. What has made it so popular is its philosophy of offering high-quality ice cream made of high-quality, natural ingredients. If you want pear ice cream, you can taste the pears. Chocolate ice cream is made with cocoa beans from Columbia and Venezuela, pistachio ice cream with pistachios from Sicily or Syria and so on. The fruit gelato offered changes according to the season and every month you'll find a new flavor of the month.
The gelato is soft and smooth - they beat it around the tin a bit before serving it on your cone or cup to make it soft. If you're a visual creature, you won't be finding the mountains of gelato piled up to tease you. The tins are all hidden in the special refrigerator-freezer they use to keep the gelato soft.
I don't know how the franchising of the product affects quality, but the lines outside attests to its popularity. So if you're in Florence (or in Siena), go look for Grom - you won't be disappointed.
Where it is
Via del Campanile - corner with Via delle Oche to the right side of the Duomo, one street off from Via dei Calzaiuoli
Gelateria de' Neri
The fun part of being in Italy is to eat gelato every day and keep trying new flavors. So even if you fall in love with Grom and return several times during your stay in Florence, there are other gelaterie you should try.
If you're closer to Palazzo Vecchio head to the back of the palace and take Via de' Neri toward Piazza Santa Croce. In the last block you'll find Gelateria de' Neri. I love fruit based gelato and here you'll find a good selection on offer. I love the passionfruit and mango, strawberrry and lemon. Try your favorite flavor, you won't be disappointed.
Where it is
Via dei Neri 22r
Gelateria Carabe'
At Gelateria Carabe' on Via Ricasoli you should try the Sicilian granitas, a fruit ice slushy that really taste like the fruit they're made out of but the most traditional is a coffee granita. The ice cream here is fine but nothing spectacular.
Where it is
Via Ricasoli 60r
Gelateria La Carraia
Right off the Ponte alla Carraia (second bridge west of Ponte Vecchio, on the Oltrarno side), the gelato here is super creamy and soft. The display is also a feast for the eyes! We got a € 2,50 cone with the Delizia Carraia which has pieces of white chocolate and a sort of pistacchio sauce dribbled on top, coffee, and a mousse tiramisu' which was super light. All were very creamy and flavorful, the tiramisu' had the consistency of whipped cream which was interesting in the mouth - obviously, quite delicious as well.
I was feeling like fruit that day and got the mango flavor on the tasting cone which costs just 1 euro (limited to one flavor): the prices cannot be beat! As you can see from the picture, the amount of gelato on both cones was quite generous. We liked all the flavors and hope to go back soon for another taste of other appealing flavors... like the ricotta and pear, for instance.
Where it is
Piazza Sauro Nazario, 25/R - Ponte alla Carraia

Find the gelato shops on the map!
Outside the historical center
Gelato is a great way to end dinner during the summer but if you're not staying within the historical center and don't feel like walking or taking the bus in, head to the gelaterie where Florentines go to for great ice cream outside of the center.
Badiani
This pastry/ice cream shop is located on Via dei Mille close to the city stadium. Whether you're at a soccer match or staying nearby, we recommend to stop here and try their famous "Buontalenti", a rich, cream gelato named after the 15th century architect Buontalenti who is said to have invented ice cream. It has tables outdoors where you can sit and relax while you enjoy your gelato.
Where it is
Viale dei Mille, 20
Cavini
Cavini on Piazza delle Cure at the end of Viale dei Mille always has a crowd in front during the summer where the gelateria has set up chairs. Has a lot of flavors, all creamy and delicious.
Where it is
Piazza delle Cure - corner with Viale dei Mille
Il Sorriso
In southern Florence, the perfect gelateria for anyone staying close to Viale Europa. This one has you take numbers during the summer, that is how popular it is! All flavors we've had are delicious and creamy.
Where it is
Viale Giannotti/Viale Europa - almost in front of the Coop Gavinana, right after the pizzeria "la Piazzetta" which is right on the small square.
There are so many gelaterie in Florence, I am sure you'll have your favorite! If you have one you'd recommend, please share with the rest of us in the comments below!
About Lourdes Flores
An American living in Florence for over 11 years, Lourdes continues to explore and discover new places in Tuscany with the eyes of a tourist but with the experience of living in Italy. She shares her experiences on this website, blog and offers travel planning help on the Forum! If you have questions for Lourdes, post them on the Forum.
You might also like:
Eating & Drinking in Florence | What to Do in Florence
Did you find this article interesting? Share it!
Questions? The right place to ask is our Forum!
(questions posted on Comments below will no longer receive replies: so post on our Forum!)
blog comments powered by

Disqus