It's summer and time to update our favorite gelato stops in Florence!

There are many gelato shops in Florence and, to be honest, there is a lot of very good gelato out there. Coming up with a definitive list of the "best gelateria" is actually quite tough as every single person has different preferences (creamier, fruit vs nut flavors, soft vs firmer consistency) but we still decided to go ahead and post our favorite gelato shops and order them by the main thing that distinguishes each one. Of course, we expect you - our reader and visitor to Florence - to go out there and taste yourself! Let us know what you think and which one is your favorite.
This list has been online for many years, we've added several new places recommended by our fans on Facebook, dropped a few and then added them back again. New places have also opened up that we've gone out to try, which we think merit your attention. The gelato shops we definitely do not include are those that have "mountains" of ice cream (generally not a sign of quality) on display in the most trafficked areas and opted for the "artigianale" gelato shops, the ones that make their gelato in-house and with fresh, natural ingredients daily. We try to keep these guidelines in mind as we go back each time to eat a gelato cone.
First, some general tips on GELATO
Print and bring along our list!
I've made a printable list of our favorite gelato places you can download and bring along with you to make it easy to find all these places! ;-)
A few tips for making the most of your gelato order: first, choose whether you want a cone or a cup. It is my belief you often you get more gelato on a cone than in a cup... and there's the cone to eat as well! Then, take a look at the flavors and more or less decide which ones you want: generally, a small gets you two flavors of your choice, medium and large get you 3 flavors and extra large gives you the choice to get up to 4 different flavors! You can always still just get less flavors so that the quantity will be bigger. Now, head to the register to pay for it BEFORE ordering, then with receipt in hand place your order. Now you're ready to enjoy some awesome gelato!
Artisan gelato called gelato "artigianale": generally means home-made in the shop with fresh, natural ingredients, no use of preservatives or artifical coloring. So colors might not be as bright but that means that the ingredients used were "real" and not artificial.
Without further ado.... here's are our favorites!!
On the map below, you can find the closest to you!
ABSOLUTE MUST-TRY
OUR TOP FAVORITE: Gelateria La Carraia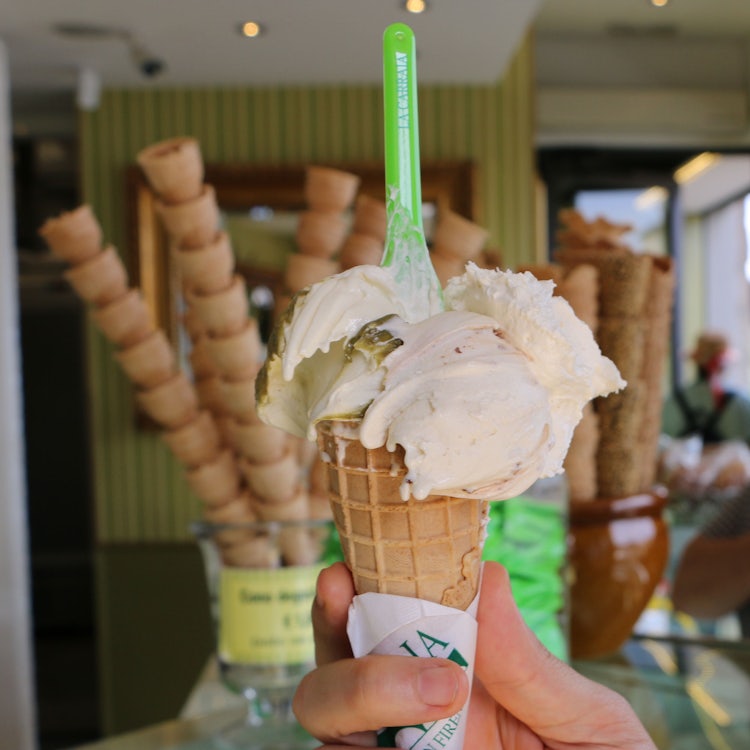 Right off the Ponte alla Carraia (second bridge west of Ponte Vecchio, on the Oltrarno side), the gelato here is super creamy and soft. The display is also a feast for the eyes! We got a € 2,50 cone with the Delizia Carraia which has pieces of white chocolate and a sort of pistacchio sauce dribbled on top, coffee, and a mousse tiramisu' which was super airy (maybe not very light as far as calories goes). All were very creamy and flavorful, the tiramisu' had the consistency of whipped cream which was interesting in the mouth - obviously, quite delicious as well.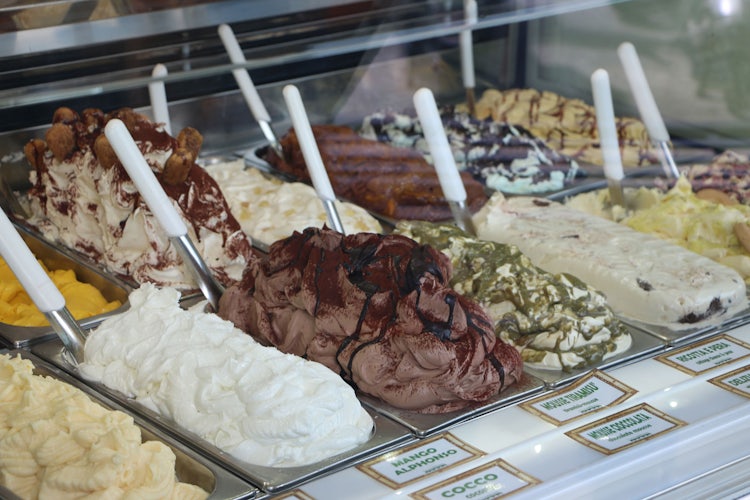 Prices cannot be beat if you just want to do a sampling: the tasting/baby cone costs just 1 euro (limited to one flavor - mango in the photo below)! As you can see from the photo below, the amount of gelato on both the baby cone and normal cone is quite generous. We liked all the flavors we have gotten here, from the "arachidi salati" (salted peanuts) which tastes just like delicious peanut butter cookies to the "biscottino", a yummy cookies & cream. We also have had pistacchio, coffee, cheesecake and Marmo di Carraia, another interesting mix of flavors. Once again, all were very creamy and flavorful, abundant portions for the price and... we decided it is our favorite and at the top of the list of best gelato in Florence for both reasons!
There is a second location on Via dei Benci near Piazza Santa Croce but the selection is more limited. If you're in this area, we recommend you head here but try some gelato at both locations.
Where it is
Piazza Sauro Nazario, 25/R off Ponte alla Carraia on the Oltrarno side and Carraia 2 on Via dei Benci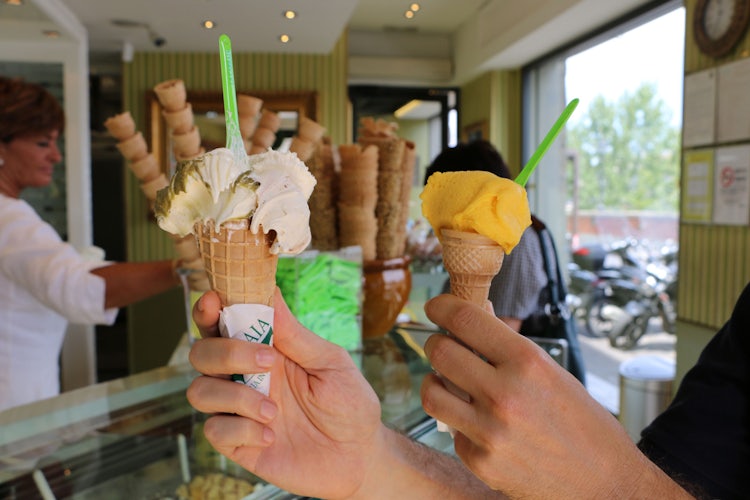 Our next favorite: Carapina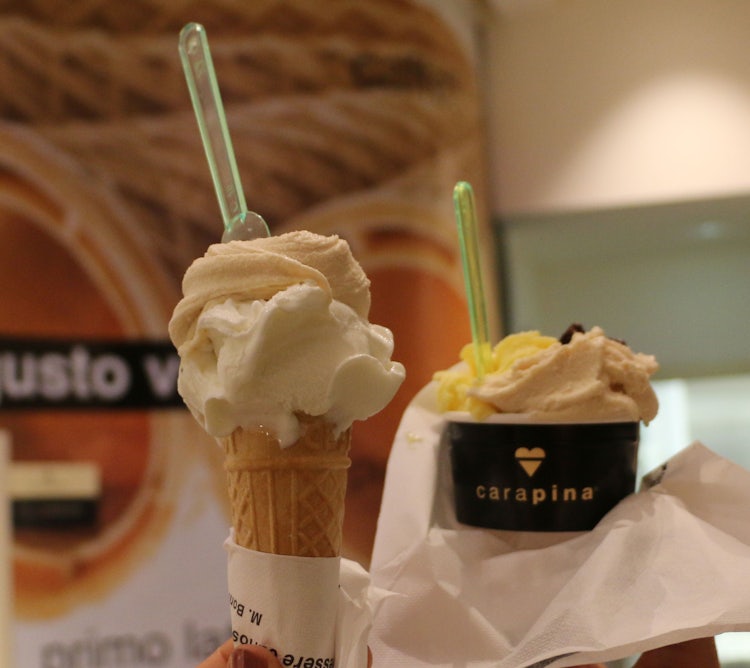 This small gelato shop opened a few years ago just a block from our office outside of the historical center and it has been on our top favorites ever since. Then it also opened a small shop downtown, between the Uffizi Gallery and Ponte Vecchio making it easier to taste if you stay downtown. This summer it has made its apperance along the Arno in a small ice cream trcuk at the summer outdoor dining space along Lungarno del Tempio.
The ice cream at Carapina is made with natural, high quality ingredients: only fresh, seasonal fruit, whole fresh milk, quality chocolate and coffee from central America. The quality of the ingredients shines through in every gelato we've ever had at Carapina, which goes well beyond this summer's tastings. The gelato is creamy and light, the fruit gelato tastes like you're biting into the fruit itself. You won't see the gelato here, as they are kept in silver canisters deep in the counter to maintain the temperature constant at which it is kept soft: you can see how soft and creamy it is as they stir and grab the gelato out to form your cone or fill your cup. The quantity of flavors is limited given the seasonal variety, but the gelato is made fresh daily and made again throughout the day as needed right in the back area of the shop.
Considering the high quality, keep in mind that prices are a bit higher than on other gelateria across Florence but you won't be disappointed with any of the flavors you try. For slightly higher cost, portions are definitely smaller than at Carraia. As far as flavors, we recommend the Crema dell'Artusi and Hazelnut with Pistacchio, a classic combination. If figs are in season, I highly recommend trying it as well as the watermelon - really refreshing! The only complaint we have about Carapina: that is closes in AUGUST for a week or two, which we consider a bit crazy! That's the height of gelato season in my book ;-).
Where it is
Via Lambertesca, 18 and Piazza Oberdan, 2r - www.carapina.it/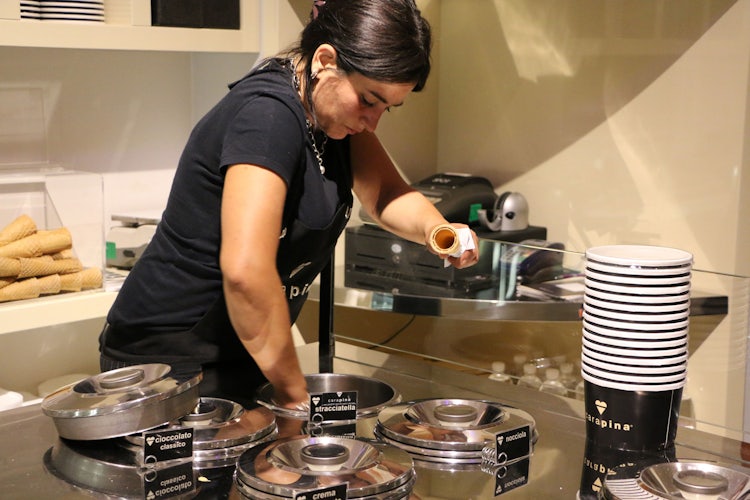 Mordilatte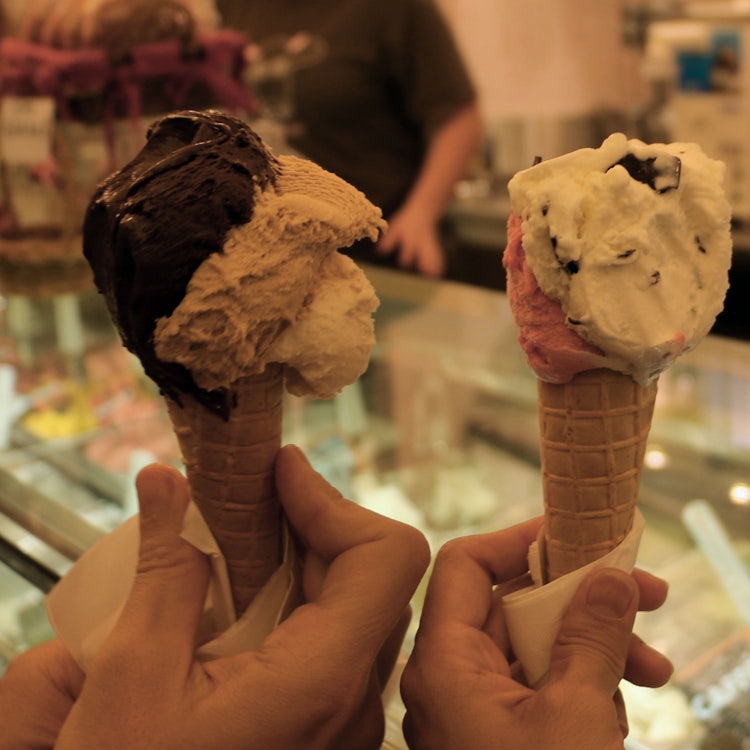 Mordilatte is less than a block away from the Duomo on Via dei Servi. In a prime location, the creamy flavors and abundant servings makes it a favorite whenever we are in the area (and Grom has long a line). We love them for their philosophy of using the best, freshest local ingredients, particularly for the fruit. They explicitly say they make no use of preservatives at all. If you don't feel like gelato, they also offer milk shakes and smoothies.
Where it is
Via G. D'Annunzio 105 - http://www.mordilattefirenze.it/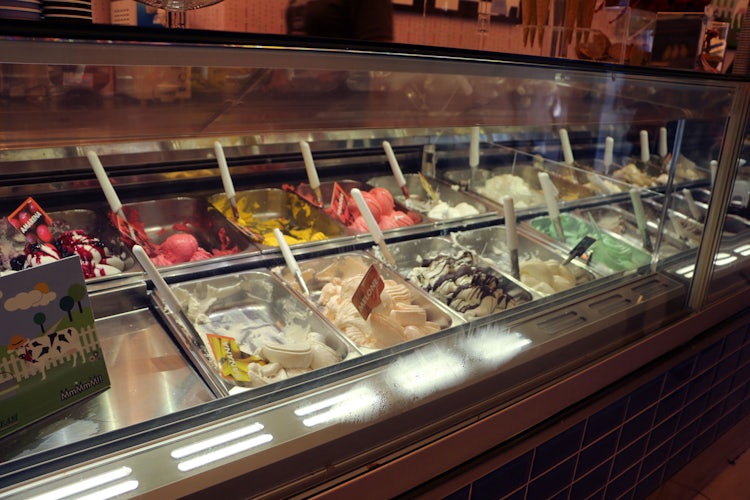 Perchè No?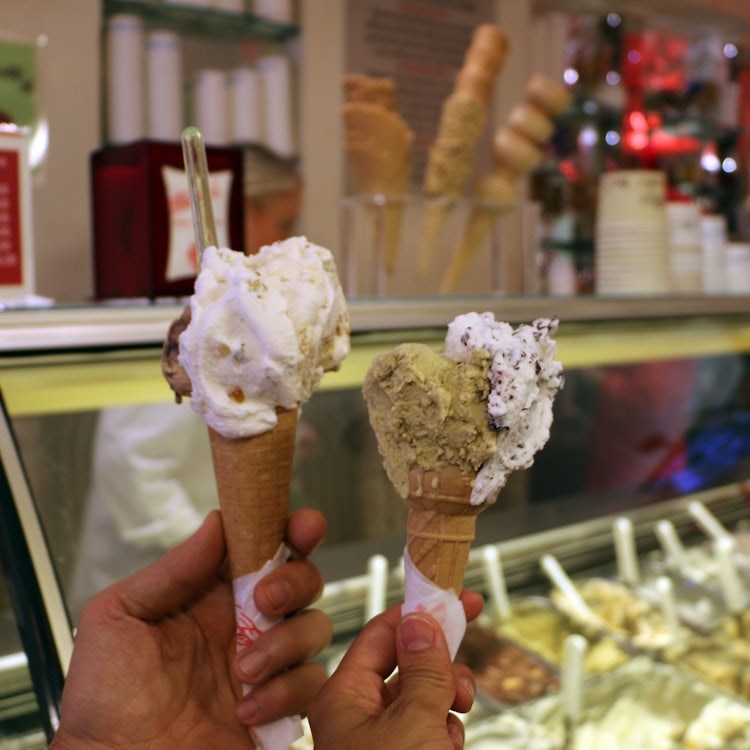 The name means "Why Not?"... and it matches the philosophy of a gelato place perfectly! Why not enjoy some more delicious gelato?? Specialized in homemade gelato since 1939, they make their gelato with all natural ingredients, with vegan and soy options as well. Their coffee crunch and creamy milk-based gelato sweetened with honey and sesame seeds were quite a special treat!
They have a special taste of the day every day, from pine nuts, rose and English trifle on Mondays to ginger, cheesecake, apple pie and matcha green tea on other days of the week. You'll want to go back every day to try them out!
Where it is
Via dei Tavolini, 19-rosso 50122 Firenze - http://www.percheno.firenze.it/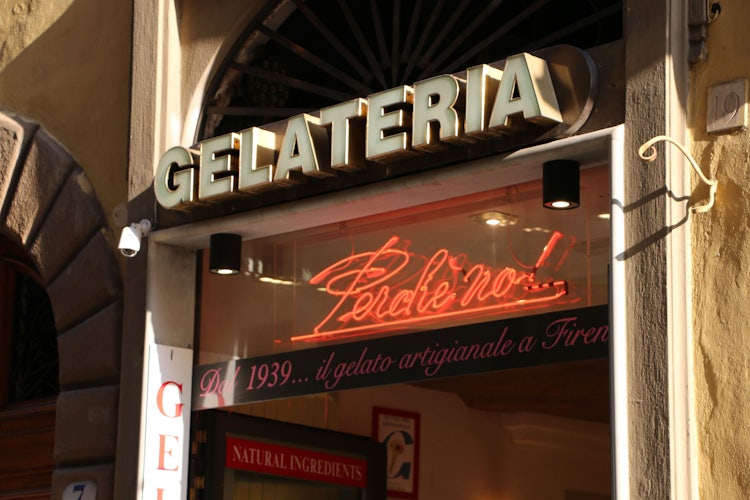 Grom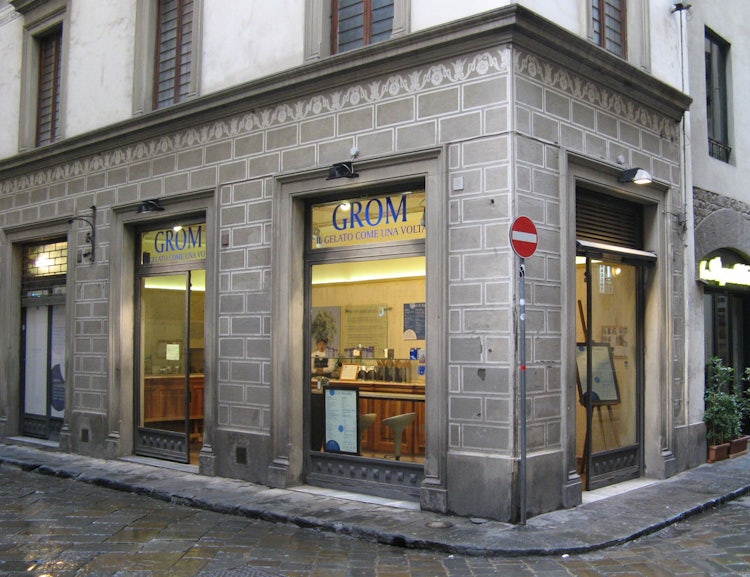 In just a matter of a few years, this gelateria from Torino has opened across many Italian cities and across the globe in cities such as Manhattan, Malibu, Paris and Tokyo. What has made it so popular is its philosophy of offering high-quality ice cream made of high-quality, natural ingredients. If you want pear ice cream, it will seem you are biting into pears. Chocolate ice cream is made with cocoa beans from Columbia and Venezuela, pistachio ice cream with pistachios from Sicily or Syria and so on. The fruit gelato offered changes according to the season and every month you'll find a new flavor of the month.
The gelato is soft and smooth - they beat it around the tin a bit before serving it on your cone or cup to make it soft (much like Carapina does). If you're a visual creature, you won't be finding mountains of gelato piled up to tease you (a big no-no as far as "natural" goes). The tins are all hidden in the special refrigerator-freezer they use to keep the gelato soft.
The long line outside attests to its popularity. If you're in Florence (or in Siena), go look for Grom - if the line isn't too long, go ahead and enjoy some great gelato.... if the line is long and time is limited, try any of the other gelato places on this list: you won't be disappointed.
Where it is
Via del Campanile - corner with Via delle Oche (to the right side of the Duomo, one street off from Via dei Calzaiuoli) - http://www.grom.it/en/
CLASSICS: CAN'T GO WRONG
Badiani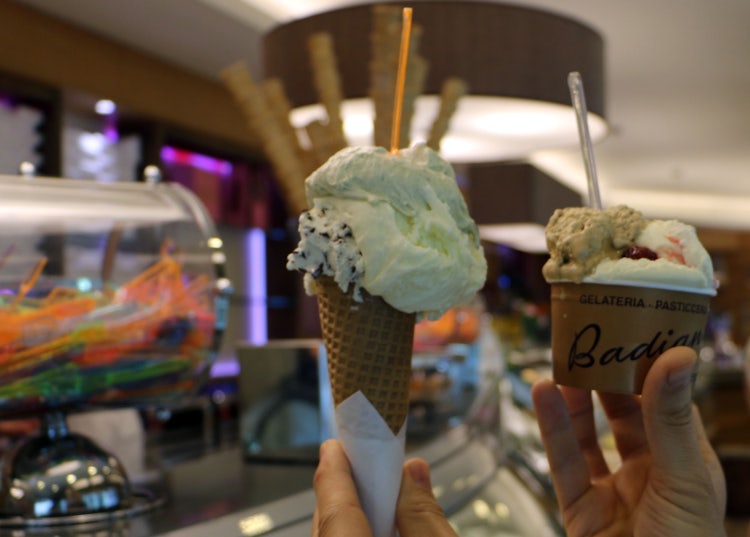 This pastry/ice cream shop is located on Via dei Mille close to the city stadium. Whether you're at a soccer match or staying nearby, we recommend to stop here and try their famous "Buontalenti" flavor, a rich, cream gelato named after the 15th century Florentine architect who is said to have invented ice cream. A frame inside tells us of the story behind this flavor: in 1970, gelato makers in Florence organized a competition to honor the famous architect and inventor of gelato. Badiani created this creamy flavor as their entry into the contest, winning the competition. Since then, many have tried to replicate the flavor but only at Badiani can you taste the original. I personally think it tastes a lot like condensed milk, which I love eating out of the can/tube - yum ;-)!
There are tables outdoors, perfect for enjoying your gelato in the summer but there is also a spacious sitting area inside, perfect for enjoying gelato even in the colder months. It is a coffee/pastry shop as well so you can also head here for breakfast or in the afternoon to enjoy a special treat/snack.
Where it is
Viale dei Mille, 20, about 4 blocks from the stadium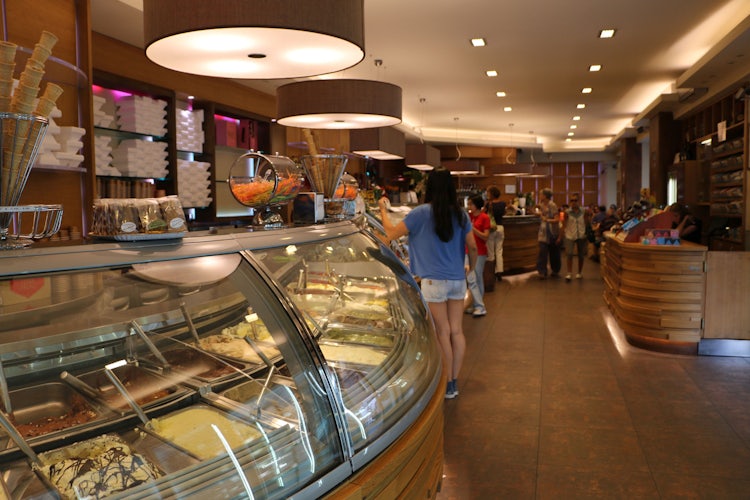 Vivoli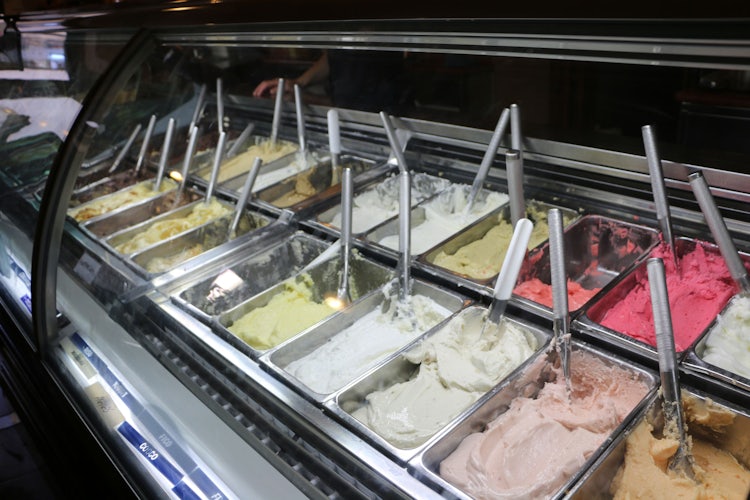 When reading guide books about Florence, most of them indicate that the best gelato in Florence is to be found at Bar Vivoli near Santa Croce. While it is said to be the oldest gelato shop in Florence (founded in 1929), it was first known as a cafe and meeting place for locals and only after did it also dedicate itself to gelato.
While we found the gelato to be creamy and true to its flavors and quite delicious, we are not sure we would label it as the "best". The selection offers all of the traditional flavors but what I found surprising is that they don't offer cones, just cups! I got a € 2,50 cup and chose 3 flavors: crema which is a plain cream flavor, stracciatella which has chocolate pieces inside and tried the rice. The rice has pieces of rice in it, it was very delicate. Overall, all very good flavors, creamy and light. The cup was full (you can see them below), portions were not generous... I found much more crema and hardly any stracciatella in my cup. My gelato-tasting partner (and husband) had pistacchio, coffee and "fantasia" which had chocolate, dried fruit and cherries - the first two had great flavor and were quite delicious, the third was interesting (he also got a bigger cup, at € 3,50). They weren't too sweet as had been my experience in the past when trying out Vivoli. While the gelato here was good, I would not label it as "the best" nowadays.
Where it is
Via Isole delle Stinche, 7r - near Santa Croce, a bit difficult to find but you can do it ;)!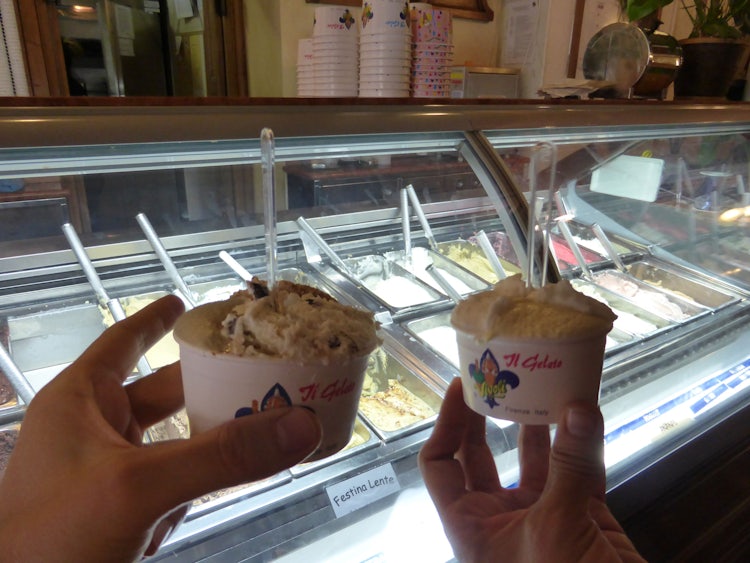 FOR THE ADVENTUROUS: UNIQUE FLAVORS
Gelateria de' Neri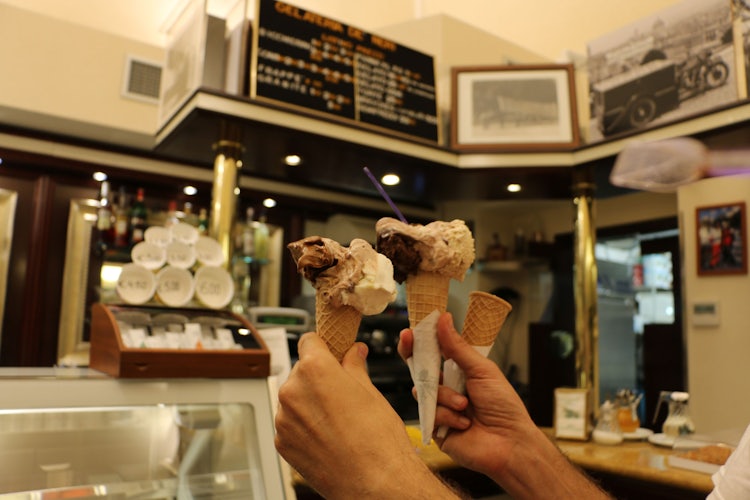 The fun part of being in Italy is to eat gelato every day and keep trying new flavors. So even if you fall in love with any one particular shop, we encourage you to try any of the others on this list which offer delicious, creamy gelato!
In this case, if you're close to Palazzo Vecchio, head to the back of the palace and take Via de' Neri toward Piazza Santa Croce. In the last block you'll find Gelateria de' Neri on your right side (it used to be on the left). The new shop is bigger and the selection is huge: lots of fruit gelato and many, many choices amongst the cream, including pure chocolate and caramel! There is also granita, which is known as Italian ice abroad. It is frozen fruit, water and sugar served in cups with a straw to drink on hot summer days.
Try your favorite flavors as you won't be able to choose just one - you won't be disappointed! I love the passion fruit and mango, this last time I tried the pure caramel. A bit too sweet for me but I've never had it before in frozen form. There are some interesting flavors, such as chocolate with hot chili and pistachio, rose and gorgonzola cheese.
Where it is
Via dei Neri 9/10r (don't be confused if you find two different numbers online; it moved across the street from its old location in Spring 2014)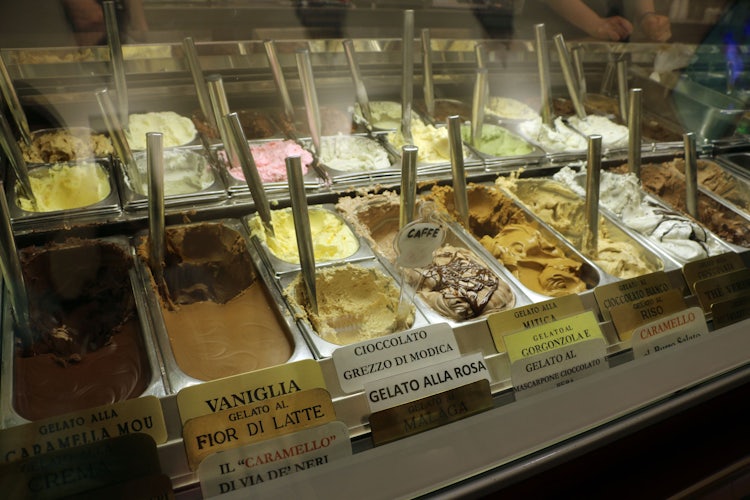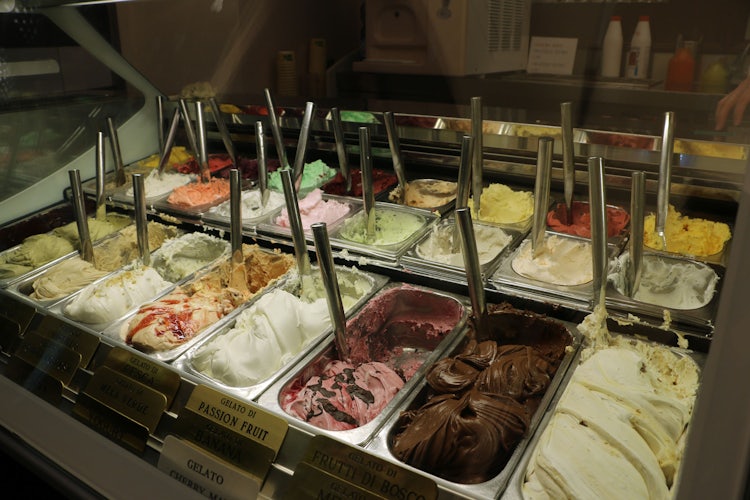 Cantina del Gelato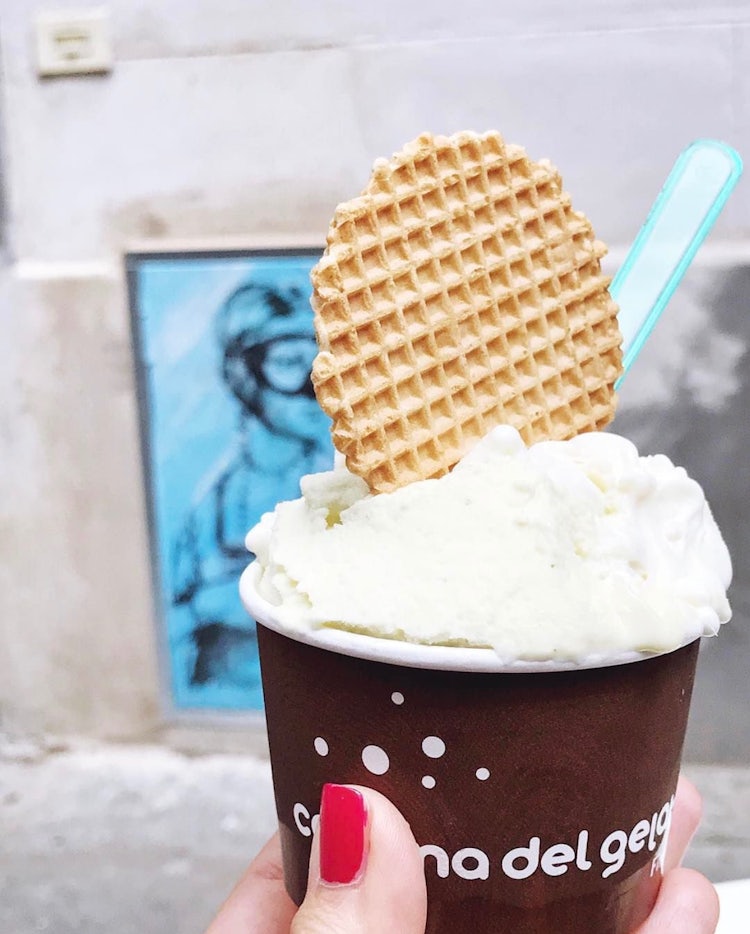 One of the most recent gelato shops in Florence, it first opened on Via dei Bardi, across the Arno from the Uffizi Gallery and Ponte Vecchio. Enjoy your gelato with a view! It also opened a second location on Borgo La Croce near Pizza Beccaria about a year ago.
Artisan gelato, with natural ingredients and interesting flavors: goat cheese with walnuts, vinsanto and cantuccini cookies, whiskey with cinnamon, mascarpone with nutella and many more. The fresh, seasonal fruit flavors include pear, orange, melon. The Cantina del Gelato also specializes in smoothies with tropical fruits, such as lime, pineapple, guayaba, maracuja, and acai berries.
We really enjoyed the Cantina del Gelato flavor, with Nutella and caramelized almonds as well as fresh strawberry and peanut butter and the pistacchio and coffee.
Where it is
Via dei Bardi 31 and Borgo La Croce - http://www.cantinadelgelato.it/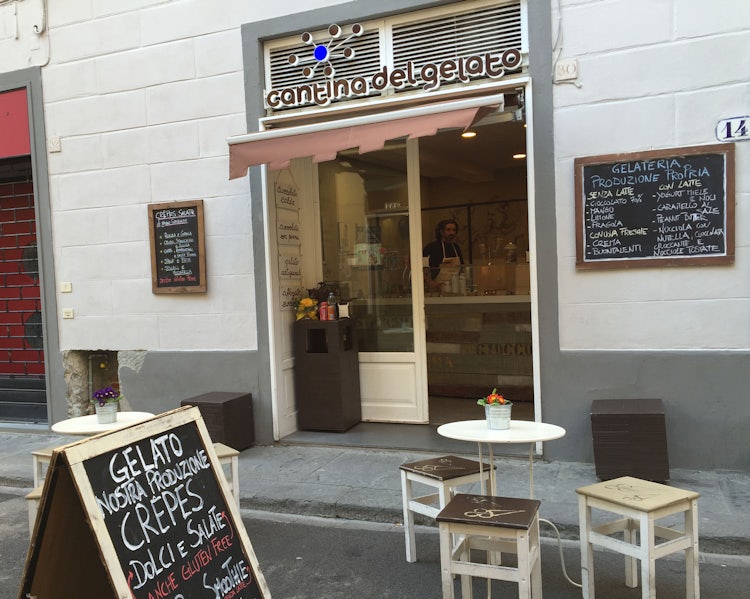 Procopio
Il Procopio won best gelato a few years ago at the Gelato Festival here in Florence, and its rich flavor combinations (see the photo below) are to be tried one at a time, you definitely should not mix too many here.
Where it is
Via Pietra Piana, 60R - FB page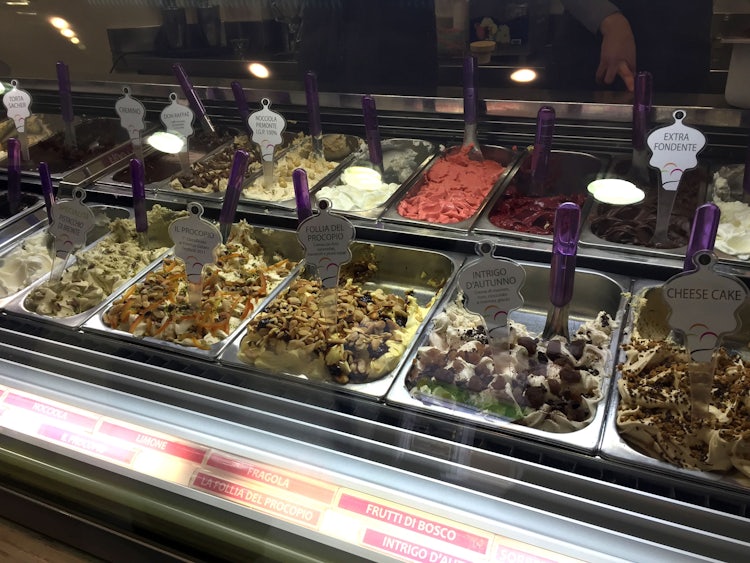 RIVARENO
Rivareno offers delicious, creamy gelato! From classics to more particular flavor combinations, this place is my go-to place for peanut butter ice cream ;-). Last time we stopped by, we were curious to try the pistacchio sorbet: we found it to be delicious and creamy, even with no milk!
Rivareno, with its slogan "laboratorio di gelato italiano", seeks to offer high quality gelato made that day with freshest ingredients. You can see at the back of the shop the machines used in the shop. The shop is part of a franchise network given its success, but we don't feel this detracts from the yummy gelato we've had many times here. We also love the long hours - usually from noon to midnight or 1am on Fridays and Saturdays during the summer months.
Where it is
Borgo degli Albizi, 46R - http://www.gelateria.firenze.fi.it/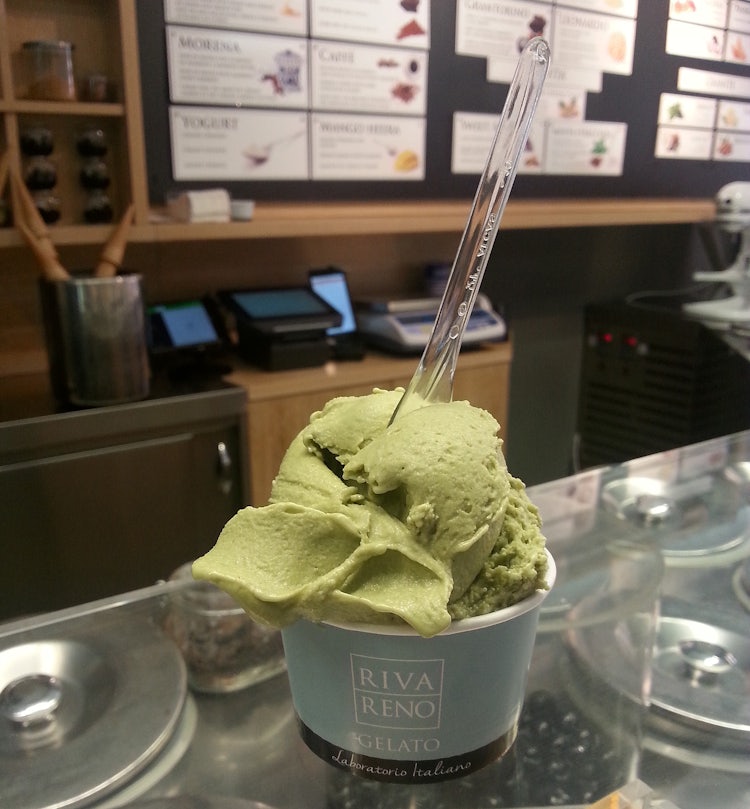 There are so many "gelaterie" in Florence, I am sure you'll have your favorite! If you have any other ones you recommend, please share with the rest of us in the comments below - and we'll go try them out soon!