Finding the beauty of Autumn and spectacular scenery of parks, forests & mountains near Florence on long walks
This is a special time of the year when green turns into yellow, and red starts to bleed into the leaves. The cold evenings signal to the trees to prepare for the winter, and shortly thereafter the forests near Florence and the parks and trails in the Apennines produce a parade of fantastic colors for those who venture off for a couple of hours.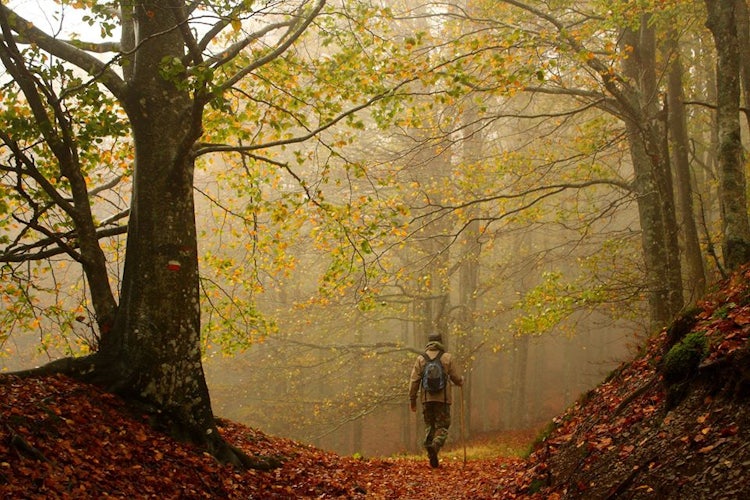 Just because you base yourself within the heart of the Renaissance City, doesn't mean that you need to skip the crisp perfumes, the warm colors, and fragrant flavors of autumn. With either a short trip in the car or the use of public transport, you can find yourself walking through the vast uncontaminated areas surrounding ancient monasteries, forests and national parks.
There are many options for travelers who have a car and want to wander a bit aimlessly, but we also have a few ideas for those who prefer to rely on public transport. Buses reach many of these areas, leaving you in places which are ideal for starting a hike into the colorful wilderness of Tuscany. If you don't feel like worrying about how to get there or walking too much, we offer alternatives, such as guided bike rides or short guided walks.
In any case, we suggest that you come prepared with sturdy shoes, an extra sweater or jacket, and pack water as well as lunch or some snacks.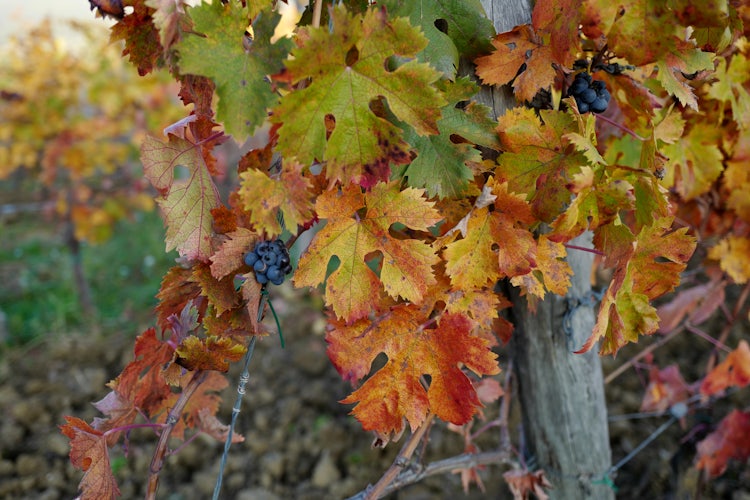 ---
Mugello, to the north of Florence
This area is characterized by trails that cross through the major watersheds creating a vast ring of paths encircling the city of Florence with spectacular panoramic views from the crests of the mountains to the valley. There are about 500 km of paths called SO.F.T. (Florence Springs Hiking Trails) that form a ring around the northeast area of Florence. The closest point and trail to the city starts in Polcanto, which is accessible with public transport.
Mugello also offers easier walking itineraries suitable for everyone, including a number of pleasant leisure walks in the Gabbianello Natural Oasis and in the magnificent park of Villa Demidoff at Pratolino (Vaglia).
The Great Apennines Excursion, more commonly known as GEA, stretches 402km reaching 2,054m at its highest point crossing the mountain ridges of the Tuscan – Emilian Apennines, from Bocca d'Abria (Umbria) to La Spezia (Liguria). If you are passionate about long walks in an uncontaminated environment then you would need to set aside 23 days to explore its full length!
However, for those who don't have that much time, the area is well organized so that you can do it in little pieces enjoying the fresh air and wonderful colors - summer, spring, and especially fall. Passo del Giogo is perhaps the easiest to explore, starting around the Passo della Futa, just above Lago Bilancino.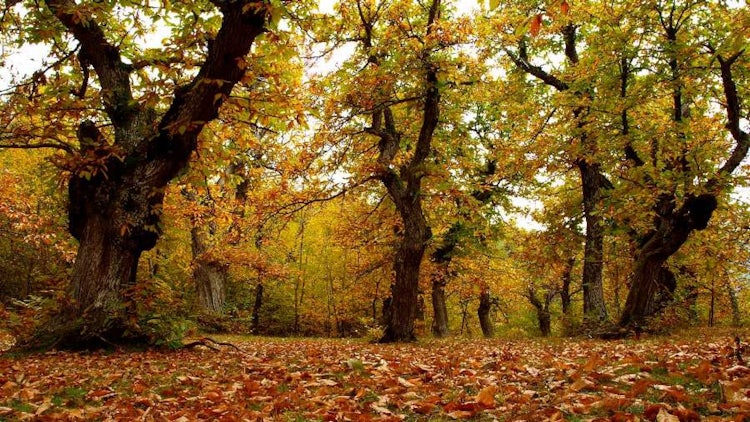 ---
Pistoia, northwest of Florence
Heading out of Florence and into the wilderness around Pistoia gives you a wonderful possibility to explore the two glacial circles at the Abetone Forest: the Black Lake and another near Campolino. The wilderness area covers a total of 53,767 hectares, more than a half of the Province of Pistoia!
It is absolutely amazing that this piece of Tuscany was first envisioned as a park as far back as 1777 by the Granduca di Toscana. However, if you are looking for something just a little bit easier and closer to the city you can visit the Suspension Bridge and the forest around the river Lima.
Heading just a bit further out of Pistoia towards the town of Cutigliano, you can follow a series of dirt roads towards Doganaccia, and the lake of Scaffaiolo ending up at Croce Arcana (1675 meters above sea level) on the very border of Tuscany and Emilia Romagna.
Even though you will find yourself in the stupendous peaks above Tuscany - the trail is actually very easy and suitable for all levels, in only an hour you can enjoy both the colorful foliage of autumn and some of the hidden jewels of Tuscany. Cutigliano is characterized by narrow streets flanked by ancient palaces and monuments and Doganaccia, as its name implies, was a customs checkpoint on the borders (dogana = customs).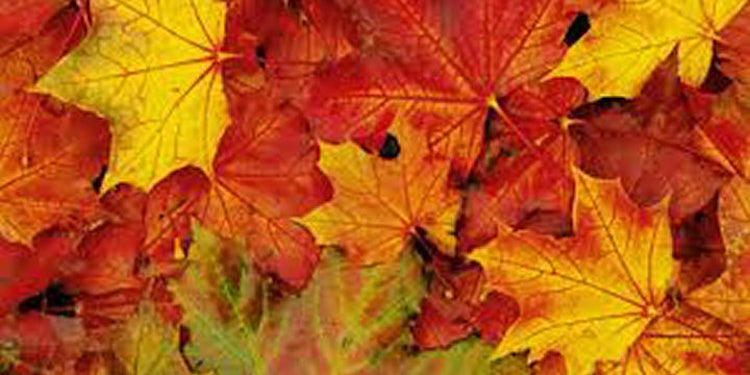 ---
Casentino, east of Florence
Casentino truly offers an infinite number of opportunities to explore the wonders of fall in Tuscany. Between the National Park and the two monasteries nestled in the Apennine peaks, Camaldoli, and La Verna, this area southeast of Florence is a day trip to be filled with castles, antique churches, and incredible wooded areas.
Start by exploring the seasonal event "Autunno Slow", which proposes seven weeks dedicated to the beauty of the National Park during the fall months. Inhale the colors of the forest, with its personalized display of yellow, red, green and orange. Spanning two regions (Tuscany & Emilia Romagna) you can participate in hikes, listen to the bull deer bugle their way through the mating season, gather chestnuts, food festivals and sagras.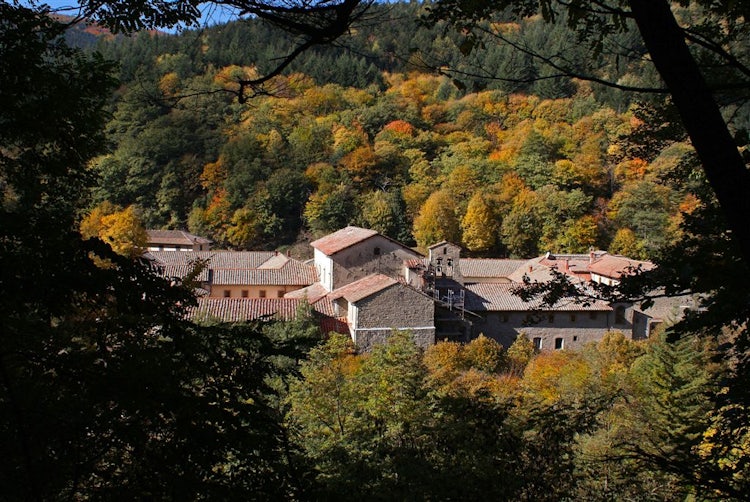 While in the valley, be sure to check out Camaldoli, which is located within the national park, a monastery founded in 1012 by Saint Romuald, a Benedictine monk. It includes an immense wealth of natural beauty and an interesting antique pharmacy, hermitage and a well cared for forest area with many trails to follow among chestnut trees, pine trees and many other varieties native to the area.
La Verna was established by Saint Francis in the 13th century. This monastery appears to be literally attached to a rock. A visit to the hamlet of Chiusi della Verna, and then follow the cobbled stone road to the lofty peaks will give you a one of a kind opportunity to see both coasts of Italy - on a clear day.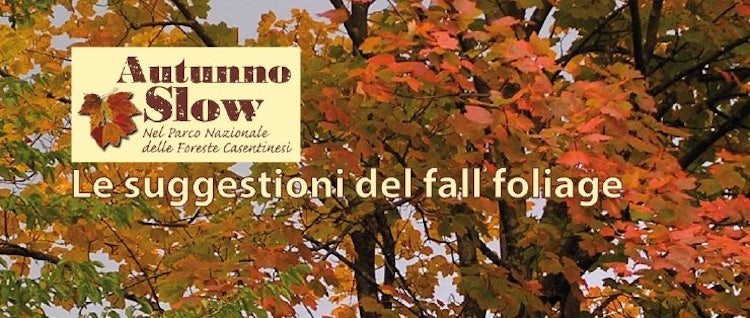 ---
Chianti, south of Florence
There is so much beauty in Chianti! Some of it is the stunning natural beauty of the valley while much of what attracts visitors worldwide are the man-made vineyards that create fantastic photo opportunities especially in the fall and autumn seasons.
The organization C.A.I Valdarno Superiore has quite a few clearly marked trails and maps which are great for helping you plan a detailed hike or bike ride. This hike is the closest around the small town of San Polo in Chianti as well as this one around Cintoia, which is a bit shorter and perhaps easier to incorporate in a day trip.
For those without a car, you can catch a bus towards the town of Grassina (ATAF 32 and then if you want ATAF 49 direction San Polo in Chianti) and start to hike towards the lovely hills, this road offers a soft climb and a lovely mix of vineyards next to the low lying forest areas which are so typical to Chianti. Another easy to reach hike is a bus to Greve in Chianti and then follow the roads up to Montefioralle, which will give you a fantastic view of the valley, vineyards, and Greve from above.
Without a doubt, if the great outdoors is your passion you will find that staying in Chianti during the autumn season opens up many opportunities for hiking, biking and lovely fresh air, colors, and perfumes of fall. There are so many lovely and comfortable holiday accommodations in the hills and especially on vineyards that offer the perfect vantage point to start your exploration of the fall scenery.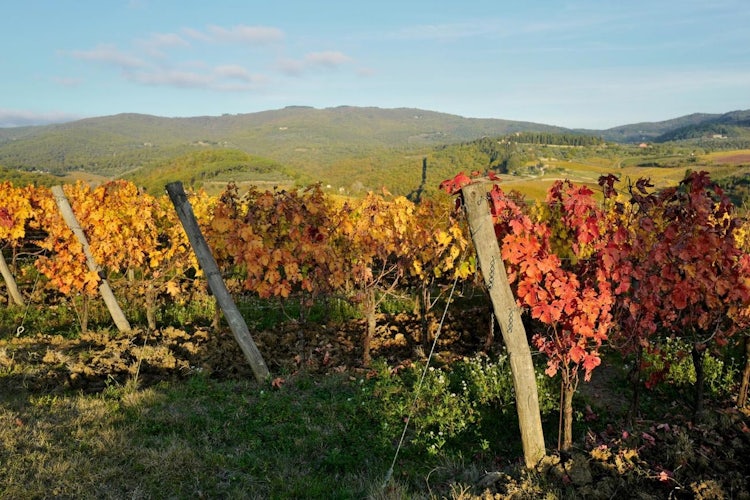 ---
Reggello, east before Casentino
Just an hour south of the Renaissance City, in an area virtually unexplored by curious tourists, Regello offers several wonderful opportunities for those interested in the natural beauty of Tuscany and especially Sant'Antonio Forest, and the curious and unique geological Balze.
You can find several well-documented itineraries in the Sant'Antonio Forest, unfortunately, the site is all in Italian but reading a map is an international language. The Forest of Sant'Antonio, a Protected Nature Area of Local Interest is included in the Pratomagno mountain chain, extending for about 900 hectares. This link features 14 paths and trails which can be followed for some stunning scenery.
Established in the early 1000's, Vallombrosa is a hermitage and monastery nestled in one of the most enchanting forest areas of Tuscany. Easily reached by bus and car these wooded areas provide many marked trails - or simply follow the main road by foot since there is a limited amount of car traffic, so you will find a fairly silent and tranquil environment.