According to Christian tradition, on September 8 of an unknown year somewhere near Nazareth the Virgin Mary was born.
In Florence, the large basilica of Santissima Annunziata is dedicated to her worship and thus her birthday is a day of celebration. Today, the religious celebrations are followed halfheartedly but at one time it was a great popular tradition where hundreds of peasants and farmers from the surroundings would make the long trek into the city to celebrate.
While the pilgrimage was the official reason for the trip into Florence, the farmers did not come into the city empty handed. It was a great opportunity to bring in their goods - cheeses, honey, the season's vegetables, and small hand made items. Thus September 8 was also a market day in the square of Santissima Annunziata.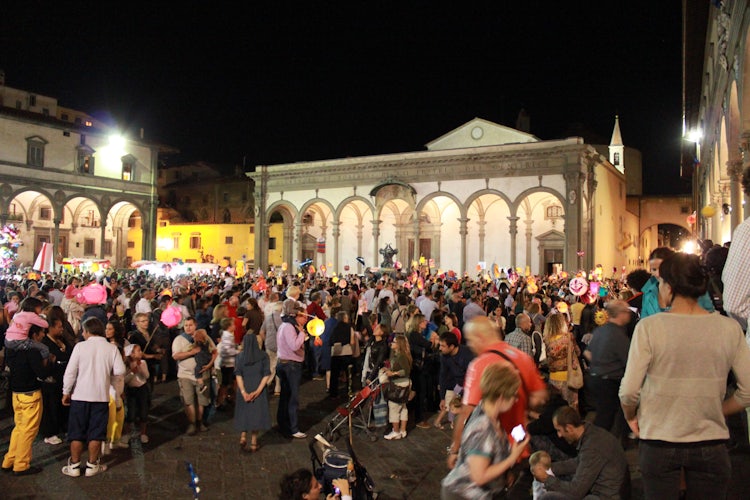 In order to arrive to the religious services on time, many started their journey before the break of dawn. The farmers needed lanterns and these were often carried at the end of stick, candles protected by a frame made of thin cloth. The tradition continues today so that on the eve of the 8th of September, Florentines and other "pilgrims" carry paper lanterns at the end of a stick as they make their way through the streets of Florence, from Piazza Santa Felicita to Piazza Santissima Annunziata, guided by the Cardinal. A speech is made in the square, followed by a final party in the square.
Today, a market is still held in the square in the form of a huge fair of organic produce on September 6 and 7.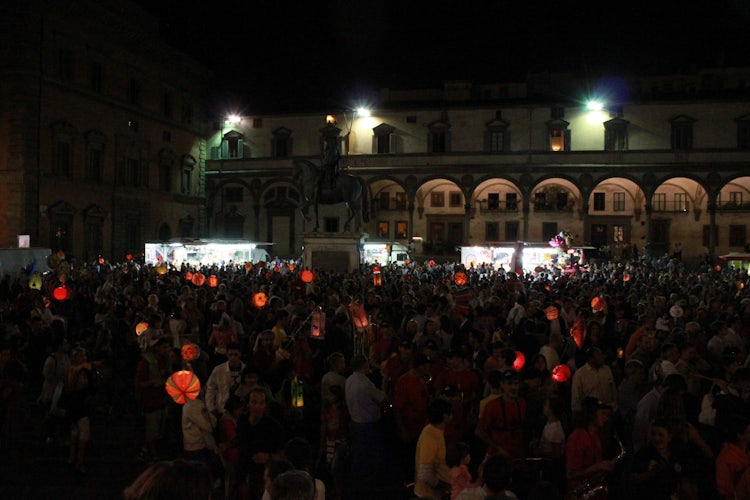 So if you attend, you might wonder why the older children blow spit wads at the paper lanterns? It is said that this also goes back to when the peasants would make the pilgrimage in their best clothes, but as they were poor and overdressed by city dweller standards, they were derided (it is interesting to note that today Florentines call an overdressed, over made-up woman a rificolona). Florentine children would make their own, more beautiful, attractive lanterns in colored tissue paper to follow along, while others would target the paper lanterns with spit wads in an attempt to furtively hit them, make the candles fall over and set the lantern ablaze. It is very common for most lanterns to be burned by the end of the night.
View our Florence events calendar to see further current events in the city and September events we highlight here.