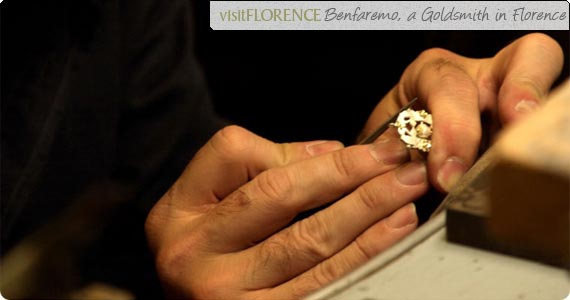 Fine Italian gold jewelry made in Florence
Anyone that has visited Florence will recall the numerous dazzling displays of the jewelry workshops located on Ponte Vecchio, one of the symbols of the city. Strolling by the beautifully lit shop windows, it is impossible to not be struck by the precious jewels on display which are often works of art created by these master Florentine goldsmiths.
Artisan gold jewelry made in Florence is appreciated and exported across the world. Its success stems from the long tradition of the craft in Florence and the experience of the local master artisans. Gold jewelry "made in Florence" is without a doubt one of the most exclusive of the typical handicrafts made in Florence, one of the most popular sought and purchased on trips to the Tuscan capital.
Are you searching for an exclusive gift for a special someone? Are you in search of an original and precious item? An artisan piece of jewelry, created by hand by a master Florentine goldsmith, is surely a perfect gift idea!
Nowadays many of the best Florentine goldsmiths have adapted to modern times and present their artisan jewelry collections online with the possibility of worldwide shipping. Wherever you might be, it is now possibile to receive your own "made in Florence" artisan gold jewelry in a matter of days.
You might also like:
Typical Products of Florence | Tuscany Typical Products
Did you find this article interesting? Share it!
Questions? The right place to ask is our Forum!
(questions posted on Comments below will no longer receive replies: so post on our Forum!)
blog comments powered by

Disqus