While the Hard Rock Cafe is not your traditional trattoria or restaurant in Florence, we often end up recommending it to lots of travelers who are seeking a pace of change from pasta or pizza during their trips in Italy. While their specialties are American style dishes, and in particular, burgers, it is interesting to see how this international company adapts to its local community as well as to changing tastes and offers new menus and new initiatives throughout the year.
In solidarity
First, the Hard Rock Cafe has joined in with the national and international community in solidarity for the Italian towns hit by the August 24 earthquake in central Italy, donating part of proceeds to the Italian Red Cross. In Hard Rock style, they have invented an Amatrice style burger called Amatriciana burger with taste of bacon and tomato sauce. An easy way to donate a bit while eating out! All proceeds from the sale of pins of the Hard Rock Heals Foundation during the month of October will also be donated to the Italian Red Cross.
All new Veggie Menu #BeEdgyGoVeggie
Right now, the Hard Rock Cafe is also offering its first vegetarian menu! As we are almost fully vegetarian in our family and are always seeking new places and dishes to try out, we decided to go ahead and check what they have on offer.
This special menu is being offered only for a limited time, just until November 13, so make sure to check it out while you can! Not a whole lot of time but if you're planning to be in Florence sometime in the next three weeks and want to try something fresh and delicious, you need to try out some of their dishes. If you love them, make sure to tell them so that some might be considered on a more permanent basis for the classic menu.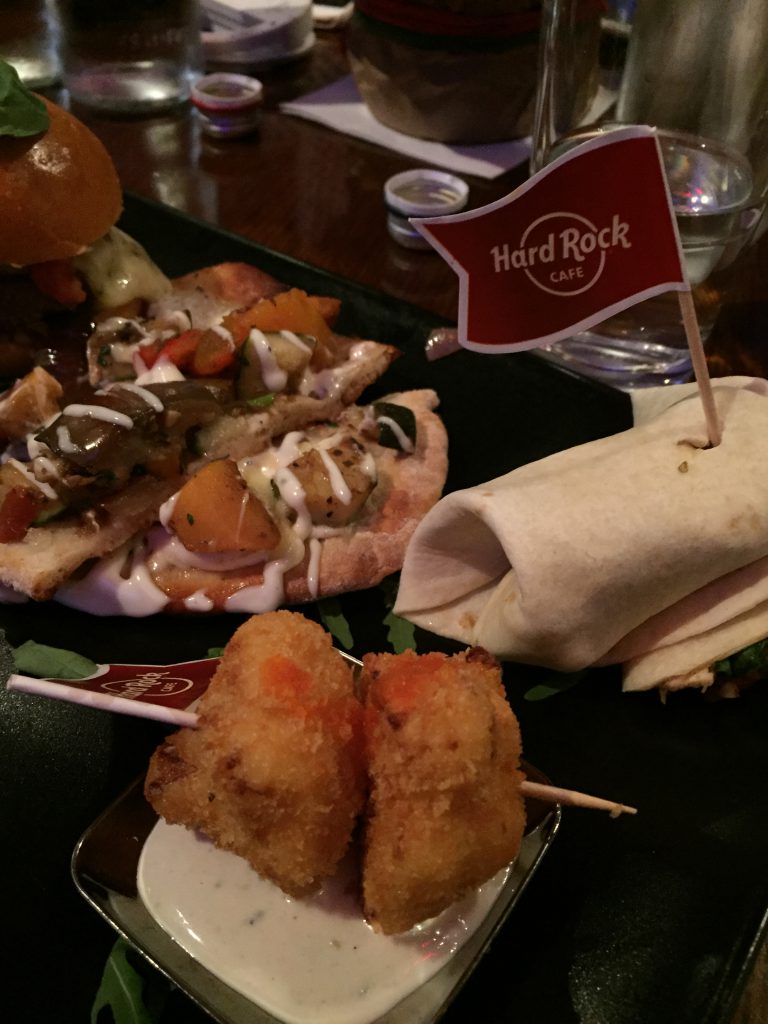 We were able to try out a sampling of various dishes since we were invited to try out the new menu and we were able to share dishes. There are plenty of vegetarian-friendly options on their normal menu, these are just extra offerings you'll find only during this limited time. These are the new items and what we thought of them:
cauliflower "wings" – they use the same breading and spices used for their buffalo wings, which made these very tasty and flavorful. Definitely a delicious way to eat cauliflower!
grilled ratatouille wrap – as the name says, it is a grilled tortilla wrap with classic ratatouille vegetables, grilled instead of stewed, with a sriracha mayonnaise. It was very tasty and would definitely go back and have this on its own. There is also the flatbread version, on a focaccia bread, which was very tasty, particularly the sriracha mayo drizzled on top.
fennel, beat and orange salad – flavored with fresh mint, cilantro and a line-cumin vinaigrette
pico de gallo quinoa arugula salad – fresh tasting with the tomatoes, cilantro, feta cheese and craisins, all with a citrus vinaigrette
the cauliflower burger – a veggie burger made with a pattie made with a base of cauliflower and made tasty with garlic, egg, goat cheese, oregano and bread crumbs. Layered inside grilled zucchini and squash, with cheese, arugula, tomatoes and a tasty aioli sauce.
During this period, you will also find a Wascally Wabbit fruit juice made of carrots, apple, orange, ginger decorated with a mint leaf as well as a Very Veggie 'Tini, a vodka martini with cucumber, red onion, mint and lime juice. We didn't taste these cocktails but they sure do sound interesting.
If you try any of these dishes, make sure to share them with #BeEdgyGoVeggie and #thisishardrock hashtags!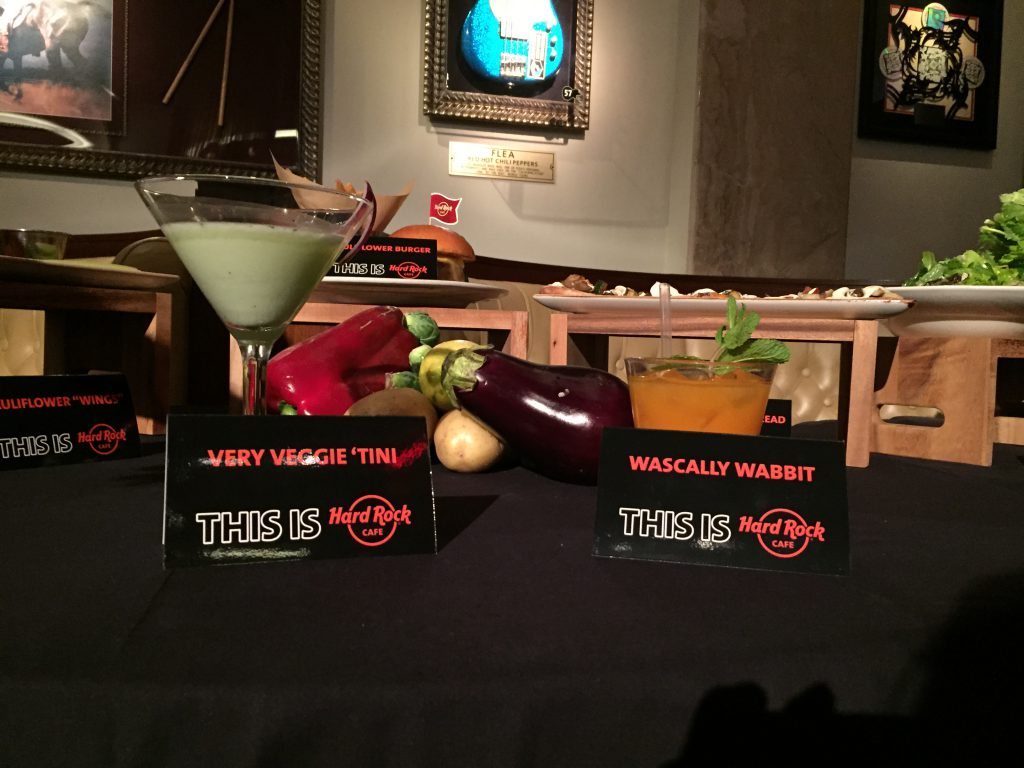 Did you know that all of October is now Vegetarian Awareness month? It provides a chance to try out tasty vegetarian dishes and see that there are benefits to eating less meat or go completely meatless. Hard Rock Cafe's veggie menu goes in the right direction is showing that it is possible to eat delicious fully-vegetarian dishes without sacrificing any taste. Hurry and taste these limited edition dishes before November 13th!
To keep updated with current events being hosted at the Hard Rock Cafe in Florence, check out their Facebook page: they have updates on who's playing on live music evenings and more! Enjoy!