Perfect for music fans as well as families
If you're a die hard fan of rock music and of the Hard Rock Cafes in the world (over 204 venues in 64 countries, which includes 157 cafes and 22 hotels) and love visiting to view the world's most treasured collection of rock 'n' roll memorabilia (as well as buying a special edition t-shirt in each location), there is no need for me to tell you about Florence's cafe as it's likely already on your list of places to visit while in Florence.
For everyone else still working on their itinerary, I'm sharing my experience of eating at the Hard Rock Cafe numerous times to tell you why I do recommend eating there and visiting while you're in Florence.
Book your table with The Fork »
Book a special menu with Viator »
A new cafe is born
The Hard Rock Cafe opened up its doors on June 14, 2011 in Florence, precisely on the 40th anniversary of the first Hard Rock Cafe opening in London. It is set within a unique historical location in downtown Florence just off a corner of Piazza della Repubblica, in what is known by all Florentines as the site of the old Gambrinus cinema.
After visiting the Hard Rock Cafe and seeing the setting, I was interested in doing some research on the old Gambrinus movie house. Even if my very Florentine husband knew it was a site for social gatherings, he did not know that before it became a cinema in the early 1920's, the Gambrinus hall was actually born as a cafe! Much like the more renown cafes nearby that still exist: the Gilli, Paszkowski and Giubbe Rosse found in Piazza della Repubblica. Like these cafes, the Cafe Gambrinus was an important cultural and social meeting place in 19th and 20th century Florence, so much so that all Florentines can remember a period of their life when they used to go there to meet up with friends, to watch a movie or to socialize at the cafe or outside under the portico.
Did you know...
... that "Gambrinus" is a legendary European cultural hero, celebrated as an icon of beer, brewing, joviality and "joie de vivre"? As such, it makes for the perfect location for the Hard Rock Cafe as it continues the tradition of a place where you can be yourself, enjoy good food and have a good time!
The Gambrinus cafe was built in 1894 and it was unique compared to its neighbors in that it had a large internal terrace that looked down on the main cafe floor. Another huge difference from its neighbors was that it was also a game hall: the basement was a smoke-filled, male-dominated world where billiards, poker and other card games were played away from the eyes of their spouses. Even after the cafe became a cinema in 1922, the game hall below was maintained for a long while. As its name rightly recalls, this was a place where joviality reigned.
While many of the cinemas in downtown Florence have closed over the last 20 years, the cafes have survived. The Gambrinus, as a cinema, finally threw down the towel and closed its doors in 2007. Finding out about its history, I believe it makes perfect sense that it was reborn as a cafe just 4 years later, when the Hard Rock Cafe arrived in Florence.
A cafe and much more: one-of-a-kind music collection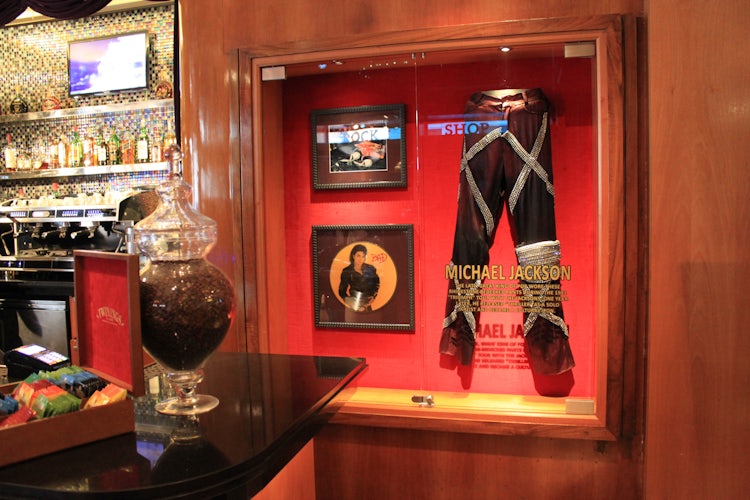 Free gift!
Our Visit Florence readers can take advantage of a special offer: present this coupon with a €35 purchase in either the Cafe or Rock shop and and receive a special free collectible Hard Rock Cafe gift!
If you're interested in enjoying breakfast (from 8:30am), a mid-morning break or late afternoon drink, you can head to the Hard Rock Cafe and enjoy an espresso with a brioche, croissant or cocktail at the coffee bar and lounge just inside its doors. Tables set outside under the portico are the perfect location to take in the atmosphere of historical Florence, as well as people-watch, when the weather permits. If you want to make sure you can sit down and eat a Rocker's Breakfast, check out the menu options and book your table on the Fork here.
Drinks before dinner
How about enjoying a Happy Hour prior to dinner? From September through June, between 5-7:30pm you can find special offers for light appetizers and cocktails. On Wednesdays and Fridays (when you can enjoy live music on the cinema's old stage), you can also enjoy a half-price menu at the main bar between 10pm and midnight (no live music in July and August). The Cafe today is a bustling place throughout the day, every time we've gone recently we were glad to have booked ahead of time.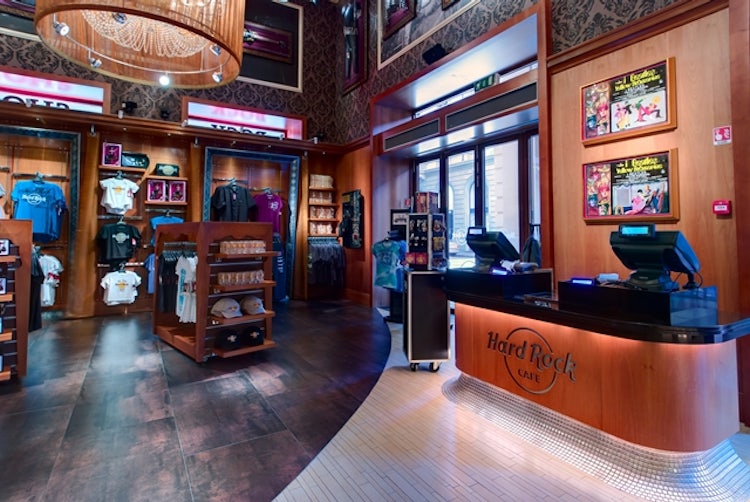 As you step into the Hard Rock Cafe, you'll be struck by the awesome interior decoration of just the entrance hall: four original, renovated crystal chandeliers hang above the coffee counter, lounge and shop area. All around, the world-famous collection of rock 'n' roll memorabilia is on display. So even if you weren't to go further in, stop by and enjoy the magnificent entrance hall of this cafe.
As you enter to the right, you'll find the Rock Shop, where you can buy the unique memorabilia made just for Florence, from t-shirts to shot glasses to jewelry. If you have little kids, you'll also enjoy browsing the Roxstars collection made just for them!
Book your table with The Fork »
I do, however, suggest to go further in beyond the Rock Shop. Beyond the lounge, you'll enter into the bar and restaurant area where you'll be able to see the transformation from the old cinema, including the stage that now hosts live music from local bands several times a week from September through June. You'll also find more of the memorabilia, which includes (to name just a tiny part of what you'll see):
Michael Jackson's stage pants from the Jackson 5's 1981 Triumph tour (by the cafe bar)
Jimi Hendrix's shirt worn onstage at his Imperial College performance in London in 1967 (I read about this but now can't recall if I saw it... if you go, let me know where it is!)
the Vespa scooter used in The Who's 1979 film Quadrophenia (as you walk into the bar area)
John Lennon's black leather jacket worn in the 1967 film How I Won the War, directed by John's friend Richard Lester, who also directed A Hard Day's Night and Help! (above the front door)
from Italian rock band Litfiba: Piero Pelu's pants worn during "El Diablo" concert tour and Federico "Ghigo" Renzulli's guitar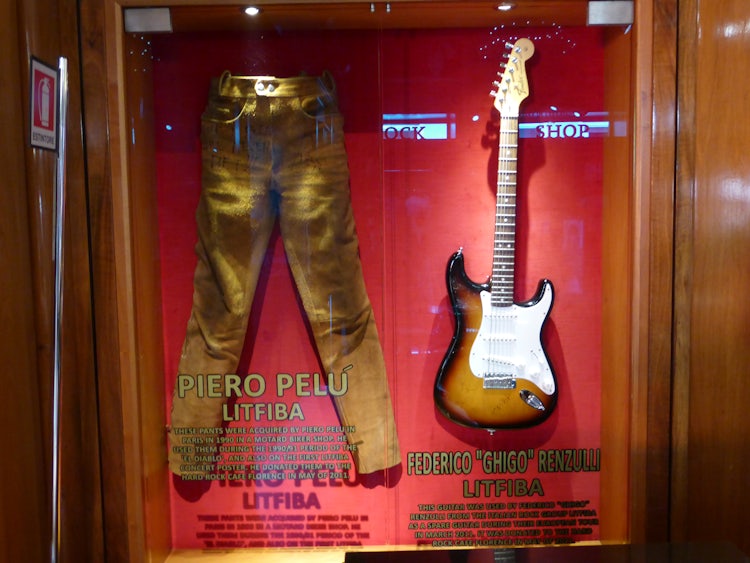 There are many, many other items that will have you going around and discovering them (Elvis Presley, Rihanna, Madonna and the Beatles to name just a few more) around the restaurant and bar area – which is pretty spectacular, but so is everything else. As we hope our photos show, the cafe is quite beautiful in its own rights!
The terrace above the bar is closed off to the general public but we learned that if you're interested in hosting a private event at the Hard Rock Cafe, you can get exclusive access to that area.
For me, a taste of home
We have gone for lunch, brunch and dinner on multiple times over the last few years. Every time we have found the restaurant to be busy but not overly so, and with two kids of our own in tow, we have always been pleased to note several families with small kids in high chairs. We feel like we fit right in! The atmosphere is quite informal, yet service has always been top notch and attentive. There is always music playing in the background, not overly loud making conversation possible. All these aspects lead me to recommend it often as a perfect place for families with children to head to. The kids will find a kids menu for them, they can be a bit loud without being an annoyance to others and as parents that makes me relax.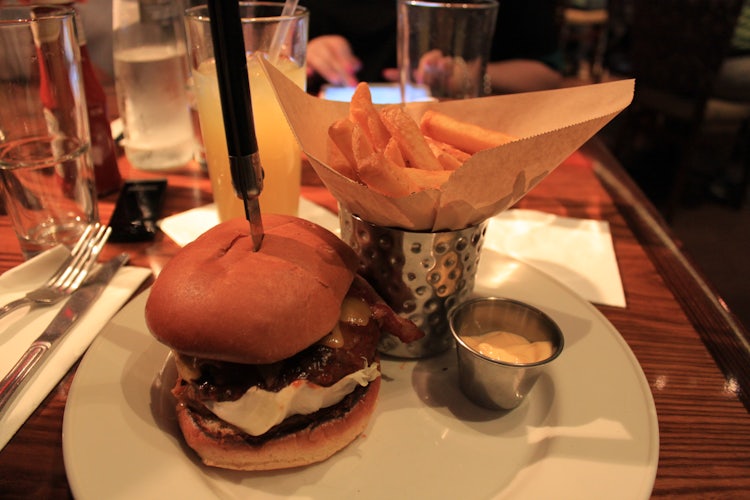 So as all expats missing home will often do, we often go for the traditional and order burgers! But the nachos, ribs, Caesar's salad and chicken tenders all call to me every time I go. As all expats know, one of the things that can take you back home, at least temporarily, is tasting some of your favorite dishes – generally, because memories are tied to this dish or that. As an American expat, nostalgia does set in every now and then (as the original founders of the Hard Rock Cafe did back in London when they opened the very first Cafe) for a great burger with fries. I've been disappointed before, but this is not the case here! A big, tall tasty burger (options include ones with hickory barbecue sauce, in addition to the Original Legendary) and perfect, crunchy fries make meals here simply delicious! At this point, I've learned that if we're hankering for something sweet to end the meal, the best option is to share a dessert. Portions at the Hard Rock are generous, so an Oreo cookie cheesecake or hot fudge brownie sundae shared among us is the perfect ending ;).
Book a special menu with Viator now »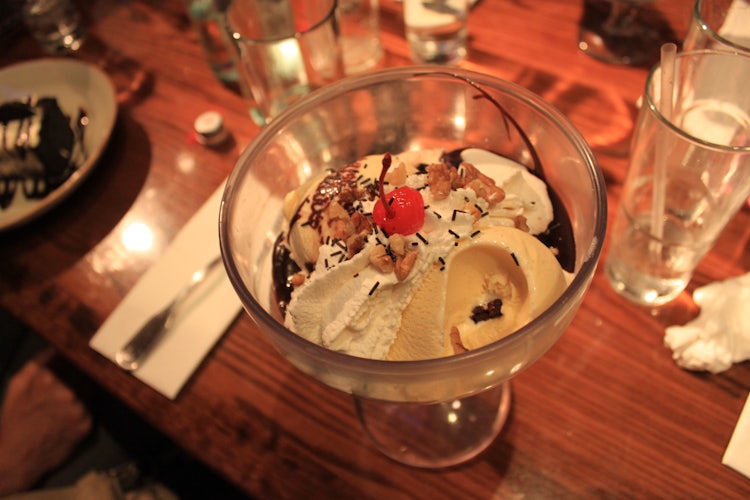 As I mentioned above, the menu includes a lot of American favorites also including wings and nachos as starters, fajitas and macaroni & cheese, smokehouse ribs, brisket and pulled pork, club sandwiches and much more. All of the dishes are prepared with high quality local and national meat, seafood and poultry and fresh produce to offer the best meal experience. There are a few "American" ingredients needed to maintain authentic flavors but in general, everything is prepared directly downstairs in the kitchen with high quality, fresh ingredients. For example, all of the hickory-flavored meats are slow cooked on the premises to ensure excellent taste and flavor.
Flexibility with schedule and hours
Another good reason to head to the Hard Rock Cafe is this one: the kitchen opens at noon and doesn't close until midnight (or 1am on Fridays and Saturdays). If you've been busy at a museum in Florence during lunch or dinner and find that the trattorie or other restaurants in the area are closed, head here to eat. This is not to be underestimated as a plus, learn from my personal experience: it took me a long time to remember that most places here in Tuscany are pretty strict with their hours and you can't just have a late lunch or early dinner if you're out busy sightseeing. Kitchens at most restaurants generally close between 2 and 3pm and re-open only after 7pm for dinner. I've had to resort to eating premade (even if warmed up) panini at a bar just to avoid starvation! ;-)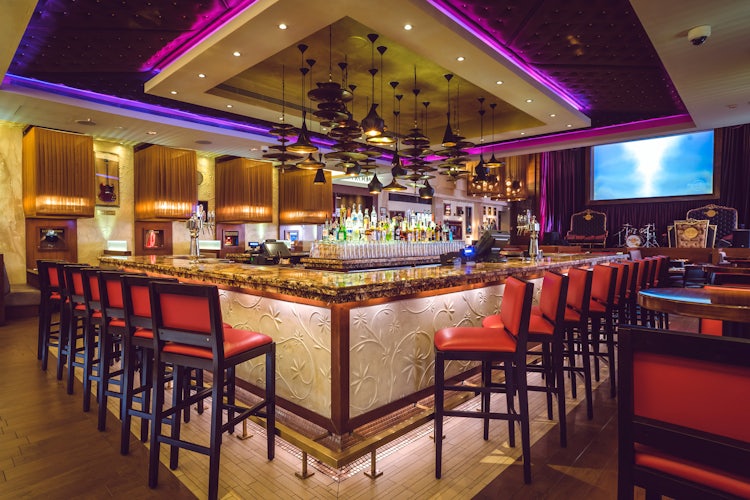 During the holidays
If you're traveling in Italy during holiday periods - such as Christmas or Easter - know that the Hard Rock Cafe organizes special events for the occasion. There is usually a family-friendly brunch event planned, generally on Saturday mornings, and other events in the evenings which are better for adults. Take a look at their website for more details on the events planned and if you're interested, you can book online or email florence.sales@hardrock.com to ensure your table is booked!
Skip-the-line at the Hard Rock Cafe
If you're a fan of Hard Rock Cafe, you might already know that there is no possibility of making reservations to eat at their cafes. The motto "Love All, Serve All" which hangs over the stage recalls the wish of the founders to welcome anyone who came to eat and have a good time at their cafe, with no preference for one over another. Did you know that the Hard Rock Cafe is now owned by the Seminole Tribe of Florida since 2007? It was something I learned during my first visit. In any case, what the Hard Rock does offer is the possibility to "skip the line" if you come armed with a voucher you can buy right here. It includes the choice between getting a main course, dessert and beverage (Gold) or a starter, main course, dessert and beverage (Diamond) at really great prices. Even better, you can also get the Ultimate which offers you different choices from the Diamond plus your collectible Florence classic T-shirt! You can buy a child's menu directly at the restaurant. While choices are set for each course, the selection includes favorites and really do offer a great deal for a great meal ;-).
To keep up to date and follow Hard Rock Cafe in Florence, check out the Florence cafe website pages and make sure to follow them on Facebook, Instagram and Twitter.
Our Visit Florence readers can take advantage of another special offer: present this coupon and receive a special free collectible Hard Rock Cafe gift! It is valid with a 35 euro purchase in either the Cafe or Rock Shop, valid until the end of the year.
Print our coupon & get a free gift »
Are you a fan of Hard Rock? While I had not considered myself a "hard rock" type of gal before, I am now after enjoying some delicious nachos, Caesar's salad and delicious smoked ribs. ;-).
Enjoy!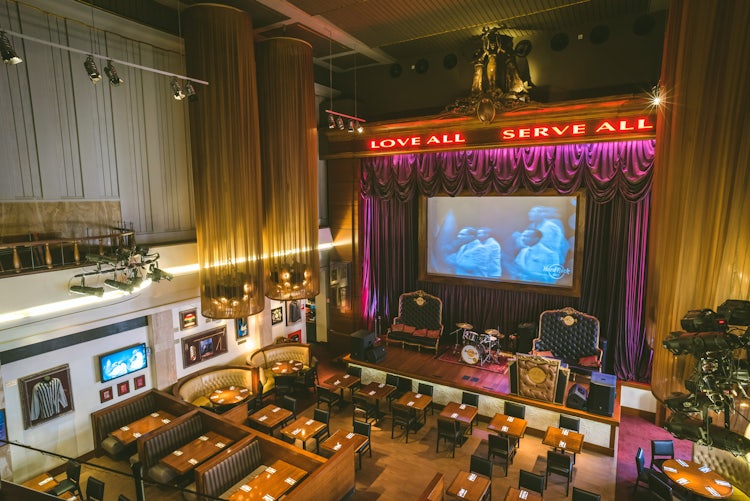 This is a Sponsored Article but reflects the honest opinion and experience of the author. More details »