Tradition & Flavor on the Grill
Florence is definitely a city for meat lovers: we have many specialties that attract foodies, but for sure meat is never missing in our menus (if you are vegetarian, go ahead to this article).
T-bone steak is one of the most famous dishes you may find almost everywhere in Florence, known simply as bistecca alla Fiorentina. The name refers to the particular cut of the meat. According to the "rules", a Fiorentina steak should be from the Chianina cow (a breed which comes from the Valdichiana in Tuscany), but since it's quite expensive and Chianina cows are not numerous, there are many places where you can have a steak at a slightly lower price.
A few things to know if you want to order a T-bone steak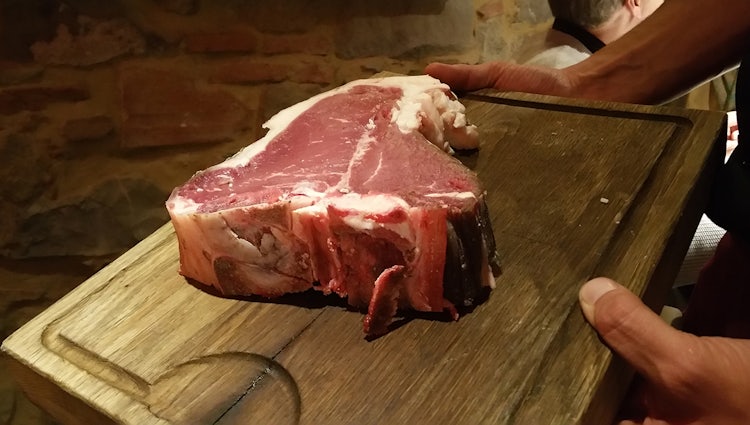 The size of this piece of meat is... huge! You are supposed to share it with other dining companions. Only someone with a hefty apetite can really eat the entire steak on their own as even the thickness of the steak is quite impressive. This aspect, that it is quite thick, added to the fact that locals only cook the bistecca for few minutes (3-4 minutes per side, to be precise), might have you thinking it is undercooked. Well it is, but that's the way it is supposed to be! Don't ask to cook it more as Florentines get upset if you don't appreciate the bistecca alla Fiorentina as it should be: quite rare.
Normally the Fiorentina steak is cooked on a wood grill. In some restaurants, you can admire the interesting way they align the steak in vertical pairs. Usually, you also pay a fixed amount for a kilo, since the "usual" portion is around 1 kg but it can be even more. As a measure, if you order one bistecca for two, expect to spend at the very least 40 € for around a kilo of steak.
Now that we've got some basics out of the way, here are my recommendations on some places where you can taste a great bistecca!
Osteria di Giovanni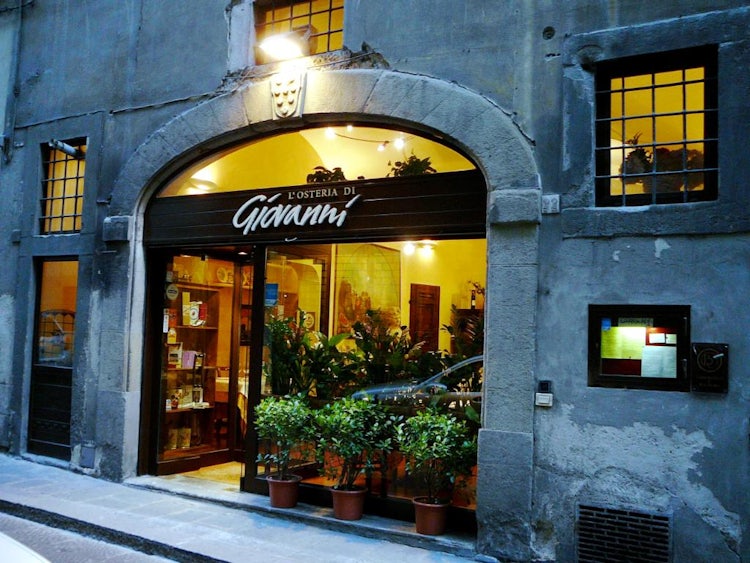 Via del Moro, 22 - between Piazza Santa Maria Novella and Piazza Goldoni along the Arno
Book at Osteria di Giovanni now! »
Owned by the son of the reknown Latini (which is very touristic today), Di Giovanni is a place where you can have a good dinner in a nice restaurant. It is not the traditional trattoria with paper table cloths or hams & garlic hanging from the ceiling. The quality of food is excellent; before the steak, you should try the famous ribollita (a vegetable soup with pieces of bread and black cabbage).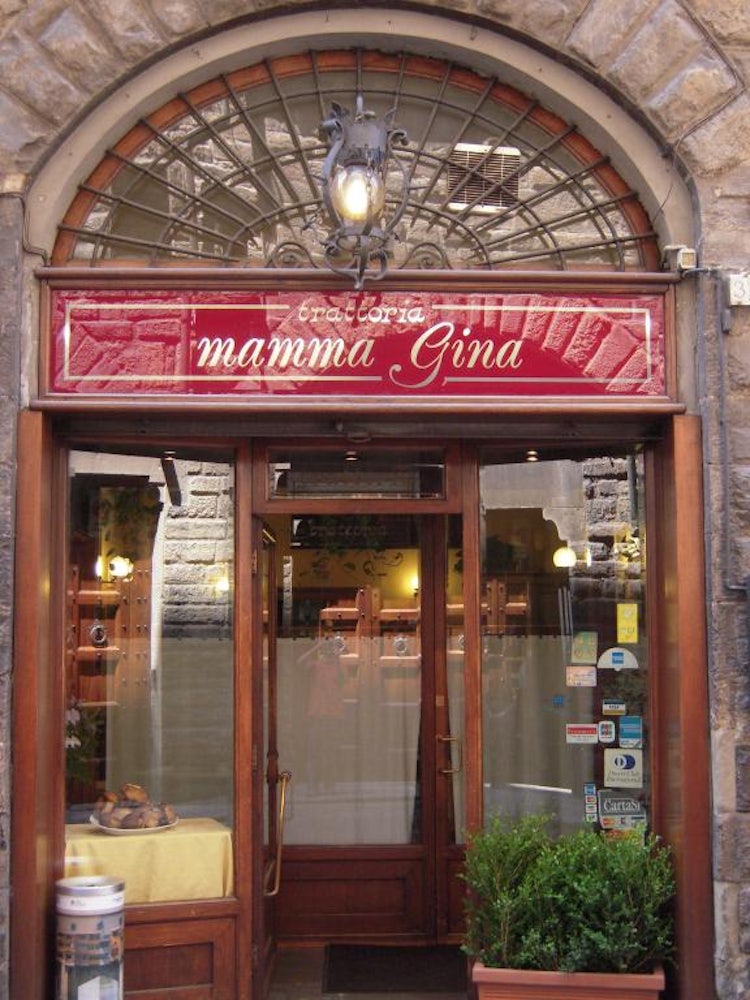 Mamma Gina
Borgo San Iacopo, 37r - runs parallel to the Arno river, between Ponte Vecchio and Ponte Santa Trinità
Even if this is very close to Ponte Vecchio (and thus might be considered too touristy), you will find an authentic Tuscan trattoria, with an excellent quality/price ratio at Mamma Gina. You may have a portion of Pappa al pomodoro (a typical soup with tomato and bread), or taste the mixed crostini, but be sure to leave some space in your stomach for the great T-bone steak!
Le Fonticine
Via Nazionale, 79r - just about a block from the SMN station
Not far from the main railway station of Florence, Santa Maria Novella, this restaurant is quite big considering it's in the center of the city. You may taste typical Tuscan dishes, homemade pasta and several gourmet recipes. If you decide to order the bistecca alla Fiorentina, you will appreciate that they will show you the exact weight and the origin of the piece you've just bought before they cook it!
Trattoria Marione
Via della Spada, 27 - just off Piazza Santa Maria Novella
If you like to be immersed in a typical rumorous and folkloristic atmosphere with guys shouting and running through the stairs, you cannot miss this famous small restaurant in the center of Florence. Awarded and recommended by many guides (even Routard), it offers good prices, nice staff and fast service (it's always very crowded). You can seat in the main room or under in the cellar. As a side dish to your yummy steak, make sure to order "fagioli all'uccelletta" (a Tuscan recipe that takes white beans and cooks them in tomato sauce, garlic and sage - delicious!).
Trattoria da Gozzi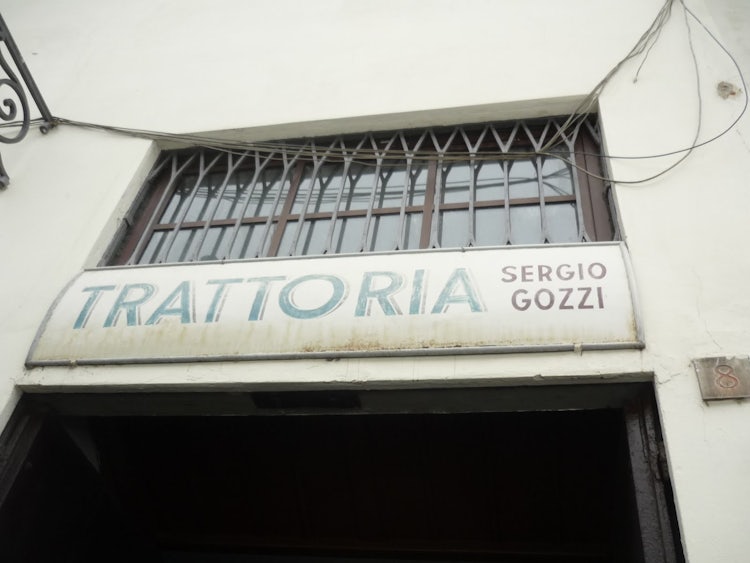 Piazza di San Lorenzo, 8R - right to the side of the church
In San Lorenzo square, to the side of the church, there's an historical trattoria run by many generations of the Gozzi family. It's open only for lunch, you cannot make a reservation, but you can leave your name at the entrance and they will call you as soon as a table is available. Normally the service is quite fast, so you don't have to wait for a long time. Any wait is worth it: a rustic service, a paper menu (be prepared as it is only in Italian!) but a guarantee of high-quality food. The t-bone steak is very good. We suggest you also try the Ossobuco or Bracioline rifatte if you don't want to try the steak. Compared to other restaurants, it's quite cheap.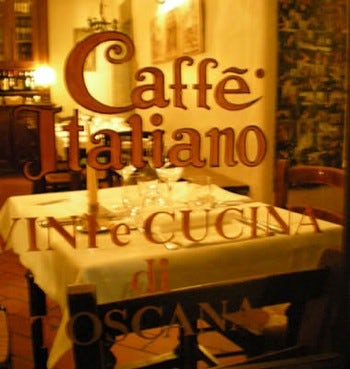 Osteria Caffe Italiano
Via Isola delle Stinche 11/13r - between Piazza della Signoria and Piazza Santa Croce
If you are searching for a cool place with a romantic atmosphere, you may choose this Osteria to have your bistecca. The quality is certified by the butcher who cuts the steaks right in front of your eyes, you can also have a look inside the barbecue. It's a bit more expensive in comparison to other restaurants but you are paying for the location as well: an ancient Florentine palace not far from Piazza della Signoria and Uffizi Gallery.
Have you had a marvelous bistecca elsewhere in Florence? Share in the comments below!