As you wander around Florence you surely will get hungry but what if your time is limited and don't want to use too much of it up eating?
The solution: enjoying a great panino sandwich!
In Florence, as in most touristic cities, it will not be difficult to snatch a sandwich or slice of pizza in one of the many stores along the main streets but if you're looking for something quite tasty as well, then we are here to help!
We've personally gone around and tried the following spots and recommend them as our top 5 panini places in Florence! All except the last one (which is close to the stadium) are in the historical center and offer a tasty, quick sandwich to eat at affordable praices.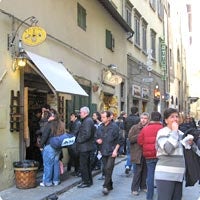 1. I FRATELLINI
Located on via de' Cimatori, a small side street off the very central via de' Calzaiuoli and just about a small block from Piazza Signoria. It is very popular and nowadays you'll find many other tourists there as well. It is sort of a food stand as it is tiny with its front directly open on the street, with no place to sit.
You will find an easy menu to read to the side with about 20 choices and wines by the glass. The bread is cut and sandwich made right after you order, whether it is warmed up or not depends on the type. Rates go from € 2,50-3 per sandwich. If you're really hungry, it is likely you will need two!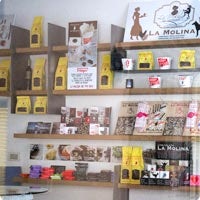 2. INO
It is a few steps from the Uffizi Gallery, on a small side street (via de'Georgofili). Among the foccaccia shops in town, this is likely not the least expensive but it is one of my favorites because they offer a wide selection of high-quality ingredients.
You will find many types of high-quality cheeses and cold cuts, vegetables and other delicious specialties that both foodies and the general public will appreciate tasting in a delicious panino sandwich.
The shop is really small but charming, with just a few places to sit at. Cost for a sandwich and a glass of wine is about € 10.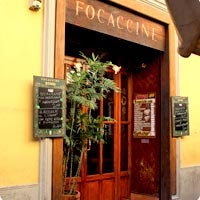 3. FOCACCINE BONDI
As the sign for this historical shop on Via dell'Ariento says, here you will mainly find "focaccine" or small focaccia bread for your panini. You have to go searching for this place as the market stalls of the San Lorenzo market hide it from sight, but you won't mind the search!
The small focaccia bread used to make the sandwiches is really good and you decide what goes inside depending on your hunger and fantasy. If you're not sure, ask for suggestions and you will remain very pleasantly satisfied!
The sandwiches start at € 3 and up, depending on the fillings you choose.
There are a few benches inside the shop for those that want a place to sit while eating. There aren't many seats, but people quickly eat and leave so it's likely you'll find a seat shortly. I also recommend it for families with kids.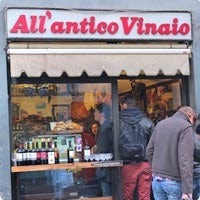 4. ALL'ANTICO VINAIO
Located on via de' Neri, just behind Palazzo Vecchio, the shop is quite small and often full but the panini are rich and tasty. The cold cuts are exceptional, and you just have to enjoy a glass of red wine with your panino.
In addition, you can order a plate of Tuscan specialities that lets you sample toasted bread with Tuscan liver paté, various types of cold salamis and cheeses. There are few places to sit, so it is also great for grabbing a sandwich to eat outside or along the nearby Arno. Prices start at €4. The place has become so popular there is often a long line outside... whether you decide to wait or not will depend on how hungry you are. I suggest heading to Ino if too long.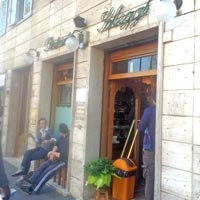 5. SCHEGGI
This is the only of our favorite panini shops not located in the center but on viale dei Mille, not far from the Artemio Franchi stadium.
The panini made with schiacciata flat bread are a must for soccer fans before they head to the stadium for matches, but anyone in the area for a sports match or concert at the nearby Mandela Forum will do well to head toward the historical panino shop.
The schiacciata are made on the spot, with whatever you wish in terms of cold cuts, sauces and cheese and are warmed up and served hot. Prices start at € 3,50.
The shop owners are big fans of the Fiorentina soccer team.... so all of the sauces have been named after famous Fiorentina players! :)


Have you tried any of these or other panini shops in Florence you loved?
Share your experience by leaving a comment below!