The Art of Street Food in Florence
You can't say you've been to Florence if you don't stop by one of its famous "chioschi" or street food stands where you can buy and taste Florence's street food. Commonly referred to as trippai or lampredottai (literally, the makers of trippa and lampredotto), where you can taste the best of the city's street culinary tradition, a sandwich filled with trippa or lampredotto.
What is trippa or lampredotto? Simply put, they are organ meat or offal. Trippa is tripe, the edible lining of the cow's stomach. While tripe is eaten elsewhere, lampredotto is a local specialty for Florence. It is the fourth and final stomach of a cow, generally slow-cooked with tomato, onion, parsley, and celery until it has the texture of tender roast beef. Both are traditionally served on a crunchy bun, often first soaked in the broth and with spicy or green sauce.
Both have been considered peasant food for centuries, and as such, go back to Florence's roots and to the poor working classes. Usually, you don't sit down at a classic restaurant to eat trippa or lampredotto but in Florence, they can also be found at trattorie and osterie and fiaschetterie. In keeping with tradition, the best places to head to for the best trippa or lampredotto are at these food stands or trippai which are located in many of the squares and corners of the city.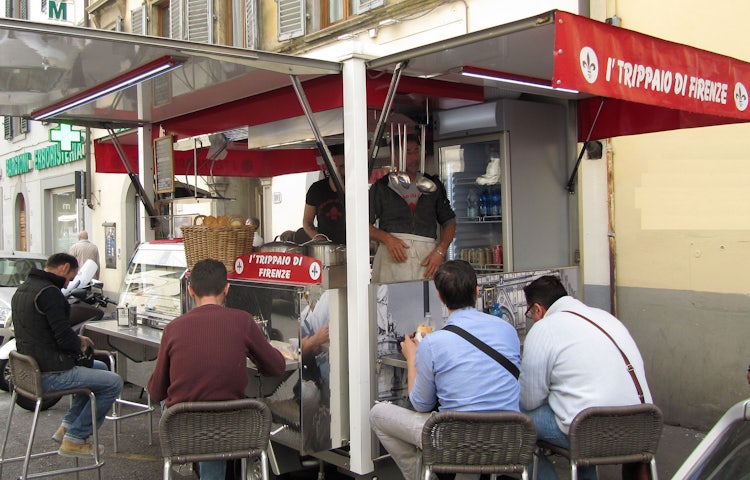 Florence's fast food stands are ready to feed anyone looking for a quick lunch, or hungry after a visit to museums all morning who want a hearty snack. They are also perfect for anyone who discovers that you're "late" and that many restaurants have closed their kitchens (which is usually at 2pm). Still perfect for students or anyone traveling with a budget, since a panino and a glass of wine are usually between 5-7 euro and are thus affordable way to experience Florence's specialties. Be prepared to eat standing or on a stool, or take your panino away to a nearby piazza and bench or keep on strolling with panino in hand. For places for panino places, read this article.
Today, street food has become an art as well, a way of expressing personal creativity keeping tradition alive: even the starred chefs dedicate many of their creative dishes to the genuine and authentic street food cuisine, to show how simple recipes may actually reveal an explosion of delicious tastes. We still recommend you make a stop at a trippaio first!
Trippa, What a Delicious Surprise!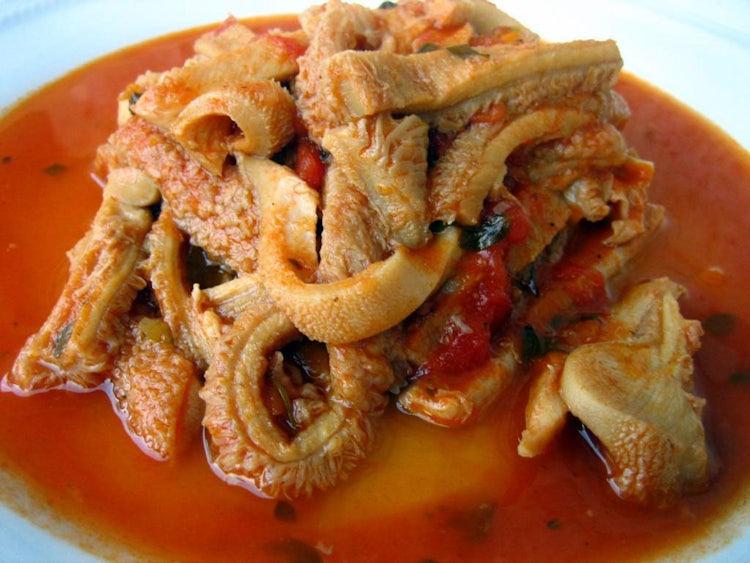 Trippa - what is it exactly? Tripe is made from various parts of cattle's stomachs and its gastronomic roots date back to Greek and Roman ancient civilizations. Tripe, as stated above, is not a specialty of just Florence: if you head to Rome or Genova, and in other regions, you will find their local tripe dish. Make sure to try them and taste the differences ;-).
If you feel like trying to cook a classic tripe recipe on your own, head to your local butcher where you'll already find washed or dressed tripe: the stomachs have already been cleaned and trimmed of fat, and partially boiled, ready to be prepared as you prefer and turned into a delicious dish at home. Remember that cooking times are not short (at least, an hour to an hour and a half is usually necessary for any tripe recipe).
Here, we're sharing the classic recipe for Florentine'style tripe, Trippa alla Fiorentina, made with tomato sauce (elsewhere in Tuscany and Italy, the tomato sauce is replaced with a meat sauce, but I personally prefer the tomato sauce).
Make your own Trippa alla Fiorentina
Ready to tray your hands at making your own trippa alla Fiorentina back home? Here's what you need to do:
Slice the tripe into long stripes, then dice and sauté onion, carrot, parsley and celery. Add the sliced tripe and let it brown slowly over low heat before finally adding salt, hot pepper and ripe peeled tomatoes. Cook until the tomato and tripe water has almost fully dried out. It's now ready to be served with a sprinkle of Parmigiano cheese and a trickle of genuine extra virgin olive oil on to, either plated or on a fresh, warm bread roll (street food version).
This is the traditional recipe, but there are many tips you won't find in recipe books that are important to prepare a delicious tripe dish, gems of wisdom that only a grandmother holds thanks to her great experience. My grandmother, for example, used to add concentrated tomato paste instead of peeled tomatoes (to add more flavor) and used to shortly cook the sliced tripe in an empty pan (without any type of seasoning or spice) before adding it to the sautéed vegetables, just to degrease it a bit. Last tip: tripe tastes better if made a day in advance. So cook ahead as it is a great dish to have things already prepared and not worry about what's for dinner tonight.
What is Lampredotto?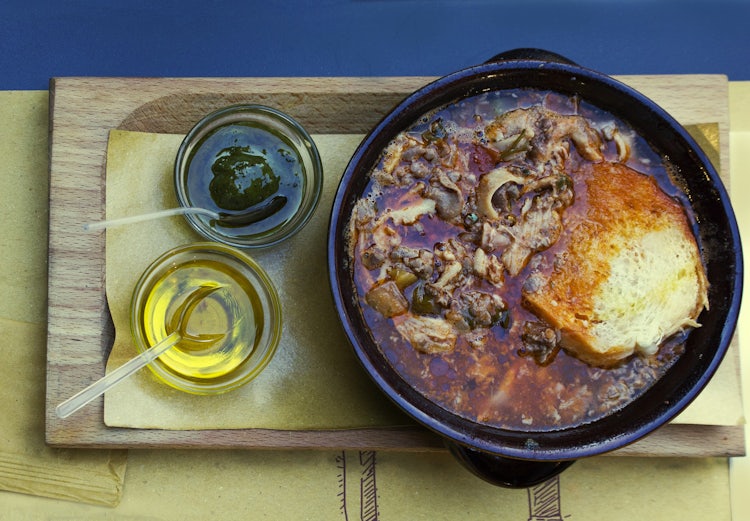 While trippa is made from different parts of the cow stomach, lampredotto is made only from the final part of the cattle stomach, the abomasum, commonly referred to as lampredotto. This is a typical and exclusively Florentine dish, a fundamental part of the culinary local tradition. It is also appreciated by many adventurous visitors who like to try the famous local street food. You'll find lampredotto in some restaurants as well, but there's no better way to try it out than in the traditional way, on the street, walking along the alleys of Florence or finding a spot on an outdoor bench and people watching
Make your own Lampredotto
If you can manage to find some at your local butcher shop, plan to make this ahead as it requires many hours of preparation. Slow cook the entire piece of lampredotto for many hours with water, tomato, onion, carrot, parsley and celery. You can eat it like a plated dish or as sliced to make a filling for a sandwich, where the bread is soaked into the lampredotto broth, served with a classic green sauce made with parsley, garlic, and anchovies.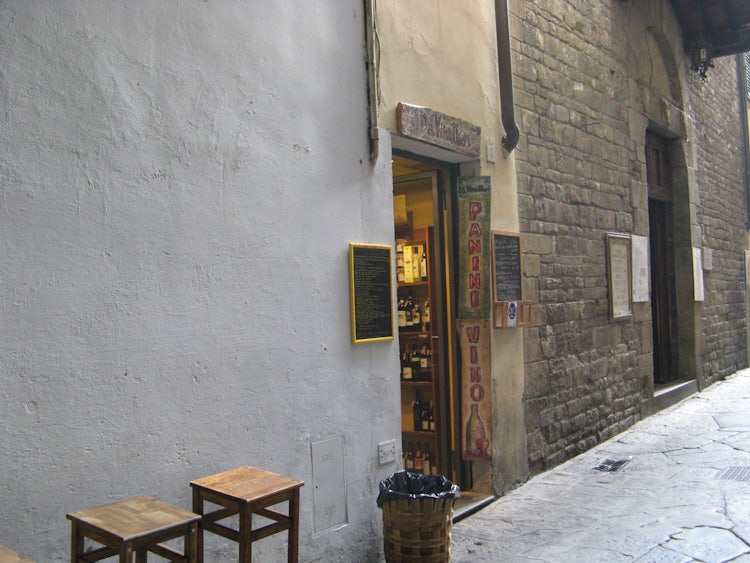 The best trippai in Florence
If you want to enjoy a real panino with lampredotto or tripe before trying to cook it on your own, here are the best trippai and lampredottai in the city! I strongly recommend you try one of them to experience your first (and second, third or more) authentic Florentine street foot panino!
L'antico Trippaio - Piazza de' Cimatori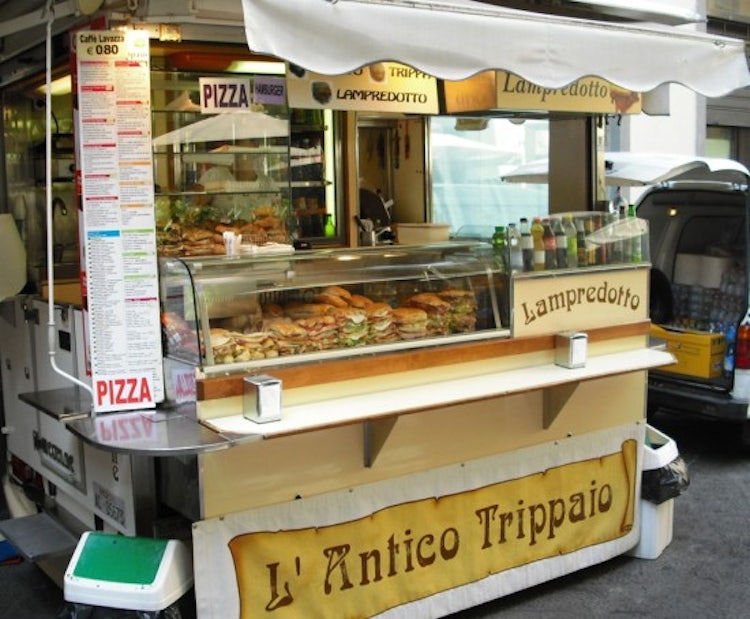 It is not too far from Ponte Vecchio, Santa Croce Church and Piazza della Repubblica. It is the traditional food stand, where trippa and lampredotto can be eaten standing or seated on a table outside if they've been arranged. Trippa is usually served inside a small plastic food bowl with one or two slices of grilled bread, as well as lampredotto - always accompanied by the classical green sauce - but this is even better in a traditional panino, called semelle (be careful when eating the sandwich, because the real, authentic panino with lampredotto MUST be dripping with the cooking broth!). Wonderful value for money, since a sandwich with trippa or lampredotto is around 3.50 euro and, with a glass of local red wine, you'll spend a bit more than 5 euro. Coffee is also available here. The owner, usually called 'i trippaio, is very nice, funny and friendly.
Da' Vinattieri - Via Santa Margherita 4r
Located a few steps from the National Museum of Bargello, in the heart of Florence center, this small place is one of the best in town for tasting the real trippa and lampredotto, and enjoying at the same time the classical atmosphere of a traditional Florentine trippaio. Also has delicious schiacciate filled with Tuscan salami and a wide choice of sauces and seasoning, ribollita and soups, pappa al pomodoro and varied fryings. Trying is believing!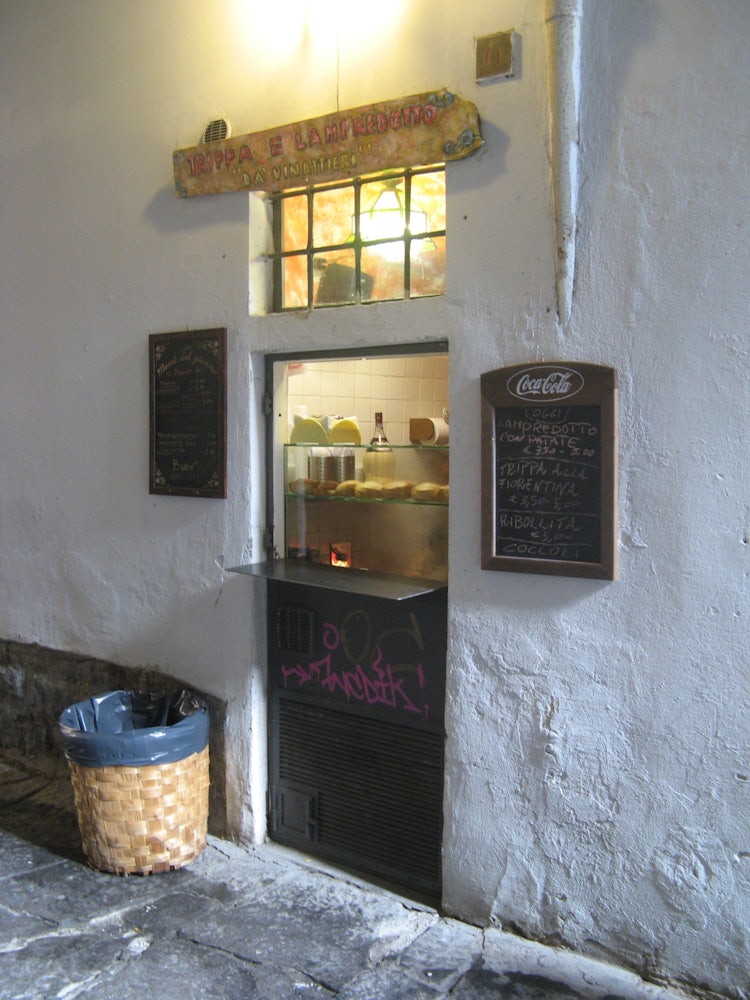 Trippaio del Porcellino - Piazza Del Mercato Nuovo Corner with Via Capaccio
It is a stone's throw from Piazza della Signoria and considered by many Florentines the King of the Lampredotto: Orazio has been serving his specialties for many years now, you'll easily identify his stand by the long queues in front of it, besides his great ability and experience in preparing sandwiches.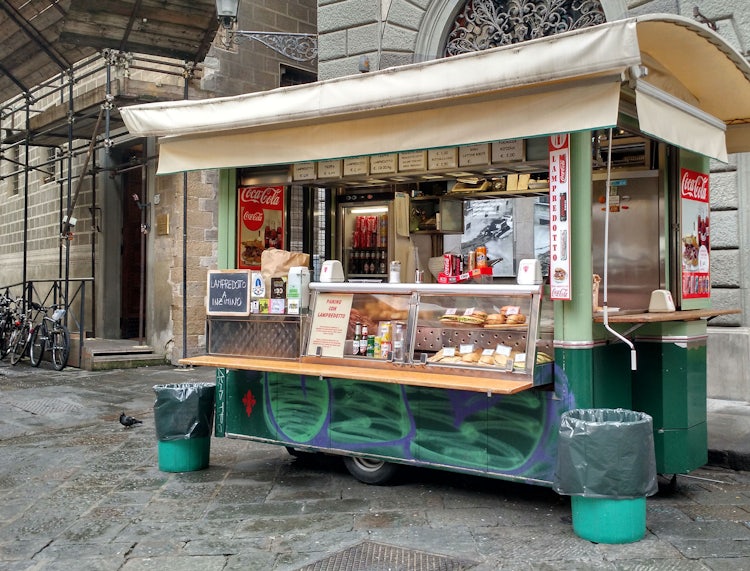 'I trippaio di San Frediano - Piazza de' Nerli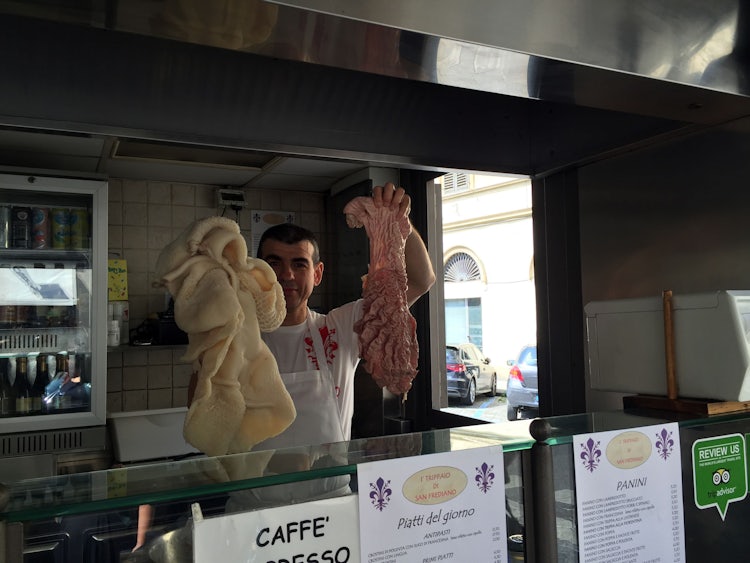 Located in Borgo San Frediano and very much appreciated not only for the owner Simone's personality, who is easy to like, but also for the great quality of his products, that quite all the locals know and love. There, you won't find only tripe and lampredotto, but also other types of sandwiches - like hot dogs and hamburgers - and pasta, but you can't come here without trying out one of those specialties with a glass of wine. Prices are very cheap, a sandwich costs around 3 euro. In general, you won't find expensive trippai in Florence, generally price may range from 3 to 4 euros more or less.
'I trippaio di Sant'Ambrogio - Piazza Lorenzo Ghiberti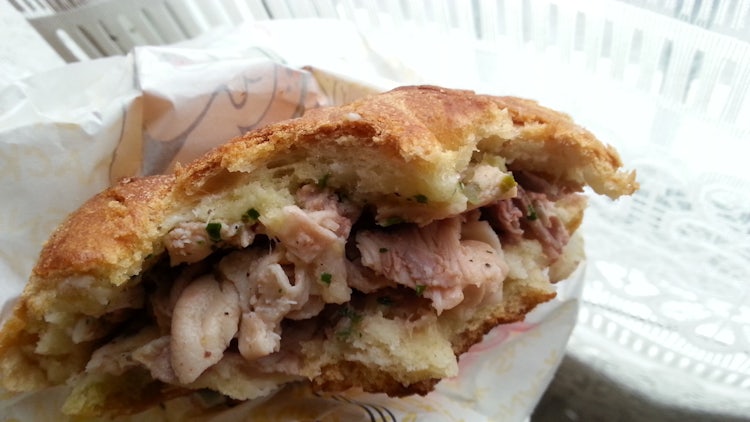 It is located inside the Sant'Ambrogio Market, one of the most ancient and traditional in Florence. This kiosk is very popular not only among those people who go shopping to the market and don't feel like going back home to cook, but also among those who work or study close by and stop for a quick, delicious meal.
Trippaio Da Marione - Piazzale di Porta Romana
This is not his official name, but if you ask for the trippaio of Porta Romana, everyone will address you to Marione and not to "Albergucci Mario". His kindness is the perfect combination to his panini with trippa and lampredotto, even if his boiled meat is said to be his best dish.
Da Nerbone - Mercato Centrale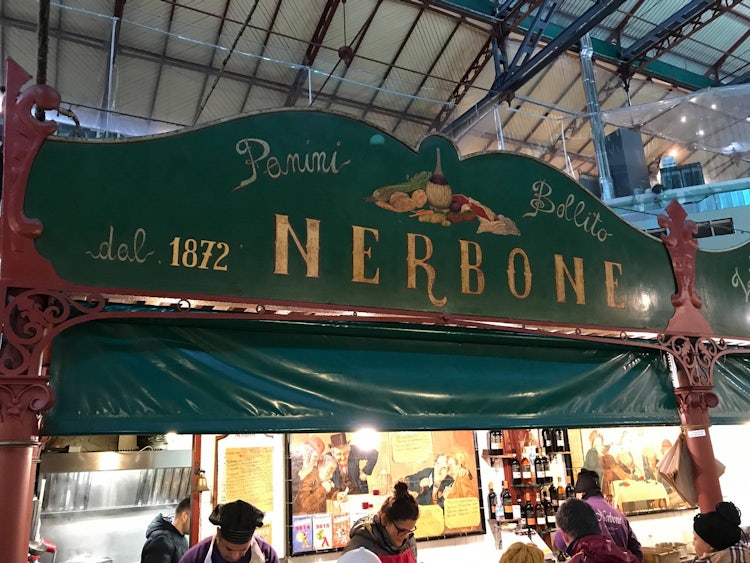 Located inside the ground floor of the Mercato Centrale in San Lorenzo, which merits its own visit! The market's first floor has been completely renovated to host the best of local and Italian culinary tradition with many "inner stands and kiosks" selling food-and-wine specialties from every regions of Italy, in a very refined yet simple context, where you may buy from varied stands and then find a sit on a table. But Nerbone is still on the ground floor in its historical location, along with the butchers, florists and many other shops offering local, fresh products. Nerbone's dishes are as cheap as those offered by the outside stands - a panino costs around 3.50 euro, while the menu is more varied: from pasta to soups and boiled meat, everything is served at a super great value for money. Don't give up if you see a long queue lining in front of it, since service is very fast and you'll be served sooner than you think!
Enjoy :-)