Whether you are looking for an activity for the whole family, a Tuscan meal, hunting for those local ingredients to try your hands at a Florentine dish or for a souvenir to bring home, the San Lorenzo Market is the place for you. The market is actually comprised of two separate markets, an indoor market, known at the Mercato Centrale, or Central Market, home to all things food and the outdoor section that lines the surroundings streets of the large Mercato Centrale building, selling leather, clothing and many souvenirs. This outdoor market (and the indoor one as well) is a great addition to your sightseeing and to the museum visits you have on your itinerary (especially if you need a break from museums in Florence) so set a whole morning aside to explore the market, ending up at the indoor market for lunch!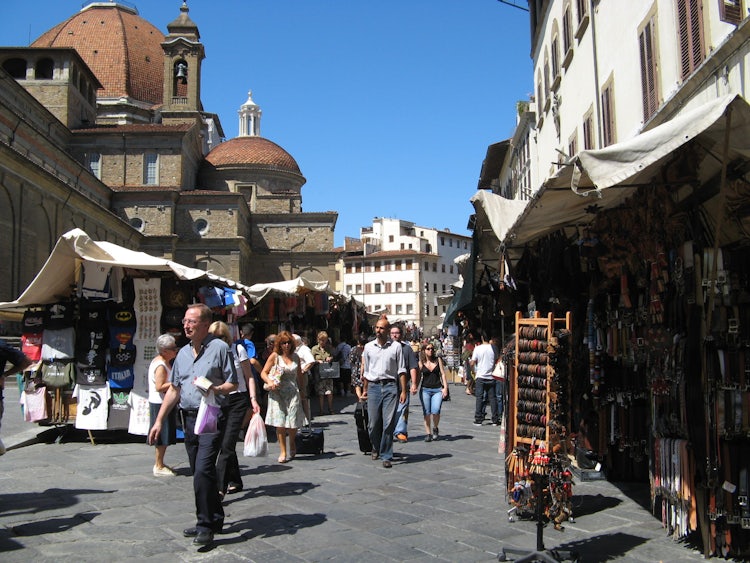 The Great Outdoors
Start your visit to the San Lorenzo Market by discovering the outdoor section of the market, which runs along several streets surrounding the Mercato Centrale. File between the hundreds of stalls on either side of the street with vendors selling pottery, clothing, notebooks, souvenirs and various leather goods including bags, belts, wallets and jackets. Take your time looking around and make sure you have seen everything before you start spending. There are so many options and you may find yourself having spent all your money before you have made it past the first row of vendors. This is a great place to find gifts to bring back to your friends and family without burning a hole in your wallet because vendors stock a variety of things ranging in prices from 2 euros for a bracelet or Florentine magnet to hundreds for a leather jacket.
Many of the stall owners have small warehouses closeby where they restock every night and store their stalls. If you are buying something that is quite specific, such as a certain type of leather briefcase, they may bring you back to their warehouse, most likely just down a side street or directly behind the stall to give you more options and show off their stock. You can absolutely feel free to bargain here and try to snag a deal because many goods are marked up in price from the beginning. The vendors, who speak English very well, may seem stiff on their initial prices but be firm and you will be sure to walk away with a deal. This part of the market is open Tuesday through Saturday.
Two Levels, One Love: Food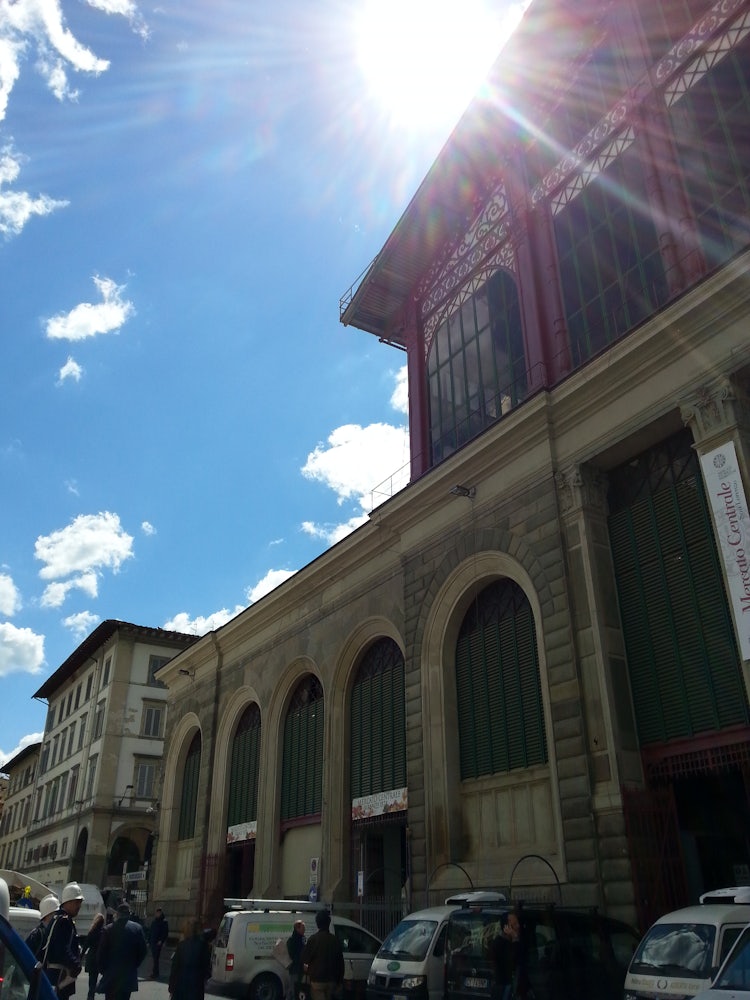 The Central Market is a two-level food market, making up the second half of the San Lorenzo Market. The Mercato Centrale is in a beautiful building designed by Giuseppe Mengoni, the same architect who designed the Galleria Vittoria Emanuele II, and built from 1870-74 when Florence was still capital of Italy. With cast iron and glass all around, the building mixes classic to the modern: the exterior is an ample, squat base made out of local pietra serena similar to the nearby Palazzo Medici Riccardi, with loggias and 10 arches on each side while the inside is spacious and bright with its glassed ceiling. It certainly recalls European architecture, most notably Parisian.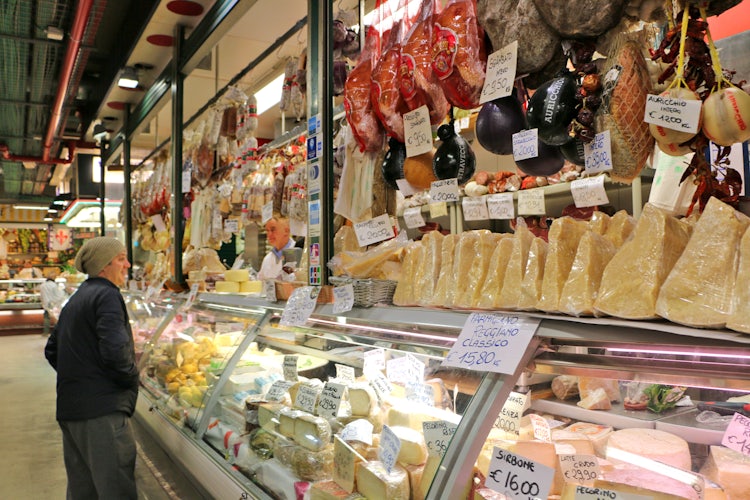 On the ground floor, you will find the butchers, fishmongers, fruit and vegetable vendors and small specialty shops selling local olive oils, meats, cheeses and much, much more. The butchers and fishmongers probably are of little interest to tourists unless you have an apartment and want to cook for yourself. However, it is great fun to walk around and take in all the new things you have probably never seen or eaten before, including cow stomach, brains and tongue. A favorite spot to stop is Parini's, a stall selling cured meats, cheeses and specialty sauces, where you are free to sample before you choose which things to buy. If you are concerned about which things you can bring back with you, just ask the vendor; they are very knowledgable about which countries allow which products to be brought back across the border. For example, feel free to stock up on dried mushrooms or sun dried tomatoes if you live in the United States - just be sure to mention that you will be bringing them back and they will vacuum pack your purchase for you. Other popular gifts to bring back are truffle honey and oil, extra-virgin olive oil and aged balsamic vinegar, all of which you can sample and try at the various stalls. Enter through Via di Ariento or Piazza del Mercato Centrale, Monday through Friday from 7am to 2pm and Saturday from 7am to 5pm (except not from mid June through September). The market is closed on Sundays and holidays.
New & Improved 1st Floor: A Gourmet Food Court
Recently re-opened to the public and renewed just this past spring (2014) is the second level to the market, open seven days a week from 10am through midnight. With 3000 square meters of space and 500 seats, the area is large enough for twelve individual stalls or sections, each dedicated to a different Italian specialty such as cheese, Chianti wine or baked goods. Imagine a one-stop food shopping center, divided into categories and stalls in which you can either buy specialty items to bring home or sit down to a farm fresh meal of your choice (and believe us, choices there are plenty).
Some other sections include the gelato and chocolate stall, the pizza and pasta stall, the meat stall, the fruit and vegetable stall, and many more. Each individual 'laboratory' showcases Italian specialities from all over the country (so not just Florence) and allows you to see the process first hand with clear glass windows that reveal what really happens behind the scenes. You can watch how bread is made, how the famous bufala cheese is handcrafted or watch how artisan gelato is still made from scratch.
This new floor of the market is not only a hub for food but also for Italian culture and history. Many of the specialty items represent a different method of production, dating back in time, calling upon old Italian cultural traditions. The pizza stand is not any old pizza that you will find anywhere in Florence but is made in the traditional Neapolitan way, where the pizza is said to have been invented. Watch how the famous mozzarella di bufala is still formed in the classic method, as it is still made in Southern Italian today. By allowing visitors to see the production and engage in the process of artisan culinary traditions, the new Central Market acts as a cultural center for culinary traditions throughout Italy. This is especially unique for those of us who don't have enough time to see all of Italy because we can learn about the various parts of the country without setting foot outside of Florence. Be sure to stop by the Chianti wine booth (run by the Chianti Classico consortium) if you don't have the time to make your way down to the famous Chianti wine region, just south of Florence. After buying your wine, you can have it packaged and shipped straight to your home on location, making packing easy and hassle-free.
If that wasn't enough to get you excited, there is also a coffee bar, a 'Fiorentina' store, selling all you need to show your pride for the Florentine soccer team and a Giunti bookstore specialized in cookbooks and other culinary subjects. Take a timeout, grab a coffee (Italian style) or enjoy a delicious meal at the new floor of the Mercato Centrale to include the San Lorenzo Market as part of your Florentine experience!