Florence is Shopping!
After visiting the museums, admiring the artwork and architecture, eating pizza and gelato, the next (logical) step is to go shopping in Florence.
Drawing on a tradition rich with skilled and talented craftsmen (and women), Florence is your natural choice for shopping not only for high fashion but also for the unique and one of a kind gifts and souvenirs. Italy is known worldwide for its high quality and striking design - and Florence is an excellent showcase for both. And what's even better to know: you won't have to break the bank to go shopping! Between luxury boutiques with top name designers, fashion outlets, craftsmen and their workshops to the open air markets you are assured of finding just what you are looking for at prices that fit your budget.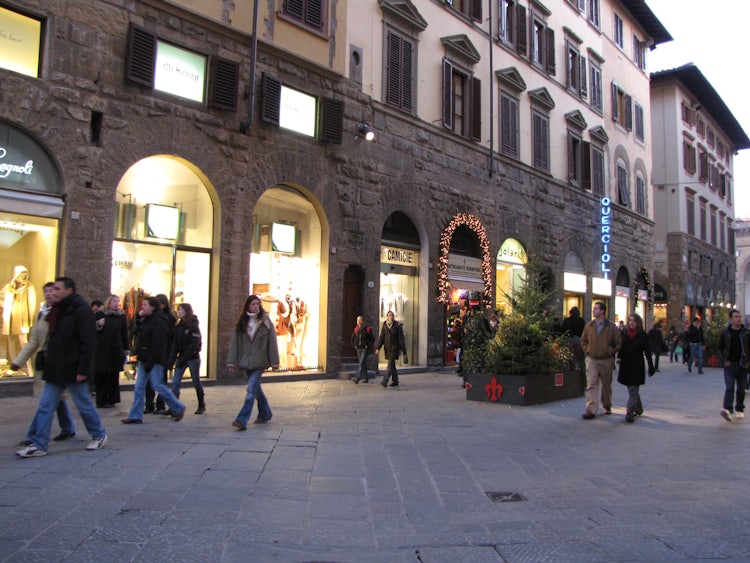 Window Shopping
Many places now have "orario continuato" which means they are open all day, and don't close at lunchtime. However, the further you go from the city center there are still some places that open between 9 - 10 and close at lunch around 1ish only to open again in the afternoon between 3:30-4:30 pm. The good news is they are open until 7:30-8pm. Stores are generally open from Monday to Saturday. Monday mornings and Sundays are normally times when the stores are closed. If you are one a schedule and want to hit any store in particular, then be sure to check the hours before you go shopping.
Another good pieces of news is almost everyone accepts payment with cash (Euros), debit cards and credit cards. Just a word to the wise, those who accept cash payments are normally not going to hand over a receipt...and though this is your choice, remember that if you are caught with a purchase and no receipt, you can be fined quite heavily. Other possible fines include buying from un-authorized vendors (especially knock-offs) … you will know who these are because they normally stash the goods in easy to transport blankets, bags and boxes.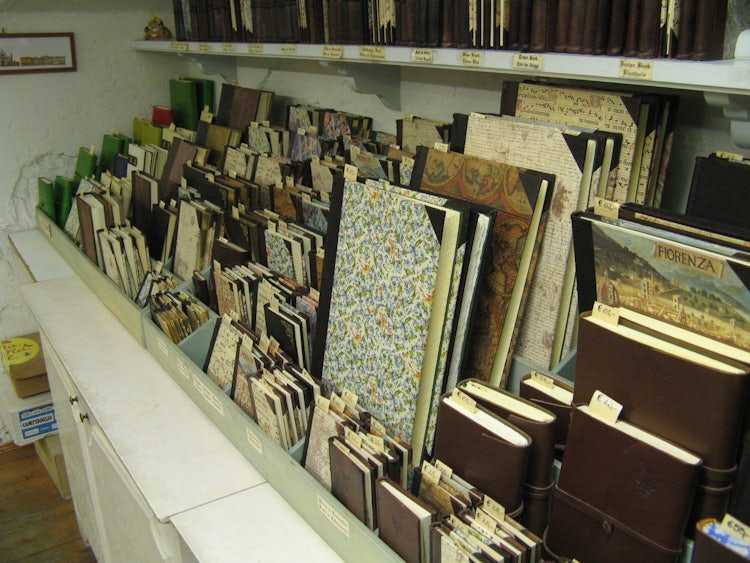 Italian Fashion
Milan is commonly nominated as the design headquarters of Italy - but for those in fashion, they know that Palazzo Pitti, with its fashion fairs, has definitely put Florence on the map for cutting-edge and innovative design. Just the number of quality shops and flagship stores testifies to the city's growing importance in the sector.
Since the 14th century, Via Tornabuoni has housed beautiful, stately palaces of noble Florentine families such as Antinori and Strozzi and now you will find boutiques for Gucci, Prada, Pucci, Cartier and Bulgari (to name a few.) This area is growing and expanding, including Via della Vigna Nuova where you can find shops for Etrò, Lacoste and Monteblanc and Via del Parione where you will find lots of specialty stores, ateliers and workshops.
Even if your wallet doesn't stretch that far...you can always let your imagination wander the streets and admire the colors, the designs and the fashion.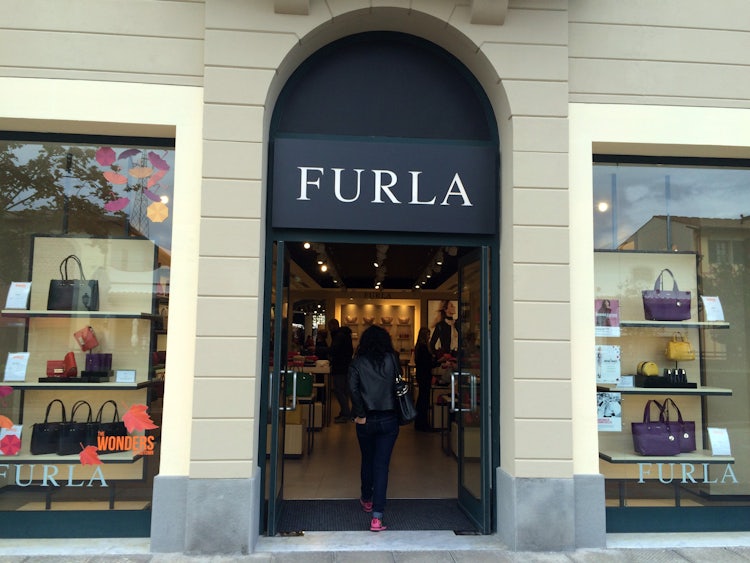 Antiques and Collectibles
Florence was home to one of the most famous antique and collectible dealers in Italy (if not the world): Stefano Bardini. Besides the museum near Lungo Arno, he has left quite a reputation which the local dealers constantly try to best. Where should you start your browsing? Via Maggio and Via de' Fossi. Both these streets are full of important antique shops where you can find valuable artworks and collectibles. Passing their windows sometimes seems like passing by a museum, with wonderful pieces on display.
There is also a collection of antique shops towards Piazza Beccaria. Normally set in Loggia di Pesce, they have been temporarily moved to Largo Pietro Annigoni, where you can browse and find treasures of all sizes, especially those just the right size for your suitcase.
In addition, to these stores with a permanent address you will also have ample opportunity to visit antique markets on fixed dates throughout the city.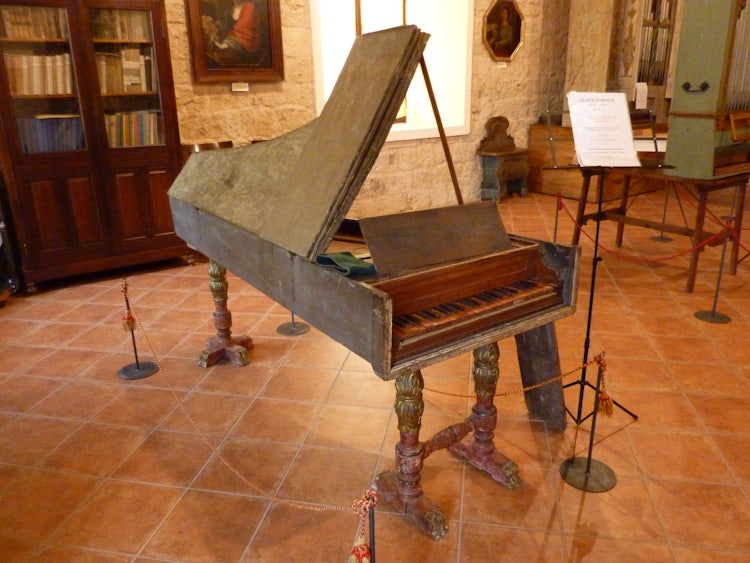 Leather
The proximity to the Arno river was an important factor in Florence dominating the world of leather production and all its eventual by-products...for example leather jackets and gloves. The most picturesque solution for leather shopping is the open air markets in Florence such as San Lorenzo and Piazza del Mercato Nuovo, between the spacious Piazza Repubblica and Hard Rock Cafe and the lovely Ponte Vecchio.
However, there are many stores that carry a quality product, so be sure to do your price comparison first. Wallets, belts, coin purses and gloves (especially gloves) are great alternatives to procuring a quality product with a more reasonable price tag.
An extra special treat is to be able to watch these artisans create! There are two places in Florence that invite you into their workshop: the Leather School behind Santa Croce and Pierotucci Italian Leather Factory.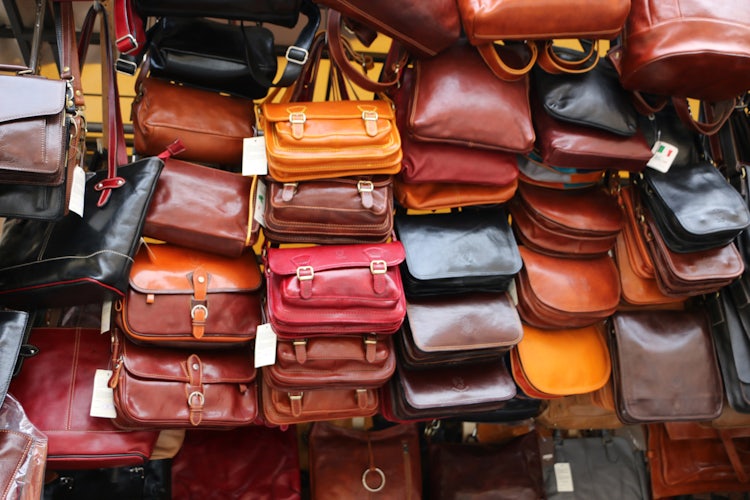 Gold, Silver & Art
Even before artists and sculptors like Brunelleschi, Donatello, Ghiberti and Botticelli began experimenting with working bronze, silver and gold, Tuscany could boast of the fabulous Etruscan gold craftsmen. This is a skill that found itself ingrained in Florence thanks to Lorenzo de Medici and his passion for gold jewelry, and the tradition of going to Ponte Vecchio to find quality pieces is mainly due to Ferdinand I.
Aside from being famous around the globe for its gorgeous and sparkling windows, Ponte Vecchio is also famous for the jewelry shops located on the bridge where you can find lots of handmade, unique jewelry such as necklaces, rings, earrings, bracelets and pins. In addition to the tradition of all that glitters, check out the selection of carnelian and sardonyx cameos and the totally unique micro mosaics and artistic compositions called "Commesso Fiorentino". These mosaics are composed of mainly local marbles and are intricate pieces of art, true modern masterpieces from an antique technique.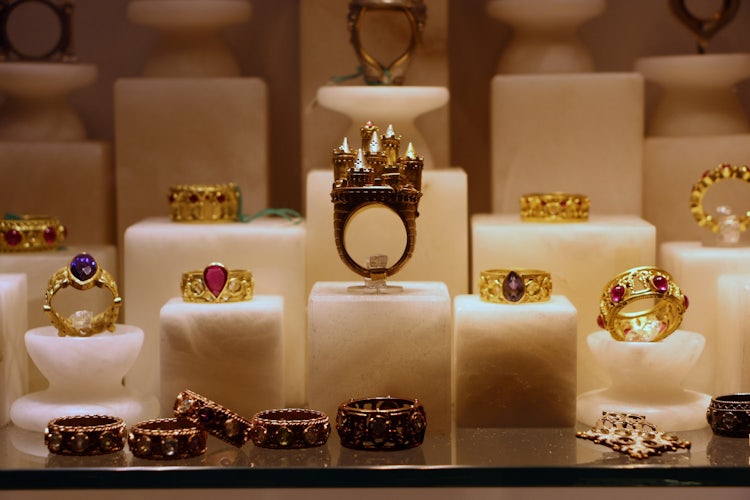 Color Me Pretty
Perfumes, Ceramics, & Artistic Paper
There are several historic "pharmacies" (what would be almost equivalent to a drug store today) which specialize in either antique recipes or sometimes new discoveries with traditional flavors. Producing a wide range of soaps, creams, ambient perfumes and body fragrances for men and women, these products are ideal souvenirs at reasonable prices that are truly unique and particular to Florence.
Another lightweight gift item you can search out include the fabulous designs on paper. The stationary is a combination of colors and swirls, or metallic accents and the Florentine Giglio symbol. There is a plethora of options ranging from cards, letters, stationery sets and large pieces of handcrafted paper perfect for crafting or gift wrapping.
Most of your ceramic producers are actually located outside of the city center of Florence towards Montelupo, Impruneta and other areas in Tuscany. But that doesn't mean that you won't find a wide selection of artistic bowls, plates, plaques and souvenirs in the many shops of Florence.
For more detailed information regarding the stores to visit, read our article here.
Food & Wine
Perhaps the most popular, and easiest item to shop for are the delicious flavours of Florence and Tuscany.
Some don't travel well, like the bistecca fiorentina, pizza or gelato, so you will have to be sure to eat your fill while you are here!
However, there is an abundance of food items that do travel well - and they all make great gifts (for those hard to please relatives and friends) … and memorable souvenirs, to share in company when you finally go home. Besides making purchases while you are out wine tasting, a great place to pickup authentic and genuine products is at the covered Market of San Lorenzo and to Sant'Ambrogio Market for fresh in season produce, oils, pastas, butcher shops and more.