Pizza is universally known as "pizza," no matter what part of the planet and in all languages of the world. In Florence, you will find many pizzerias/pizza shops and, if you are a pizza lover, then prepare your taste buds for a treat!
Did you know that pizza was invented in southern Italy, in the Campania region? For this reason, you'll often hear pizza called "Pizza Napoletana" or Naples-style pizza. While it is a very simple and delicious dish, it can be prepared in many ways with different results. Many places tout their "real" Napoletana pizza by how close they stick to the original pizza.
Perhaps you'll say "pizza is pizza" but, believe me when I say that you're unlikely to ever eat the same pizza even across Italy.
Also keep in mind, that like all exported food, pizza has been adapted to the palate abroad. So if it is your first time in Italy, you'll likely find that the pizzas you eat here are totally different to what you're used to eating at your local pizza place.
What to expect in Italy and Florence? The greatest variation starts right with the dough: thick or thin?
The base or the dough is made with simple ingredients: flour, water, yeast, olive oil, salt and a pinch of sugar. The preparation of pizza dough always starts from these few ingredients, but the result can be very different and this is why we've compiled this list of our favorite places in Florence. Depending on the flour (or flours) that is used, rising time, thickness, baking method and the quality of condiment and ingredients, you'll get varying results.
After this initial excursus on pizza, you should be getting hungry to try some. Whether you are already in town or are planning a trip to Florence in the near future, our recommendations will hopefully turn out be to useful.
Where to eat good pizza in Florence?
It must be said that everyone has their own tastes. Some people prefer a thick pizza, usually known as the original Napolitan-style, with a large, thick crust as well (intended to represent a crown) and well-seasoned, while others prefer thin and crispy pizza. It is not always easy to reconcile everyone's tastes, but in either case it is still quality pizza!
This is why we decided to "join our forces" and leave the task of suggesting some good pizzerias in Florence to our 3 "experts" within the VisitFlorence team: me (Cristina), the only fiorentina of the group and Donna and Lourdes, both American, but now living in Italy for many years.
We do not want to make a ranking, but give you a series of "insider" tips that come from eating and living the city ourselves. If you have other suggestions about your favorite pizzerias in Florence, please leave a comment at the bottom: we will enjoy trying them and adding them to the article!
3 Pizzerias Lourdes recommends
1. BERBERE'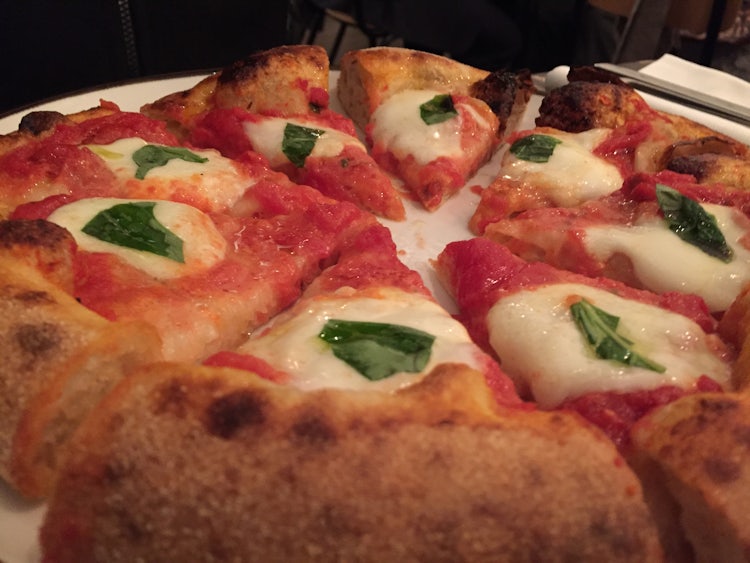 Their slogan says it all: Craft Pizza & Beer. If you want something different as far as pizza goes in Florence, then you have to go for gourmet pizza at Berberè. Think sourdough risen over 24 hours, pizza dough made with organic whole wheat or special dough made with "ancient grains" such as kamut, spelt, rye and enkir that give the dough depth and added flavor. You pay a bit extra for the special dough which changes daily.
Toppings are not your traditional offerings and can include spinach, radicchio, Taleggio DOP, Prosciutto Crudo di Parma and Speck from Trentino, as well as a simply margherita but made with Mozzarella di Bufala. Vegetarian options are indicated on the menu and menu changes with the season.
The pizza might seem quite small and comes pre-sliced into 8 slices (which they say makes it perfect for sharing). Even the menu says the pizza might seem smaller than other pizzas, but that is only because it isn't stretched out thin. The amount of dough is actually above average at 280 gr (with average being 220-260gr) according to their menu. We found the crust to be deliciously crunchy on the outside with a soft inside. A strong point is that you can pair the pizzas with Italian craft beers as well as selected wines. Average cost per pizza is 8-12 euro, although some come in at 15 euro. In two, with two pies, shared water, a beer and two desserts, we paid 41 euro last time we were there (03/2016) so it isn't a cheap pizza place! Reservations recommended as space is limited.
Location: Piazza de' Nerli, 1 – NEW location near Santa Croce on Via de' Benci, 7 - read more about this second location on our blog here.
2. PIZZA MAN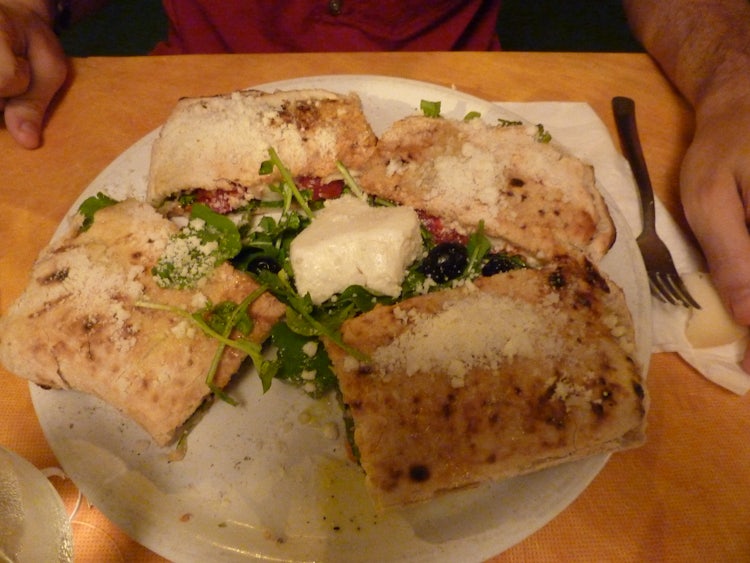 The first Pizza Man opened in 2001 in Florence and now has several locations across town, with its only downtown location in the Santa Croce area just of Via Verdi on Via dell'Agnolo (the first pizzeria is the one on Viale de Amicis). Lots of locals go to Pizza Man for its winning combination of simple pizzas with good quality ingredients and low prices (average price is 6-7 euro). Pizzas here are thick Naples-style and there are only 7 options which includes a no-cheese Marinara, others with fresh cherry tomatoes, Napoli with capers and anchovies, the "Panuozzo" which is a calzone with rocket greens, mozzarella, parmigiano and smoked scamorza cheese (in photo above) – yum! I need to go back soon. Read our Full Review of Pizzaman here.
Location: Via dell'Agnolo 105/107R - 055 248 0200.
3. IL PIZZAIUOLO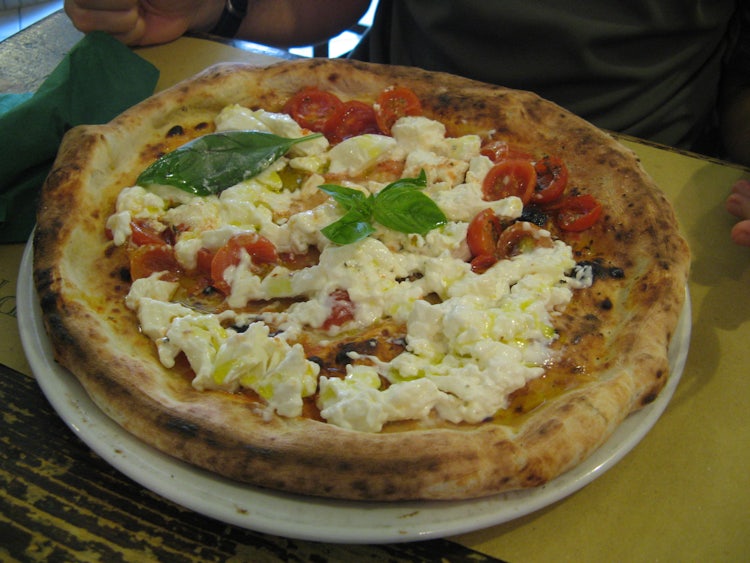 I particularly enjoy the Naples-style pizzas here, the simplest Margherita is delicious with mozzarella di bufala (made with buffalo cow milk) and baked in a wood oven. It can be quite crowded and noisy since it is a small locale so it isn't the best place to go out to chat with friends. Aside from pizza, they also specialize in seafood and the pasta and risotto we have had has been extremely tasty. For the pizzas there is a wide variety of toppings, including other cheeses such as burrata and stracchino, but expect pizza crust to get soggy if you order ones with too many toppings. Better to keep it simple! If you like spicy, make sure to try to the margherita with 'nduja, a specialty from Southern Italy. Particularly noteworthy is that they also have gluten-free pizza. The only negative side I've found lately is the service: a bit hurried at times. Reservations highly recommended.
Location: Via dei Macci, 113 – 055 241171.
Cristina's 3 Top Pizzerias
Let's start with my advice: as you can see two of the recommended pizzerias are perfect for a snack or a quick meal (keeping in mind good quality!) Finding places with fast service is my little "trick" I learned as a mother, because, you know, kids usually get tired quickly waiting at a table to be served.
1. MISTER PIZZA
Mister Pizza has two locations in downtown Florence: one in the very central Piazza del Duomo, with seating on the square as well as inside and the other in the Santa Croce area. Both are open until late at night, which makes them a point of reference for what we like to call "people of the night" as well as for all those caught by a sudden craving for pizza after midnight when the kitchens of most pizzerias are closed.
The pizzas can be eaten at the table or taken away to eat back at your apartment (you can also call and order take out to be delivered) and are also sold by the slice, perfect for those who only are in need of a quick and filling snack.
The pizza is thin enough and well stuffed, the quality is very good and there's also a selection of varieties. You can order pizzas without gluten for celiacs too.
The environment of Mister Pizza is pleasant and very informal, suitable for all ages (it's my daughter's favorite pizza too!) Given the central location, prices are within the average for Florence.
Book Mister Pizza - Piazza Duomo Book Mister Pizza - Pietrapiana
Location: Piazza del Duomo and 5r via Pietrapiana 82R (Santa Croce)
2. PIZZERIA SUD INSIDE MERCATO CENTRALE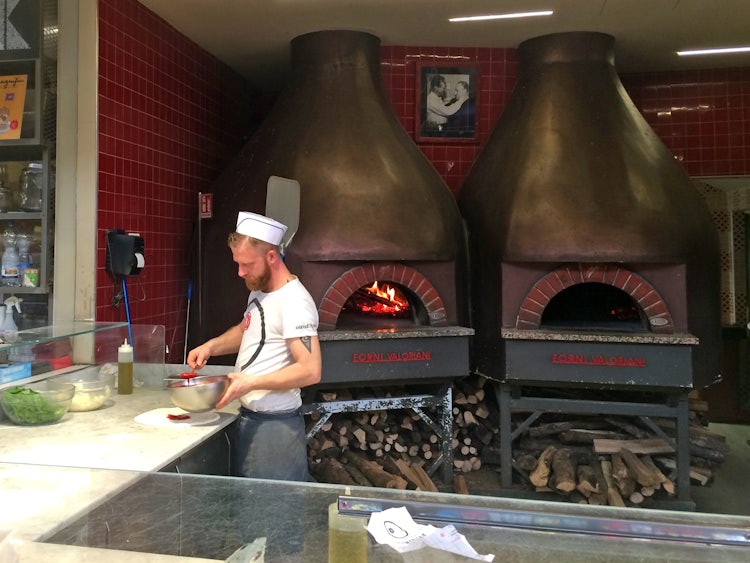 Sud is the Napolitan pizzeria located on the first floor of the Mercato Centrale (the Central Market), where the pizzas are prepared strictly in sight (stop and admire the skill of the pizza maker!) and with high-quality ingredients. Pizzas at Sud have received several awards and it must be said that those who love pizza, (particularly with a thick crust that makes a beautiful frame and a slightly thinner crust at the center) you will not be disappointed.
A special feature of the pizzeria is definitely the limited choice: only 4 pizzas, with 3 classic pizzas (Margherita, Marinara and Napoli) + a variable type with seasonal products.
The Sud pizzeria is the only one of the shops on the first floor of the Central Market to have a reserved area in an upstairs terrace, so it is relatively easy to find a seat even at peak hours. Prices are medium to high (6.50 € for the cheapest, the marinara pizza).
Location: on the first floor of the Central Market in Piazza del Mercato
3. MANGIA PIZZA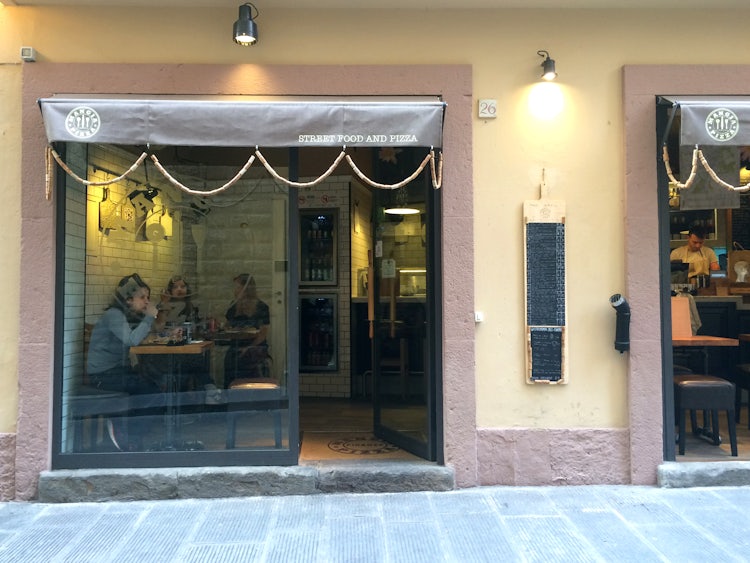 Mangia Pizza is in a very convenient location between the Piazza della Signoria / Ponte Vecchio area.
The place is small, with about twenty seats, and no table service, but you can also order pizza to take away and eat elsewhere. The pizzas are not made with classic pizza-style dough, but are actually schiacchiatine (they are in fact called "ciabattine") and are very thin and deliciously crispy. The pizzas are freshly made by combining different ingredients, starting with a "red" (tomato sauce) or "white" base (without tomato sauce). A super-casual setting (cutlery are in plastic!).
Location: Via Lambertesca 24R (next to Uffizi Gallery)
3 Favorites for Donna
DONNA says: "When I plan on taking family and friends out to eat pizza in Florence, I look for two things: a wood burning stove and an open place so they can watch the pizza being made (and dutifully take photos). These are the places which have stood out since my first trip into Florence."
1. I TAROCCHI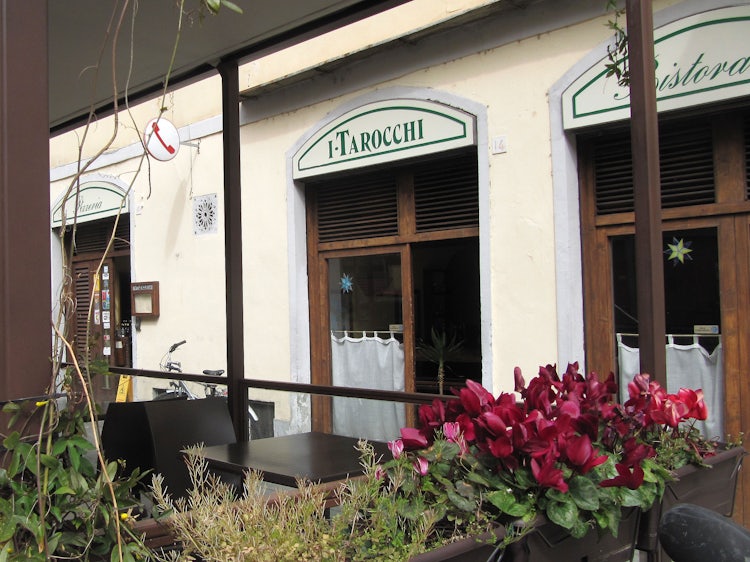 Tarocchi is located in the San Niccolò area. Well frequented by the students in the area due to its price friendly menu, it offers a simple yet welcoming ambiance. The pizza is a thin crust - with a cracker-like consistency which is typical of Florence and the area, they have a light simple tomato sauce and a liberal (yet not overwhelming) amount of toppings. The service is fast and normally the waiters speak more than one language. Though the menu is varied, you will find pastas as well as main courses, I have always eaten the pizza…. OK and the tiramisu (but only under duress because I much prefer a gelato!) The seating arrangements are a mix of outside when the temps permit, a booth (just in case you are picky about who you are sitting next too) - or you can sit at the long tables with benches and mix and mingle with the other locals.
It can get a bit rowdy inside but that is just part of the charm.
Location: Via dei Renai 12
2. YELLOW BAR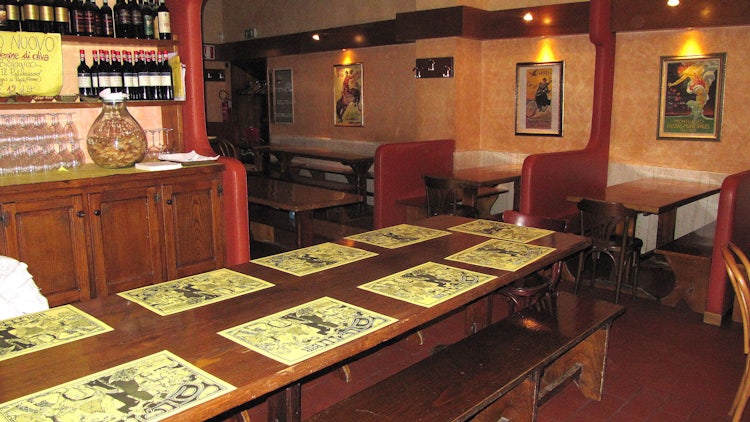 Yellow Bar is definitely one of those places that can come across as just a bit touristy because of its prime position so close to the Duomo, but it actually is the type of place that ranks high with both locals and foreigners. The menu is vast and diverse yet at the same time concentrates on offering great local flavours both fresh and at an honest price. My selection has always run with the pizza - which have thin, crunchy crusts, rich with toppings. The pizza is large, often almost slipping off the plate but I have always been able to finish it off (often much too quickly). They have a great selection of salads which can be considered a meal in themselves and make the perfect green companion to the Florentine-style pizza.
Open at all hours, this place fills up quick at mealtime but they move fast and once you are seated the food is served rather quickly.
Location: Via del Proconsolo 39r.
3. SANTARPIA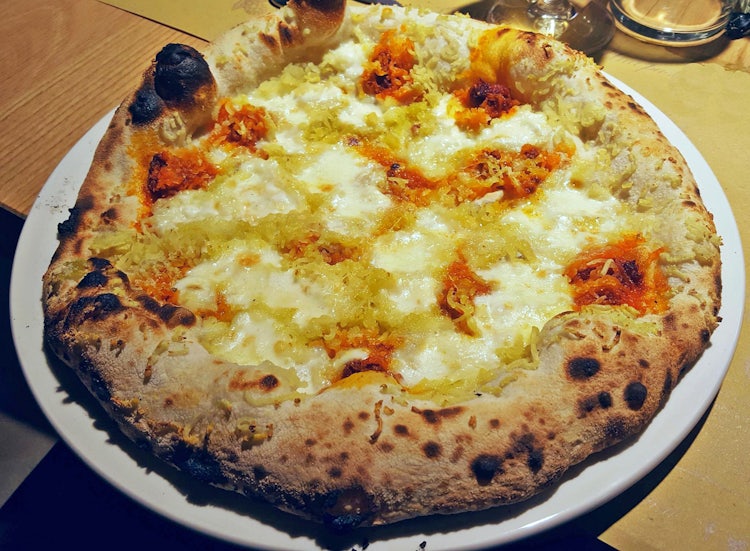 Santarpia, named after the pizzaiolo - an energetic and enthusiastic chef - is "the" pizza place and is all the rage in Florence since it opened in late 2015. Pizza here boasts an authentic Napolitan crust. Located right behind the square used for the Sant'Ambrogio food market, it is easy to find… but it's not easy to find a table! You need to reserve - though sometimes the early bird will find a place to eat. They offer a very limited menu highlighting fresh ingredients and a pizza dough with a 48-hour rising period: sweet tomatoes with a DOP label, organic olive oil, juicy mozzarella and specialized combinations including particular flavours like friarielli (the green rape leaves), pumpkin or even the typical Florentine lampredotto. You shouldn't come here to eat "normal" pizza - and don't look for pasta on the menu.
You come here to delve into the reign of flavours, expertise and pizza perfection and a very strong dash of Napoli. Read our Full review of Santarpia here.
Location: Largo Pietro Annigoni, 9.
---
It's not our habit to review every new pizza joint that opens in Florence but, when it is one of two pizzerias in the city which are in possess of the coveted "3 Spicche" award from Gambero Rosso, leading expert in Italy for quality food. The award was specifically for their pizza napoletana, an icon on the Italian menu. (The other is Santerpia listed below). Actually the idealist & chef behind this restaurant come direct from SUD in Mercato Centrale which was already a top suggestion from the VisitFlorence Team.
NEW ENTRY: Le Follie di Romualdo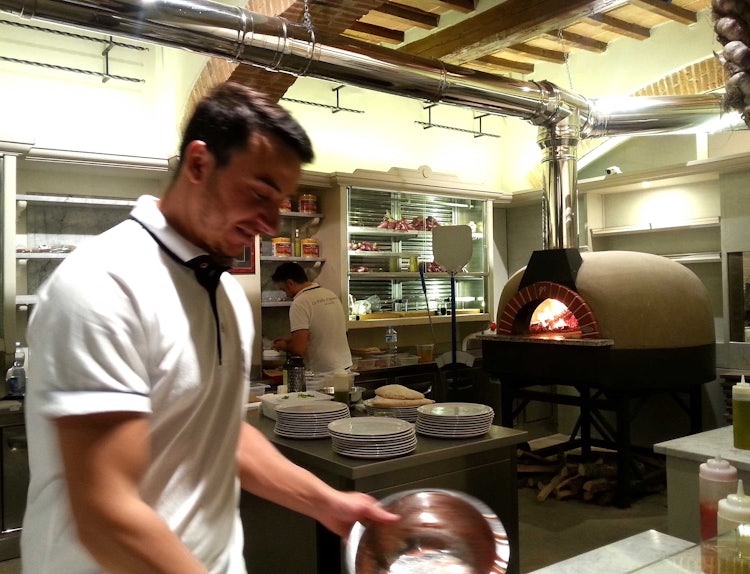 With a very concentrated menu, you will find that Romualdo has selected the best of the best from Napoli: pizza and several fish dishes. The chef's favorite? The pasta con ragu, the meat sauce slow cooked to perfection using the traditional methods. The two wood burning ovens, in full view of the diners, works double time as they "sfornano" the classic pizzas and even a few specialty combinations highlighting the deliciousness of the season.
Fresh is the key word according to Romualdo: the menu is limited because the ingredients need to be seasonal and wholesome. Even the sauce on the pizzas is made with fresh tomatoes!
There is a patio for dining "al fresco" and low lit salas for evening entertaining. The atmosphere is ideal for a romantic evening or friends simply looking for genuine flavors. My group split the fried calamari & shrimp as an appetizer: lightly battered & crispy. The two pizzas: margherita and napoletana were heavenly, and the plate of spaghetti with clams was savored to the last drop.
Located just on the other side of the Arno river with lots street parking. Since I am in and out of the city often, I liked that it is not too far from the ring road connecting to the Autostrada. The position make it the a perfect stop in or out of Florence before heading to your agriturismo or B&B in Tuscany.
Location: Viale Europa 4
---
And now it's up to you, let us know your favorite pizzerias in Florence leaving a comment below.