Berberè pizza is one of our favorites in Florence, and when you're invited to try out their pizza at their recently opened second location in Florence, can we really say no? We'd be crazy, right!?
We love hearing directly from the owners/creators of a project so when the chance came up to also meet one of the founders of these pizzerias (they are not a chain, all restaurants are their own; they set up and train people at each until they feel they can hand over the reins to the local manager), I had to go to hear the story behind Berberè.
We met Matteo Aloe, a very laid-back, down-to-earth type of guy originally from Calabria. He moved to Bologna to study at the university with his brother, Salvatore, and finding no luck at finding a great pizza they both liked there, he and his brother set out to create the pizza of their dreams. This was what drove them to find the perfect pizza which turned out to be to use simple ingredients but of the highest quality.
What's special about their pizzas? Their pizza dough is made in-house every single day and made to rise slowly over 24 hours with natural yeast, using high-quality ingredients selected personally by the two brothers, choosing organic whenever possible. Do you love soft pizza on the inside, but crunchy on the outside? Then this pizza made out of sour dough will delight your senses! They make 3 types of dough daily, the classic one described above, a special dough with special grains, rotating through the week, and a hydrolysis dough that uses no extra added yeast other than natural fermentation of the wheat with hot water.
Of course, in addition to organic products, it also means they follow the seasons. The menu changes 4 times a year to reflect the best seasonal ingredients. Since we're in February, this means we got to taste the winter menu which includes roasted pumpkin, creamed cannellini beans, mushrooms and black Tuscan kale.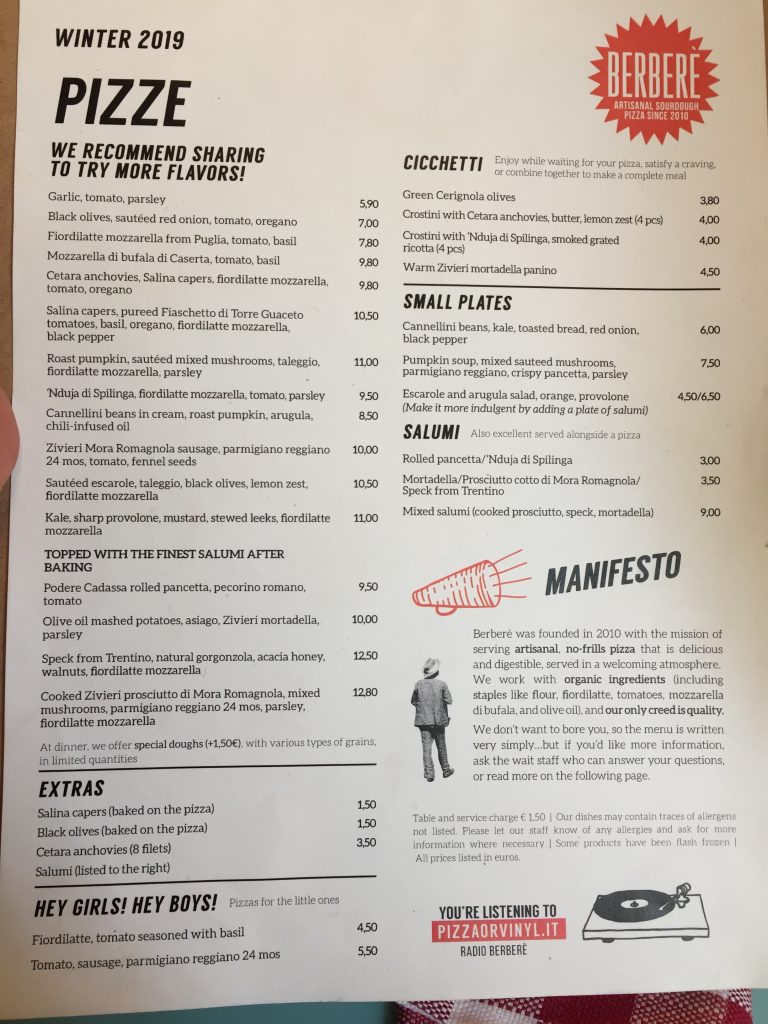 While their pizzeria project has expanded rapidly over the 9 years since they first opened in Bologna making artisanal, no-frills pizza (they are also now present in Rome, Milan, Verona and Turin), this second location in Florence differs from the first in a big way: the pizzeria in San Frediano is only open for dinner, while this new Berberè near Piazza Santa Croce and behind Palazzo Vecchio is open at lunch too!! For those of us out seeing the main sights during the day, this place is easier to reach and offers the chance to eat delicious pizza without having to wait until dinner ;-).
Another thing to love about Berberè is that the pizza is pre-cut into 8 pieces before it arrives at the table, making it perfect for sharing! So, go ahead, order more than one single pizza (they are not super large sized) of different types and prepare to share.
Note that the same philosophy applies to the beverages: a few wines on the list, but personally selected wineries that share the same vision of high quality. Same applies to the craft beers, and with the carbonated soft drinks being certified organic made from fruit and with no artificial flavors.
With 2 little kids, I noted the place is also perfect for families: the ambiance is decorated in a friendly, informal pop culture style, they have a changing table in the bathroom and high chairs for infants.
If you wish, you can do like I did and go up to see them as the pizzas are prepared. The open kitchen area allows you to see the pizzaiuolo stretch the pizza out, select toppings and place into the oven. Matteo explained that they choose lower heat and longer cooking time to make sure that the dough stays soft on the inside, and several ingredients are only added after the pizza comes out so that they will be eaten at their best. For example, the buffala mozzarella needs to be enjoyed fresh so the mozzarella is added after the pizza comes out of the oven, the same applies to several of the pizzas made with fine cold cuts such as mortadella, Trentino speck and prosciutto.
Go ahead and give Berberè a chance when you're in Florence – and let me know what you tasted and which one was your favorite 😉
They also have some very special desserts: here's a picture, but you should definitely go and try them out yourself!
Barberè in Florence
Santa Croce
via dei Benci 7 (corner of via Dei Neri 2)
Open 7 days a week for lunch and dinner from 12–3pm and 7–11:30pm.
San Frediano
Piazza De' Nerli, 1
Every evening 7pm-12am and on Friday, Saturday and Sunday also for lunch from 12:30-2:30pm
Check out their official website for more details and addresses of locations across Italy (and 2 in London!): https://www.berberepizza.it/en