Our experience at PizzAgnolo
It had been a while since we had tasted the pizza at PizzAgnolo on via dell'Agnolo, and not since it was renovated after a recent change in management.
We thus gladly said yes to an invitation by the new owner, Cosimo, who invited our team to dinner! We went with our kids on a Saturday evening, arriving soon after 7 pm.
The pizzeria is in downtown Florence, on via dell'Agnolo near Via Verdi and Piazza Santa Croce so very central and easy to reach. It has a few tables outdoors during the summer but we selected to go inside since it was still warm out and we were grateful for the AC.
As soon as you enter, beyond the first tables, you immediately see the large red pizza oven and the kitchen where you can see the two pizza makers busy at work. The pizzeria itself is furnished in a very casual style, welcoming and with colorful wall decorations.
While it is still early in the evening, the pizzeria quickly gets full and we noticed tables with both tourists and locals, so not just full of tourists considering it is downtown. That's always a good sign ;-).
Cosimo and the wait staff are very cordial and friendly, helping us quickly settle in and parking our folded up stroller in a small service room while also bringing a child seat over for our 15-month-old baby.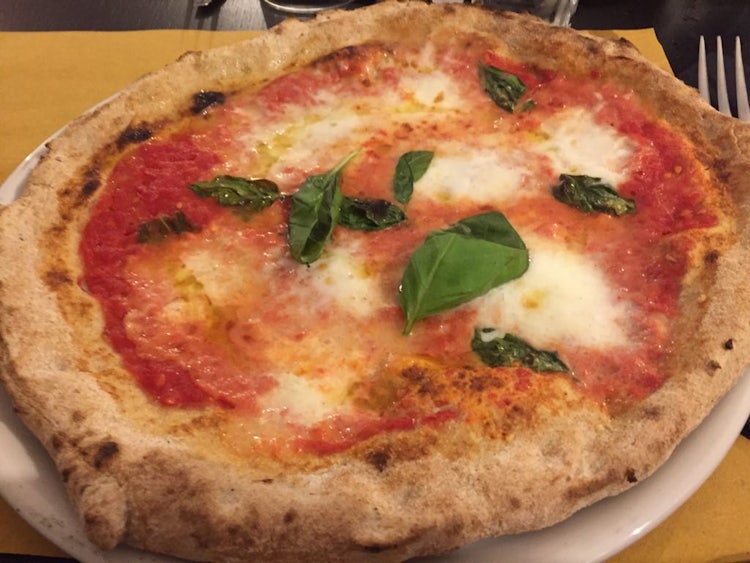 Handing over the menu, Cosimo told us that they have extra pizzas other than those offered on the menu and they were listed on a nearby blackboard. Each one sounds delicious. How to decide?
Cosimo has original pizzas including vegetarian options and a vegan one with vegan mozzarella (cool!). The pizza dough can also be the traditional type, gluten-free or whole wheat.
Among the special pizzas we like the idea of the Tartufina with truffles and Bufala mozzarella, the Genovese which has home-made pesto sauce and onions and the Multicolor which has both red and yellow cherry tomatoes, pecorino cheese and hazelnuts. We decide for the first two, plus a classic Margherita, all with whole wheat pizza dough. I've also recently decided that ordering a large green salad as a side dish - in this case I opt for the vegan salad - counterbalances the carbs of the pizza. We also decide to try out some Naples-style fried "street food" as appetizers and so order a crocchetta (mashed tomatoes with cheese and ham) and a mozzarella in carrozza, which is cheese inside two slices of bread, then fried. We cut it up into pieces and share it with the kids.
There is a wide selection of artisan beers but for today we decide to stop here ;)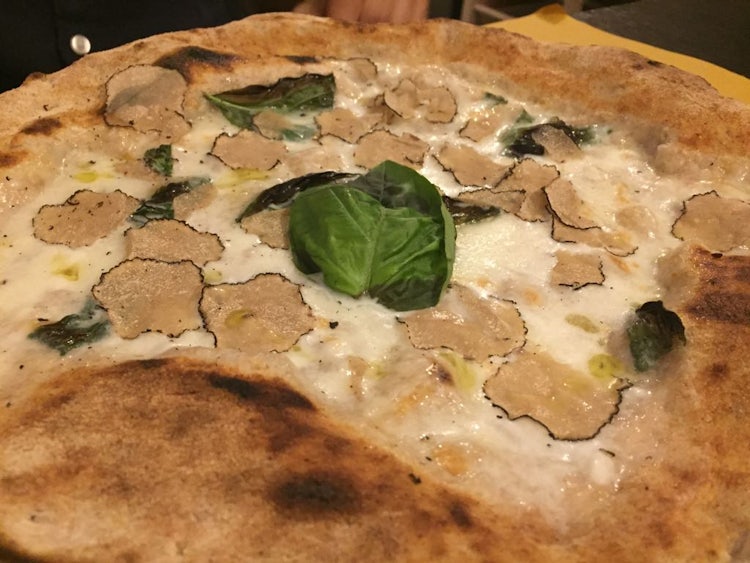 The pizzas arrive quickly afterward, and are tall Naples-style, with abundant toppings. The white truffle pizza (the best type of truffle) has a good amount, you can smell the delicate aroma of truffles as it was placed before me. The Genovese was generously topped with onions, cherry tomatoes and mozzarella, with a swirl of pesto as a finishing touch. The scent of the basil is strong, we get to taste it with the sense of smell before anything else.
We try the whole wheat pizza base on its own to taste the consistency and flavor and like it a lot. It isn't heavy or chewy. It is obviously a matter of taste, but when possible, I always like to try the whole wheat dough for my pizzas.
Overall, we find our pizzas are delicious and we enjoy every bite until the end. Even the Margherita pizza must have been good since our 5-year-old made it disappear (and it wasn't a kid-size pizza either). I didn't even get a chance to steal a small bite :)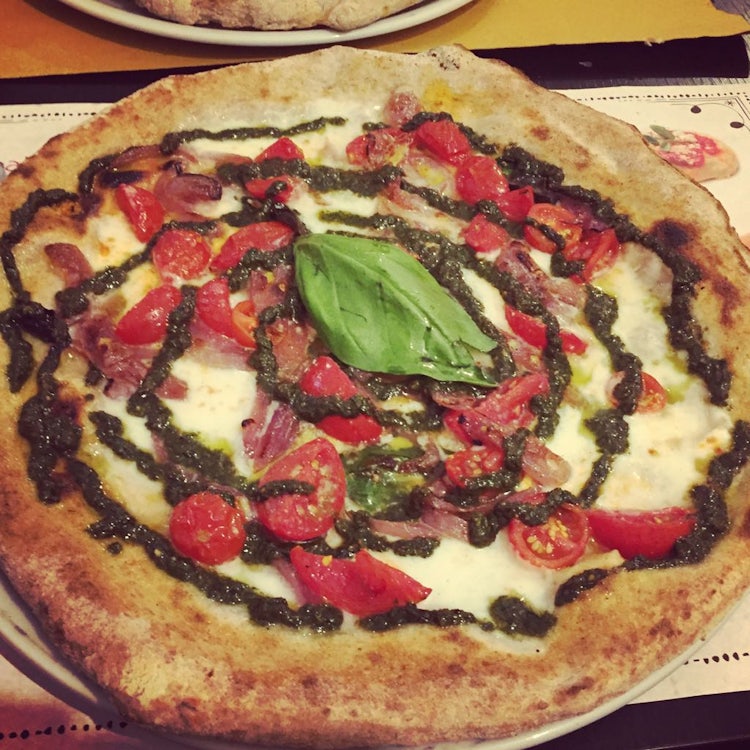 The pizza is surely a good quality Naples-style pizza, with a thick crust and made with good and abundant toppings. Service was cordial, our waiter taking care to come by several times to make sure everything was going fine. The atmosphere was great, informal and perfect for groups of friends and families with kids like us. Dinner was offered to us in the end but my opinion on the food is naturally impartial! I can't thus say exactly whether the total cost was a good value, but the prices on the menu all seemed to be average for Florence.
We will return soon to try out some more pizzas!
Book your table on The Fork
When available, we usually reserve our restaurants through The Fork (which is also one of our trusted partners). It's fast and easy and we like being sure to have our table reserved. Furthermore, there are often special offers, and you can collect "Yum" points that sum up to a 50 € discount.
[updated January 2020]