Suggestions for a DIY Craft Beer Pub Crawl
Kick Back & Relax with a Cold Draft Beer
In a land completely inundated with signature wines, Sangiovese grapes and an economy that practically revolves around the next vendemmia (grape harvest), it can be quite refreshing (literally) to find that there are still a few "crafty" Tuscans who enjoy a cold beer to wind down and relax - or simply savor the classical flavors of homegrown ingredients (chestnuts, honey, herbs, potatoes and of course, the malt) which seem to be a prominent characteristic in the local beers.
If you want a draft (draught) beer or a beer on tap - you need to ask for "una birra alla spina"
This is a list for those who enjoy savoring the surprising nuances packed into a good craft beer, some on tap and many in bottles. Read on for our top picks of pubs, especially if you are looking for a list of quality beers (including a number of Tuscan microbreweries), a casual setting and a large dose of Florentine color.
Many sit on the fringes of the city center of Florence, in areas that are frequently packed with locals, but none are too far out that you can't get there with a 15-20 minute walk from the Duomo.
---
IL BOVARO
Address:
Via Pisana, 3r (r stands for numbers printed in red on the street signs - as opposed to numbers printed in blue)
Website
Hours:
6:30pm - 1am (Fri & Sat open till 2am; closed Mondays)
Beers:
their very own Tuscan craft beer, made on site
Home Brew:
Il Bovaro craft beer on tap
Food:
wide range from snackers, pizza, vegetarian and full course meals
Atmosphere:
laid back, local crowd
Prices:
on the expensive side, but not outrageous
One of the oldest craft beer pubs in Florence, frequently shaking up the menu and beers (not literally!!) Il Bovaro features their own craft beer on draft (Riki - similar to Pils -, Axel - double malt - and Titan - dark beer - as well as two specialty beers: Alien (Green) e Ruat (strong bock).
Sitting on the corner just outside the Porto San Frediano, this pub has a great...almost romantic atmosphere with jazzy background music and the brewing center open to the public.
It all started on a lark, and a chance meeting at a dog show (il Bovaro = Bernese Mountain Dog) — but if you ask Danielle, the owner he will tell you nothing is by chance but rather an intriguing combination of coincidences. So if you are interested in the story behind it all search out Danielle, the owner, or if you just want to try some authentic Florentine craft beer - just call over the waiter.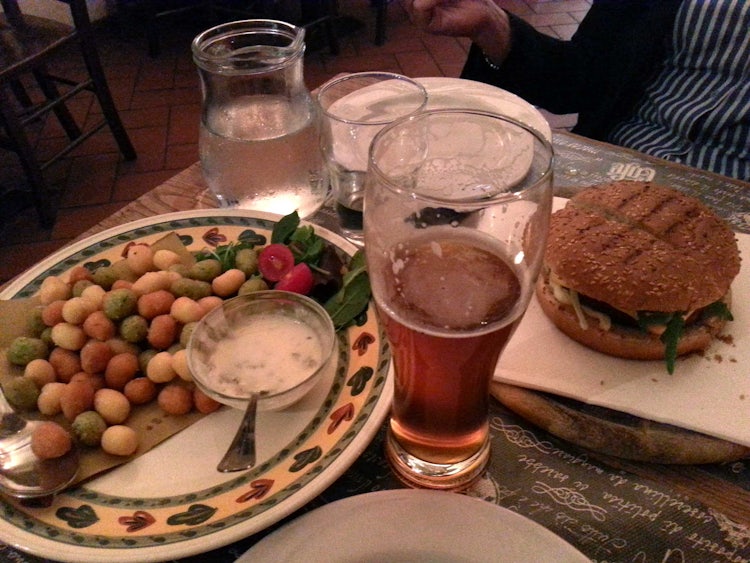 You won't be disappointed with the selection, the flavors, and the atmosphere. They have indoor and outdoor seating and a wide and varied menu. I tried the "Chicchine" (pronounced key-key-ne), tiny fried potato dumplings and the Eggplant Hamburger but there is something for everyone from a plate of cheeses to pizzas, to a slow-cooked shank of pork. Make a meal out of it or simply nurse a beer and people watch, no one will be pushing out the door here.
---
DIORAMA
Address:
Via Pisana, 78r (r stands for numbers printed in red on the street signs - as opposed to numbers printed in blue)
Website
Hours:
4pm - 1am (Fri & Sat open till 2am; closed Mondays)
Beers:
Italian & International craft beers, (Tuscan craft beers include: La Fonte), beers vary constantly but there is always something Italian on tap
Home Brew:
no
Food:
Great wurstel (hot dog) selection, and light dishes including typical cold cuts and cheese, salads and snackers
Atmosphere:
laid back, local crowd
Prices:
average (a small beer, a coke and a plate of cold cuts for about 14 Euro)
This place is so small, even if you are looking for it, you might skip right over the front entrance. It draws a fairly local crowd of 9 to 5-er's, students, graduates and those who just went into retirement. Though they are not too particular if the beer is Tuscan or not, they do care that it is a craft beer — and good. I drank a Robust Porter, a dark, thick flavor. However, for those who are less into beer and more into the comfortable, laid back atmosphere then you will also find soft drinks, wine — and dare I say it, even water to drink.
There is outside seating for those who want to enjoy some fresh air and the local scenery, and inside you will find a bar (for 5 maybe 6 persons) and a few tables. The service was fast, attentive and our plate of cheese & cold cuts was loaded - even though the description said small. The guys at the bar took a few extra minutes to answer my questions but, I definitely got the idea that they expected their clientele to know their beers before they got there. But don't let that discourage you from asking questions.
Their selection of beers changes frequently, so be curious and ask what they have either from Tuscany or Italy and then take the plunge and try something new and different, you might just find your next favorite beer here while in Florence!
---
ARCHEA BREWERY
Address:
Via de'Serragli 44r (r stands for numbers printed in red on the street signs - as opposed to numbers printed in blue)
Website
Hours:
6pm - 1am (Fri & Sat open till 2am)
Beers:
Tuscan, Italian & International draft beers
Home Brew:
Archea craft beer on tap
Food:
chips, peanuts, snackers
Atmosphere:
casual, local crowd
Prices:
average
This is an Italian craft beer (Archea) but not from Florence (not even from Tuscany) - however, that doesn't mean it shouldn't be savored. If you're not sure of what will excite you, then check out their taster rack: 4 mini glasses and you choose. Just point out the four beers (any of those on tap) and sit back for your own private taste testing.
I could tell the bartender wanted to help me choose a beer but, he obviously expected me to be more versed in my preferences so in the end, it was a blind pick - that actually ended up much better than I expected. I tried the Archea IPA, with a tangy lemon/lime flavor and was immediately won over.
Set in an area that attracts tourists only by accident; you will find that the crowd is very local, mixed in age and on game day, very attached to the indoor TV screen. There is a covered outdoor area for those who prefer the sound of laughter and Italian chatter.
---
BIRRERIA ART.17
Address:
Borgo La Croce, 64 R (R stands for numbers printed in red on the street signs - as opposed to numbers printed in blue)
Website
Hours:
5pm - 2am
Beers:
Mostly Italian craft beers, (Tuscan craft beers include: degli Archi, Bruton, PLB, La Diana ), a few international beers
Home Brew:
Seasonal
Food:
Chips
Atmosphere:
laid back, local crowd
Prices:
5 Euro for a pint
Zeno, the owner, loves his beer and after years of traveling and experimenting with different pub settings, he has made his home in Florence. On the outskirts of the historic center, yet in an area that is expanding in small boutiques and restaurants. It is still finding its groove and the interior has yet to acquire a lived in atmosphere but the menu at Birreria Art. 17 provides a great list of Italian and Tuscan craft beers.
The local beers vary frequently and are often in limited quantities because the Tuscan brewers like to experiment with organic spelt harvests and seasonal additions like chestnuts and honey which can limit their production quantity. Zeno follows the trends, and his craft beer menu changes with the seasons. He even has his own craft beer available!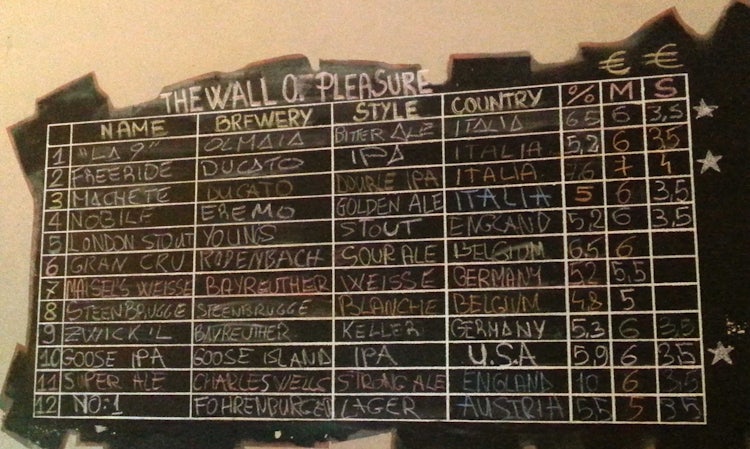 They have an indoor area with tables, chairs and even standing room at the bar. For those who prefer there are a few bar stools outside - space is limited and it is definitely "first come, first serve". The crowd kind of spills outside the front door, especially in the warm weather! I suggest this is for those who just like to hang, savor their beer while watching Florence walk on by.
---
THE HIDDEN PUB
Address:
Piazza Del Carmine 11/b rosso (R stands for numbers printed in red on the street signs - as opposed to numbers printed in blue)
Facebook
Hours:
3pm - 2am
Beers:
Mostly Italian craft beers & international beers
Food:
light menu with a few weekly surprises
Atmosphere:
local crowd
Prices:
Economical
I found this place more out of desperation for a cold drink than a careful search. Waiting for my (new) favorite vegetarian restaurant to open up I very much need to sit and chill. Across the street I spied a pub, with a tiny outdoor patio that jutted out between a line of double-parked cars, I figured "why not?"
These are the best surprises! The bartender looked a bit sleepy - and he might have been since they have rather long hours for a pub, but his new local IPA suggestion was spot on.
Located in the heart of what Lonely Planet recently named "the coolest neighborhood" in Florence, this place definitely draws a more local crowd - and not necessarily upscale - if you want to mingle with those who live & work in the city, this is your place.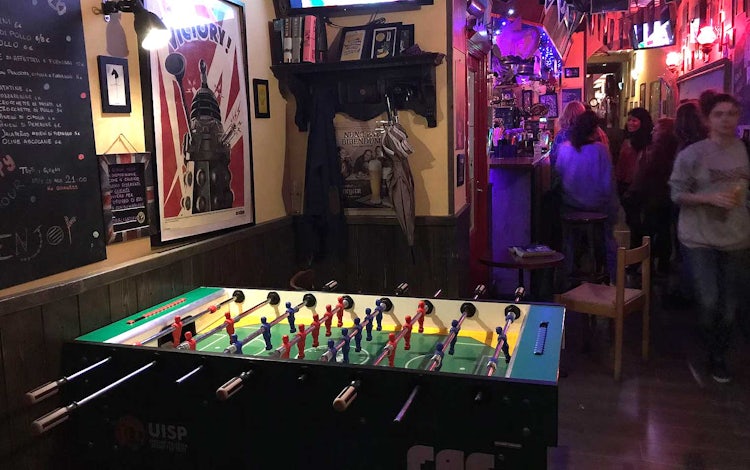 I browsed the menu, which proved to have a wide variety of typical and sometimes not so traditional recipes but, I opted for a bowl of chips to hold me over. I went back a couple weeks later and actually ventured inside - it could be intimidating but it seems like the staff kind of warm up to you after you place your order. Make yourself at home, sip a beer, play a game or read a book — it's all good here.
---
BHC BEER HOUSE CLUB
Address:
Corso dei Tintori 34/r (r stands for numbers printed in red on the street signs - as opposed to numbers printed in blue)
Website
Hours:
Noon - 3am
Beers:
Tuscan / Italian & International craft beers, of the 12 on tap there are always at least 4 - 5 Italian beers
Food:
Traditional Tuscan & Burgers
Atmosphere:
sports bar, international
Prices:
average
Normally this place would not have hit this list because of its touristy position within the city, but the early opening hours and the great indoor/outdoor seating give it an edge, not to mention that of the 12 beers on tap you will find that the top listings go to Italian (and occasionally Tuscan) beers.
Besides the beer selection, they claim to have a mighty tasty burger (9€). I selected a classic with cheese, lettuce, and tomato and to cop a phrase from another fast food joint, it was (surprisingly) finger linkin' good. But if you want to stick to the Italian fare, they also have pizza (7€) and nibblers like deep fried stuffed olives on the menu (4-7€).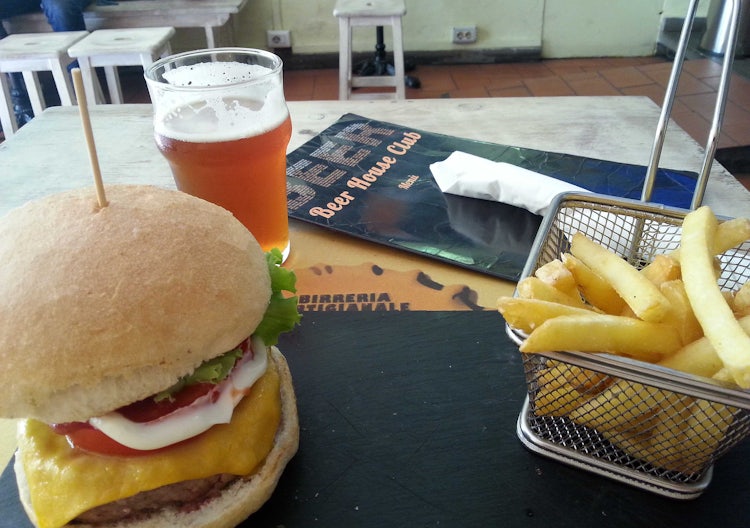 It attracts a very varied crowd, a mix of Italian and not, young and ... not. Maybe it's for the semi-outdoor seating which is great for people watching or maybe because there is a constant roll of sports TV or maybe because of its ideal position between Palazzo Signoria and Santa Croce. Or maybe for the free WiFi.
---
MOVE ON
Address:
Piazza San Giovanni, 1/R (r stands for numbers printed in red on the street signs - as opposed to numbers printed in blue)
Website
Hours:
10 am - 1am
Beers:
Tuscan & Italian craft beers
Food:
Traditional Tuscan & Burgers
Atmosphere:
upscale - but still comfortable for everyone
Prices:
above average
This place definitely would not have hit my radar at all (reeks of tourism!) but, they have put a spin on it. Quite literally, (sorry the pun!) they boast an on-site vinyl record store upstairs. Situated truly in the heart of Florence, this pub offers a diverse yet select menu and all Italian craft beer selection.
Prices are within the norm for a place that finds itself with prime outdoor real estate. It overlooks one of Florence's most important monuments: The Duomo with the Bell Tower of Giotto and the Baptistry. (I mean to say, the prices have a tendency to hit the high end of the spectrum, but the view and the quality can — and will — compensate.)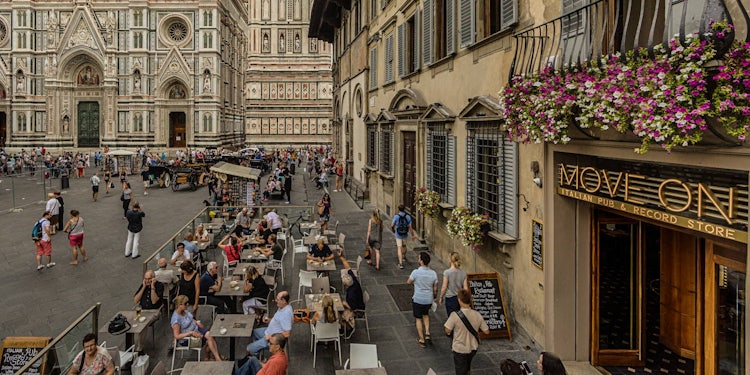 The warm wood interiors, the friendly and helpful staff and the genuine flavors in the food and the beer make Move On a gem in the historical center. Add to the mix a little vintage shopping and a mesmerizing panoramic view of the cathedral and you have a perfectly valid reason to stop in for a drink and meal.
---
Drinking with the Florentines
For those who want to try a pub crawl, you will find that a few of the above places are all within a 10-minute walk of each other, and you can finish up with a stroll along the Arno River, or to the piazza in front Santa Croce. My two suggested itineraries are: Diorama, il Bovaro, the Hidden Pub, Archea or if you start from the heart of Florence: Move On, BHC, Art.17. Please remember, if you need help getting back to your hotel or B&B - call a cab.
There are also other options, like the Beer & Bites tour. Due to the size of the places where it stops, it works best for small groups (6 is already large according to the tour leader). The tour starts from the city center and winds through the streets of Florence mixing beer, traditional culinary dishes, and a local guide who shares stories about the city every Tuesday, Friday, and Saturday in the early evening.
A young British couple clued me in "We choose it for the beer, but we loved the bits of history, the food and the fact that it took us to the other side of the river - we wouldn't have done that on our own.
Or if beer really isn't your thing but you like the idea of food, Florence, art, and history then you might want to check out this tour which my colleague tried and enjoyed.