A Guided Tour Mixing Cultural & Food and Wine Specialties in Florence
There are lots of possible ways to explore and get to know Florence, all of which allow you to appreciate several different points of view and facets of the city. Florence's beauty is similar to that of a diamond, both brilliant and precious, it is a beauty that you can't help but look at it again and again. And each time it seems as if you are seeing it for the first time.
Many come to Florence with the idea of admiring its artistic and architectural masterpieces, many times the very same works of art they studied at school. However, once they begin to explore the city they are exposed to the wonder of its history, traditions, culture, fashion, food... just imagine what they would have missed out on if they had stopped just at the art!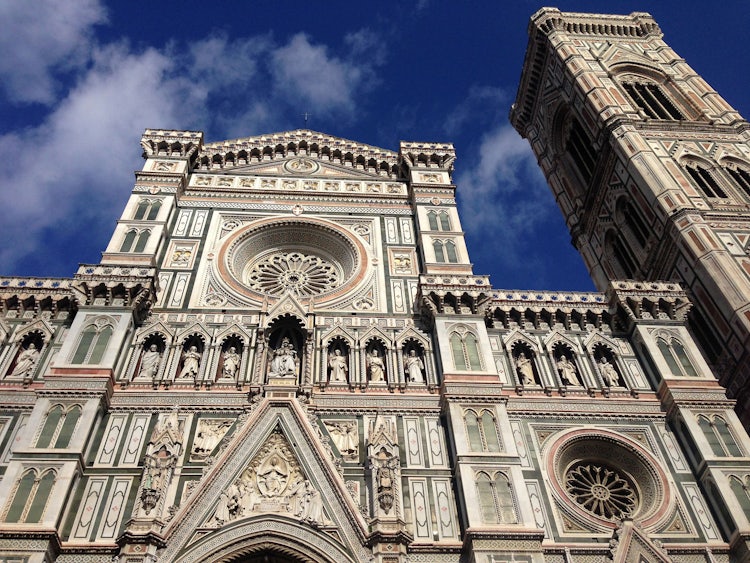 This page contains affiliate links. More details »
Who knows if this was what our tour agency had in mind when they prepared their walk through the streets of Florence focusing on a mix of history and food. This guided tour of 3 hours features a taste of both the cultural and wine and food specialties of the city while covering Florentine art and history. An extra plus, all of this comes at a reasonable cost.
Who would enjoy the walking food tour "Art and Food"?
First timers to the city
For those with little time in Florence but want to discover a bit about all of its art, history & culinary traditions
Especially those who are curious & love to hear the little stories that only a local guide is able to share
The combination of historical attractions & food is enticing, so we decided to give the tour a whirl. In the end, we found it to be ideal for someone who wants to make the most of the few hours they have in the city, especially for those who have just arrived and want to get "the lay of the land" with the assistance of an expert local guide who knows just the right places that will satisfy your curiosity.
Our guide Alessandro, helped us navigate the tour combining lots of fascinating tid bits about local food traditions and history. The relaxing three hour tour, took us around the center to see the basics, including churches, monuments and important palaces that make up part of the historic and artistic patrimony of the city. In addition to these visits, the tour included three culinary stops all in the area between San Lorenzo and the Duomo.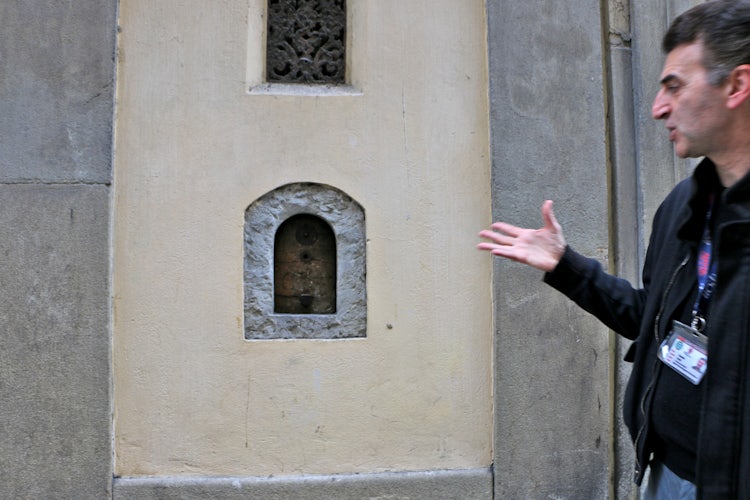 Florence Food: A Small Group Walking Tour at a Glance
Cost: 70€
Time: 9:30AM & 4:30PM
Duration: 3-3.5 hours
Includes: walk around the historic city center with stops at several cultural points, and several food stops for tastings
Not Includes: any entrance into museums, the walking tour is across the city, not inside museums or churches
Days: runs every day except for Wednesdays and Sundays, year-round
Notes: max group size is 20 people
Suggestions: wear comfortable walking shoes
Languages: English
Our guide presented each stop in an easy to understand manner, adapting his explanation so that everyone in the group was able to appreciate the artistic and historic subtleties of each point of interest. He was able to answer everyones questions and curiosities clearly and easily. We might have thought we knew Florence pretty well since we live here (me in particular, all my life) but Alessandro was able to show us something new. Just like they say, you never stop learning something every day. Please note that the tour is run by different guides and each one gives a different spin to the tour. The following is where Alessandro took us, your itinerary will surely vary slightly but the basics remain.
An Overview of Florence's Art & History
The tour was entirely done by foot and it winds its way through the streets of city center, so it might not be suitable for someone who has difficulty walking. It is definitely marked as not suitable for anyone on a wheelchair, unfortunately.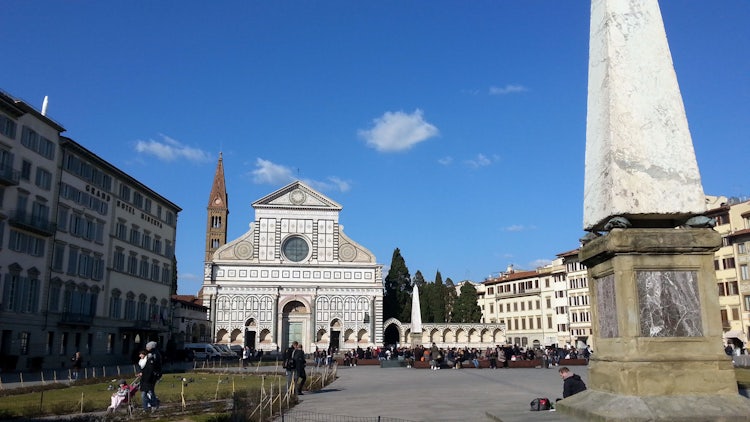 Our tour featured sightings of some of the more iconic landmarks such as Piazza Santa Maria Novella, Piazza San Lorenzo, Piazza della Signoria, Piazza del Duomo and Piazza della Repubblica as we walked across the center to our tasting stops.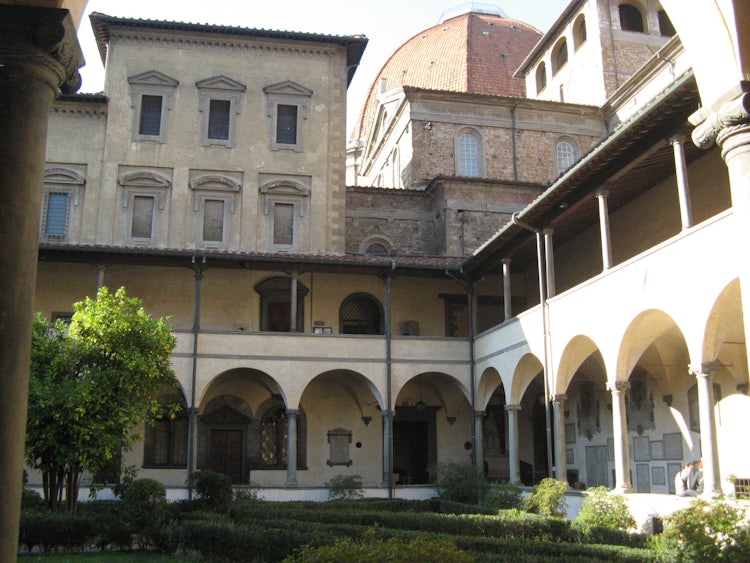 We also stopped to admire the enchanting cloister of the Church of San Lorenzo.
The itinerary does not include entrance into any museums, which would clearly require more time. Even without entrance into the museums, our guide was able to include interesting and intriguing information about each area we passed through. It was always just enough to tease our curiosity and help us decide whether we might want to go back and discover more.
The Food Stops
The culinary stops along our tour offered a selection of quality products while stopping at the Mercato di San Lorenzo, a typical wine store near the Duomo and a delicious end with a gelato!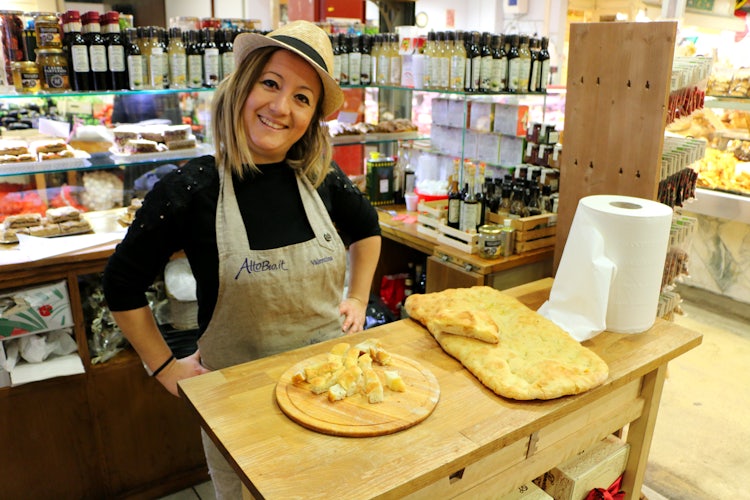 I enjoyed the stores within the Mercato (those on the ground floor), in particular AltoBio - Esperienza Toscana where we met up with Valentina, whose personality and selection of goodies simply charmed us all.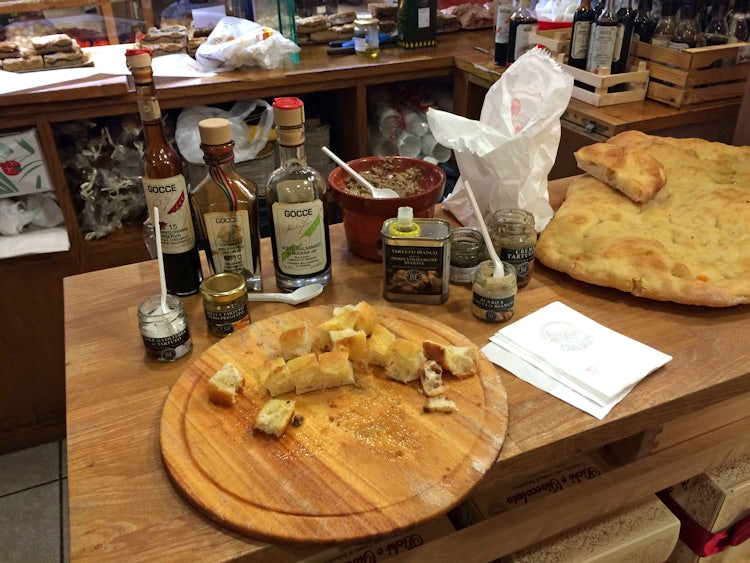 She plied us with an array of delights that included white and black truffles (delicious!), not to mention the aged balsamic vinegars (not exactly Tuscan, but it is noted as the best balsamic vinegar in Italy). Memorable to say the very least.
The other stops on our itinerary were totally dedicated to local Tuscan products: salumi, cheese, excellent wines and two specialities from the Florentine kitchen, "pappa col pomodoro" and "ribollita". Both use the typical Tuscan bread as its base and add fresh vegetables and tomatoes for flavor... yummy!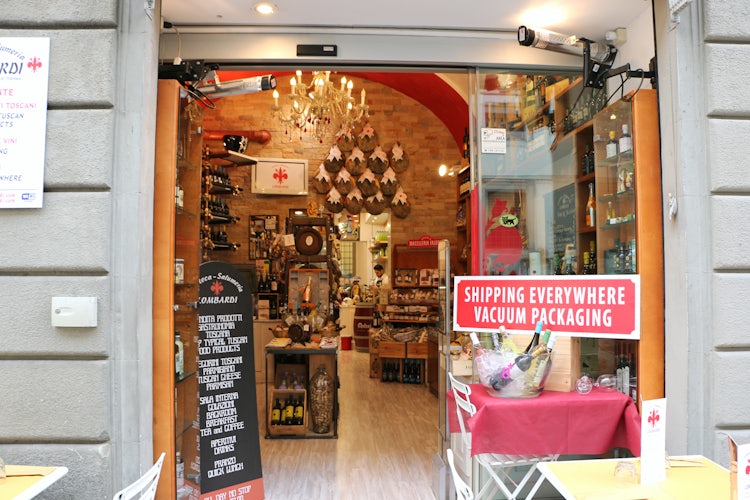 It is possible to make purchases of any of the products you taste while visiting the shops.
This tour is available year-round but not on Wednesdays or Sundays (shops are closed on Sundays, soc check the calendar to see if it works for you. There is no minimum number of guests so it is possible to tour with only a few persons, however, they do have a max number of 20 persons to keep it informal and comfortable for everyone. Language is not a barrier, but the base language is English. You won't miss a word of what your guide has to say because in the large groups, you will have a comfortable headset.
Want to give this tour dedicated to the flavors of Florence and Tuscany a try?
DISCLOSURE
This page and website contains affiliate links. This means that if you make a purchase after clicking on such links (to Viator.com, Italy-Tickets.com, Booking.com, RentalCars.com, etc), Visit Florence will get a small percentage of the purchase price, at no additional cost to you. Thanks for your support! Read more details.