Eating out in Florence is not easy for those who don't eat meat, ham or sausages.
Fortunately, over the course of the last few years, many restaurants have started to offer alternatives for vegetarians and simply for those who don't want to eat meat on that day. Even traditional trattorias include a vegetarian option or two in their menu. But if you're specifically looking at those places that are specialized - and which offer a much wider choice - here are some specialized places we recommend. It includes a few ideas for those who are vegan too!
Miso di Riso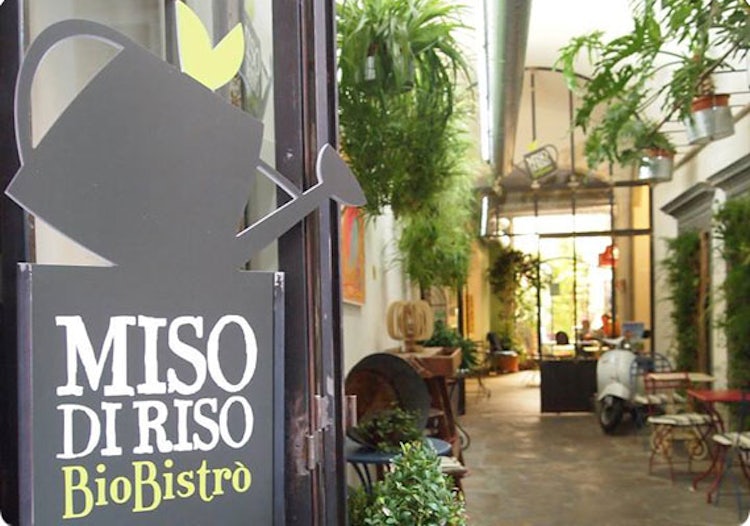 Miso di Riso is a brand new parisien­-like­-bistrot with iron chairs, warm lighting and relaxing music specialized in macrobiotic vegetarian & organic food. At any time, there are only 5 dishes on the menu and these go from couscous with vegetables to salty cakes or Seitan stew and obviously the Miso Soup! There is also a good selection of "biodinamico" wine served by the glass. Interesting desserts like the carrot cake.
The restaurant is located between Piazza Santa Croce and Piazza Duomo, on Borgo degli Albizi 54r.
Sedano Allegro
The name means the Happy Celery and the atmosphere is quite welcoming. It's was one of the very first vegetarian restaurants in Florence, before the vegetarian trend was even popular. It is near the synagogue in the Sant'Ambrogio area (street address: Via Farini 1/3R, corner with via dei Pilastri). Ask for a romantic candle­light table and order the vegeratian "carbonara" pasta or the onion soup. Excellent!
Ruth's Kosher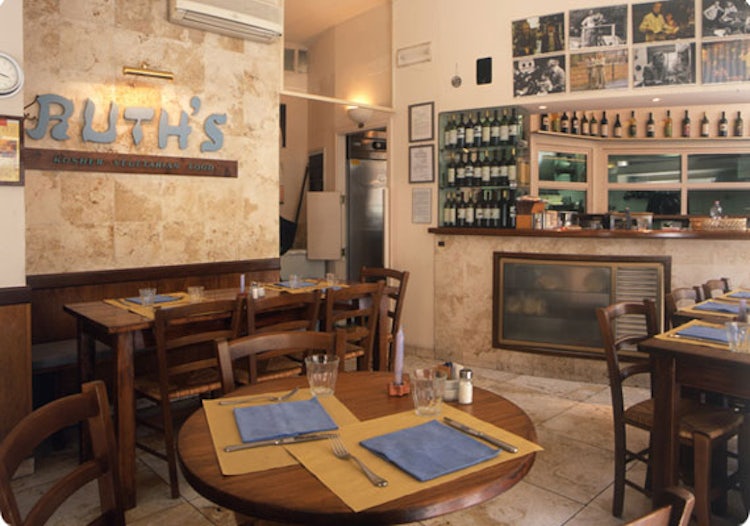 Ruth's is the "official" restaurant of the Jewish Community in Florence. In fact, it lies just a few steps off the synagogue (Via Luigi Carlo Farini, 2/A).
It serves Kosher vegetarian cousine, so you may taste ethnic and unusual plates such as marinated fried eggplant, hummus, cheese-filled bureckas or couscous. It is attended by international customers, so don't be surprised to hear people speaking in languages from all countries. Service is basic, and while prices are not cheap, the atmosphere is still quite traditional. They have Free WI-Fi for clients. It is also across from il Sedano Allegro, so if you like vegetarian the area is well-served.
Il Vegetariano
The first vegetarian restaurant in Florence doesn't really have a name: we call it "Il vegetariano" which means The vegetarian because for years it was the only option for vegetarians. It's set up very much like a school cafeteria (mensa in Italian) and as such, it's very simple and without table service: you follow the line, take the food on your tray and find a seat. Portions are big, prices are ok and, most importantly, the food is tasty.
The restaurant is located near Piazza San Marco, on Via delle Ruote 30R.
Dolce Vegan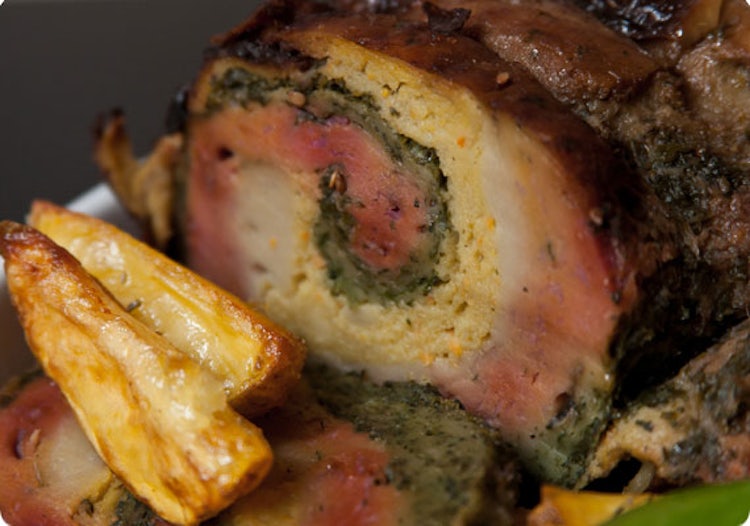 This one will appeal to vegans in particular, but of course vegetarians will also appreciate it as well. It is a small bar where you can order vegan dishes with the self­-service formula: first you place your order, then they call your name and you go pick up your food and bring it back to your table. The menu is very simple but the quality is acceptable. It's not in a touristic area, even if it's located in the center of Florence (on Via San Gallo 92r), so you might have some problems finding it. Try the vegan "cheese" burger with potatoes or the vegan lasagne. On the paper tablecloth at your table, you will find interesting facts concerning the vegan choice & way of life.
Pasticceria Gualtieri
If you are searching for vegan cakes and desserts, make a note of this name: Gualtieri. It's a tiny bar in Porta Romana that ­ opened way back in 1933 by Alfredo Gualtieri, an innovative pastry chef. Passing from the father to son, and then to grandson, today it is run by Maurizio who has decided to learn (and teach as well) how to create gorgeous cakes and pastries that can be enjoyed by vegans. You may not believe they truly are vegan when you taste one of their creamy croissants, made completely without butter­! Your tastebuds will also enjoy the fabulous vegan "mille feuille" made with summer berries (or currants) and chantilly cream.
Enjoy!