Eating out in Florence is not always easy for those who don't eat meat, prosciutto or sausages... but it has gotten much easier!
Florence is the home of the "bistecca fiorentina" or Florentine style t-steak. So it isn't always easy to get away from this culture and find valid alternatives for vegetarians. It is only fair to say that many restaurants and traditional trattoria have always offered several vegetarian options as well as some Tuscan dishes based on fresh, seasonal vegetables (think pappa al pomodoro and ribollita, both bread-based dishes with tomatoes and other vegetables, just as two examples).
There are simply many of us, not fully vegetarian, who appreciate basing dishes around other ingredients and are open to to trying new things.... cooking without meat is an entire arena open to creativity as far as cooking goes. Times are a changing and new places have opened lately and are opening up in Florence offering a wider choice of offerings, including options for vegans, gluten-free and focusing on organic, local ingredients.
While I'll focus on some of our favorite local places well-known for offering solely or mostly vegetarian options, know that nowadays most restaurants offer meat-less dishes on their menus so it won't be hard to eat well in Florence even if you don't eat meat.
Il Vegetariano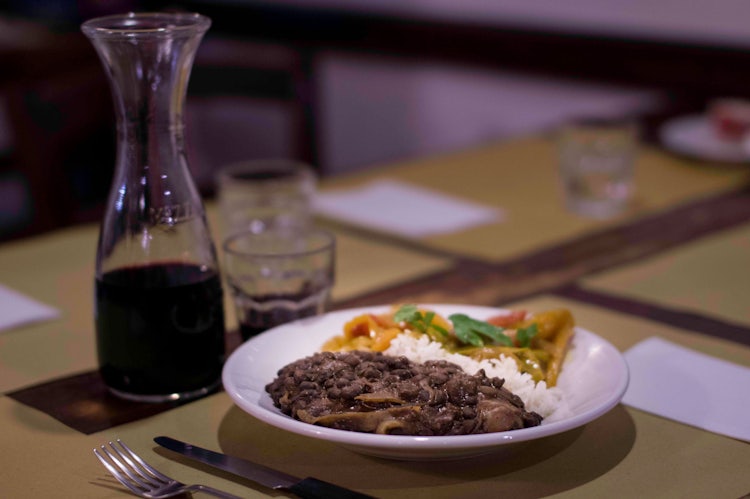 The first vegetarian restaurant in Florence was born in 1981 and doesn't really have a name – it's simply "Il vegetariano" or "the vegetarian". For many years, it was the only option for vegetarians in Florence. It's set up very much like a school cafeteria and as such, it's very simple and without table service: you follow the line, select food and find a seat. Portions are big, prices are decent (from 7 to 10 euro) and, most importantly, the food is tasty.
The restaurant is located near Piazza San Marco on Via delle Ruote 30R. Phone: 055-475-030 http://il-vegetariano.it/
Open Tuesday through Friday for lunch and dinner, Mondays only for lunch and Saturdays, Sundays and holidays only for dinner. Lunch hours: 12:30-3:30pm (kitchen closes an hour earlier). Dinner hours: 7:30pm-midnight (kitchen closes at 10:30pm)
Average price 15-20 euro per person
Ruth's Kosher Vegetarian Restaurant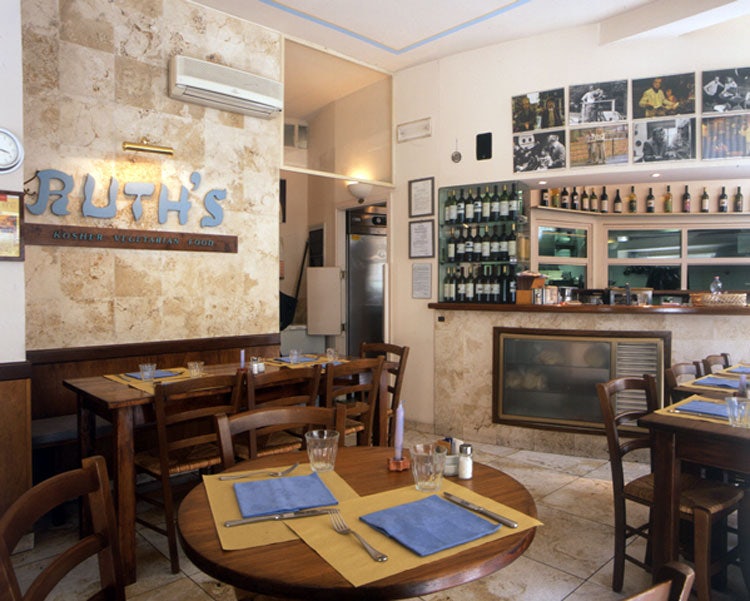 Ruth's is the "official" restaurant of the Jewish Community in Florence. In fact, it lies just a few steps off the synagogue (on Via Luigi Carlo Farini, 2/A).
It serves Kosher vegetarian cuisine, so you may taste ethnic and non-Italian offerings including marinated fried eggplant, hummus, cheese-filled bureckas or couscous. It is almost a given that you'll find a majority of international patrons on any given day over locals, so don't be surprised to hear people speaking in languages from all countries around you. Service is pretty basic, and while prices are not cheap, the atmosphere is still quite traditional. They have free WI-Fi for clients.
Via Luigi Carlo Farini, 2A - Phone 055-248-0888 - http://www.kosheruth.com/
Open Sunday through Thursday for both lunch and dinner. Friday open only for lunch, Saturday open only for dinner. Lunch hours: 12:30-2:30pm. Dinner hours: 7:30-10pm. For Shabbat and Jewish holidays, open only on reservation. Meat dishes made on request.
Average price 15-25 euro per person
Giumella... for tasty Tuscan vegan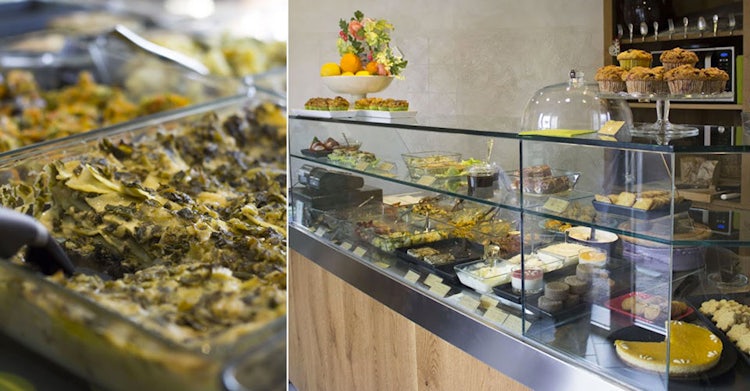 Similar to Dolce Vegan above, this tiny corner shop offering high quality vegan dishes offers a wide variety of vegetarian and vegan dishes to take-away, since there are only two small tables to eat inside. Philosophy here is more like a deli, with food already prepared and sold either by weight or by what fits into a set size lunch/dinner box at set price – at 7,50 euros it is the better choice! You select what you want until you reach the weight limit. It is a great way to experiment trying out different dishes and end up with a full belly. You can also indicate the type of food you want – from gluten-free to high protein and trust them to assemble the box's contents for you.
Seasonal ingredients, locally grown with many of the dishes of Tuscan inspiration. Make sure you give the desserts a try – the chocolate cakes are delicious! This place is not within the historical center but if you're in the area, I recommend you give them a try.
Via Lorenzo di Credi 12R (behind the underpass near Piazza Alberti) – 393-822-1084 - http://www.giumellavegan.it/
Open Monday through Friday 10:30am-8pm. During the summer, closed Saturdays and Sundays while only closed on Sundays in the winter.
Carduccio for a light lunch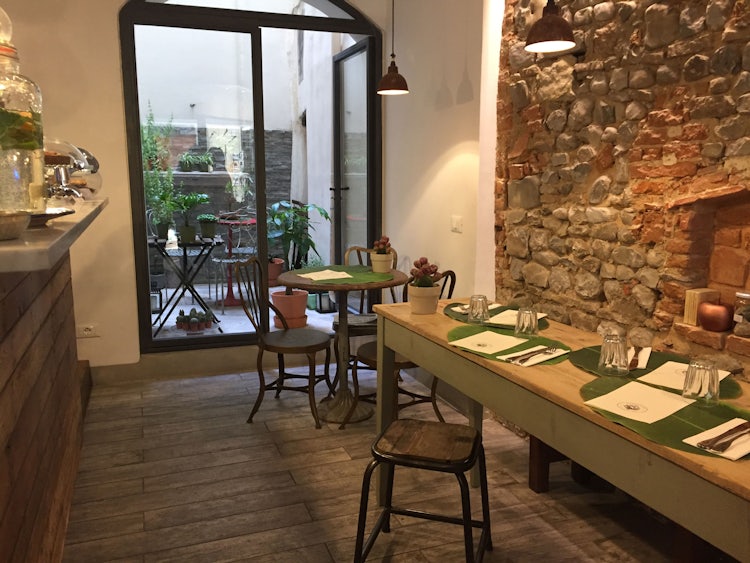 Head to this small and cozy place just off Piazza Pitti for a delicious and healthy-for-you breakfast, morning snack or lunch.
Specializes in cold pressed juices, smoothies, salads, soups, sweets and many more fresh dishes made of high quality organic, seasonal products for breakfast and lunch. From farm to table, it also has a small corner with organic produce and products such as wine and olive oils and vinegars if you're staying at an apartment nearby and need some for preparing your own meals.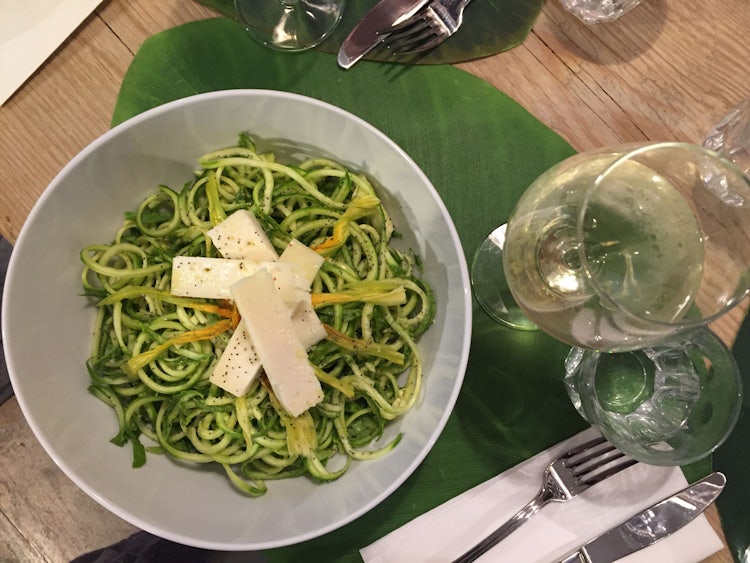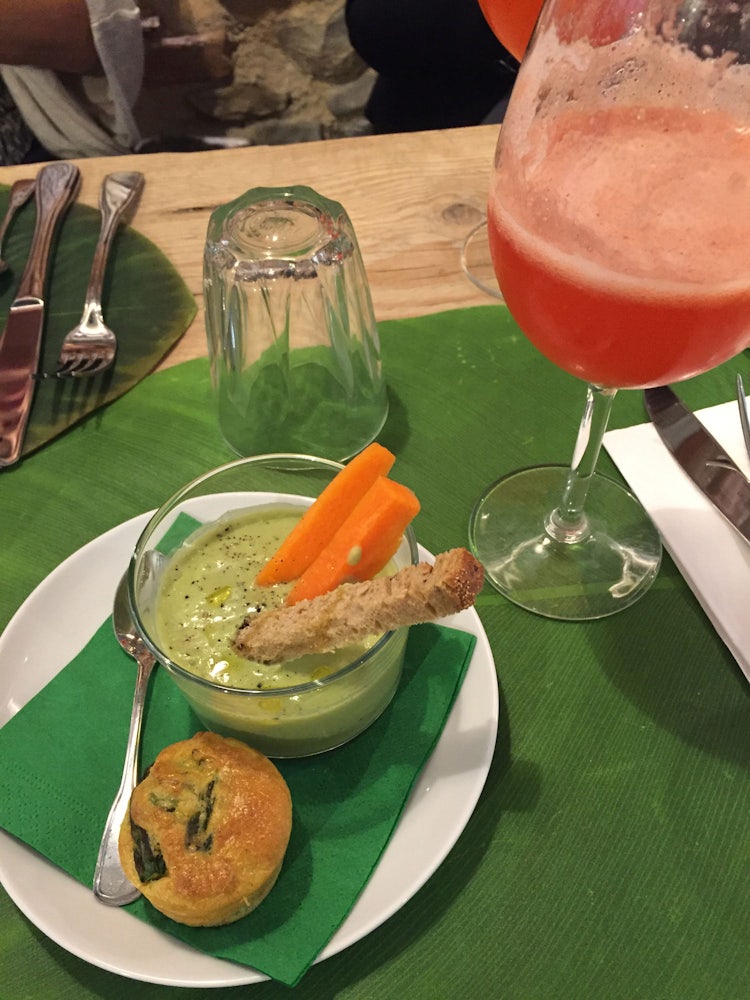 When I visited for lunch, I started with a delicious green avocado gazpacho, with an asparagus and mint muffin accompanied with a prosecco with cold pressed strawberry juice (to try their juices ;) ) and continued with a salad of raw zucchini spaghetti with fresh pecorino cheese, zucchini flowers and poppy seeds. Other offerings on the menu during that season (May) included a fresh spinach salad or an artichoke salad, both with fresh fruit such as orange or cherries and sun-dried tomatoes and almond or sunflower seeds. I was full by the end of lunch but they also have a selection of sweets and comfortable-looking chairs that lead me to believe it would be fun to stop for tea and a sweet cake in the afternoon or for breakfast. The place is really small so be prepared for cozy!
Located on the Sdrucciolo de Pitti 10R – Phone 055 238 2070 - http://www.carduccio.com/
Open from 8am every day.
Pasticceria Gualtieri for Vegan Desserts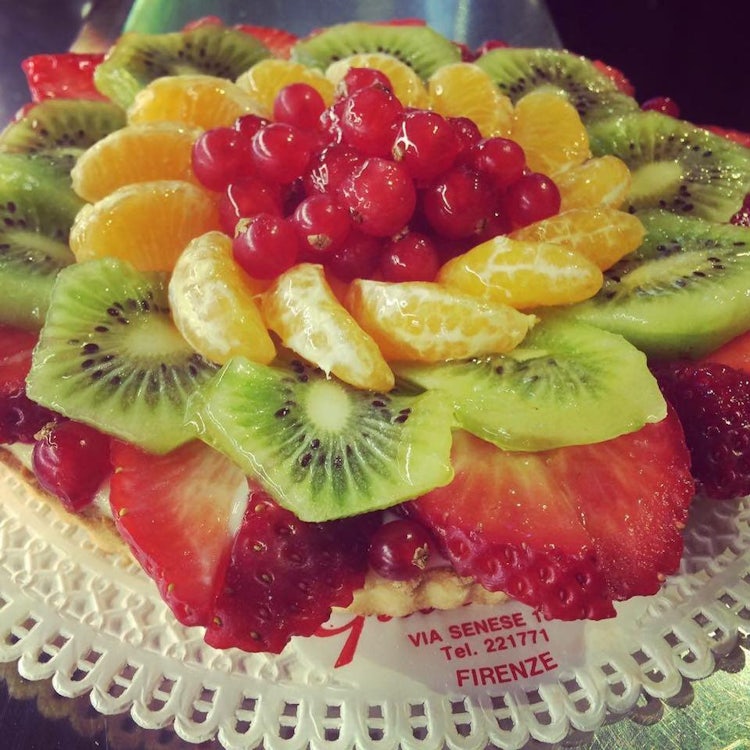 If you are searching for vegan cakes and desserts, make a note of this name: Gualtieri. It's a tiny pastry shop in Porta Romana that opened way back in 1933 by Alfredo Gualtieri, an innovative pastry chef. Passing from father to son, and then to grandson, it is now run by Maurizio who has decided to specialize (and teach as well) on creating gorgeous vegan cakes, pastries and cookies. You may not believe they truly are vegan when you taste one of their creamy croissants, made completely without butter! Your taste buds will also enjoy the fabulous vegan "mille feuille" made with summer berries (or currants) and Chantilly cream. If you're not vegan, make sure to taste both versions of something to see which one you like best – you might be surprised! They also make gluten-free cakes, as well as individual size (or cakes) "without 7": no gluten, sugar, eggs, butter, milk, yeast and margarine.
Via Senese 18R – Phone 055-221-771 - http://www.pasticceriagualtieri.it/
Open Tuesday through Saturdays 7:30am to 1pm, and 4 to 8pm, on Sundays 8am to 1;30pm. Closed Mondays except for Mondays during the Christmas holidays.
Want more? Also check out the full list of the top vegetarian restaurants on The Fork and Book!