Dreams can come true, even if sometimes it takes a near miss with death to make you go after them
This was the case for Ben when, in the summer of 2011 at the age of 29, he suffered a heart attack while playing soccer. He found out his heart was sick and needed a new one. Ben spent several months at the hospital in Florence waiting for a new heart. Finally, a donated heart gave Ben the second chance to go after his lifetime dream: creating his own brand of leather products.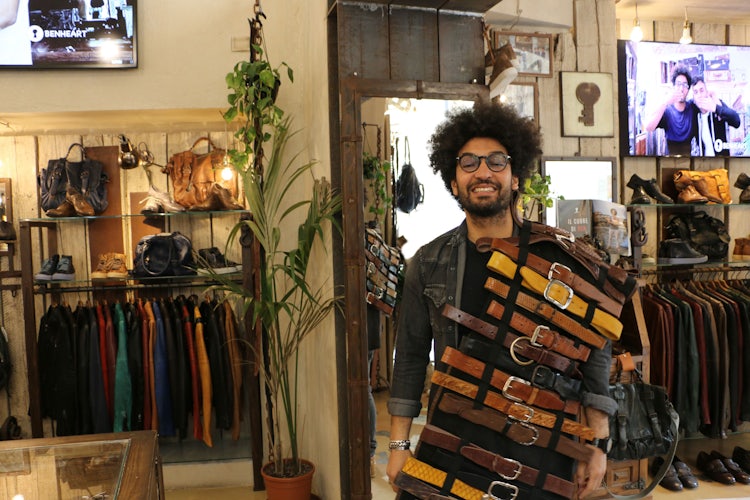 At the time, Ben had already spent more than a decade as a designer of leather goods for high-end, luxury Italian brands, such as Luisa Via Roma. The close brush with death was the catalyst he needed to set off on his own path. Dreaming of one day owning his own brand of high quality leather items, Ben and his best friend since childhood set out to create Benheart soon after.
The start was rocky but success arrived quickly. With his friend in charge of the production side of things, Ben in charge of the design of the entire "total look" collection, they opened their first store in Florence on Via il Prato. The two were soon opening a second store on Via della Vigna Nuova, steps from the luxury shopping street of Via Tornabuoni, and shortly thereafter, the transfer of the first store to a more central location on Via dei Cimatori, steps from Piazza della Signoria. In 2015, Benheart opened another boutique brand-name shop in Tokyo, while in summer 2016 another store opened up in the hip Trastevere neighborhood in Rome, and shortly thereafter another in Milan on Corso Garibaldi smack in the middle of the best shopping street in the city. In 2017, Benheart opened two more stores, one in Lucca, Tuscany and the other in Kuwait City. Future plans include expanding further into the Middle East as well as the U.S. While Ben's friend has since decided he wants to pursue other dreams, Ben has remained energized with the success Benheart has obtained and continues to plan ahead.
I met up again with Ben (whose full name is Hicham Ben'Mbarek) a few weeks ago, this time at the gorgeous shop on Via della Vigna Nuova, interested in an update on how the brand is going, getting to see Benheart's latest products up close again. The name Benheart, which you might think refers to Ben's new heart, actually means "son of the heart" in Arabic since Ben's origins are from Morocco. The designs and products that Benheart produces are 100% Italian-made, using Italian leather and made by Italian artisans just outside Florence in Scandicci.
What can you find at Benheart and why should you stop by one of their boutique shops? Let me tell you the reasons!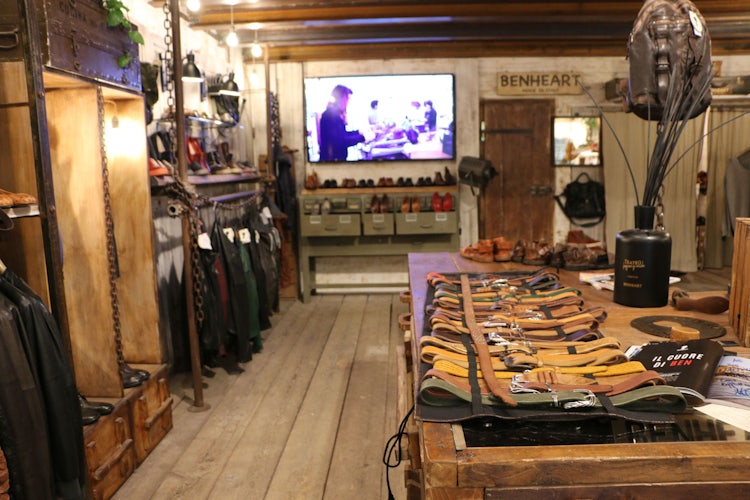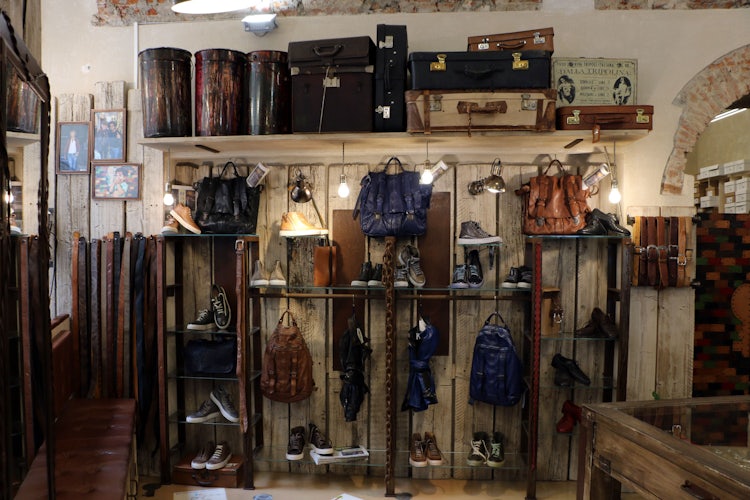 Everything is made by hand by local Florentine artisans
At Benheart, you'll find ultra cool leather jackets, shoes, bags and accessories such as belts and wallets. Most everything is unisex (some shoe styles are obviously just for women) and the clothing can be described as a trendy, casual vintage style. Even the shops themselves exude this style, if you love the store itself, it is likely you'll find something you like inside.
Everything is individually hand-made following Italian artisan craftsmanship techniques for leather passed down through the generations. Their garment-dyed technique, called "tintura in capo", means that the garments, including shoes, are dyed after they are assembled and not before. It is a very difficult technique, one that very few brands consider using today given the high risk that something can go wrong with the wet-dyed item. But the process ensures an important style element for all of Benheart's jackets, shoes and purses, where the color looks brushed on. That is also because each item is first dyed with a base color, then black dye is brushed on and then off, until the base color mixed with color comes out perfectly blended.
The artisans from Scandicci, where you'll find Benheart's bottega as well as other local giants such as Gucci and Prada, is known for its leather master artisans that continue to work leather following centuries-old techniques. If you love the look and feel of the leather you find at Benheart, take note that you won't be finding it elsewhere, were you to look.
The high quality of materials is guaranteed for life
The expansion of the brand in such a few years is a clear sign of the high-quality of their products. The premium quality of the Italian leather (bought either in Tuscany from the leather center in Santa Croce sull'Arno or in southern Italy) can be identified from the super soft feel of the leather, while the shoes have Vibram® soles, another excellent high-quality Italian brand. If that doesn't convince you, consider this: everything in their store is certified and has a lifetime guarantee of assistance. If a zipper breaks, if a sole gets worn down, if the wrinkled look of a jacket gets worn away.... Ben says to just get in touch!
Your jacket or shoes can be repaired, replaced or re-treated. The passion they have put into their work shows in the pride and assurance they have that their products will last for many years to come. Their love and knowledge of leather means they want anyone walking out with a new Benheart leather jacket or shoes will love their Benheart item as it continues to get worn and loved. Ben's passion for what he does is evident: "if you're going to do something, you better do it right!"
All of this has contributed to their success as well as assures all clients of the excellent quality of the "souvenir" they take away from Florence.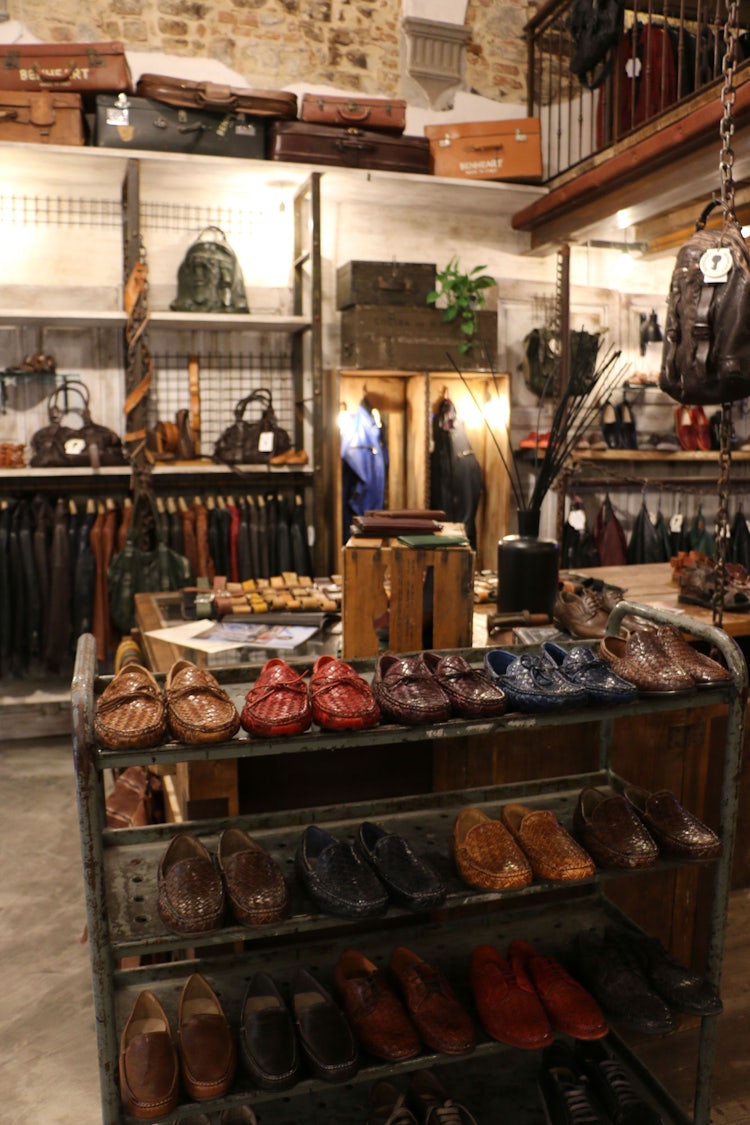 Personalized, custom-made fit
The high-quality materials and artisan methods used to make every single Benheart jacket, purse and shoe means that every item is unique. Not only will you find some jackets that are part of a limited annual collection, if you were to walk into the store and like a jacket style in a color not available, give the master artisans a week and they'll make a jacket for you in the color you want. They can ship to you anywhere in the world, if you're not in Florence that long.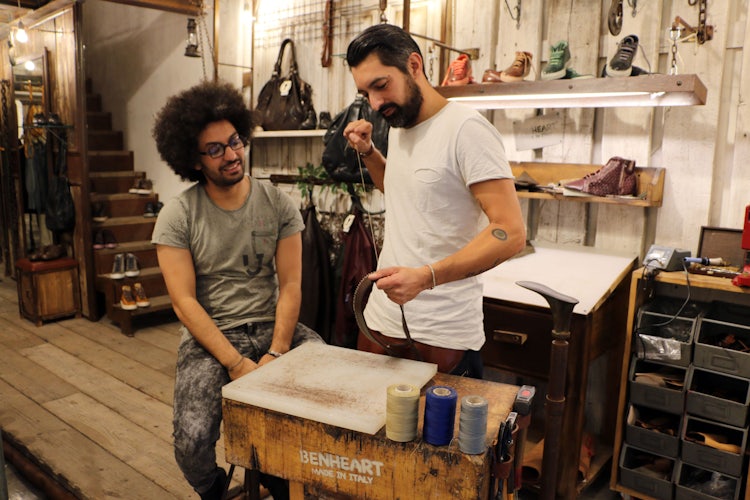 Would you like additional rivets or like the stitching seen on one jacket added to a part of another jacket? It can be done! Let yourself be guided by the knowledge that Ben or Simone offer in the two Florence stores. Every single item can be personalized, including getting a jacket custom-made for your size if you were to not find it available. Just keep in mind that if a jacket or shoes seem tight but either Simone or Ben say it is the right size for you, trust them as they know what they're talking about.
Do you want a new leather belt? Take a look at the belts in various colors, sizes and styles and then at the buckles available and have your own belt finished right in front of you in the shop. While I was chatting with Ben, Simone in the shop worked on hand-stitching a design across a leather belt. By the end of our chat, I was able to catch Simone while he placed the finishing touches, including adding the buckle and ensuring the stitching did not come undone by burning all of the ends.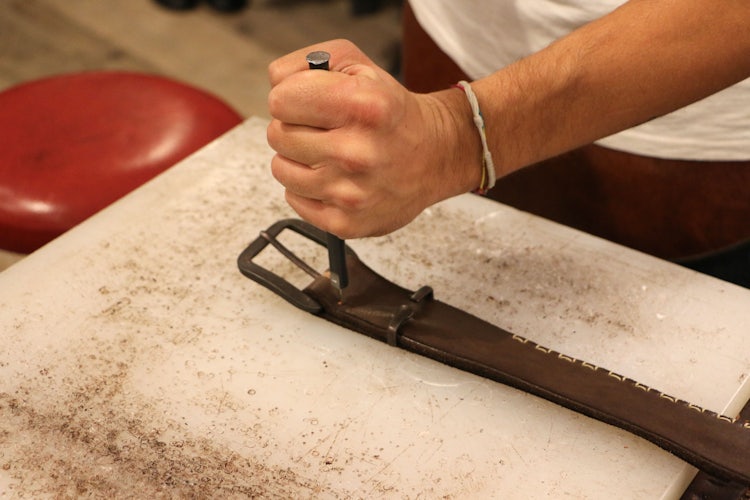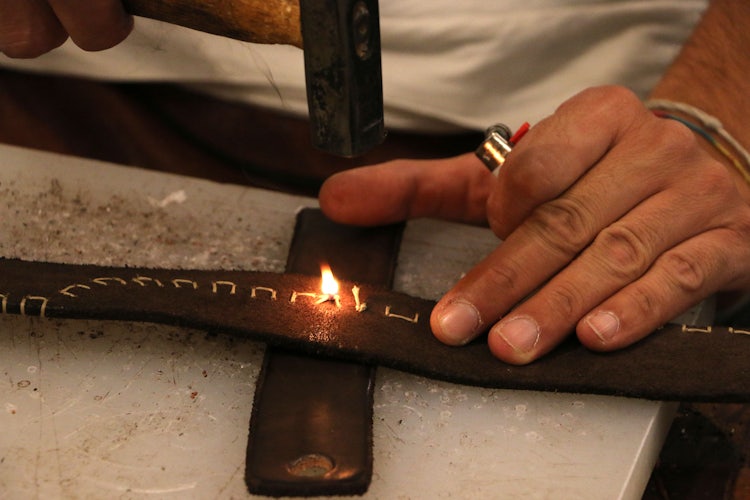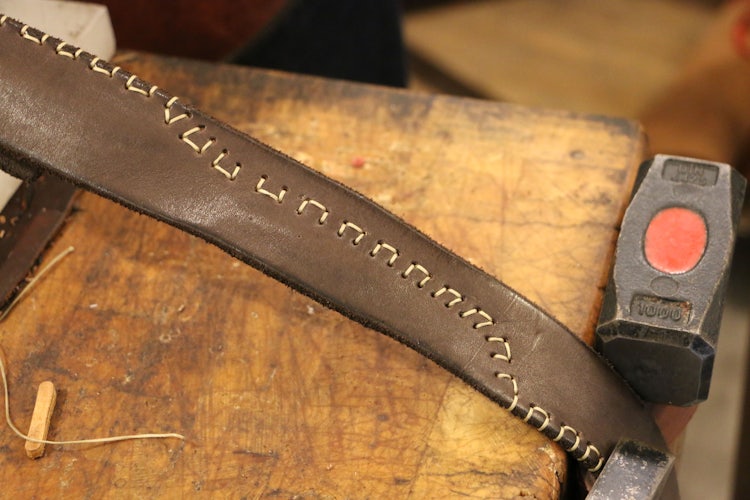 Before you leave, you can further personalize your new jacket or belt with your initials! They will be heat-stamped on the leather where you want them. I love my new belt with my initials on it ;-).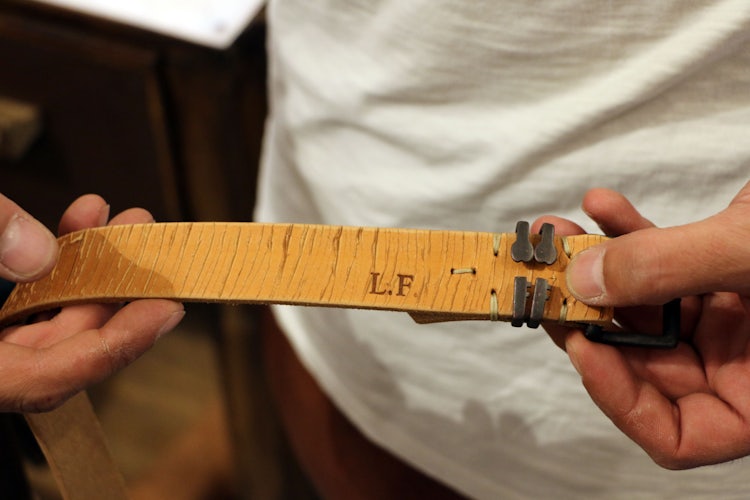 One of the best souvenirs to take home from Florence
The passion in their work also comes through their wish to maintain full control over their products. For this reason, Ben does not plan to sell his jackets or shoes through other vendors, not even high-end department stores in other countries, including the U.S. While they are an expanding brand, they wish to maintain production of high-quality products even if it means making less. That is part of the Benheart dream that has come true with Ben's second chance at life.
For all of the reasons mentioned above, Benheart should be on your "must-stop" places in Florence if you're considering buying a leather jacket or shoes in Italy! Stay away from all of the shops along the streets and markets in Florence that sport the same style of bags or belts and in the same colors, which usually means mass-produced somewhere and not likely in good quality materials (especially if you can bargain down the price to 10 euros). Stay away from purses with plastic zippers, and ask whether an item can ever be made-to-order: it will give you an idea of the production process behind the items they offer.
Walk into a Benheart store and ask about how the jackets and shoes are made: you will get much more than a beautiful jacket or other leather item, you will get all of the energy and passion that Benheart encompasses, possibly directly from Ben himself as he often stops in at the stores in Florence. Check shops addresses and hours at the top of the page, right column ;-).