As the Italians will say, the selection of stores and markets offering leather jackets in Florence "è embarassante" which literally means it is (almost) embarrassing. And although I wouldn't say it is embarassing - I would venture to say, it is overwhelming.
The Florentine tradition of working leather dates back into antiquity. Due to the proximity of the Arno river, providing an endless supply of water necessary for the tanning process, Florence and other small towns bordering the river became important sources of high quality leather. Today's market encourages these artisans to produce an exceptionally soft and supple leather while exploring different textures, embossing and colors. This means that the buyer is constantly accosted with new options, styles and more importantly prices.
If you are looking for a leather jacket - then you will be delight in the selection to be found in Florence, as it will literally appear unending. If you are looking for an Italian leather jacket - the search will require you to be a bit more discerning.
Know What You are Buying
The first major decision you have is do you want a
leather jacket - a jacket from leather?
an "Italian" leather jacket - a jacket MADE in Italy?
an "Italian leather" jacket - a jacket MADE with Italian leather? from Italy? from Florence?
There is a difference, and it is not just in the semantics; you will also see it in the price. Leather jackets that cost under 200 Euros, may indeed be made in Italy…. however the origin of the leather might be dubious. Other questions you might want to ponder as the seller flashes that unbelivable price in front of your eyes:
It is good leather?
Has the jacket been sewn in Italy?
Is it "Italian" leather?
Is it "real" leather?
And, of course, there is always the question: if it is not Italian leather, does that mean its not good leather? The obvious answer is NO, but it does mean it is not the quality of leather that one associates with Italy and, therefore, may not wear as well as you had hoped when you made the investment.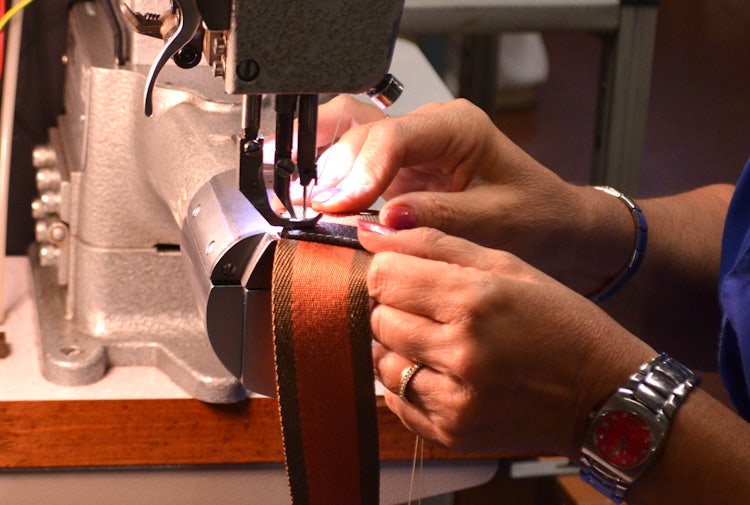 Five Top Choices by the Locals
It is near to impossible to give you a list of the best places to buy a leather jacket - because your options are almost endless. As you roam the beautiful streets of Florence you will be bombarded with stores, market stalls and enticing boutiques that offer jackets. In my quest to provide a bit of groundwork, I turned to the natives and I asked them... if you were to buy a leather jacket, where would you go? And some of the answers surprised me. I thought most would have that tiny hidden secret boutique, but actually the results proved that they prefered the classic stores which are practically status symbols in Florence.
Casini is Creativity
Casini (Piazza de Pitti, 30, Firenze) is positioned in front of Palazzo Pitti. Besides being famous for their wide selection of leather jackets for both men and women (and their attentive customer service), they have a special, one of a kind bag called INFINITY. I spoke to Natalie who works at Casini, and she explained that the bags were inspired by the great-grandmother of the present owner, Jennifer Tattanelli. She described the process: the bags are woven around wooden boxes and follow an intricate mathematical equation. The results are a stunning work of art which is produced from one long piece of calf leather. Amazing! You will look and look - but there is no sewing involved. "The bags are like pieces of art and unique as each strip of leather is a different size and width thus when made with the weave it creates an enchanting optical illusion."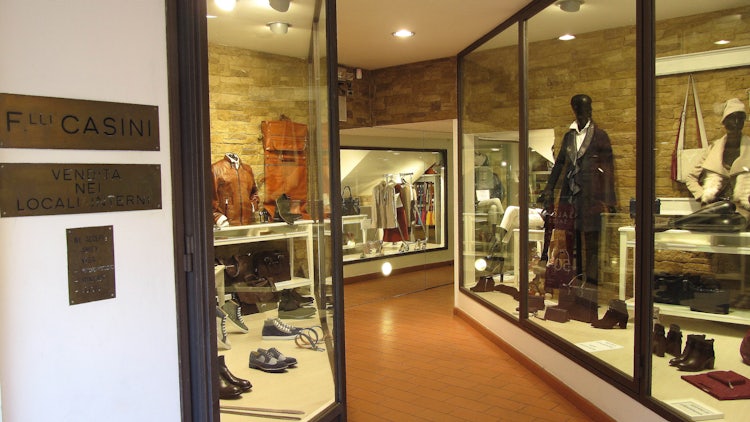 Bemporad, the Icon
Bemporad (Via Calzaiuoli 11/15/17/B Firenze ) is located in the heart of Florence. Another classic, established in 1885, they have been serving the well-dressed citizens of Florence for over 100 years. Originally carrying only a menswear collection, they have long sinced opened their doors to the fairer sex as well. Their collections concentrate on sleek, classic lines and include handcrafted leather garments to sportswear. The store actually carries a wide range of items from everyday clothing to accessories - and, of course, classic leather jackets. Not only do they have designer fashionwear but they also have a wide selection of their own styles. When I asked why he suggested this boutique, Enrico - who has worked with supplying leather jackets to an international market for over 15 years - explained that he knows where they have their jackets made and they are Italian suppliers that create with criteria.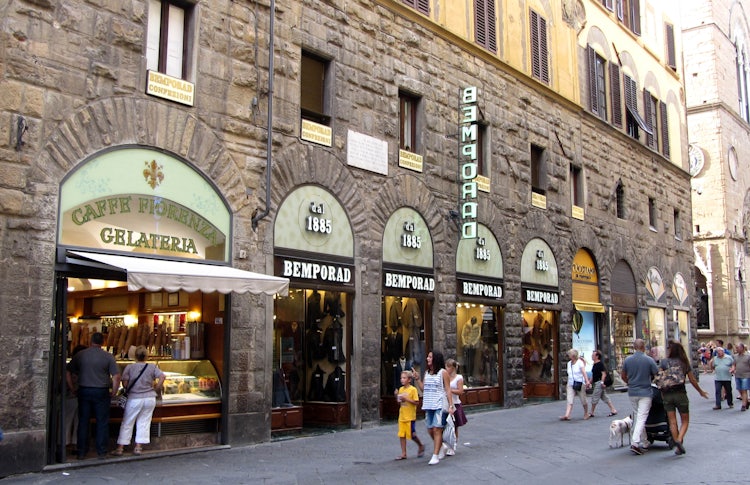 Giorgio 1966 mixes with the market
One of my sources is what I would call a bit of an "Italian Dandy," he enjoys a classic style - maybe a bit cutting edge but, definitely youthful and well-tailored. Andrea told me that he has been using Giorgio 1966 Leather Store (Via del Canto dei Nelli 34, Florence) just like his father before him. Though they have a stand at the famous San Lorenzo Market, they also have a store front right behind the Medici chapels. When I asked Andrea what the trick was to finding quality/price, he said "I know everyone thinks the market is a good deal - but in my opinion, the better stuff is at the store and the prices are reasonable for the type of clothing they have." The line ranges from classical cuts to those that are a bit more flashy, with a wide range of colors and textures. Don't be fooled by the fact that they are not original Florentines, Andrea assured me the owners have more experinece than most when dealing with quality leather.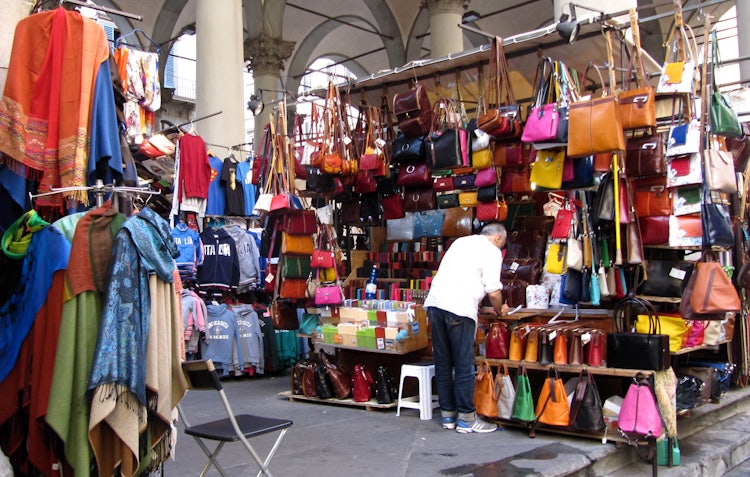 Pierotucci will Show You the Quality Leather
Pierotucci (via Lungo L'Ema 17, Ponte a Ema, Florence), is easily reached by bus, taxi or car and literally minutes from the city center. The clincher for this store is that they hand craft right in front of your eyes. So many will tell you that "it is made in Italy," but Pierotucci will invite you into their workshop with their master craftsman Marco, where you can watch skilled Italian artisans cut and assemble leather bags, jackets and accessories. They have been producing leather bags and accessories for over 40 years and their designs have been shown prominently all over the world including England, Japan and the United States. Bev, one of their leather jacket experts, told me "There's no need to be an expert about leather, these jackets truly speak for themselves - quality leather and a professional cut."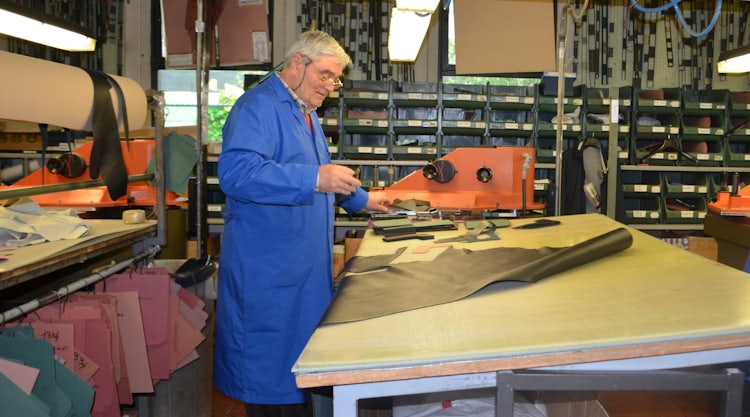 Benheart, Leather with a Heart and Passion "100% made in Italy"
A recent addition to the Florence market of leather boutiques is Benheart, a brand that is just 5 years old. But its growth in this short amount of time, with two stores in Florence, another in Rome, Verona, Tokyo and Milan, shows the popularity and high-quality of the artisan, trendy jackets, shoes and accessories they have on offer. Learn more about Benheart through our interview with Ben, one of the brand's founding partners.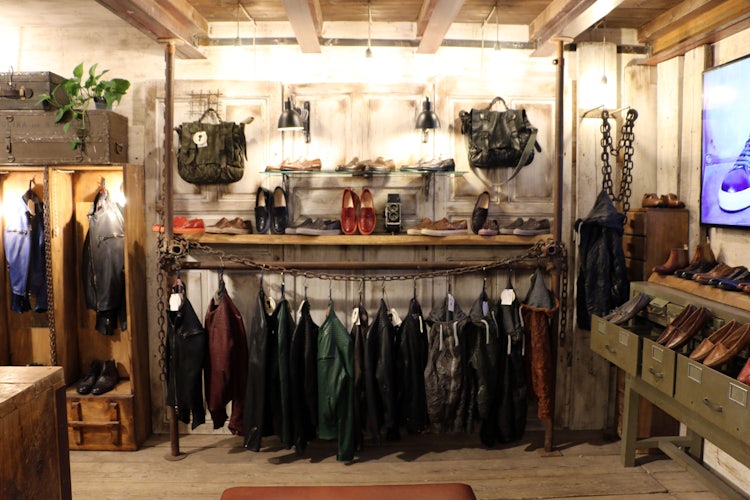 Do you have other favorite finds across Florence where you bought a beautiful jacket? Do share your suggestions below!