At any time of the year, but particularly during the holiday season, shopping for gifts to take back home is a must, especially for yourself to treasure from your time in Florence!
There are many shops throughout the center to entice you with countless lovely items. But if you are looking for something local and very "Florentine", there are some gifts you should choose over others since they are uniquely made in Florence (or surroundings) and a part of Florence's tradition and economy for centuries.
We've selected just a top 5 gifts from Florence to guide your shopping in the city but, of course, there are always more ideas hiding around every street corner! Enjoy exploring the streets and shopping in Florence :)
1. GOLD JEWELRY
Since the early Renaissance, Florence has created master goldsmiths that didn't just create jewelry to be worn as accessories. No, they created works of art in gold, silver and precious gemstones for private families but mostly for the Church and for use by public officials during ceremonies. If you want to take a look at these precious works of art from the past, just head to Palazzo Pitti's Silver Museum where you can imagine for a while how it must have been to wear or use what were "daily" objects just for the sake of showing them off, to show you could afford them!
To get to Palazzo Pitti, you will need to cross Ponte Vecchio which is the first place that comes to mind when you think of bright and shiny objects of great value. Both sides of the oldest bridge in Florence are lined with shops that sell exclusively jewelry. These shops at one time also housed tanners and butchers, since it made getting rid of waste easy: they just dumped them into the river! Talk about YUCK - and no concern for nature. In any case, since that created a certain strong smell that the ruling Medici family didn't like as they crossed over the Ponte Vecchio, in the 16th century they ruled that only goldsmiths could have a shop on the bridge and it has been that way ever since!
If you cross Ponte Vecchio during the day, you should head back along your evening passeggiata (stroll) to admire the shops all closed up for the night. Once the shops close down, all the glass window displays are covered with wood, transforming the shops into large wooden jewelry boxes - how appropriate! ;-)
Where to go
I would suggest to stay away from Ponte Vecchio as prices there are quite high, even though the quality obviously is also high. Instead, I suggest several workshops where you can even meet the master goldsmith him/herself and see his/her works of art, many of them perfect for yourself or as gifts.
Alessandro Dari - in the Oltrarno, on Via di S. Niccolo, 115R
Alessandro is much more than a goldsmith, he is an artist that expresses his knowledge and spirituality in his work. His workshop also offers a museum/exhibition space where you can admire his thematic collections, from towers to angels to churches to crowns. There are rings made in Renaissance style as well as more contemporary designs. You will find something you love here, and know it is a unique, one of a kind work of art you will treasure forever. His workshop is in the San Niccolò area just below Piazzale Michelangelo in the Oltrarno.
Penko - near the Duomo, on Via Zannetti, 14/16R
Penko is a small family run workshop less than two blocks from the Duomo specializing in handmade jewelry following Florentine techniques. Penko is known for his wonderful creations and the high quality of everything the shop produces. I actually have his "Ring of Promise" as my wedding band! The style of the workshop is to meld the past with the present, recreating jewelry from the Renaissance as seen in famous paintings but using modern tastes to make them contemporary.
Officine Nora - in the Oltrarno, near Piazza Santo Spirito on Via dei Preti, 4R
If you're looking for more contemporary designs, then head to this co-working workshop just off Piazza Santo Spirito where 6 young jewelry designers have set up their workshop. They also have an exhibition area but it isn't open all of the time. Ring the bell and hope someone is there or better yet, call ahead at 055 975 8930 and set up a time to see their wonderful modern designs, in very six different styles from artists Margherita de Martino Norante, Martina Loncar (also known as Tinka Loncar), Valentina Caprini, Francesca Zanuccoli, Kellie Riggs and Arata Fuchi. In December during the holidays, they will be open from the 11th through the 24th in the afternoons from 3 to 8pm and on weekends from 10am to 8pm to give everyone a chance to stop by and buy special handmade gifts. You can also take several types of workshops with them that last from 1.5 hours to 3 or 4 hours that will let you try out being a goldsmith (or at least apprentice) for the day! Additional gift idea is to give a workshop to someone you know would love to try it out ;-). Check out their Facebook page for more details.
2. CERAMICS

Ceramics were very important in Florence in the Renaissance, particularly when the Della Robbia brothers and their bottega managed to create strikingly brilliant blues, yellows, greens and whites and a clear glaze to decorate their terracotta works of art that can still be admired today inside churches as well as the outside of several buildings (think of the orphaned children decorating the Istituto degli Innocenti in Piazza Santissima Annunziata). Platters, plates, pitchers and more were widely sought after to decorate the most illustrious of homes of the Florentine nobility through the centuries.
While ceramics no longer are generally produced directly in town, production continues to surround Florence. Since the Renaissance, the city's major families have commissioned large sets and collections of work in ceramics from Montelupo Fiorentino (thus creating the importance of the maiolica style born there), from Impruneta (more widely known for its terracotta production) and from Sesto Fiorentino, where local ceramists learned the art of porcelain making.
Ceramics from Florence have been exported all over the world through the centuries, but it is also true that it is not an easy sector. Once you have beautiful sets of plates, do you keep replacing them? Maybe not, but they do make for wonderful, unique presents from Florence as they carry their own unique designs. With their fruits - particularly lemons - I have been buying small platters, olive oil flasks and salt and pepper shakers as great small presents to take to family when I can! The most important thing to note is that if you fall in love with anything ceramics, you shouldn't worry about how to get them back home - just have them shipped! It generally is not that expensive, particularly if you pay by the size of the box rather than by the weight (make sure to ask the shop owner).
Where to go
Ceramica Ricceri - near the Duomo, on Via dei Conti, 14R
This small shop near the Medici Chapels goes back for 8 generations, with their workshop based out of Impruneta, not Montelupo. It produces the classic Florentine designs that were popular in the Renaissance but also quite colorful geometric designs on platters, dishes and pitchers make not on a potter's wheel but with the unique process of stacking "snakes" of clay and building up the item. They ship all over the world with insurance so your gifts are guaranteed to arrive home safely! When I stopped by, the owner Luca was very kind and friendly, admitting it isn't an easy job but trusts a cousin's son will continue the family tradition. If you wish to visit their workshop in Impruneta, just give Luca a call to setup a time (338-359-6526) as he's the one that speaks English and alternates between the shop in Florence and the workshop ;-).
Ceramiche Artistiche Migliori - near Piazza Santa Croce, on Via dei Benci, 39
One of few remaining artisans on this particular street, as there are mostly bars and restaurants here now. Migliori, another family enterprise, focuses not only on platters with traditional designs, but also reproducing works of art in glazed terracotta. See those angels? The originals are inside Santa Croce, go and look for them! The shop has articles in all sizes, something will surely catch your eye!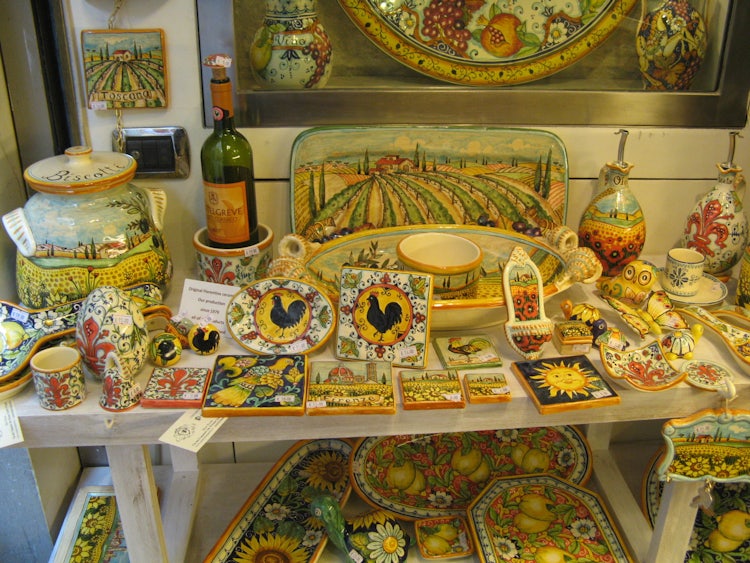 Ceramiche d'Arte Parrini - Shipping worldwide, you can buy directly online on their website.
This ceramics shop is dedicated to creating hand painted traditional Tuscan decorated pottery, from large serving platters to decorative table tops and tableware. Located just off the very central Via Calzaiuoli two doors down beyond the Fratellini panini shop. It is a wonderful way to take some of the color and warmth from Tuscany home with you, with items offering landscapes, sunflowers or the classic rooster, symbol of the Chianti wine region. You can visit their showroom and laboratory outside the outskirts of Florence to see firsthand how the pieces are made, with a free shuttle offered from downtown Florence upon request.
3. PERFUMES
Another tradition born centuries ago back when everyone relied on chemists to concoct healing lotions, syrups, teas and much more - including extracts from flowers, plants and herbs for the pure pleasure of their scent. Today, these can be enjoyed in perfumes for you or a lighter essence for friends, as perfumes are really a matter of personal preference. Very popular are the essences for the home, some shops having decidedly specialized in this area.
Where to go
Aqua Flor - near Piazza Santa Croce, on Via Borgo Santa Croce, 6
With over 1500 scents, this shop is a must for anyone looking for any perfume! For a really extraordinary gift to yourself, you can even have a perfume made especially for you by Master Perfumer Sileno Cheloni. In addition to perfumes and fragrances for the home, you can also find organic soaps, creams for face care and body care, herbal baths and bath salts, all made with natural and raw materials. Visit this shop just to see its old world charm and beauty within the three rooms on the ground floor of the historical Serristori Corsini Antinori Palace (in photo above).
Dr. Vranges - three locations - near Piazza San Marco (Via San Gallo, 63R), between Via Tornabuoni and Piazza Santa Maria Novella (Via della Spada, 9R) and near Piazza Beccaria (Borgo La Croce, 44R)
These awesome small shops are specialized in fragrances for the home, office and car, and obviously shops since the moment you walk you are enveloped in a wonderful fragrance. They also offer a smaller selection of perfumes and skin cosmetics. These are sold in various sizes, you can take back the Firenze fragrance to remind you of Florence once you're back home.
Antica Farmacia di Santa Maria Novella - right behind Piazza Santa Maria Novella, on Via della Scala, 16
This is another shop you need to visit like you would a museum, as it is a piece of Florence's history - and in beauty! The "ancient pharmacy" of the Dominican convent of Santa Maria Novella finally opened its door to the general public in 1612 but it had already been working prior to that to concoct the elixirs needed to cure all ailments. Today, it continues to produce cosmetics, perfumes, liquors, food items, teas and herbs following recipes perfected centuries ago.
4. STATIONERY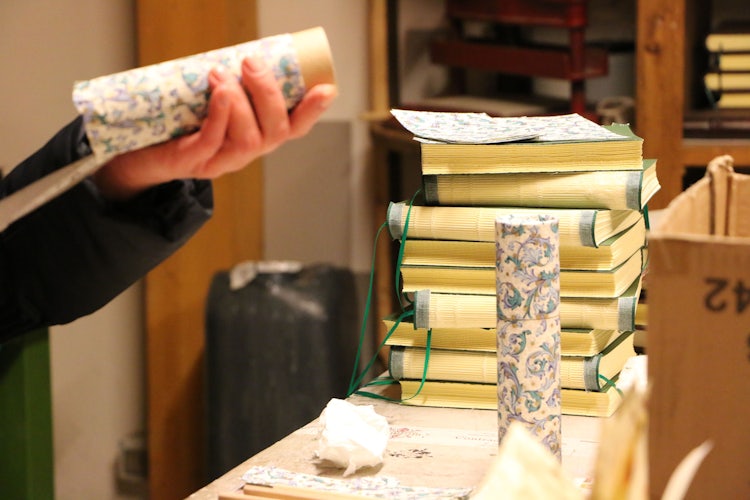 In a digital age, we might be losing the tradition of hand writing but for those that still love this pleasure, buying stationary in Florence will be a dream! From paper produced with the Florentine marbling technique to other objects covered with said paper, you will go around these shops and try really hard to decide what to get, for yourself and for friends. How about a handmade leather notebook or ink pens using colored ink? Or sealing a letter with wax and your own seal? Lots of small little pleasures, from cards to bookmarks as well. For anyone that loves anything to do with stationery, you will love spending time in these shops!
Learn how to do marbled paper yourself!
Would you love to take a class to learn how to create your own marbled paper? Then, I highly recommend setting it up with artist/art restorer Francesca Vannini who has her workshop on Via dell'Agnolo not far from the Basilica of Santa Croce. She also offers other art classes, such as watercolor, oil, engraving, mosaics... something for anyone that has a creative side and wants to use it while in Florence!
We went to try out her class on how to make marbled paper recently, see more photos and read about our experience here. It was a lot of FUN! Even if you don't consider yourself an "artist", I believe you'll enjoy the workshop AND create some cool works of art!
Her studio "Decorazioni e Pitture" is located on via dell'Agnolo, 29r, you can contact her directly to book by email info@decorazioniepitture.it or call her on her cell phone at +39 338 8586705 to ask for availability, total cost and book your workshop!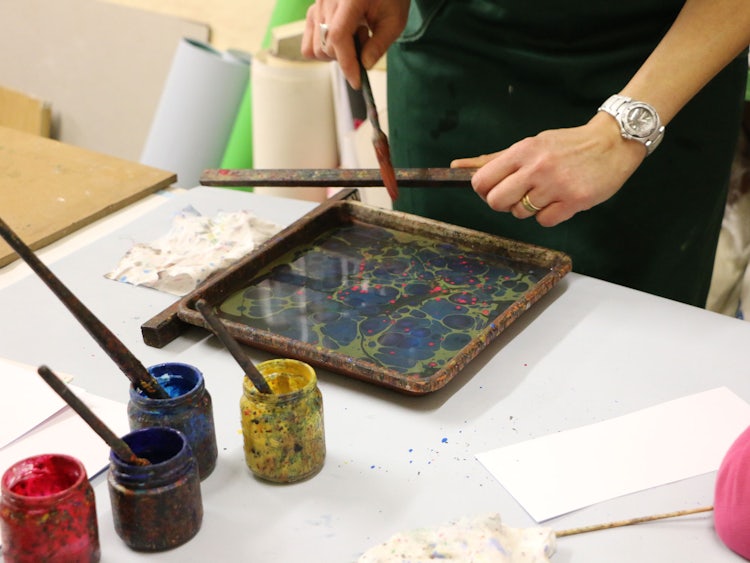 Where to go to buy paper-based souvenirs

Papiro - right on Piazza Duomo, 2 and along the Arno river on Lungarno Acciaiuoli 42R or between the Duomo and Piazza San Marco on Via Cavour 49R
One of the most classic shops for stationary objects in Florence with Florentine paper and leather books. With 3 locations, I suggest you head to the Lungarno or Piazza Duomo one as the shops themselves are beautiful. You can also visit their workshop outside of Florence in Bagno a Ripoli to see how marbled paper is made and leather books are bound, as well as then proceed to create your own marbled paper.
Abacus - near the Bargello on Via Ghibellina, 135R
This shop is the booklover's dream come true! It is specialized in book binding and you can buy high-quality blank sketchbooks and notebooks as well as photo albums bound in leather or Florentine paper. Paper is acid free but you can even choose one with 100% cotton paper! They color the leather, using traditional techniques perfected over the centuries. If you have a week in Florence and wish to learn the art of book-binding you should definitely consider their 5-day private courses (max 2 people).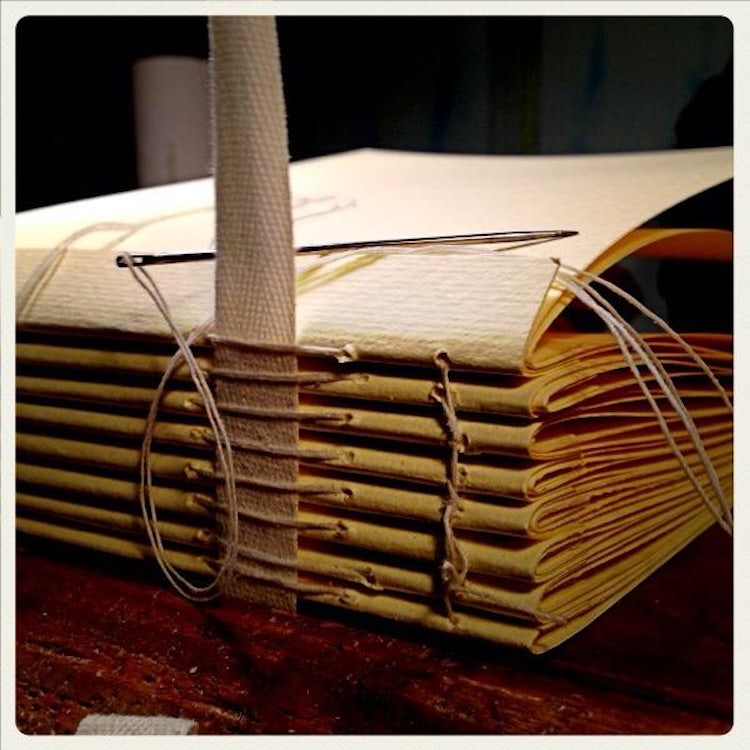 I disegni di Beatrice - Facebook page
To offer more contemporary view of Florentine stationary, you need to get your hands on a notebook with a cover designed by Beatrice! Or cards or a calendar or even a lampshade ;-). She has done beautiful illustrations of the monuments across Florence in her own style, from the Duomo to Palazzo Vecchio to Ponte Vecchio that are just a great pleasure to look at. She sells her items at fairs (while her site is under construction) so for now her items are not an easy find.
If you love Beatrice's designs, she can also illustrate your fairy tales and thus create a special gift for a loved child in your life, perfect as a unique gift for a child or friend.
The selection for just 3 was really hard, as there are a few more shops that are worth stopping by to find lots and lots of stationary items you will want to take home. Here are a few more: Johnsons & Relatives (Via del Proconsolo, 26r), Signum (Via dei Benci, 29R and Lungarno Archibusieri, 14R) and Carta e Cartoni (Marzotto Carta, Borgo degli Albizi 86R).
5. LEATHER
Shoes, bags, belts, wallets! I've left leather for last because it includes so many different types of items and also because you will see it everywhere in Florence. If you like leather, you will want to take something beautiful back home. Tannery and leather working used to be carried out in Florence right along the Arno river centuries ago, but since it produces a smell, production nowadays is further downstream around the area of Santa Croce sull'Arno. Quality Italian leather is not cheap, and there are many who offer a lower quality leather to offer better prices. But if you want a jacket with a beautiful drape, with leather that will last, you do need to consider your purchase as an investment, particularly for a jacket or shoes and boots.
We already have some recommendations for leather jackets (who also sell other items) so today I am concentrating more on shoes than anything else!
Where to go
Antica Cuoeria - near the Duomo, right off Via dei Calzaiuoli on Via del Corso, 48R
The shoes here - but the shop itself as well with its wooden cabinets - are a beauty! They don't come cheap but everyone in Florence who I've asked mentions them for their high quality. All of the classic style shoes are their own design and made in-house, while the "trendier" version is handmade by another artisan in the city.
Mannina - in the Oltrarno between Ponte Vecchio and Palazzo Pitti on Via de' Guicciardini, 16R and Via de' Barbadori, 19R
Handmade shoes which can be customized for your feet, just as the movie stars do! This artisan shop in the Oltrarno between Ponte Vecchio and Palazzo Pitti has been making shoes since 1953 and son Antonio is continuing the tradition. Very high-quality leather as well as craftsmanship that you can admire. Truly beautiful shoes, for men and women.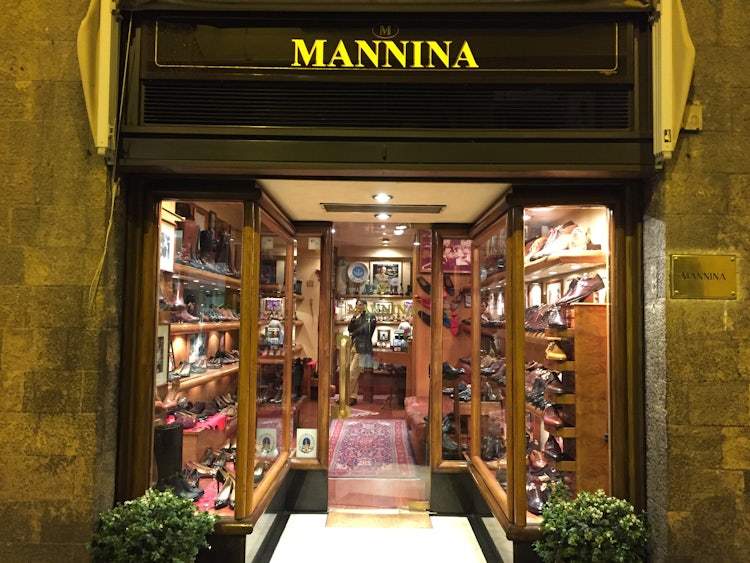 Quoio - in the Oltrarno on Via dei Serragli, 69/R
Another workshop in the Oltrarno, this one produces trendy, more contemporary handmade leather accessories including bags, belts, rings, key chains, wallets and cell phone covers that you can see in various steps of production directly when you pass to visit.
Have you visited any of these shops and taken home gifts such as the above for yourself or loved ones? What other shops do you recommend? Other gifts you absolute adore getting while in Florence? Share in the comments below!