Today, I spent a wonderful morning with my 6 year old trying out the Tapsy Tour dedicated to families with kids in the center of Florence. Tapsy has successful fun tours in Rome, London, Pompeii and others especially dedicated for families with kids and recently started their tours in Florence open to families. We were invited to join an upcoming tour and, luckily, we have kids AND one that is precisely 6 that could come along ;-).
The basics of the tour are: it is a private walking tour which lasts about 3 hours and visits some of the top sights in Florence, including the fun museum dedicated to Leonardo da Vinci and his machines at the end of the morning. The tour is designed to provide educational information in an entertaining way to capture the attention of the both children and adults alike. There are games and a treasure hunt to amuse members of the entire family.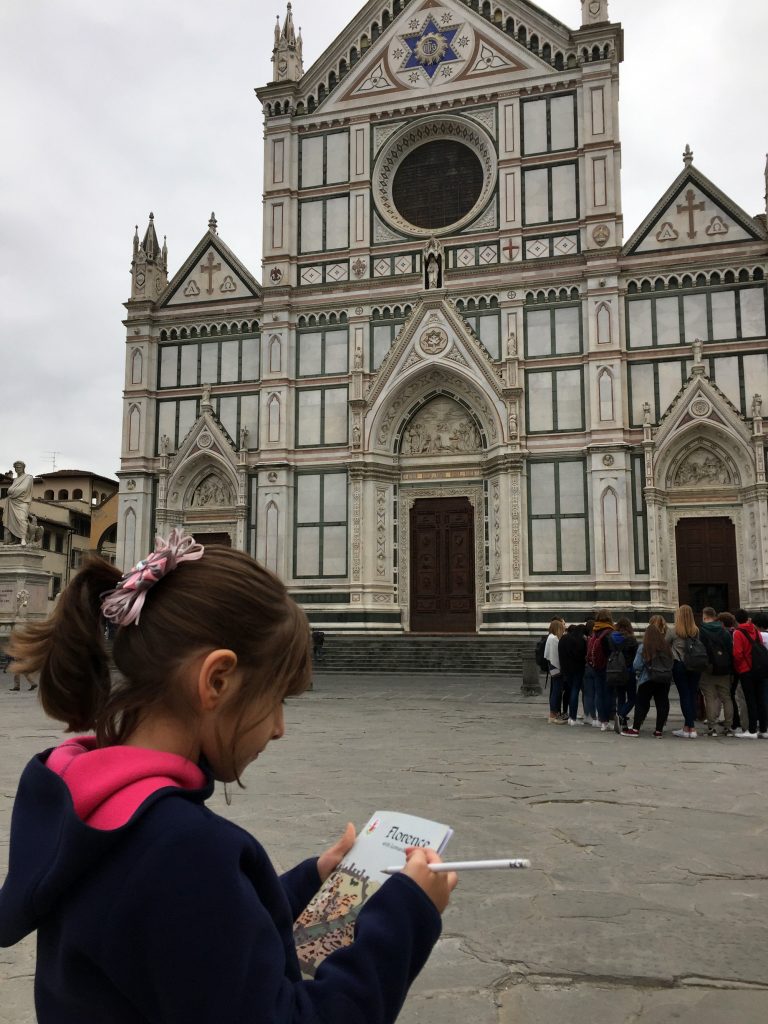 We started in Piazza Santa Croce before continuing on to Piazza della Signoria, passing by the Uffizi and then checked out the reflections of the Ponte Vecchio bridge and nearby buildings on the Arno river.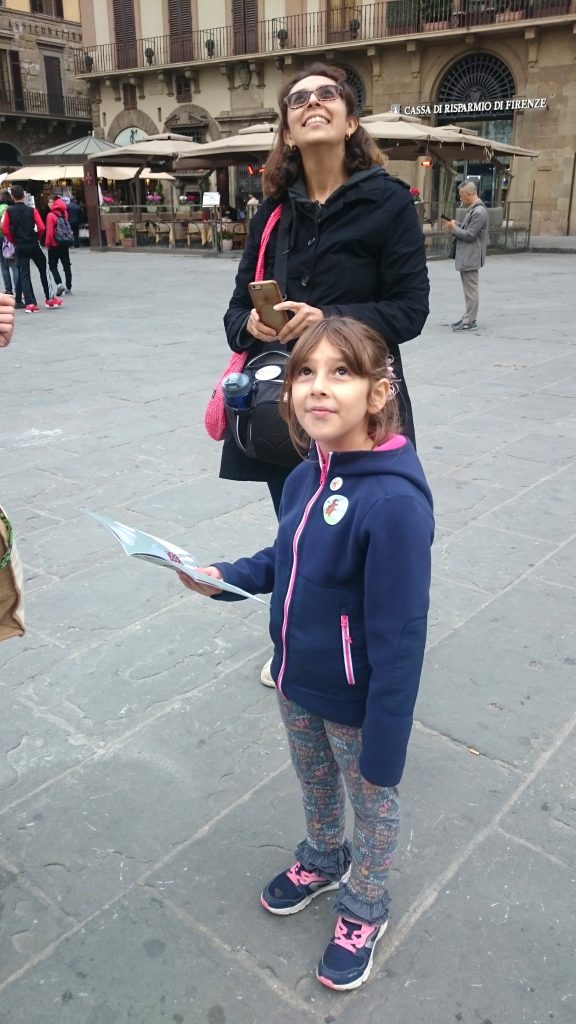 We also stopped to rub the Porcellino's snout in the New Market Square for good luck even if we already have the luck to live here! 😀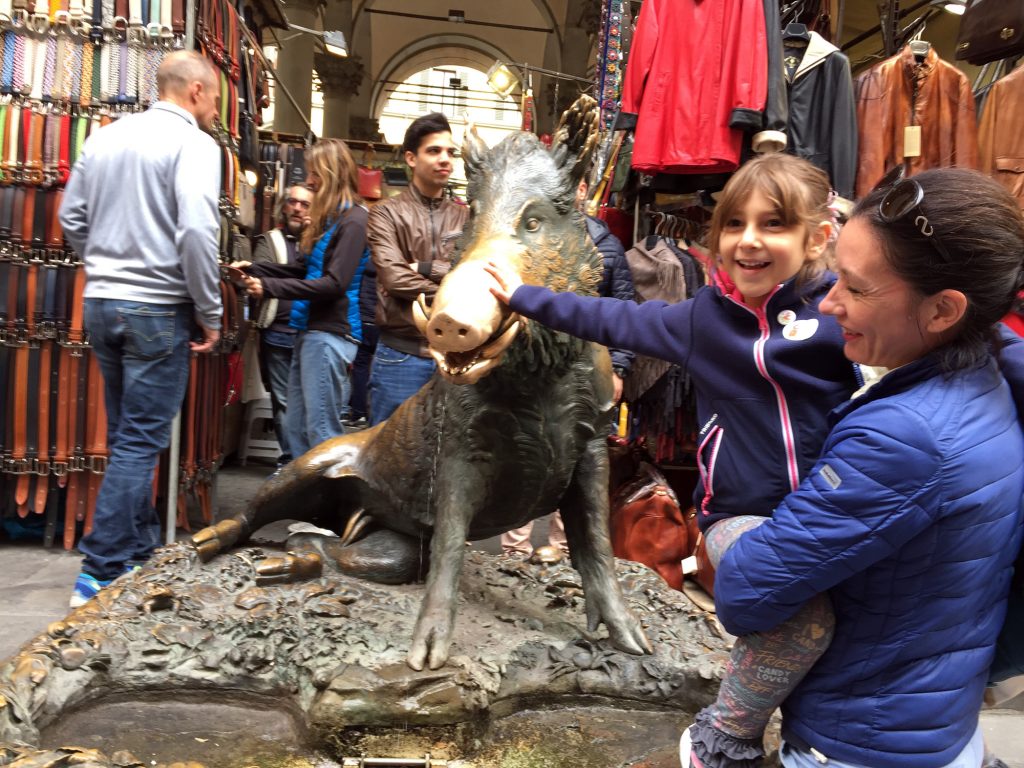 Then arrived at the center of Florence, Piazza della Repubblica. There are currently works going on in the piazza which lets us sneak a look and see the medieval remains hidden under the piazza that never get to be seen in general.
Kids on the tour have a booklet to use as we go along that offers activities and games to carry out at each stop, as the guide also explains where we are and the interesting info on what we were seeing.
We highly enjoyed the private tour and the information on each site was interesting. My 6 year old has yet to learn much about history and Florence is steeped with it so she is still absorbing bits of information every time we go out. The booklet that guided our itinerary in Florence is actually very interesting, I took a look at it and enjoyed the way the information is presented: not too detailed, with the right type of emphasis on what could be considered fun and interesting trivia to know. Please note that Tapsy, and more precisely through it Mole Hill sister company, does not just do private tours but also is dedicated to creating and publishing travel guides and other material for children – in various languages – and in book form as well as mobile applications. My daughter enjoyed coloring and joining the dots to create monuments, figuring out where we were throughout the morning.
My daughter particularly enjoyed the last stop at the Leonardo da Vinci museum. She got to touch several of the machines recreated from da Vinci's drawings and see how they would have functioned. While she might not have understood all of them, she definitely enjoyed exploring and touching. We highly recommend this museum for families!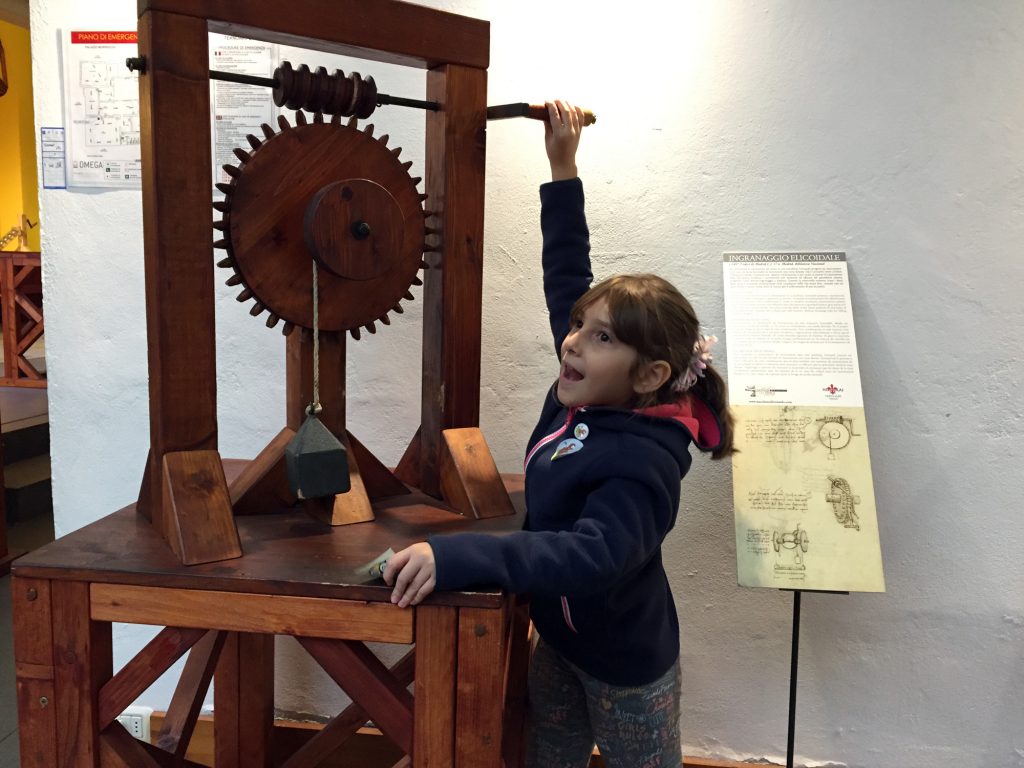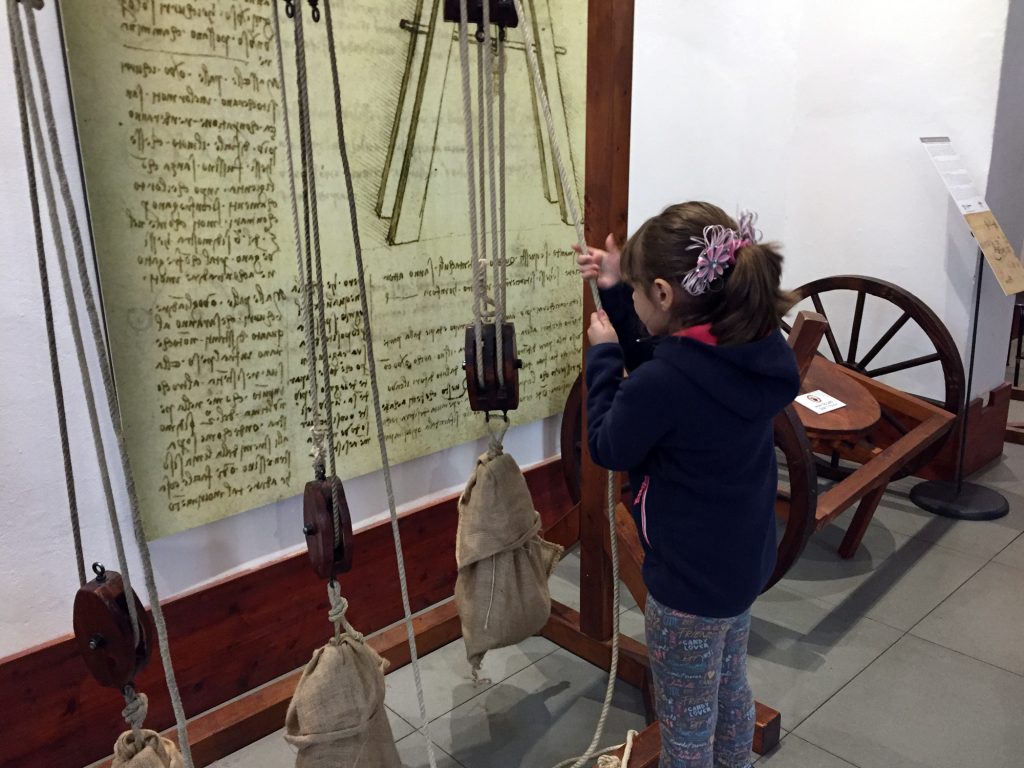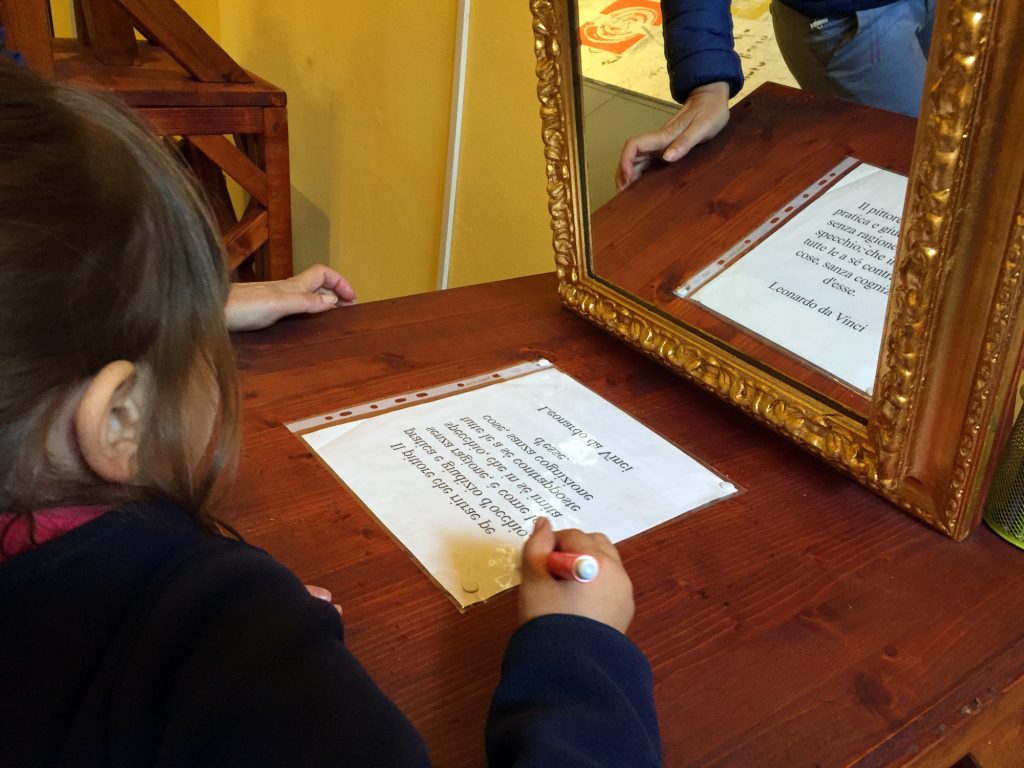 As I was saying earlier, Tapsy not only offers these family-focused tours in many European cities, they also offer interactive maps that come with an APP for your smart phone where you can view video media and audio that acts as your personal guide as you use the map to visit the city. Their guide books permit families to do their own self-guided tours of the city with their kids, again with information presented for an audience of children. In case you cannot do the tour for one reason or another, the guide books look like a lot of fun. The map and guide book for Florence are still in the works, but I got to check out the one for Rome and it was definitely something I would buy for when we visit the Eternal City with my kids.
We enjoyed our morning out exploring Florence's top sights, with our tour ending right around lunchtime. Off we went to grab a quick bite to eat before going home. Thank you Tapsy Tours for the chance to re-experience Florence through our kid's eyes!
If you want to book your private family tour with Tapsy in Florence or check out their guides, visit their site where you can find more details and contact info to book. If you're interested in other destinations, popular ones like Rome also offer the chance of joining larger group tours so just contact them to find out what's available. You can also check out their blog for more itinerary ideas, their Facebook page, Instagram or YouTube channel to see photos and videos of their tours.