Green Go is both a vegetarian and vegan restaurant as well as a small shop offering organic local and bulk products that let you choose a quality, sustainable lifestyle.
It is a place where Lourdes and I know feel at home: there isn't a week we don't go by to visit Alessandra and Simone, the pair behind GreenGo's success, to either enjoy a special work time lunch out or - when the stars align - for a "date night" dinner (in pre-Covid times that is).
We return home often with paper bags with extras to enjoy. Alessandra has partnered with local producers of fresh fruit and vegetables, eggs, fresh cheeses and raw milk in glass bottles... as well as pasta, grains and legumes, dried fruit and many spices sold in bulk so you take home only what you want. There is also tea (both bulk as well as Pukka brand), coffee grains from across the world and local and Italian artisan beers. There are so many things, it is actually difficult to remember all there is! Many are available in bulk, including biodegradable detergents and olive oil based bar soaps, to be cut to size when you buy. You either can take your own bottle to refill or Alessandra has containers (to then reuse) and paper/cellulose bags to use when you buy in bulk.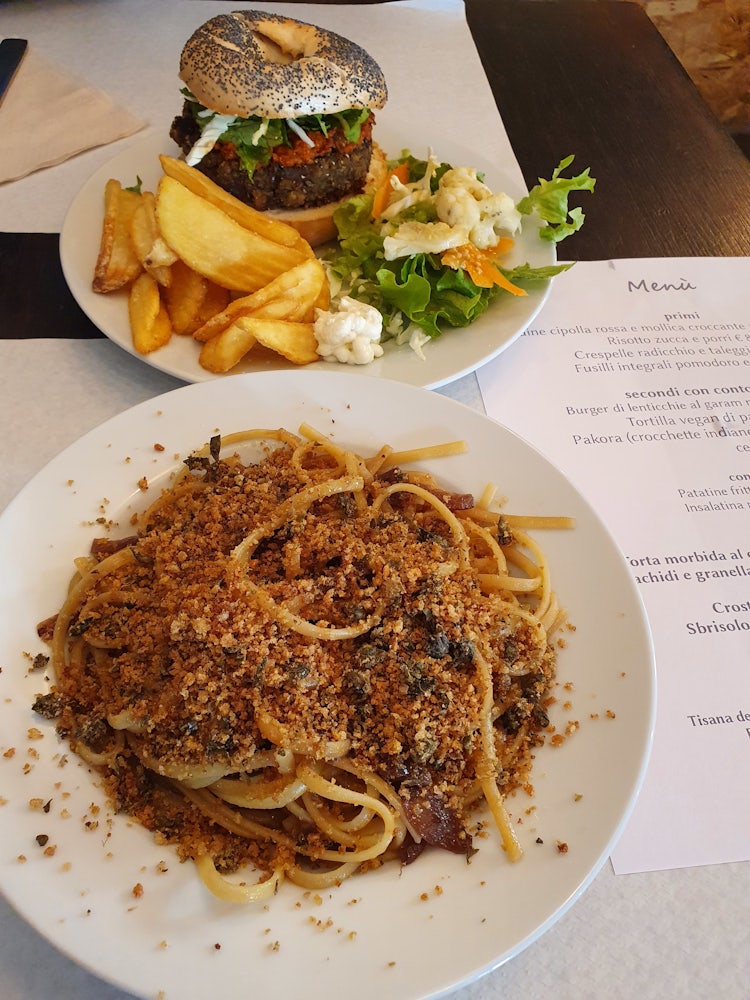 The vegetarian bistrot/restaurant
There are many "ingredients" we love about Green Go.
The first one is surely Alessandra, owner and soul of Green Go, who always is friendly and meets everyone with a smile as you walk in. She has become a friend who we share many ideas with, especially on the important of sustainability and respect toward the environment and animals.
Then there is Simone, the chef that offers anyone the chance to taste delicious dishes both at lunch (Monday through Friday) and dinners (occasionally, depending on the event program and schedule, which unfortunately in Covid times has suffered).
Simone's cuisine is perfect for our tastes: vegetarian and often also vegan, accompanied with simple yet unusual pairings with other ingredients, all selected with attention and to the season. The dishes are seasoned well, with spices such as curry and Cajun, evoking memories of long ago journeys into other lands. Everything is flavorful without exageration. There is also particular attention to balancing out the nutritional aspect of the meals: all the main dishes generally offer plant-based proteins, which is something that is not often found when dining out as a vegetarian or vegan.
Both curioisty and a continuous search on Simone's part have their hand in menus that vary every single day, with delicious offerings. Despite how often we go eat at GreenGo (using take-out more recently), the menu has always been different and we delight in trying out new dishes and discovering new combinations of ingredients and flavorings. Are expectations have always been fulfilled!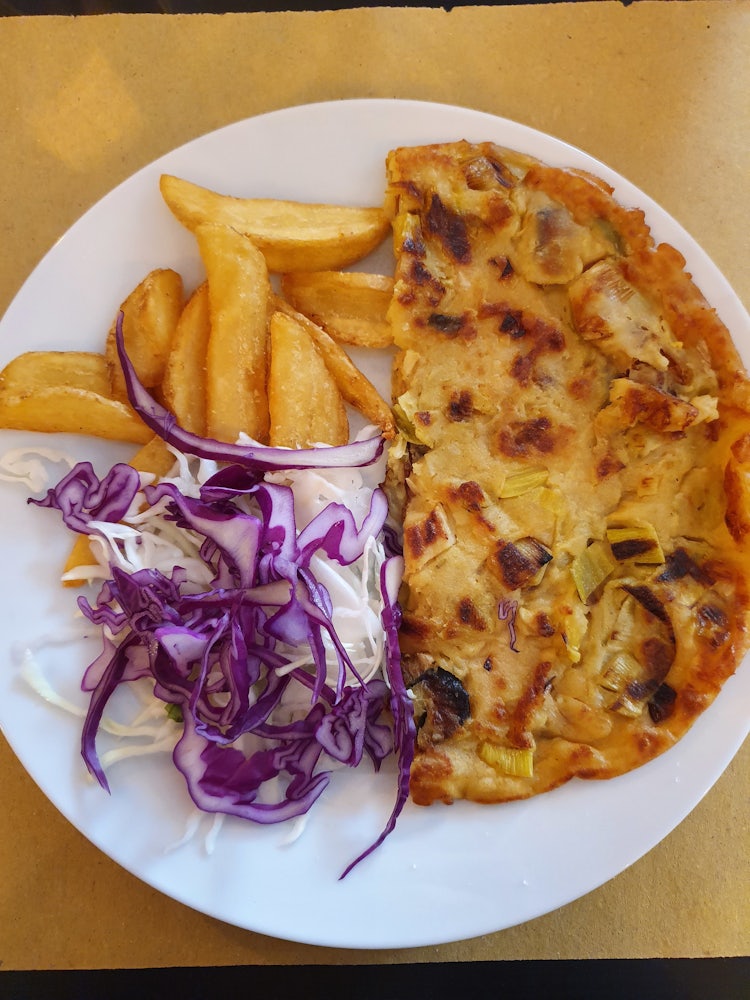 There are some dishes that you can always find, albeit with variations as the seasons change. Some of our personal favorites include the farifrittata (frittata made with chickpea flour and no eggs), whole-wheat pasta with pesto (different every time), the very popular pad-thai, and the flavorful vegan burgers accompanied with french fries and vegan mayo that are always simply perfection.
Then if we find the apple strudel on the daily menu, served with a spectacular vegan whipped cream, then we cannot resist and our diet will have to wait another day! 😄
All joking aside, the dishes offered are Green Go are never heavy even with very decent portions and that explains why many locals working in nearby offices choose to have lunch there on a regular basis.
We go back to GreenGo often because we know we will be able to enjoy delicious vegetarian and vegan cuisine, in an informal and friendly setting which also welcomes small children. It has become our default place to go with (omnivore) friends for a lunch, sure that we will all find something on the menu that we will enjoy as we chat and catch up on the latest news. In all, GreenGo has become the place where we go eat with friends.
Today, we often have to order to take-home our meals, and even though we lose a bit of the "presentation" of the dishes, the flavors and portions remain the same.
Occasionally the restaurant is also open in the evenings (back in "normal" times) with special vegetarian dinner menus or for special events such as book presentations or interesting thematic evenings dedicated to herbs, astrology or tarots, depending on the speakers.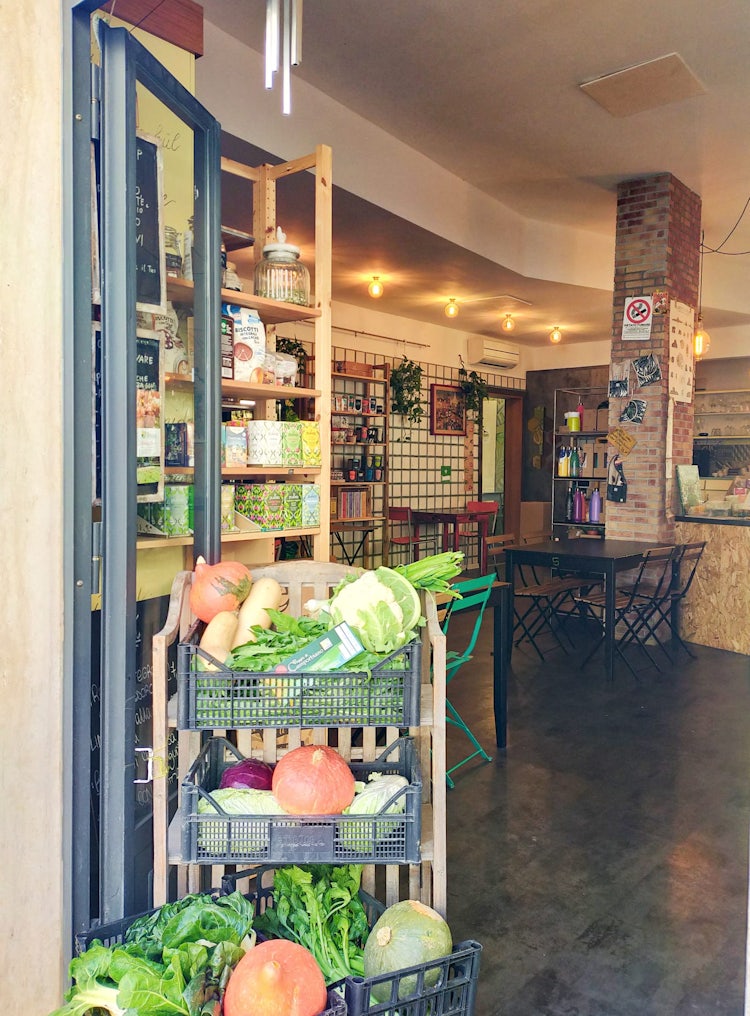 The bottega with organic and bulk items
The shop is small and welcoming, furnished using recycled materials and renovated furniture, an "upcycling" in line with the shop's philosophy. The main room has the shop and some tables for lunch, then there is an interior "green" room that offers more quiet and a small internal courtyard that is perfect once the weather warms up. We generally prefer to eat in the main room where we get a chance to also look around us while we eat, making a shopping list of any items we need to take home (we never go back with empty hands).
The shop offers fresh fruit and vegetables, as well as organic eggs, fresh cheeses and "raw" milk offered by local Tuscan organic farm Camporbiano. It is also possible to get on a Whatsapps group to get a daily photo and list of what arrives fresh each day, to either go pick them up or to have them delivered at home (service that became very popular during our first lockdown here in Italy). These are often the same organic ingredients used in the dishes offered by GreenGo at lunch.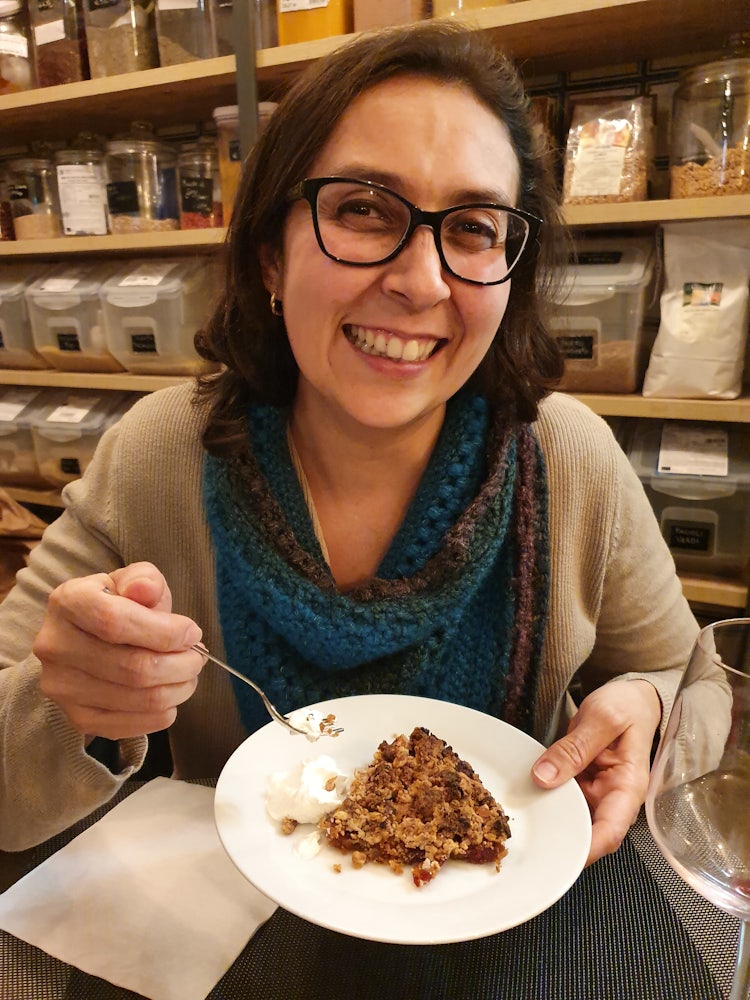 Those visiting Florence will easily find GreenGo even if the shop/bistro is not in the historical center. It is located in a residential area just outside the center, well served by public transportation and just about 20 minutes walking distance from the Duomo.
To learn more about the shop's activities, check out their Facebook page since Alessandra posts daily updates or use WhatsApp to book lunch (for take-out as well) or to order fruits and vegetables for pick-up or delivery (the number is 392 1793956).