Giumella was the first place I saw in Florence labeled as "vegan" when I had yet to fully understand what vegan meant. I wondered what sort of food a vegan deli offered every time I passed by the small corner storefront near Piazza Alberti. I thought there could only be a limited and maybe even strange selection, but basically salads and vegetables. I biked by many times without stopping.
Then a few years ago I started changing my eating habits to a mainly plant-based diet and soon needed inspiration to not always end up eat the same things over and over again. Naturally, this meant that one day as I passed by I actually stopped and went inside Giumella. I am not exaggerating when I say a whole new world opened up in front of me.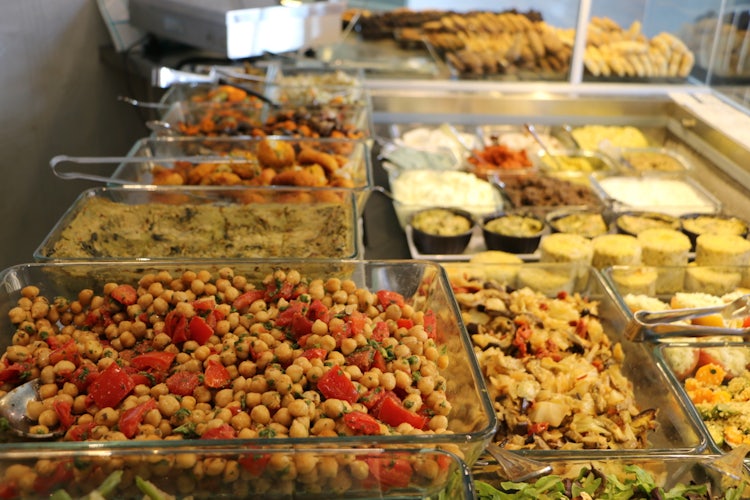 A wide variety of delicious and nutritious foods, which are healthy, vegan and Tuscan
Upon entering Giumella, you are always welcomed with a smile, which I believe is always a good first sign of any place you go into.
At the counter you can often find Lucia, the owner of this vegan deli or one of two guys on staff. It comes naturally to be friendly with other patrons, even without knowing each other.
It is a very small deli, with a counter full of edible colors and shapes from which to choose from. There are a few small tables if you want to sit and eat there but it is much more practical to take away what you order.
Choosing what to get is always a difficult choice: there are so many delicious options! I often ask for recommendations since I often want to just try a bit of everything.

Lucia "Giumella"
When I pass by during the off-hours (not right around meal times), I often find Lucia at the counter and the last time I got a chance to talk to her about Giumella, which she calls "the Giumella project".
It was interesting to discover she worked for the longest time in a completely different sector: high fashion! A few years ago, she realized she needed a break from the ins and outs of designing and wanted to do something more closely aligned with her beliefs.
She stated preparing seitan at home, just for herself and friends, perfecting her personal recipe each time she made it and having it be so popular that local restaurants started asking her to provide some for their patrons.
With the success of her dishes she realized how much people were interested in an ethical way of cooking, one that included choices that were not just vegan but also locally sourced organic ingredients.
So in a few short years her project developed and Giumella was ready to be born. In just a short time, Giumella can be found as one of the top places to eat tasty vegan dishes in Florence.
Her project is built a little bit like a recipe: the ingredients are selected with care and passion. Lucia created everything you find at Giumella, including the logo and the name itself. Giumella is an old Tuscan word to indicate the size and bowl-shape your hands make when placed together. It was an old intuitive way of measuring food. Today, she's surrounded by a great team of people that work well together both in the kitchen and at the counter.
Lucia has built up a network of local producers that allow her to always have both seasonal and organic ingredients directly from the farm to create her dishes. Chatting with her it is easy to hear the passion and attention she pays to this aspect, selecting the highest quality ingredients for her every recipe. It is one reason why I - and you - can trust everything coming from her kitchen since it has been accurately and attentively prepared.
The flavors to start off with are those of the territory, Tuscany. The same ones Lucia grew up with and which she seeks to maintain in her dishes, even if those have been updated to become vegan they do not stray far from the flavors and aroma of traditional Tuscan dishes. She uses, for example, the juniper berries, rosemary and nipitella, all herbs commonly used in Tuscan cuisine. She isn't rigid in her choices, she seeks a melding of her ingredients. She shares with me that there are ingredients not found in Tuscany or some that she preferred from elsewhere in Italy, the choice was to get high quality. At Giumella, thus, we can find dishes with oranges and lemons, as well as the spirulina algae and avocados, all coming from Sicily. All of the legumes come from southern Tuscany, from Sorano to be precise, including the black and white chickpeas and cannellini beans, while the lentils are also from Sicily since she believes they are of higher quality and taste.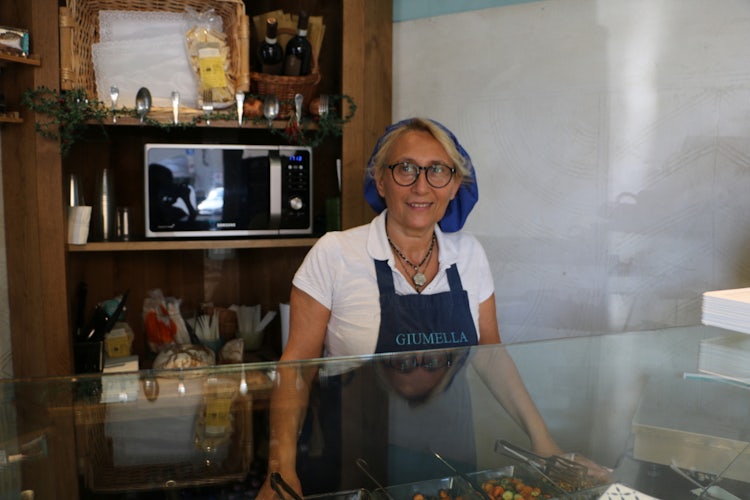 From seitan...
For Giumella's seitan, Lucia prefers to not use Manitoba flour which comes all the way from Canada and instead has adapted her recipe to use local durum wheat which she gets directly from a local mill near Arezzo. Instead of soy sauce and kombu algae in the cooking broth, she uses lentils, another local product. The lysine, necessary for a correct absorption of the gluten in seitan, is added directly to the cooking broth. The entire preparation, from the dough to the rinsing, is all done by hand (even if Lucia designed her own machine to make her seitan following her methods).
The result is that her seitan is one of the best I have ever tasted, which she prepares in many different ways, including sauteed with lemon or with capers or even as a form of roast (which quickly sells out every time it is on offer).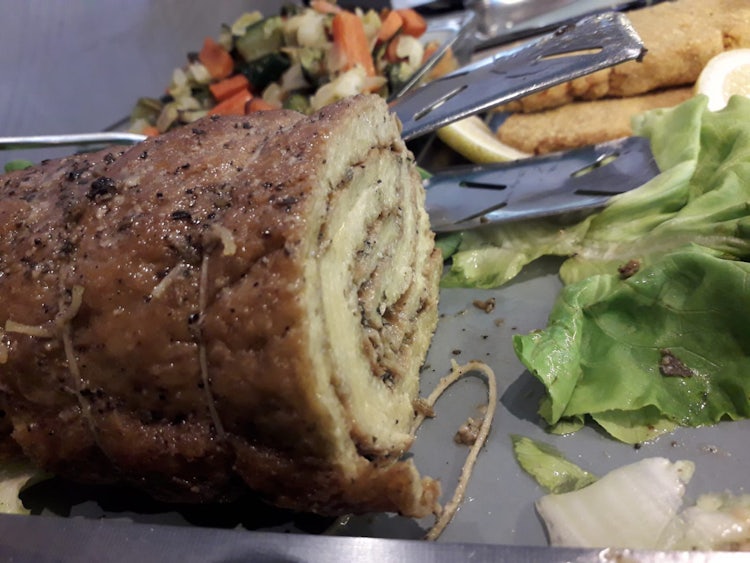 … to everything else!
It is important to know that every single dish, not just the seitan, is prepared "in house", be they savory or sweet. All the dishes you find at the counter are created, tested and prepared in Giumella's kitchen by Lucia and her team.
Everything is thus "Made in Giumella", from the ricotta, also prepared following their recipe, which then is the base for many other dishes, including the filling for the stuffed fried zucchini flowers (highly recommended), the gnudi (delicious and delicate) and in the many desserts.
There are different first courses from which to choose from daily, but you can often find lasagna but made each time with different fillings, and many options for protein sources, including grilled "chops" made with chickpeas or with lupins and lentil sausages. The rice patties are delicious and I choose them often. I also recommend you try the chickpea "frittata" which flavor-wise reminds me of the "cecina" found along the Tuscan coast although this one is much thicker and with a good nutritional content.
You have many side dishes from which to choose from, many offering a mix of legumes: white or black chickpeas, beans, cicerchie (also known as Indian peas), dried peas, quinoa, potatoes, artichokes and many colorful vegetables that attract your eye before your tastebuds!
You can also try out the vegan cheese made with dried fruit and seeds, to be eaten crumbled on top of a salad or by a wedge. It does not taste like milk cheese at all, so try out it for its own sake. I find it enjoyable and try to limit the quantity I eat at any time given its high calorie content.
I suggest you always get one of the tasty sauces that Giumella prepares to accompany your food. There are many from which to choose from, many with a mayonnaise base but not only that. There is the "boiled caper" sauce, a "Florentine sauce" (my favorite, made with sesame seeds), another made with "spirulina and peas", a spicy "Nduja" and the classic "hummus" just to give you an idea of what you can choose to add further flavor to the dishes you select.
There are also many vegan sweets and desserts (many of which I still have to taste!), from the tiramisù and ricotta cannoli to cheesecakes and cookies.
There are many gluten-free options, ask at the counter to make your selections.
To quench your thirst, Lucia also offers vegetable juice extracts, water Kefir made in-house and flavored with raisins, rose petals or coconut, raspberries or lime.
Why I recommend Giumella
Now there isn't a week in which I don't pass at least once a week by Giumella, where I get a "lunchbox" for myself and my wife. Not only is it a way to not cook a meal, it also is a great way to skip more complicated food preparation and get a wider variety than what we would make at home at a single meal. It is above all a small gift we make to ourselves, to open ourselves to trying new combinations of ingredients and flavors and which in time have now become some of our favorites. I find it important that I met Lucia, which you will too if you visit, because then you see the face that prepares every single dish in her kitchen with love and attention.
I am not exaggerating when I say that everything is good - beyond all of our own personal preferences, I have yet to taste something from Giumella that I didn't like!
Even if all the dishes are vegan, the majority of the people that eat at Giumella are actually omnivores. There are many tourists (they speak English, of course) even if the location is outside of the city center. The quality and taste of what you'll find at Giumella is worth the extra distance.
It is possible to buy everything by weight but I recommend you try the lunchbox like we do: it is a set size box offered at any time of the day for 7,50 euro. You point out what you want and it gets filled, it is the perfect amount for a meal and includes a sauce. If you think you will be heading back again, you can prepay a card for 10 boxes and you'll get one free. I find it is the best value for your meals between cost, quantity and variety. These boxes are a great solution for parties or dinners with friends, all you need to do is call ahead to make sure there is enough of what you want. If you're interested, Giumella also does catering services for larger events.