Enjoy the Tuscan Landscape, flavors & hospitality
Olive groves and vineyards greet you on the road only a few miles outside of the busy center of Florence and it is here where the gates to Agriturismo La Tinaia open to reveal a serene and secluded garden and 5 charming vacation rental apartments.
The family-run agriturismo is an oasis only a short distance from the thriving city center of Scandicci, and close to one-of-a-kind museums and monuments in Florence. Here you will be welcomed by Tina and Franco, the owners, into what is their dream come true: a genuine Tuscan agriturismo that produces DOC wine and olive oil less than 15 km from the center of Florence.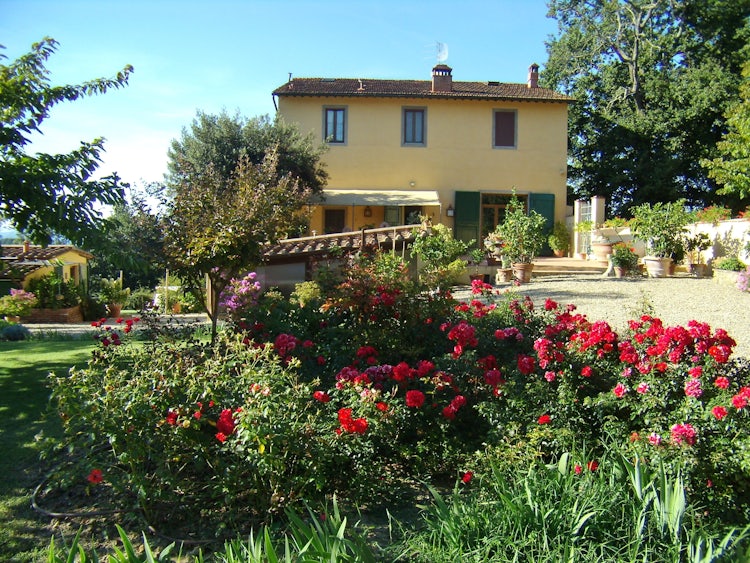 The once abandoned farmhouse, in the lovely countryside outside of Scandicci on the outskirts of Florence, has been transformed into comfortable and welcoming holiday accommodations. The independent apartments, suitable for 2 to 4 guests each, provide a truly relaxing backdrop to your holidays in Tuscany combining the beauty of the Florentine hillside with modern accessories, comfortable furnished lodgings and the excitement of a family-run vineyard and olive groves.
Reserve Now with Agriturismo La Tinaia
A change in lifestyle
The learning process was steep for Tina and Franco, who both held office jobs before totally changing their lifestyle. Over the last 20 years, they have dedicated themselves to tending their grounds and producing a selection of white, red and rose wines as well an award winning extra virgin olive oil. But it wasn't an easy job, it started with going back to school to learn the basics in farming. In addition to caring for their land, they personally took on the responsibility of recapturing the beauty of the farmhouse by stripping it down to the bare bones and coaxing it all back to life.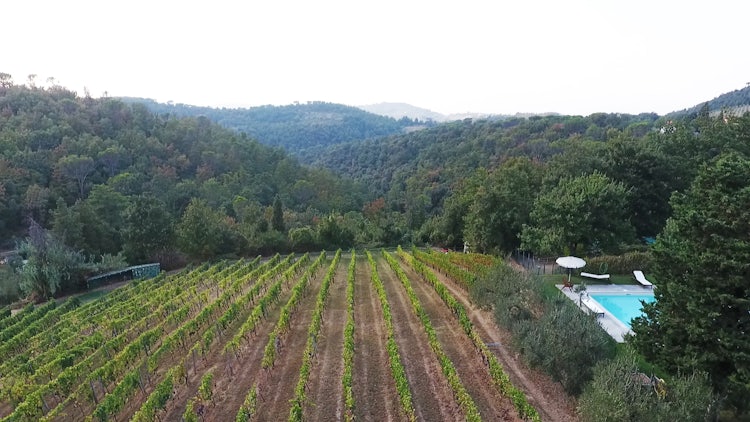 While learning how to drive a tractor, care for the plants and produce wine from their grapes, they were cleaning down the farm and restoring it to it's simple yet distinctly Tuscan charm. Working side by side, they cleaned out the "fattoria", which had slowly fallen into decay, bringing to life the original structure; the "tinaia", which in Tuscany means the area dedicated to making wine; the "frantoio" where the olives are crushed into oil and the "casa del fattore", the home of the farmer who ran the property.
Our first harvest was in 1996, and we thought it was a miracle - with so much to learn and do, we were so excited to be able to produce wine!
They now produce 5 different types of wines, experimenting with their Chianti crop for new flavors and personal satisfaction. There is a white Chardonnay, which I got to try - chilled, crisp and clean while chatting with Tina under the pergola. Then they have a rosato, or rosé, something that TIna added to the collection because after her extended time in France learning the language she knew that these were appreciated flavors. The other three wines are variations on their Chianti Sangiovese grape, the mainstay in Tuscany, and include: Montelepri IGP as well as a Chianti DOCG and a Chianti Riserva DOCG made from 100% Sangiovese grapes.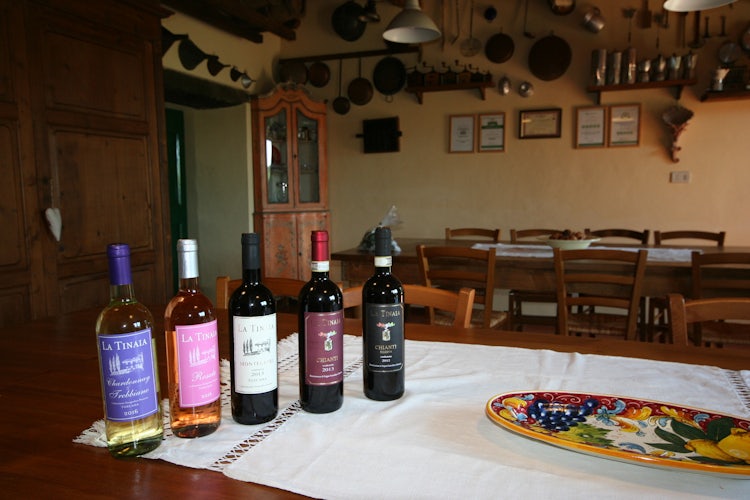 Tuscan Daydreams
They have carved out not just a home for themselves but also 5 accommodations that vary from a studio apartment to a two bedroom holiday rental. Besides the shared common room with fireplace and a dining room on the ground floor they also like to show off their private wine cellar and aging room. The dream was to get back to nature, and get their hands into working the land. And so far, they agree, the rewards have been amazing. They love sharing their passion and home with guests from all over the world.
Surrounded by the tranquility of the vineyards, the silence of the countryside and having the opportunity to meet so many new people as their guests come and go, have certainly enriched their life. They particularly enjoy sharing the fruit of the labor with their guests: wine tasting, the garden and the occasional summer dinner. Tina assured me, "we respect the privacy of our guests; we understand not everyone wants or needs our presence."
A Review of Agriturismo La Tinaia
We loved: the limited number of apartments, keeping it cozy and intimate
Ideal for: couples or families with children looking for tranquility & relaxation. Especially nice for those who want to explore Florence but prefer a natural setting
Simple, Elegant & Comfortable
The apartments were designed to incorporate the rustic elegance of an authentic Tuscan farmhouse while providing guests a comfortable and serene environment for their holidays, including several modern comforts like A/C and free WiFi. Tina and Franco worked non stop to restore each area, carefully retaining its original "flavor" while giving the rooms a modern, fresh and clean appeal.
The ground floor is comprised of two apartments, which can be combined to create a two bedroom, two bathroom accommodation for up to 6 persons. Separately, you have Ginestra, a cozy studio apartment, with a kitchenette, a designated living/dining room area with a separè and a double bed and bathroom. Next door is the apartment Erica, a one bedroom/bathroom apartment. The private patio areas for each, located directly in front of the apartments, are in a shady corner, protected by pines, cedars and oak trees.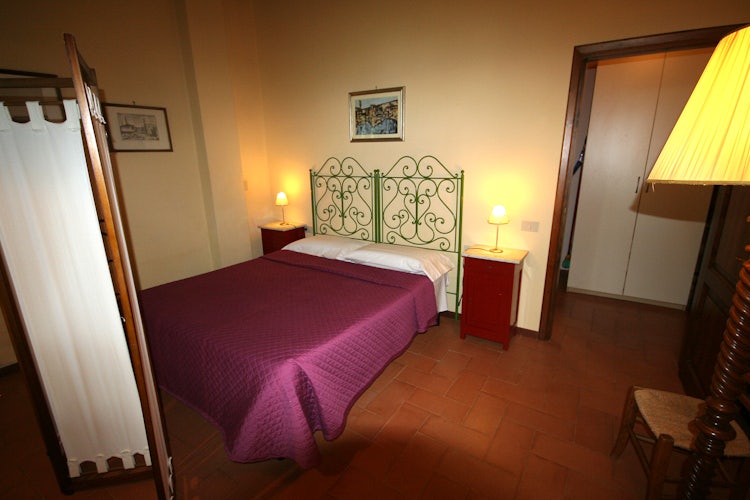 On the 2nd floor, promising enchanting panoramic views of the Tuscan landscape, are three apartments. There are two apartments each with two bedrooms, a bathroom and kitchenette. Both Il Bosco and Il Cipresso, boast 68 m² for 4 persons, and are situated on two floors with A/C in the living room and loft area.
The final apartment, La Vigna with a size of 38 m² for 2 persons, is set on two floors, with the bedroom in the loft. The apartment, like all of the others, features free WiFi, a TV, a fully equipped kitchenette and all bed, bath and kitchen linens. This apartment also features an A/C for your comfort.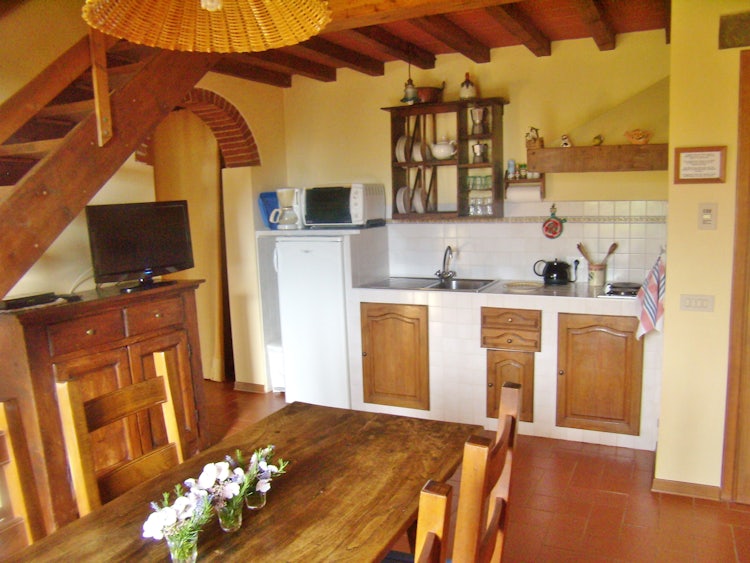 Tranquil Inside & Out
Agriturismo La Tinaia at a Glance:
Type: self-catering holiday apartments
Location: Scandicci, 15 km from Florence center
Distance: Florence (30 min) and only 60 minutes to Pisa or Siena
Transport: a car is useful, easy access to public transport to Florence
Apartments: 5 apartments
Sleeps: 14
Type of board: reservation only
Upon my arrival I couldn't help but notice that, though they were filled with guests, the pool and garden were immaculate. I particularly loved the colors, the English-style yard with the freshly cut grass and the covered terrace located poolside for meals and happy hour.
The fenced in property is truly a "piccolo paradiso", a little paradise. But if you do decide to venture outside of La Tinaia, you will find there is so much close by.
To start off with, Tina suggests you try a very popular restaurant just down the road - with a flashlight, it is quick walk in the evenings. There is a regular tram in Scandicci which makes visiting Florence especially easy.
Both Tina and Franco indicated that many of their guests like to go into the city in the early morning then come home for lunch and have a nap in the tranquility of their cool apartment before going back again into town that evening.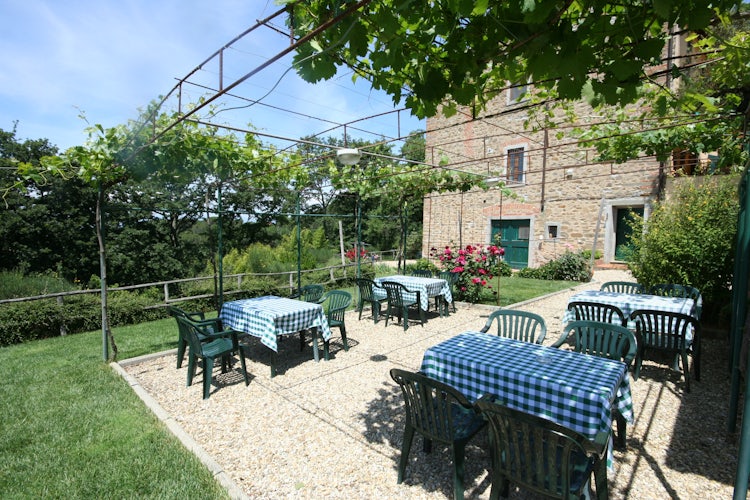 Then some just like to come back and rest poolside! In any case, if you need assistance in planning your itinerary, Tina is ready with a brochure, a map and even a few great ideas of nearby towns that merit a visit. Her favorites include Certaldo Alto and Artimino, found between Prato and Empoli.
Being so close to Florence, means that guests can live the city morning, day and night.
However, that doesn't exclude visiting other areas: with the convenient proximity of the major highways, you can plan on visiting all of Tuscany with extreme ease. Pisa, Siena and even a trip to the coast or Arezzo, can easily be handled by using the main roads. If you prefer car-free, then take the tram to Florence and use the public transport system from there to move around.
Taste Their Goodness
Wine and olive oil tastings are offered, as is a visit to the wine cellar to see exactly where and how the fermentation process takes place. Guests are invited to roam and enjoy the scenery in the vineyards or simply find pleasure in the view from the pool. In both cases, the Florentine countryside will not disappoint. The pool catches the best rays from morning until night, and you can perfect your tan, dive into the fresh clear waters or sip a glass of cool white wine for a truly relaxing vacation.
When the house is full, Tina and Franco like to bring everyone together with an evening meal. I solicited a list of her favorite dishes to prepare but she only laughed, apparently the real chef is Franco. His wild boar meat sauce is a must-try and he excels at the main course, hat the Italians call "il secondo." Tina sticks to baking, serving up fresh cakes from traditional recipes.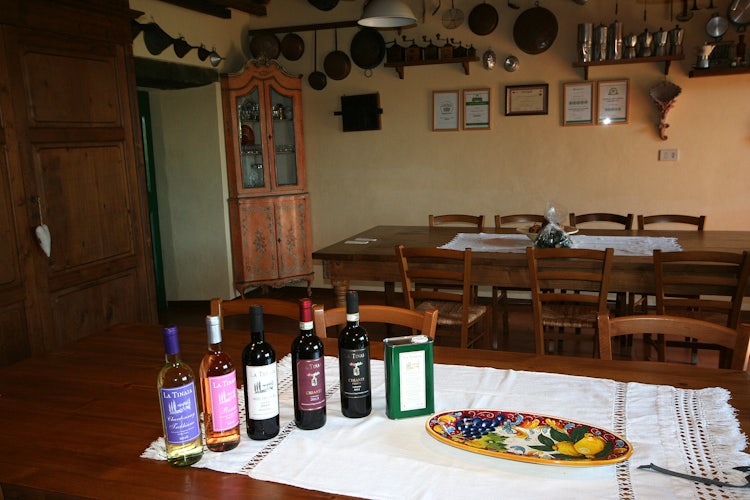 The perfection of the well-maintained gardens, the cozy country styled accommodations and the friendly attentive presence of Tina and Franco create an environment at Agriturismo La Tinaia that will appeal to all types of travelers. Those coming for the first time, on a romantic escape or a family vacation will find that La Tinaia adapts to your needs and expectations beautifully. Close to the city but surrounded by the tranquility of the Chianti countryside outside of Florence, this is a vacation spot that will warm your heart.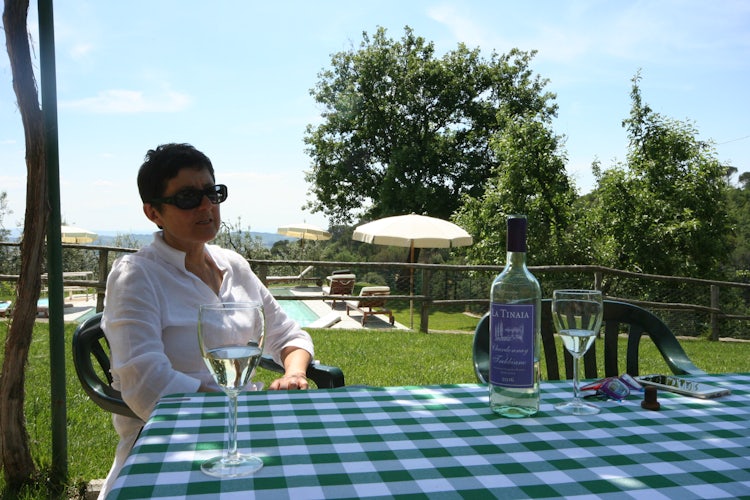 This is a Sponsored Article but reflects the honest opinion and experience of the author. More details »