The end of restoration works of the famous bronze group of the Florence Baptistery, The Beheading of St John the Baptist, helped to rediscover the celebrated sculptor and architect of the Renaissance, Vincenzo Danti.
Born in Perugia, Danti worked for many years in Florence for the Medici family alongside Giambologna. He is commonly known as Michelangelo's apprentice, even though they never worked together. Danti studied Michelangelo's style and works very carefully, drawing inspiration from what he considered to be models of perfection. Most of his own work thus shows Michelangelo's influence, as demonstrated by the big bronze statue of Pope Julius III (1553-55) which was inspired by Michelangelo's lost prototype of Pope Julius II.
His sculptures are displayed in all major museums worldwide, but it is Florence and Perugia which hold his masterpieces such as the admirable group of marble statues Honour Triumphs over Falsehood at the Bargello Museum in Florence.
Danti's Life
Vincenzo Danti was born in Perugia in 1530. At the beginning of his career, he followed his father's footsteps and studied as a goldsmith. In 1555, at just 25 years old, he creates the large bronze statue of Pope Julius III which is placed just outside the Cathedral in Perugia.
Danti lives for a while in Rome where he further deepens his knowledge of the art of goldsmith and studies carefully the works of the great master, Michelangelo. The figure of Buonarroti is extremely important for Danti, so much important that he is later nicknamed as Michelangelo's apprentice, even though it is likely they never even met.
Thanks to his fame of an "infant prodigy", he is invited to work for the Medici family in Florence. It is Cosimo I de' Medici himself that invites him upon advice by Sforza Almeni, who is Medici's great counselor and from Perugia himself. Danti works in Florence from 1557 to 1573. During these years he becomes a famous and well-appreciated Renaissance artist by creating some masterpieces such as Honour Triumphs over Falsehood (today in the Bargello museum), Virgin with Child in Santa Croce and the two statues of Equity and Rigor at the Uffizi Gallery.
Despite his success, he leaves Florence in 1573 and goes back to Perugia where he dies three years later in 1576.
His Works

Even though Vincenzo Danti was a great Renaissance sculptor as well as architect and writer, he is unfortunately a largely unknown artist. This is probably because he worked for Cosimo I de' Medici at the same time as many other illustrious artists such as Baccio Bandinelli, Benvenuto Cellini, Tribolo, Bartolomeo Ammannati and in the end, all of these are largely overshadowed by the genius of Michelangelo Buonarroti.
Danti is generally known as Michelangelo's ideal apprentice, ideal because they never met. In spite of this, Danti took Buonarroti's works as a model of perfection, studying them very carefully and his own work changed as a consequence, "concluding that who wants to study art has to imitate Buonarroti's works".
Michelangelo's influence is clearly visible in Danti's first work, the big bronze statue of Pope Julius III (1555), inspired by Michelangelo's lost prototype of the statue of Pope Julius II. This sculpture surprises for its high workmanship and represents Danti's transformation from goldsmith to sculptor. This artwork is considered one of the most magnificient monumental bronzes of the Renaissance.
When he arrives in Florence, Danti attempts and fails three times in the creation of the group of large bronze statues of Hercules and Antaeus. Despite this bad beginning, Vasari commissions two bronze bas-reliefs from Danti: one for a door for a safe for Cosimo I and another for a chapel depicting Moses and the Brazen Serpent. In these bas-reliefs, he demonstrates his superior workmanship as a goldsmith. He then decides to chisel marble, like Michelangelo, and creates the wonderful marble group depicting Honour Triumphs over Falsehood. It is a gift for his patron Sforza Almeni and is inspired by the victory of Florence over Pisa and clearly imitates Michelangelo's theme of two nude figures. This work had such great, long-lasting success that Grand Duke Pietro Leopoldo, in 1775, moved it to one of the best overlooking points in the Boboli Gardens.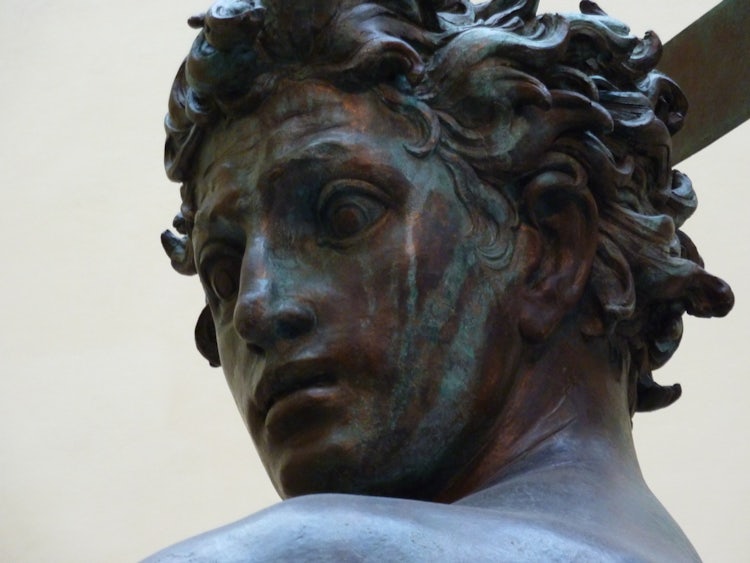 Danti then creates the great group of bronze statues called The Beheading of St John the Baptist (1571) in honor of the Florence patron to whom the Baptistery is dedicated. Although the statues are made of bronze, they look alive, graceful in their movements. This work is certainly a masterpiece for Danti and of the Renaissance.
Another great work is the statue of Cosimo I as August, created in 1572 shortly before he left Florence. The statue was to be placed in between the two statues of Equity and Rigor at the Uffizi Gallery.
Vincenzo Danti is definitely one of the greatest and most illustrious sculptors of the Renaissance whose work contributed to making Florence the cradle of the Renaissance.
Danti in Florence

Vincenzo Danti spent most of his life in Florence working for Cosimo I de' Medici and that is why most of his artworks can be found today in several museums in Florence.
The Bargello Museum holds several of the artworks commissioned by Cosimo I, among these the marble statue of Cosimo I as August, the breathtaking group of marble statues depicting Honour Triumphs over Falsehood and the two bas-reliefs commissioned by Vasari.
At the Uffizi Gallery, on the top floor end of the gallery closest to the Arno, are the two marble statues of Equity and Rigor.
Inside the Church of Santa Croce stands Danti's marble statue of the Virgin with Child.
The most representative work by Danti in Florence is the large group of bronze statues depicting The Beheading of St John the Baptist displayed at the Opera del Duomo Museum. The bronzes were completely restored in 2008 when Florence celebrated this great artist with a dedicated exhibition.