What Distinguishes these Vacation Villas?
Renaissance History & Quality Wines
In less than 30 minutes, in the sugestive hills that surround Florence, the majestic villa Torre a Cona, with its holiday apartments and private villa rentals, sits proudly where it has reigned supreme for over 800 years. My meeting with the present owners, Conte Rossi a Montelera, was to explore not only the historic estate but also their wine cellar with its delicious mix of Chianti and Merlot wines, vinsanto, grappa and olive oil.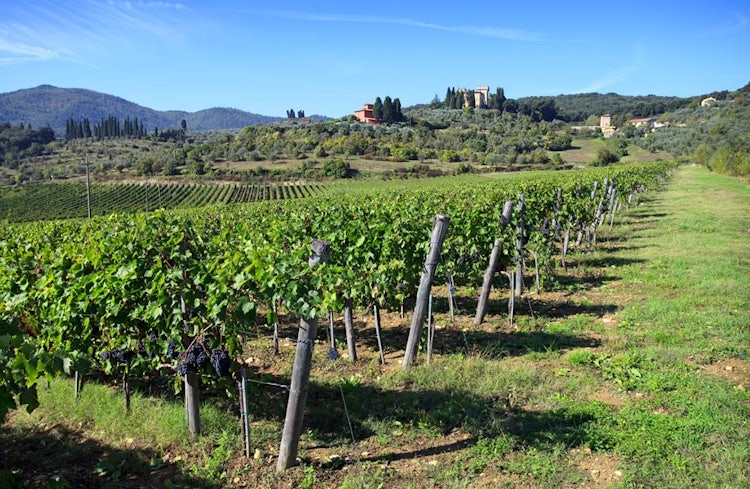 I first met up with Livia, the general manager, who greeted me in the reception office with the intention of showing me around the estate. After 13 years of working with the Conte, she (almost) knew this place as we well as the family did. She knew the history, a few secrets and demonstrated a distinct respect for the intimidating role that the Villa and its "fattoria" (farm) played throughout time, from the Marquis Rinuccini and their love of the arts to the hiding place of precious marble statues in WWII.
Book Direct with Fattoria Torre a Cona
A Point of Reference Throughout the Years
Set in a classical Florentine landscape, the Villa and its adjacent property preside in a prime position between Florence and Chianti. Easy access by car or bus, the vacation villas and self catering holiday apartments share the same fabulous panorama and tranquility that the owners, hundreds of years ago, enjoyed on this very farm which reached well over 400 hectares.
Nestled in the perfect area for visiting all of Tuscany, this vacation hideaway maintains a fantastic atmosphere of relaxation and tranquility. Among the towers, windmills, historic gardens and vast farms, the Villa Torre a Cona has permenantly assured its place in Italian history. It is a story that is well worth exploring first hand while you stay in one of the rental apartments or vacation villas.
The present owners, Conte Rossi a Montelera, a family with three siblings, nephews, nieces, grandchildren and more, are continuously working to preserve not just their history, but that of the Villa. They are diligent in their efforts to rebuild the vineyards, the gardens and the very walls of the villa for future guests and generations.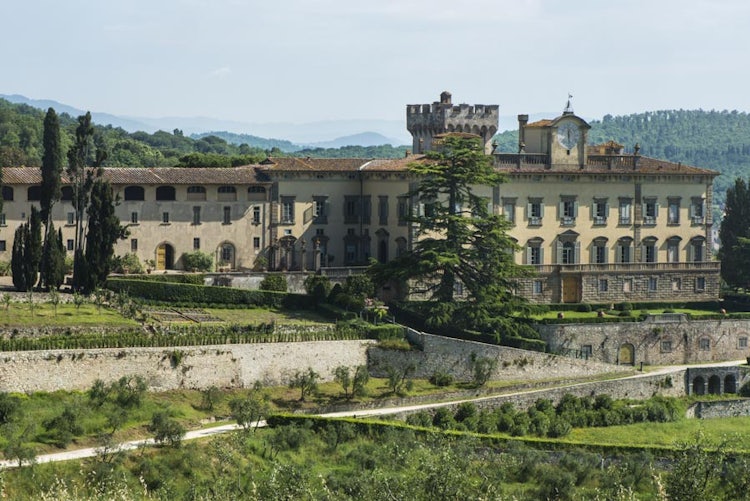 A Review of Fattoria Torre a Cona
We loved: the typical Tuscan scenery so close to Florence with an elegant & comfortable decor
Ideal for: couples or families with children looking for tranquility & relax, yet close to town
Different Options for Different Vacations
In the 1980's, the first luxury accommodations at Torre a Cona opened their doors. Their choice was to offer fully equipped lodgings with modern kitchens, a wide range of appliances, and select accommodations even include air conditioning. Then there are what some may call the "basics" such as fine linens, safes in the rooms and a particularly Tuscan decor, accenting comfort and relaxation. There are three private villa rentals. Feinle (up to 5 persons) a sweet little barn restructured with 2 bedrooms, large private garden with stunning views and a practical floor plan.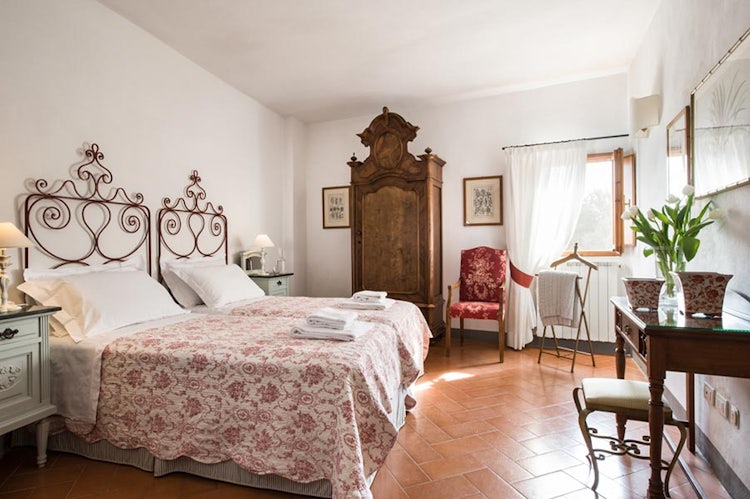 There are two large villas for groups and families or friends traveling together. Casa Villa (for up 20 persons) is actually four independent apartments, each with its own kitchen, bathroom and private garden combined together or rented separately...the perfect solution for families traveling together but looking for some personal space. Villa Lecceta, with over 350 square meters, offers a deluxe setting with a full kitchen with dishwasher, washing machine, and microwave, and 6 bedrooms. But the most spectacular aspect of this villa is certainly the fantastic panoramic view.
But maybe you don't need all that space? Then you can choose from one of the 5 self catering apartments. Each apartment has more than 50 square meters and maintains the same high standards as the villa for the interior design, the appliances and the wealth of extra special services.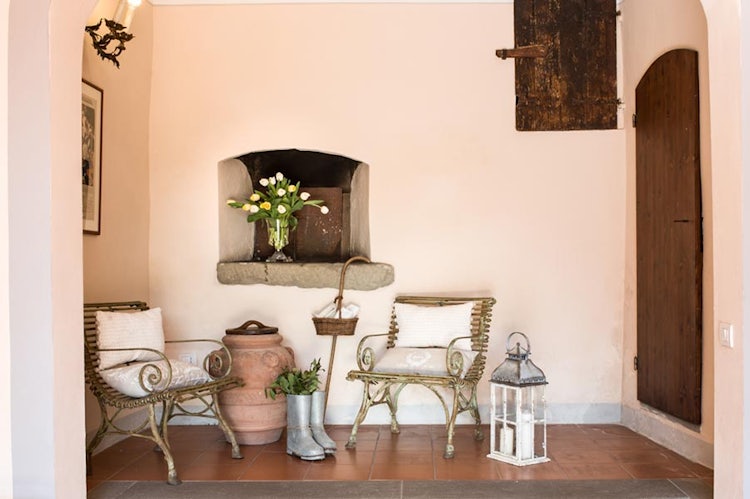 The Extras are all Delicious
Fattoria Torre a Cona in a Glance:
Type: self catering holiday apartments & vacation villas
Location: San Donato in Collina, 1 km from the Villa
Distance: Florence (30 min) or Greve in Chianti (50 minutes)
Transport: a car is useful, however there is bus service within 1 km of the accommodations
Apartments: 5 apartments & 3 villas
Sleeps: 42
Type of board: Breakfast upon request, cooking classes & welcome basket
When you are staying on a property that offers so much naturally (history, tranquility, beauty, and easy access to major sites), it is hard to up the offer by include something more enticing but, the holiday accommodations at Torre a Cona have found just the right formula.
Livia explained that most of their guests prefer to make their own meals, but sometimes their Breakfast Basket (12€ a person) is just what they need to start the morning out on the right foot. Filled with tasty treats this basket was created so that the guests didn't need to do a mad scramble to find the nearest open supermarket on their arrival date. In fact, one could easily opt for the Welcome Basket which will also provide the basic necessities leaving you relaxed on the first day in Tuscany.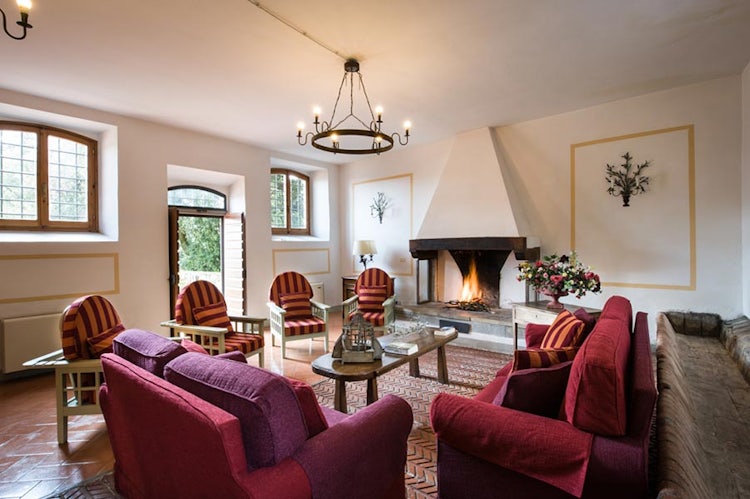 Mix food with some activity and you will truly feel Italian! Ask the front desk about organizing a cooking lesson, right there in your holiday villa or apartment. Ideas include learning how to make a full Tuscan meal or simply havin fun with the wood burning stove while everyone pitching in to make their own special pizza.
For the sportier travelers, there is a riding ring just down the street that offers the possibility to explore the enchanting, local landscape atop a gentle and well trained horse (ponies are available for the younger riders.) And for those who prefer their own two feet, you can head out in any direction and be greeted with the onsite gardens, forest areas or even a stroll in the olive groves, where you will find a special kind of silence. Often the guests feel they are in their own private paradise.
"There is so much space and tranquility that our guests will often ask, are we the only ones…because it is so quiet" Livia commented while we strolled by the pool and historic water mills.
The special position of the villa, on the south side of Florence, provides easy access to the major highways and primary roads to Florence, Siena, Lucca, Pisa and even into Chianti and Casentino. Only 15 minutes from the front door of the villa is the Autostrada del Sole which stretches from north to south in Tuscany and the road just out the front door has a local bus connecting the holiday rentals to the Renaissance City of Florence.
Insiders Scoop
Staying ahead of the times, and always having something new to present to guests and wine enthusiasts, the Count and his family are continuously regenerating new ideas. They are presently restoring a whole wing of the villa, that which used to be the home to some of the famers that were responsible for running the show (so to speak). In Tuscany, the nobiles and the farmers frequently lived close to each so much so that at Torre a Cona, I was told that they could reach the farm simply by opening a door; the perfume of the stable, grain, the fermentation of the grapes all mingled together with the prestigious environment of the "sala nobile."
Together with several suite in agriturismo, style country chic, a restaurant and a room for special events for the guests of the agriturismo Torre a Cona, there will also be a museum which will highlight the history of the villa, the families that resided here and the economic independence that a villa of this size (once employing well over a hundred persons).
"I remember coming here with my grandfather, and the villa and its lands were alive with activity in the farm, the windmills, the villa itself," the Count reminisced "but that way of life is no longer part of today's world and the museum is aimed at preserving this part of Tuscany's history."
The Vendemmia in September
Not only does this position assure guests at Torre a Cona a special and relaxing vacation spot, but it also guarantees some delicious grapes and olives. Using the special characteristics of their land, such as the rich soil, the exposure to the sun and the refreshing change of temperatures between night and day, the "enologo" (enologist or onsite winemaker) at Torre a Cona is able to create some memorable wines.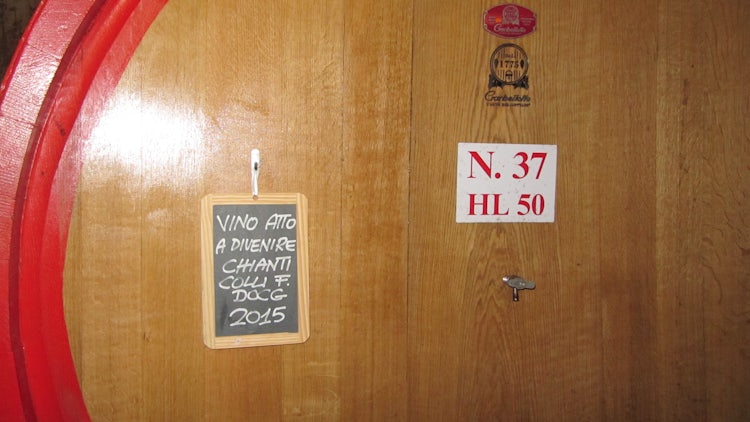 There is also a wonderful "novità"
>The 2013 Chianti Riserva was just awarded 3 glasses from Gambero Rosso. Congrats Torre a Cone!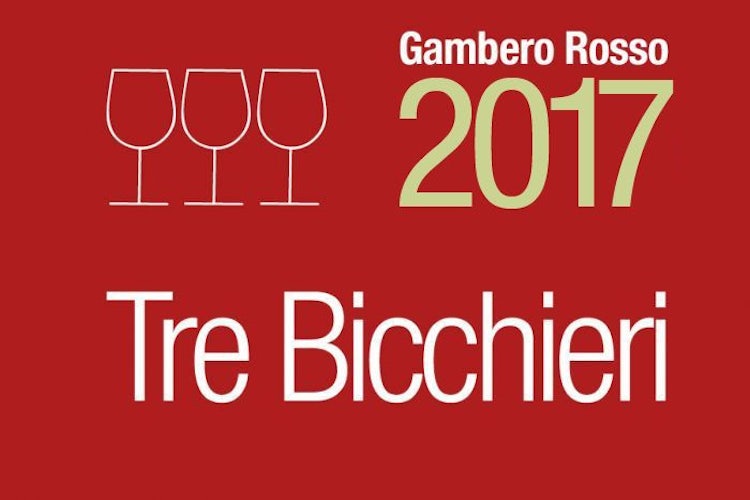 The position of these hills, just south of Florence, means that the grapes take longer to mature resulting in a later harvest than most vineyards in Chianti. If you are in the area in late September and want to see the harvest, plan a visit to the Cantina (wine cellar) at Torre a Cona where you can visit not only the wine cellar dating from 1882, view the impressive spread of vineyards and olives trees but you can also participate in a wine tasting. Depending on your curiosity you can either sample with a light version including two wines, vinsanto and a selection of typical Tuscan treats highlighting their very own extra virgin olive oil or you can opt for the more substantial tasting with 3 wines, vinsanto, grappa and a plate of Tuscan specialties with olive oil.
There is a quality selection of wines to choose from including a Chianti Colli Fiorentini DOCG and Chianti Colli Fiorentini DOCG Riserva both exhibit a ruby red color and a delicate perfume of an elegant wine, with fresh accents and the aroma of red fruit. Distinguishing them from other producers is their Merlot (Tuscany Typical Geographic Indication IGT) made from 100% Merlot grapes grown at 330m above sea level. The selection of this grape is very strict and requires a manual harvest.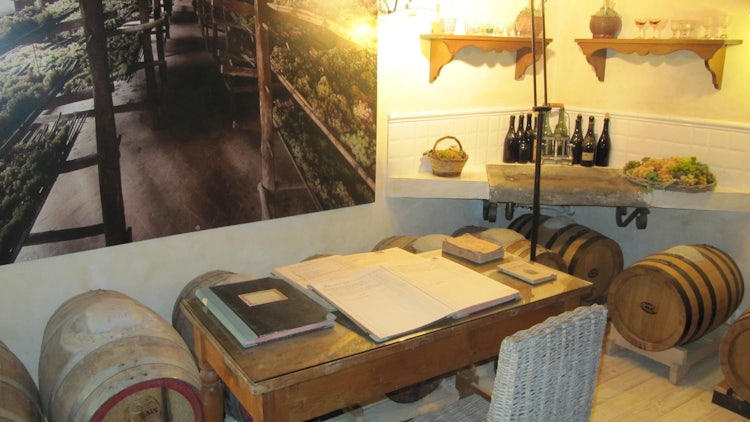 Reserve Now at Fattoria Torre a Cona
Whether it is your first visit or not, Torre a Cona proposes a complete Tuscan experience with elegant and comfortable accommodations, attentive front desk service, stunning views close to the exciting city of Florence and easy access to major sites. In addition, you can truly live the Italian lifestyle with an onsite wine tasting and visit of the historical wine cellar.