Up until summer 2012, if you were getting married in Florence in a civil wedding, you went to city hall. In a city such as Florence, that is still pretty special since that means inside Palazzo Vecchio, the city hall for the past 8th centuries in Florence! Marriages take place in the "Sala Rossa", or the Red Room, which is sumptuosly decorated in red, from the curtains to the chairs to the table cloths.
The city of Florence has decided to get a little smarter and offer the possibility to get married outside of the Sala Rossa, including two other sites within Palazzo Vecchio: the magnificent Salone dei Cinquecento, the heart of Palazzo Vecchio (can be seen in the photographs in the slideshow abve) and the Sala di Lorenzo in the museum section. This means an extraordinary wedding surrounding by masterpieces by Michelangelo and Vasari!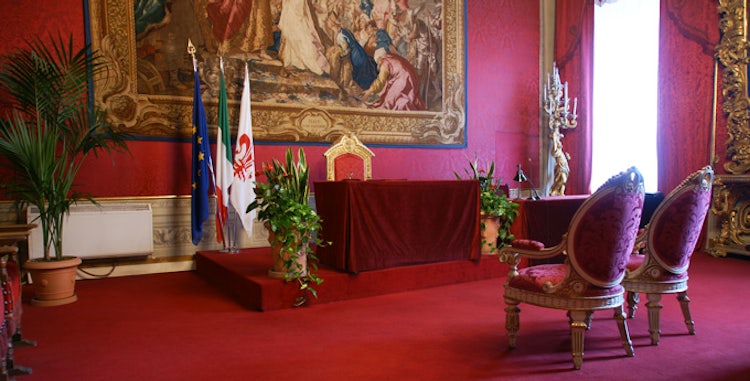 For civil weddings, you can also gett married at these additional locations:
- the Rose Garden below Piazzale Michelangelo from which you enjoy a beautiful view over Florence amidst the beautiful scent of roses when they are flowering (pictured above)
- Villa Vogel, a stately villa surrounded by park in a residential area on the southern part of Florence.
- inside the Bardini Museum, inside the Renaissance palazzo that used to house the collections of the 19th century collector Stefano Bardini, today housing many artistic masterpieces of the Middle Ages (pictured below).
In addition to these new locations, there is also the possibility to get married outside of "normal" hours at Palazzo Vecchio and these sites, which will make it easier to organize your wedding when you wanted it. Weddings can now take place Tuesdays through Sunday.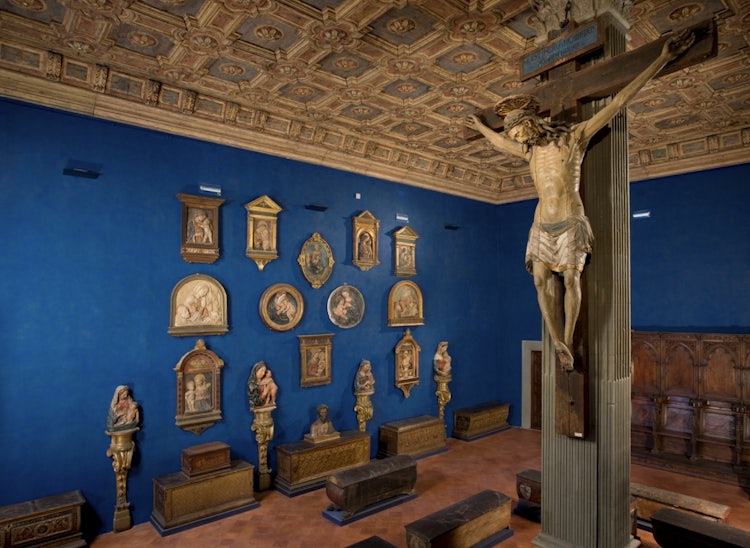 Of course, there is a price list for the new locations that depend on whether at least one of the soon-to-be newlyweds is a resident in the city or not, and cost also varies depending on the day of the week the wedding falls on. Costs vary from 500 up to 2000 euro for the Sala Rossa, Villa Vogel, Sala di Lorenzo and the Bardini Museum while the Rose Garden can cost up to 3000 euro and the Salone dei Cinquecento is the priciest at 5000 euro. It is definitely the most grand!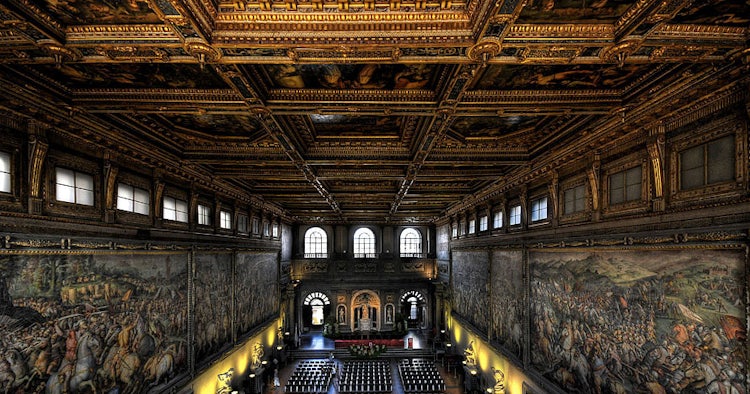 With this in mind, if you have the budget for a dream wedding in Florence, get in touch with Palazzo Vecchio to organize the wedding of your dreams there or in another location across Florence.
In Florence, events for large weddings have been held in piazzas (princely weddings to be sure!), while nearby luxury hotels, palaces and villas have been converted into beauty farms and much more to host guests. As long as you can afford to "rent public space", Palazzo Vecchio will work with you and your wedding planner to make your dream wedding a reality!
For complete costs and times/days, as well as other details, check out the marriage page on the City of Florence website (only in Italian) and the subpages created for non-residente foreigners, Japanese, Austrialian and American citizens getting married in Florence, all linked on the bottom of the left column (everything only in Italian). You can also call the Marriage Office at +39 055 276 8518 or email: matrimoni@pec.comune.fi.it but don't expect to have anyone answer in English. This is where the wedding planner actually comes in...
Practical details about getting married in Florence
While I've posted the contact info for the marriage office above, I'll be honest and tell you it isn't easy to plan a wedding directly on your own if you have no knowledge of Italian. First of all, the wedding office does not have someone who speaks English on staff, even if sometimes they will try to understand and reply. So your first hurdle to planning a wedding in Florence is the lack of the local language: if you don't speak Italian, you can try and call (but it would be better to email) and see if you get lucky and get a reply from the one person in the office who does speak some English. Otherwise, the easiest solution is to get a local to help you in the shape of a wedding planner.
Consider getting the services of a local wedding planner for this type of assistance. I recommend this over a simple translator since wedding planners know the requirements for the documents you need to to book a wedding. Not all wedding planners might offer just administrative assistance, but many do! So you can ask for help with what you need, whether it is just in dealing with Palazzo Vecchio, getting the appointments and dealing with paperwork or more. Take a look at our page on wedding planners and contact one of them to request help!
A dream wedding in Florence and Tuscany
If you're not interested in a civil wedding, just a symbolic destination wedding, then many of the villas across the region will be perfectly happy to plan and host a dream wedding on their grounds.
Take a look at some of the villas we've visited and found perfect as wedding villas in Tuscany!