Add something different to your Itinerary
Looking for della Robbia ceramics, Greek & Roman artifacts and Donatello?
This is what I would call a "rainy day" museum. A museum, where it is best to stroll around, not looking for that "one" masterpiece, but rather to appreciate a collection of mixed antiques, artifacts, oddities and even pieces of Florence….pieces of Florence that probably even the Florentines themselves don't known still exist.
The building, restored and restructured by Stefano Bardini, is fashioned in an "eclectic taste," with a predominantly Renaissance style. A fascinating bit of history in itself; as noted in the plaque next to the entrance, it originated as a church and convent built in 1273 by Gregorio X to celebrate peace between the warring Guelfs and Ghibellines. The church San Gregorio alla Pace, with the suppression of many religious sects in 1775, was transformed into Palazzo de' Mozzi before being acquired by Bardini.
Restructured extensively by Bardini to display his collection to potential buyers, he revolutionized the way of exhibiting antique wares. Realizing that they were not always bought for the importance of the piece, but rather for the environment or setting that they created, he would often mix and match complimenting items together to create a "scene"; putting Roman artifacts with stone hearths from the 1500's or marble sarcophaguses with armory.
Who is Stefano Bardini?
Nick-named "the Prince of art dealers," he was an artist. An Italian connoisseur. A collector. A restorer. An avant-garde.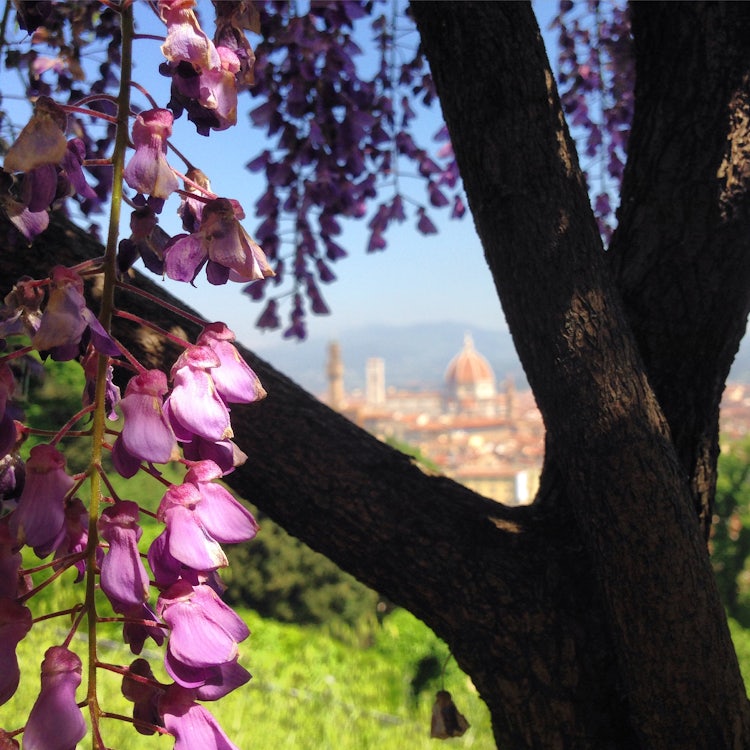 Spectacular City Views:
Add the Bardini Gardens to your itinerary
and get a prime Skyline vista of Florence.
Though he studied and dabbled in painting, he quickly grew discouraged and left it behind. He joined Garibaldi on his crusade to unite Italy and strangely enough, en route, found his calling...an antiques dealer.
Definitely a man with a new way of viewing the past - ways that would change how museums restored and exhibited works of art for years to come. His friends, colleagues and client often said he had an uncanny ability to recognize beauty.
As an art dealer, he broke up and sold off many private collections and in doing so, helped fortify several museums with their collections.
His success came since he was recognized as having a very astute eye and could identify hidden treasures, some of which now grace the actual museum.
His untiring work in restoration brought about many new techniques for detaching frescoes and preserving antiquities. It is interesting to note, that though he would "restore" many pieces for resale, he prefered not to restore those in his private collection; he determined that it destroyed the integrity of the artwork. This, from the man who would mix fragments from different origins together to create a finished piece - a clever way to make a sale. This technique is called "pastiche" which means an artistic work in a style that imitates that of another work, artist, or period. It is well known that Stefano would take several fragrments and put them together to crate a "whole" piece which would sell better.
What to See
The most important thing to remember as you wander around the museum: it is not set up in any chronological order. And since Stefano Bardini rarely recorded the origin of the pieces when he bought them, often the items you are looking at are not even identified.
Another important thing to remember: some items are not what they seem, they are actually a composite of several items put together to create a finished opera.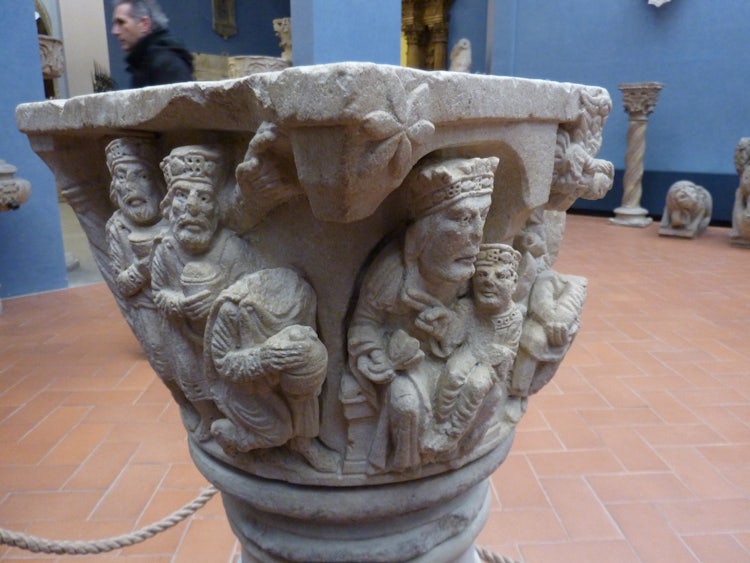 The map that you receive at the entrance will guide you to some of the more celebrated pieces and a guide to viewing the museum that will help you give order to your visit. In addition to the map, you can opt for an audio guide (4€) and there are several panels throughout the museum which will assist you in understanding and appreciating just how Stefano Bardini's life work influenced international museums, collections and how we literally "view" art today.
One of the most distinctive features about the museum, other than the use of natural light and large open spaces, are the blue walls. When the collection was donated to the city, one of the first things the new curator did was to whitewash the walls and re-distribute the collection in a more "logical" fashion. Only recently, thanks to the use of the many photos available of the original distribution, has the museum been "restored" to Bardini's original concept. The blue walls, a Bardini trademark, was a marketing technique to increase the brilliance and glow of the white marble.
Once you realize that you are walking around an antique store as much as you are walking around a museum - it becomes easier to let yourself enjoy the beauty, the craftsmanship and the setting … without thinking about who, when and where.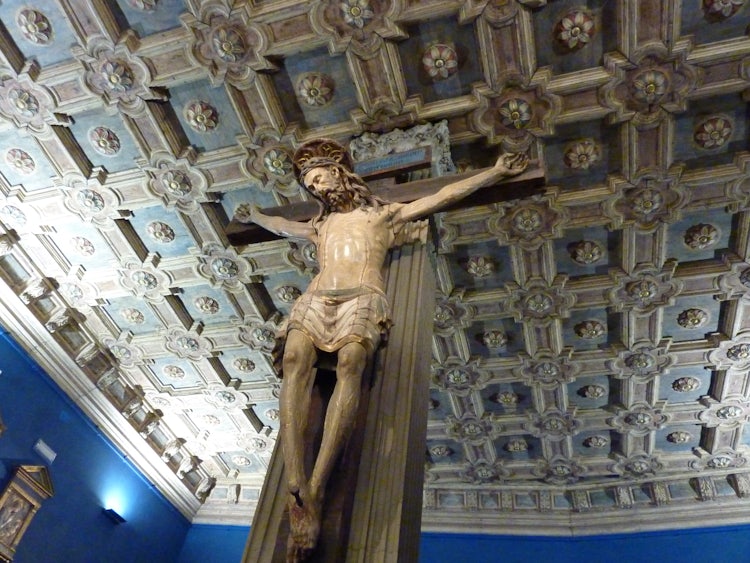 Highlights of the Museum
Crucifix by Bernardo Daddi stands over four meters tall, and truly dominates the museum - visible as soon as you walk in, it draws your attention immediately. However, as far as the organization of the museum goes it is the last piece you see up close --- and I encourage you to leave it that way, because the entrance into the room brings you up close to this amazing piece.
Bardini, took full advantage of the urban renewal of the City and purchased many artifacts and icons of Florence. The Porcellino, which everyone will recognize from the marketplace is a prime example. This room also exhibits a piece by Giambologna, which is as intricate in design as it is spectacular in its fantasy.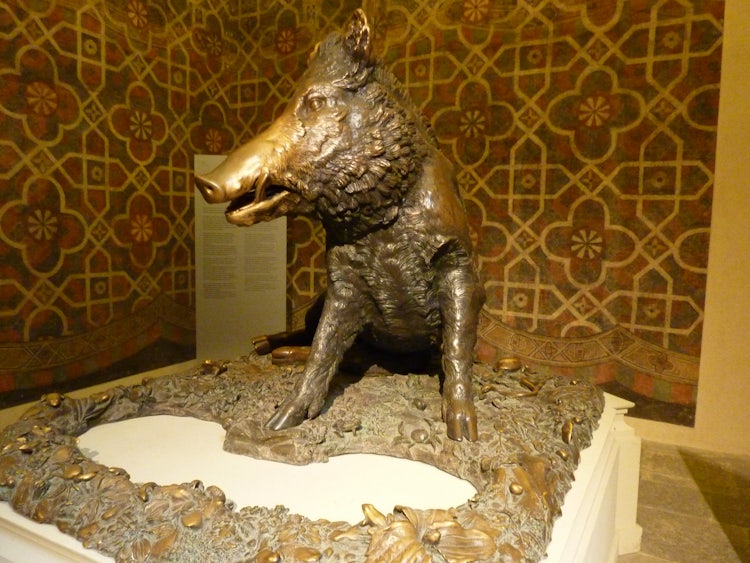 There is are several examples of leather pillows and tapestries from the 16th century called corami. They appear as large patchwork quilts hanging on the walls.
The two pieces attributed to Donatello, demonstrate the versatile nature of this artist. The Madonna della Mela is a polychrome terracotta bust The other is a masterpiece of collage, mixing different styles create depth and light.
And remember to look up! The ceilings in every room, mainly of Florentine and Venetian origin are a fabulous collection of color, style and fantasy.