Public transportation in Florence is widely used. City buses (they are orange buses, but the newer models are a deep purple and white color and the most recent are blue) are run by ATAF and LI-NEA. Ordinary (a single use 90 minute ticket) and multiple-ride tickets (four 90 minute rides on one single ticket) can be purchased from authorized sales points (bars which are coffee shops here, tobacconists, newsagents: anyone with "ATAF" stickers on their shop windows) and from the ATAF booth within the SMN train station.
Let me say this again: Buy your tickets BEFORE you board the bus, as the bus driver does NOT check tickets and let's everyone on without asking for a ticket. You can buy tickets from the driver but they cost more - and since they often run out of tickets, there is no guarantee you can get tickets from him/her!
Since 2010, Florence got its first tram line, the T1, that runs from Scandicci to SMN train station. Tickets for ATAF also work on the tram. The city is currently (2015) building two additional lines, one from the airport downtown and another from the city's main hospital, Careggi, downtown. These construction works cause traffic and a lot of congestion if you drive or ride buses in the northwestern area of town but the tram should eventually reduce a lot of traffic in Florence. There are ticket machines at all 14 stops of the current T1 line so buy your ticket before you get on.
Tips on riding on ATAF buses
There are three doors on the ATAF buses, the front and back ones are for getting on and the middle one is for getting off. After you get on, make your way to the nearby "ticket validating" machine and put your bus ticket in. The date and time is then printed on the ticket, starting the time validity of your ticket. You basically have 90 minutes on your ticket, so you could get on and off onto different buses and you use the same ticket.
Buy tickets ahead of time - and avoid fines!
You should buy tickets before getting on the bus and really SHOULD validate the ticket: don't be tempted to not do it and "reuse" the ticket on another ride. Even if the system still works on an "honor" system, there are many who abuse the system to everyone's detriment. For this reason, there are many controllers continuously getting on buses and checking tickets. We've seen many tourists get a fine for not having a ticket or not having validated their ticket, often because they didn't realize how the system works. It is easy: buy ticket, get on and stamp it, ride the bus without worries! Once controllers get on the bus, the driver will NOT sell you a ticket. Fines go up to 240 euro, but average is around 45-50 euro that I've heard of.
If you get on and need to ask the driver for information (if you know you are on the right bus), first go validate your ticket, then return to ask the driver! An "I didn't know" will not get you off the hook if you get caught without a stamped ticket. The fine is minimum 40 euros if you pay on the spot or within 5 days of getting the fine (payable at the ATAF office at the SMN train station), then it goes up. Don't risk a a heavy fine when the cost of the ticket is small. Buy several tickets beforehand and use them as you need them. Tickets are valid for 90 minutes and cost €1,20 each. A 4-ride ticket costs € 4,70 (base ticket could go up to 1,50 euro in the summer of 2015 but this has not yet been confirmed).
If you don't have a ticket and no means to get one beforehand, you can sometimes buy one directly from the driver for € 2,00 (no change is given so make sure to hand the exact amount). It's more expensive but worth buying rather than risk riding without a ticket. Even if he has run out tickets, if you don't get off at the next stop, it is as if you were riding without a ticket and can be subject to fines. So if the driver says he has no tickets, get off the bus and go get one elsewhere!

As a last resort, if you have a cellphone number, you can get a ticket by SMS by sending a text message with the message "ATAF" to: 4880105. The cost is € 1,50 for the ticket and you're supposed to send the message before getting on the bus, as you need to wait for the replying text message that confirms purchase and validity of the virtual ticket before getting onboard. But if you are onboard, there are tickets from the driver, and you do have a phone, just send it and wait for the ticket to arrive. Otherwise, get off the bus at the next stop, try to get a ticket again or you'll be risking a fine if you're caught.
Firenze Card
If you buy the Firenze Card to get into museums, it includes unlimited bus travel on ATAF buses for the 72 hours the Firenze Card is active. You need to get the special bus ticket when you buy the Firenze Card, since it will have the card number on it, and stamp this bus ticket the FIRST time you get on a bus. If you're asked for a ticket, you need to show this ticket along with your Firenze Card to the controller.
Bus Maps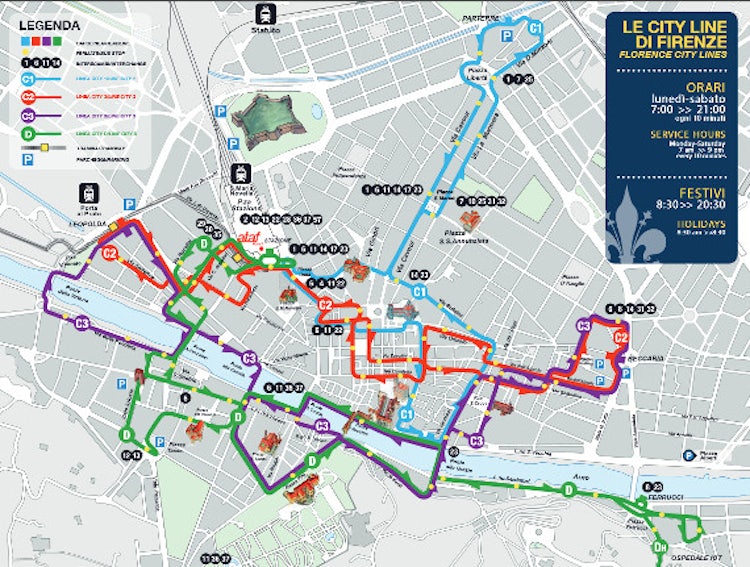 This page on the ATAF website has two maps showing the current routes of the various lines. The CITY LINE map (preview above) shows the ones that cross the historical center, the colored routes of the C1, C2, C3 and D lines. Since the Duomo area, Via Tornabuoni and Piazza Pitti is now pedestrian-only area, most of the buses going outdide of the center either can be picked up outside the SMN train station or in Piazza San Marco.
For more information: You can call the "ProntoAtaf" hotline toll-free within Italy (800 424500) or obtain more information online at www.ataf.net. The ATAF booth, located in the ticket area within the SMN train station, sells tickets, gives out information and provides maps of the bus routes. The small bus office in Piazza San Marco on the side opposite the church also gives out information. Try to know exactly which bus to get on before getting on, just ask the driver to let you know of a specific stop if you don't know where to get off. Normally drivers are not the ideal source for general information on routes - they are trying to concentrate on driving and respecting the route schedule. If you're not sure you're on the right bus, do punch your ticket in the meantime.
Sightseeing Tours within Florence
They've only been in Florence for a few years, but the open top, two story sightseeing buses seen in other cities of the world offer an interesting way to view the city. The buses follow a route to take you by all of the main sights as well as passing by the more panoramic points that you might otherwise not visit if you're going through Florence quickly (meaning limited time like a day in Florence). View details and book your tour of Florence now ».
Visiting nearby areas outside Florence
Tourists interested in seeing areas outside of Florence by bus will find all of the bus companies in the area around the Santa Maria Novella train station. The main lines offering services are: CAP, FlorentiaBus, Lazzi and Sita (now called BusItalia). Some lines service particular areas around Florence, so depending on where you want to go, you might have to go with a particular company. Check the schedules on their sites to see which one is the one you'll need to take - in general, CAP takes you toward Prato, Lazzi to Pistoia, Valdarno and Lucca, Florentia is for longer distance trips but also runs the bus to the McArthur Glen Shopping Outlets in Barberino and SITA runs most buses to Chianti, Mugello, Casentino and Siena in cooperation with other companies.
Questions?
If you have any specific questions about how to move around Florence - how to get to a specific landmark or which buses to take, feel free to post your questions on our Florence section of our Forum! We will glady offer any assistance we can :)!