Standing apart from the others in Florence
When a well-established yet innovative B&B wants to let their potential guests know about the long list of reasons why a guest will sleep easy within their walls, they need to come up with a memorable yet convincing method of communication.
Antiche Dimore Fiorentine, a combination of comfortable rooms and suites located only minutes from Piazza San Marco in the center of Florence, wanted a creative solution to communicate their news and award winning service. So they decided to create a series of "personalities" to share their love of Florence experienced in various ways to both promote themselves as well as Florence.
In the heart of Florence, you will find a soft and gracious decor, a subtle familiarity offered by a professional team and the dream-like quality of living an authentic slice of the Florence culture.
They have been present in the Florentine community for years in the guise of three separate structures, and have just recently united under the name Antiche Dimore Fiorentine.
A brand name which, when translated, aptly describes their concept of hospitality: vintage-styled homes with a distinct Florentine personality. The elegant decor mirrors that which you would find in any typical Florentine home of the slightly rich and and not to famous from the beginning of the last century; it reflects the understated luxury, the cozy touches that transform a place of business to a place to call home and the quality service you can expect at every level as what Antiche Dimore Fiorentine B&B hospitality is.
With a total of 22 rooms spread across three locations all less than 100 meters from each other, these B&B accommodations invite you to discover not just Florence "the city", but Florence "behind closed doors."
Antiche Dimore Fiorentine Defines Creativity
So what was the solution? The team at Antiche Dimore Fiorentine put their heads together and chose to use the Florentine sense of humor to proclaim their virtues while helping future guests acclimate themselves in Florence with the use of a personalized guide, listing tried & true restaurants, shops and, of course, their favorite monuments.
The guest profile at Antiche Dimore Fiorentine often includes fashion designers, art critics and wine aficionados along with a long list of international patrons ranging from first time visitors to those with a busy schedule of business meetings. No matter the differences in background and reasons for being in Florence, all of their guests receive the same type of warm welcome into a Florentine home.
The team decided to bring some of these figures to life with a comical twist, creating videos and blog posts within the Antiche Dimore Fiorentine blog to share their unique point of view. Lea, owner of the bed and breakfasts, explained that all of this then creates a totally unique and exclusive guide to the city for their "real" guests.
Who are these guides?
They choose 6 fictional characters, and using a playful turn on their names (some more obvious than others), made use of social media to turn them into their "blogging guests", where they express their enthusiasm for the Antiche Dimore Fiorentine charm and character of the B&Bs through a series of slightly humorous introduction video blogs.
These various characters inspired a satirical yet "fun" way to highlight the beauty of their host city, particularly with fake celebrities with exaggerated personalities to convey the B&B's message.
Here's an example of the biographies of their "guests" who know and visit Florence, sharing their favorite recommendations to other guests:
Farina de Cantucci
She is your food blogger acting the part of a prominent figure in the gastronomic universe. Life always offers new flavors, and she brings them to you in the form of reviews on restaurants, cafes and dining establishments in Florence!
Brunello della Rovere
This guy is for those who enjoy the culture of wine that pervades almost every aspect of life in Tuscany. With an exaggeratedly obsessive personality, Brunello is an oenologist, sommelier and advisor to major Tuscan wineries. He loves his wine and he loves sharing its secrets in his blog posts about where to find the best.
Philippe Braverio
Another important aspect of Tuscany and for Florence in particular is the massive collection of masterpieces of art. Who better to help you navigate museums, art galleries, shows and monuments than a fictional renowned art critic, journalist, and university professor? His goal is to show you the best places where you'll fall in love with the art, history and the culture of Florence.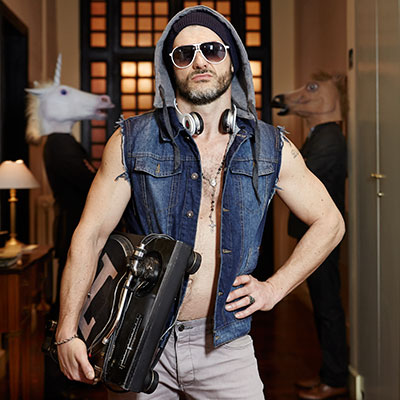 David Fetta
Sometimes you just need to "let loose" while on holidays, and finding just the right place can be a challenge if you don't have someone on the inside. This fictional character is all about helping you have a crazy and wild time in Florence, particularly in the evenings going to jazz concerts, out to dance and discovering the latest hot spots of nightlife.
Donald Rump
Florence is a thriving business center for fashion, jewelry, handcrafts, leather, wine and much more. The comfortable, and relaxing environment at ADF (Antiche Dimore Fiorentine) is just the place to de-stress, as seen by this playful "uomo d'affari" (businessman).
Miranda Gristly
There can be no doubt that Italy is a leader in high fashion – and Florence is one of the epicenters with its flagship shops, outlet shopping, Pitti fashion shows and cutting edge design. This unmistakable parody of Miranda from the "Devil Wears Prada" will lead you to the best places to find the best fashion and the best deals.
What to expect from Antiche Dimore Fiorentine's guides?
Florence is their stage – and they have the hometown advantage. Keep checking back to the Antiche Dimore Fiorentine blog as you prepare your trip to Florence and look forward to something new in each one of these areas by the various personalities. The team at ADF, who use these fictional characters as their spokesmen/women, chose their themes with an intent to make your stay with them and in their city the best it can possibly be!