Driving in Florence is tough, even for residents and locals. I can only imagine how it must be for anyone arriving fresh off a plane or train to consider renting a car to drive in Florence and Italy - and I think you are really brave to be considering it!
If you're using Florence as your base, you might NOT need to rent a car at all. If you have a few days in Florence and Tuscany and will only be visiting Florence with maybe a day trip to Pisa or Siena, I would suggest to skip the car rental altogether and use trains and buses to get out of Florence. Within Florence, all you need are your own two feet. For a day, you might even consider renting a Vespa scooter!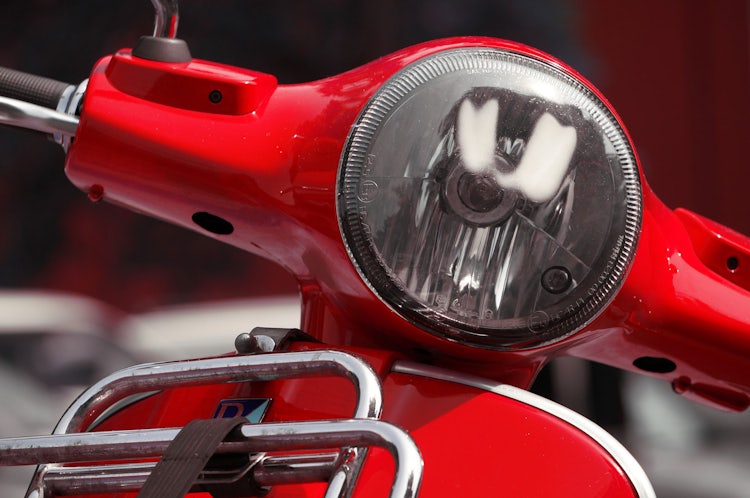 Now, if you have a few more days, you can rent a car for a day to reach areas that are hard to reach with public transportation.... or divide your time between Florence and somewhere else in Tuscany, renting the car as you leave Florence to spend a few days in the countryside.
So in answer to the most common questions we get about driving in Florence and renting a car, here's some more details:
Do I need to rent a car while I'm in Florence?
The short answer is no, you don't need a car to visit Florence.
The historical center is small and walkable as well as a limited traffic area (ZTL) that requires special permits to drive into. In addition, many areas around the main sights (Duomo, Piazza della Repubblica, Via Tornabuoni) have been completely pedestrianized which is wonderful! If you're on foot, you don't want to worry about traffic or standing in the middle of the street to better admire monuments such as the Cathedral!
Must-reads if you're considering driving in Florence
Make sure to read all about driving in Florence BEFORE you come to Florence, as driving here requires attention and knowing you CAN'T drive around the center without a special permit. Also important to know where to park (or not).
When do I need a car?
If you're combining Florence with a stay in the Tuscan countryside, as soon as you leave Florence would be the best time to rent a car to move out of the city. Many of the small villages in Chianti, in southern Tuscany in the Val d'Orcia and Maremma and other areas are not easily reachable by train and even bus service can often times be quite limited. Having your own means of transportation is the best way to go: it offers the freedom of moving around on your own time and the freedom to reach all of the places you want to. Also read additional tips for renting a car in Tuscany.
What if I want to do a day trip? Should I rent a car then?
If you're interested in heading in to the wine region of Chianti or north into the green valley of Mugello, I would say yes, in this case you should rent a car for the day trip. This way you can have the convenience of renting a car as you explore the Tuscan countryside at your own leisure for that day. Both Chianti and Mugello are hard to visit without a car, and if you're using Florence as your base to return to, a car for one day is definitely recommended.
Are you feeling adventurous? Then you can even consider renting a Vespa scooter for the day to head into Chianti... or even do a bike rental! There are many hills in Chianti, so in this case, I would suggest joining a bike tour (who have routes for various levels of fitness)
Where can I rent a car in Florence?
You can pick up a car at the Florence airport and this is the best location if you plan on heading straight out of Florence onto the A11 or A1 motorways or to the Florence-Siena roadway without the worry of dealing with traffic in Florence as the airport is right by or close to these motorways.
If you're in downtown Florence, you can rent a car without having to head out to the airport area. The majority of the car rental agencies are located in the area southwest of the Santa Maria Novella train station in the Borgo Ognissanti area, specifically on Borgo Ognissanti, Via Maso Finiguerra, Via di Melegnano and Via Santa Lucia. This is within the ZTL (limited traffic area zone) so make sure to get precise instructions from the car rental agency on how to get out of the center and back in for car return without getting lost (there are lots of one-way streets). Make sure the license plate is communicated to city police so that it is taken off the fine list for having entered the ZTL area.
The map below highlights the streets near the SMN station where the car rental agencies are located, you can also see some of their precise locations here.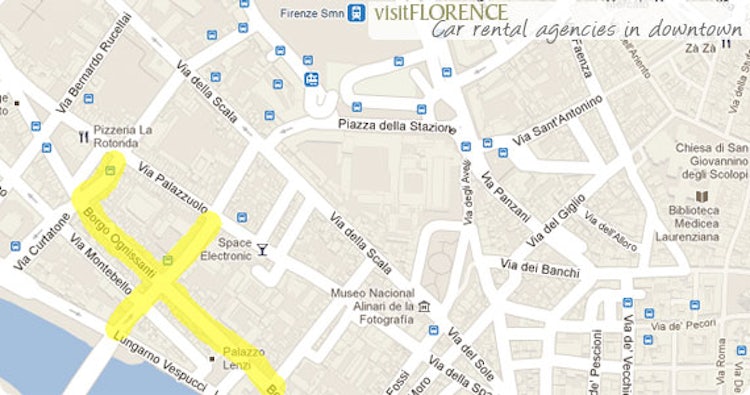 If you're outside of the main historical center, there are a few other agencies on Via Amendola (near Scandicci), Via Erbosa (southeastern Florence), Via del Gelsomino near San Gaggio and via del Sansovino (Hertz) and Via di Novoli to the west of the historical center. Check where you are staying at on a map such as Google Maps against the addressed of the car rental agencies to choose the location closest to you.
So what do you have planned for your vacation in Florence and Tuscany? Ready to rent a car and drive? You can book your car rental now with all of the main international car rental agencies through our partner RentalCars.com!
Fueling tips
We recently read an article that highlighted the difficulty some visitors might have in trying to figure out at the gas pump which fuel to put into their car rental. The wrong type of fuel can mean damages to the car's engine and lots of extra costs to repair the car... so we thought it would be useful to highlight that in Italian, "carburante" and "benzina" are both generic words for gasoline/petrol. But diesel is diesel in Italian too and does NOT go into a car that uses gasoline. PAY ATTENTION at the gas pump and, if you're not sure, ask the gas attendant to help!
Another tip to get the right gas into the car: diesel is always lower cost than gasoline/petrol so check the price shown at the pump. If it seems too low, then check again that you aren't at the diesel pump.