Florence's much-feared ZTL area demystified, useful if you're planning to drive (or thinking of driving) in the Renaissance city
One reason why Florence is so pedestrian friendly is because the historic center is closed to traffic except for residents, taxis and buses. Great news for walkers and cyclists, not so great for drivers. This area is known as the "zona a traffico limitato" or ZTL, meaning it is a restricted traffic zone.
Since we're asked about this quite often, it made sense to sit down and try to write a clear article that puts what it is, where and how it works into perspective as the official website is not that user-friendly (although it has improved!). Please read the entire article below carefully if you're planning to drive in Florence and post any questions you might have after in the comments section or on our Forum (where you can also ask us about your itinerary doubts).
What is a ZTL?
A ZTL is a Limited Traffic Zone, meaning an area where cars are controlled with special permits. Your car rental won't have a permit for these areas so please pay attention to what we're sharing in this entire article to avoid fines months after your visit. You are tracked down through your car rental agency and it might take a while but fines will reach you back at home.
First, keep in mind that Florence is not the only town in Tuscany with this restriction. Many cities have created these restricted areas in their "downtown" to minimize traffic and make moving around easier for pedestrians and cyclists. The zone is marked with signs indicating the start of the ZTL area and WHEN you can and cannot enter. The ZTL areas are only "active" during certains hours (more below), but the hours and days depend on each town.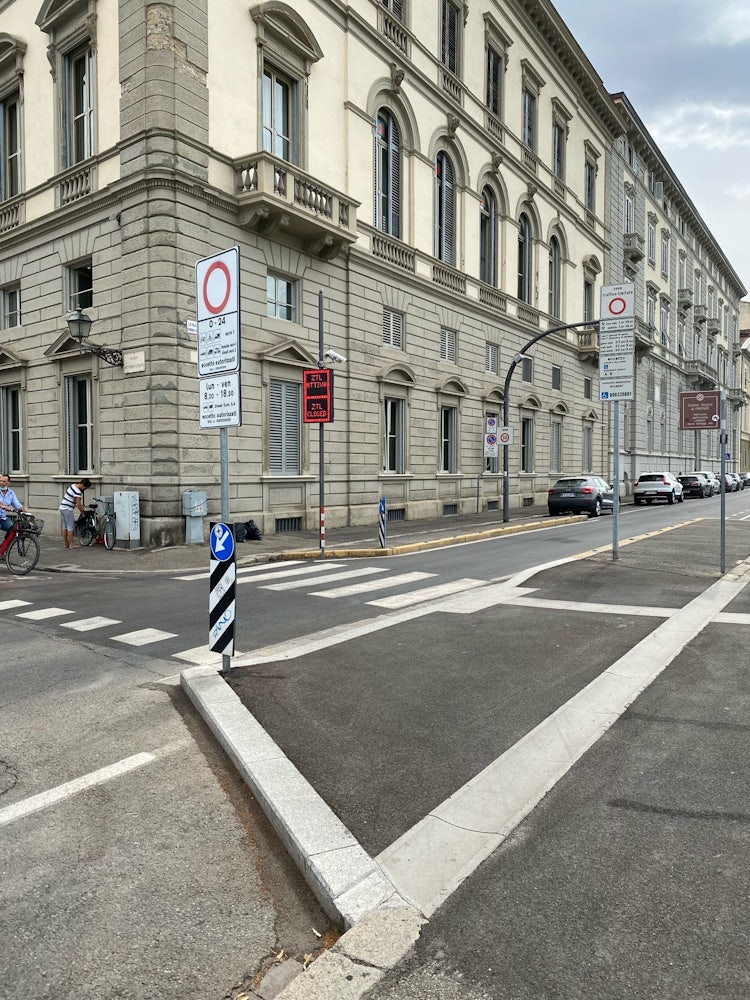 In Florence, this is indicated by a red or green light (green meaning you CAN enter and red obviously meaning you can't unless you have a permit). There are video surveillance cameras shortly thereafter that take photos of ALL cars and their license plates which are then checked off on a "white" list to see if the license comes out on their database as having a valid permit. Please be careful and do not enter during the prohibited times because you will be fined! If you enter the ZTL area by accident, you will still be fined, even if you leave a minute after.
The good thing is that once you are near most "doors" or entrances, there is a way to turn either right or left or onto a roundabout and go back the way you came without entering the ZTL. Sometimes this is not easy to achieve, so please be careful and know the route you are planning to take to your destination, whether it is a hotel, private garage or car rental agency so you can follow the route exactly. Unfortunately many GPS do not signal ZTL entrance points and might map your route through the ZTL area. If you know your destination is within, how about contacting them directly and asking for advice on how to reach them? They should be the best at providing the best route to get to them.
The ZTL area in Florence is actually further divided into A, B and O areas within the ZTL in terms of permits, the A area being an even smaller restricted space in the very heart of the old city center. All are considered ZTL areas and are off-limits to you, but the A area is off-limits for those without a permit AT ALL TIMES (the red light will always be on unless you have a special permit for that area - this means those with permits for B or O cannot enter A unless they live there). Also note that the areas around Piazza del Duomo, Via Tornabuoni, Piazza della Signoria and Piazza Pitti are fully pedestrian-only areas, with only taxis (and ambulances and a few others) allowed to move around in the day time so this restriction on traffic should be quite pleasant when you are out and about seeing the sights on foot. You will definitely appreciate Florence on foot much better because of the ZTL!
When is the ZTL "active"?
Essentially what the ZTL means is that unless you are one of the vehicles mentioned above (resident, bus or taxi) with a permit, you cannot enter into the city center during the following times:
Weekdays from 7:30 am to 8 pm
Saturdays from 7:30 am to 4 pm
This also means that after 8pm on weekdays, after 4pm on Saturdays and all Sunday, the ZTL IS ACCESSIBLE to anyone, not just those with permits. But watch out and continue to read carefully, as there are EXCEPTIONS to keep in mind!
EXCEPTIONS TO KEEP IN MIND
Starting April 6, 2023
Note that from this day the summer hours are active and last until the first Sunday in October (Oct 1, 2023).
The first one: the SUMMER EXTENSION! From the first Thursday in April until the first Sunday in October (longer than actual summer months), the ZTL is also "active" (which means it is prohibited to enter) DURING EVENINGS/NIGHTS on Thursdays, Fridays and Saturdays from 11pm to 3am on the following morning. This is because there are many weekend events during the summer evenings and people hanging out at restaurants, clubs and enjoying night life when the weather is fine. Many would enter the ZTL by car so by restricting the entrance of cars on these nights, traffic is reduced within the center. The ZTL area is also extended to cover additional areas beyond the traditional daytime ZTL for these night-time summer evenings... so when in doubt, just walk around downtown and leave the car parked in a lot or far away.

WHAT ARE THE SUMMER ZTL HOURS? During this time period, it means that on Thursdays and Fridays, ZTL is NOT ACTIVE between 8-11pm, then it is reactivated again from 11pm to 3am on the following morning. On Saturdays, it is not active between 4-11pm, then reactivated again from 11pm-3am into Sunday morning.

The second one: PARKING! Or, to be more honest, the lack thereof. The center is small, there are a lot of narrow, one way streets and parking is very limited. Even residents have trouble finding street parking. Parking within the ZTL area is possible, if you are able to find a spot, during the times that the ZTL is OFF/not active. The best solution in the end to avoid driving all over the center and risking going where you are not supposed to is to park in a city public garage or private garage. Read more about all parking solutions in Florence in this article.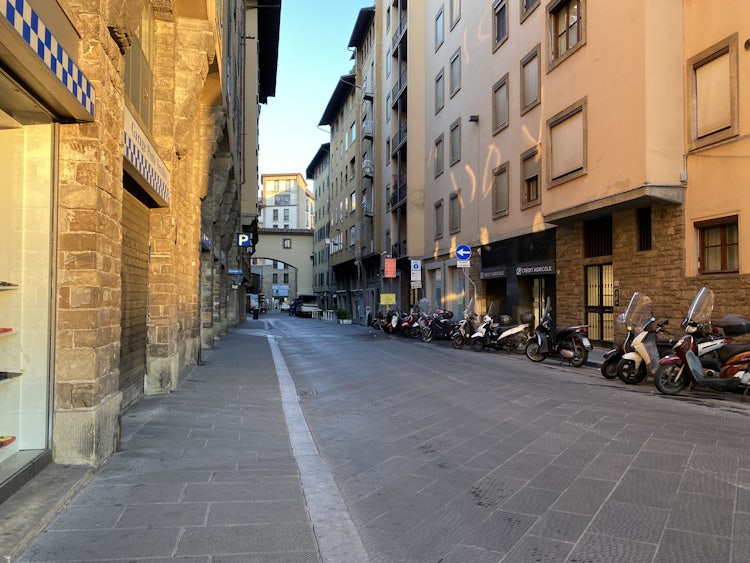 Where exactly are these ZTL "boundaries"?
If you are planning to drive in Florence or just arrive in Florence by car, you should be very aware of the boundaries of this area so that you don't accidentally enter it, especially on a wrong turn.
This is a preview below of the ZTL area and where the entrances and cameras are located - but check out the official map here to get the latest version and plan your route into Florence carefully to avoid accidentally entering when you hadn't planned on doing so. Essentially, the ZTL in Florence covers the entire historical center with a few streets not included to allow cars to get to the train station and to parking garages.
Car rental in Florence downtown, reaching hotels and private parking garages
Although this may make you think twice about renting a car and your travel plans, you can still easily plan on renting a car in downtown Florence to then visit Tuscany and return the car in Florence: read our useful tips here. Car rental agencies communicate your license plate upon your return into the ZTL so that is placed on the "white list" and you are not fined later for having entered the ZTL area when the light is red. Just make sure to double check that they do it on when you return the car, as there is a 3 hour time limit for them to do it once you've entered the ZTL to reach them.
PLEASE NOTE: If you rent from a location within the ZTL or on the border of the ZTL (as many agencies are on Borgo Ognissanti), you have to be EXTRA CAREFUL in leaving the ZTL area to NOT MAKE WRONG TURNS and go back into the ZTL and out again. That entrance back into the ZTL will not be communicated to the police and you will likely be fined a few months down the road!
If you arrive with a car for just a day trip in Florence, the best solution is to park the car at one of the many parking lots outside of the city center, which are often much cheaper than the private ones inside the city center. If you're in Florence for a few days, you can stay at one of the lots that have daily passes or check whether your hotel, B&B or apartment offers parking for you.
If you are staying at a hotel within the ZTL area, you can generally drive into the ZTL to reach them and unload your suitcases but you then have to leave the ZTL area to park if they don't offer parking for you. The hotel will communicate your license plate to the police for the date and time you entered to reach them and place you on the white list.
Check with your hotel or lodging before you arrive whether they do so - they have to pay to communicate your license plate to authorities so that it is placed on a "white list" and not all might do it (think of independent apartments you found on AirBnB and small B&Bs). If you would like to park inside the ZTL zone at a parking garage, they will, like the rental agencies, send your license plate to be placed on the "white list" to ensure you will not be fined later even if you enter during the restricted times when the light is red. You can book your parking spot at one of these garages in the center with Parclick (this is an affiliate link which means we earn a small commission if you book through this link) so that you have your spot reserved, which we recommend in the summer! Another option just a block from the Duomo is Park2Go.

Dangers of driving in Florence beyond the ZTL: RESERVED LANES!!!
I am adding this section to the article after receiving many comments about another danger of driving in Florence that goes beyond the borders of the limited-traffic area: RESERVED LANES! These are lanes generally reserved for transit only by public buses, ambulances, police cars, taxis (as well as NCC or cars with a private driver), and postal and sanitation vehicles (I went to look up the precise categories - all can be found here). These can be found ALL ACROSS FLORENCE and not just in the ZTL area!! Let me repeat that: they are found all over the city of Florence beyond the ZTL borders, AND THEY DON'T HAVE OFF HOURS like the ZTL does. Let's repeat that again, they are valid 24 hours a day! If you're planning on driving in Florence, pay attention and beware of this extra challenge!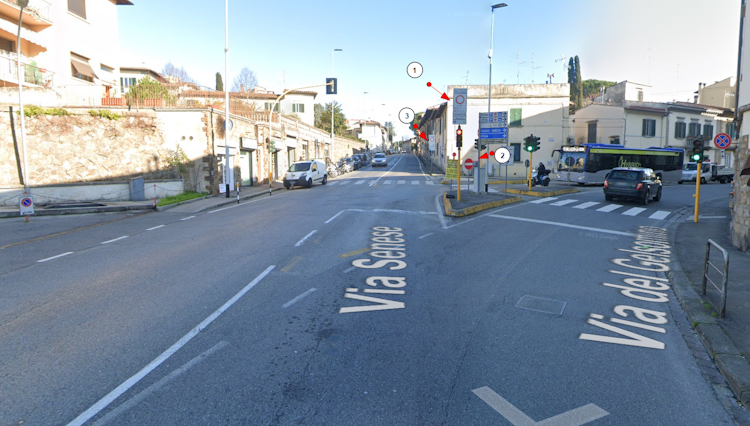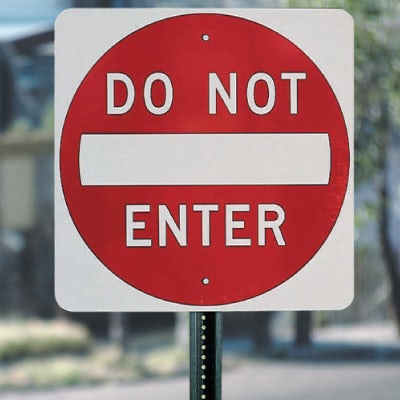 The photo above shows the start of the reserved lane on Via Senese in the direction of Piazza Romana. You can legally take that street in the opposite direction (see the cars coming down?) as you leave Porta Romana behind you BUT you CANNOT take it in the direction I am showing above, toward Piazza Romana! See those 3 red signs I've marked with 1, 2 and 3 in the photo? They mean DO NOT ENTER. In the U.S., the sign normally has the words written on it as the image to the left shows. However, signs in Italy (or other non-native English speaking countries) do not have any words on the red circle, these are international signs of the same sign. Take a look at that intersection above again. See there are 3 "do not enter" signs at the intersection? It is the same sign as the one on the left, just with no words. So whenever you're driving in Italy, pay special attention to the street signs, ask your front seat passenger to help you navigate by keeping note of all signs, particularly those RED DO NOT ENTER signs. Don't just follow other cars, particularly taxis or buses, at this intersection THEY can go straight on these "reserved" lanes. It is up to you to pay attention and not follow them. Yes, people receive fines months and years later after their visit to Florence and say they never went near the ZTL... but they get fines for driving on these reserved lanes (take a look at this recent post on our forum).

There are 3 types of reserved lanes (they all look the same) as well as exceptions - but rather than list what kinds and where they are, I think a general warning should help those already looking into the ZTL and how best to avoid it while driving here in Florence. Add RESERVED LANES to the dangers of driving in Florence, to be wary about although that applies for all major cities in Italy. I live here in Florence and even I don't know where these reserved lanes are unless I've driven in that area. I have to be careful when driving when I head to a part of town I don't usually drive in!
I hope this article helps clear any doubts about what the ZTL is, how it works and where it is as well as makes you aware of the reserved lanes! For any lingering doubts or questions, ask away in the comments section below or on our Forum (where you can also add any questions you have about your planned itinerary! 😉 )
LAST UPDATE: March 24, 2023