Colorful, Exciting Events Await you!
The Tuscan countryside is filled with plants and trees in full bloom which let off their inebriating perfumes: the warmer time of the year is knocking at our door and May pays its tribute to the rebirth of nature with a lot of events celebrating the enchanting sight of parks and city gardens during this period. Here are some of our suggestions if you just want to spend some time at Florence's top gardens.
Staying outside and enjoying the days as they get warmer before they get oppressively hot is the best advice one may receive. Especially in Florence and its surroundings you'll breathe an atmosphere full of a "contagious" joy, where time seems to stand still and you'll have the chance to recover your natural rhythm of life amidst nature, enjoying the secular rural traditions of the Tuscan countryside while taking part in those events designed to spread and share the ancient popular culture of these places - that's what a vacation is for, right?
Getting back to what's going on in Florence and surroundings in May, here are our selections of what we consider some of the most important or interesting events you could take go to.
Wonderful Discoveries Amidst Nature
On Sunday May 8, a guided tour will lead you to the discovery of one of the most popular garden in Europe: the Pratolino Medicean Park, bought - together with the villa, which no longer exists - by Francesco I dè Medici during the second half of the XVIth century and restructured by his most favourite architect Bernardo Buontalenti, who gave life to a wonderful place, rich in caves, sculptures and great wonders. If you want to book your visit in advance, take a look at this site where you may reserve your place and get more precise information about the event and prices.
If you're in Florence on May 29, head to the Parco delle Cascine to take part to the Spring and Artisan Beer Festival (from early in the morning - 8am - to 7.30pm), an occasion to enjoy an open-air spring day, do some great beer tastings and look after something to bring home with you among the many stands exposing a bit of everything.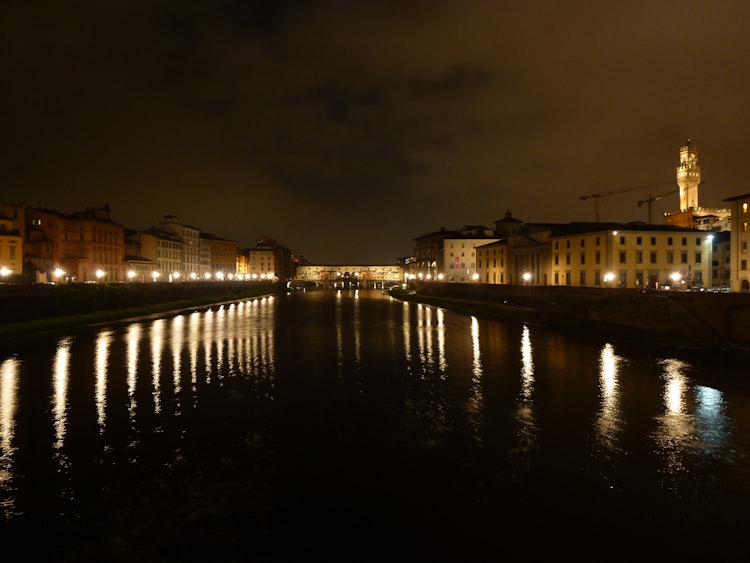 On Saturday May 14, don't miss the chance to take part to a one-of-a-kind walking throughout the historical center of Florence: the Florence Walking by Night is an occasion to take a 6 km long and non-competitive walk throughout the artistic and cultural marvels of the city by night, starting at 9pm. Costs is 5 euro per person and all proceeds will go to help the distance adoption project "Il Cuore si Scioglie" - Heart Mealt.
From May 12 to 15, the seventeeth century garden of the Palazzo Corsini in Florence will host - amidst plants and trees in bloom - Artigianato e Palazzo (Craftsmanship and Palace), where some of the most expert and renowned master craftsmen from Tuscany, Italy and even Europe will be demonstrating their practical skills through workshops and interesting exhibitions. This is a chance to discover local traditional craftsmanship and the ancient secrets that making this kind of work so special. www.artigianatoepalazzo.it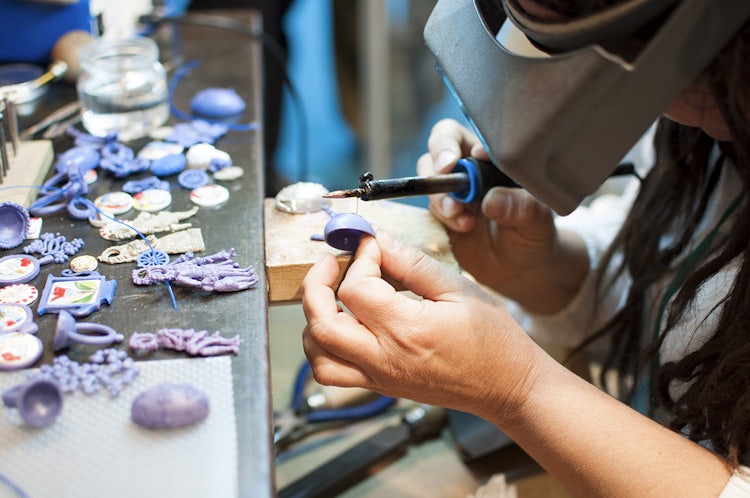 Another exhibition focused on local craftsmanship is going to take place at the Fortezza da Basso until May 1, 2016 (from 10am to 10.30 pm except on the last day, when the exhibit will definitely close its doors at 10pm). The International Craftsmanship Expo, however, is designed to showcase varying crafts from all over the world, from clothes to decorative objects and artifacts, from jewellery to furniture. An annual event in Florence since 1931, it represents an important date with the best of the Italian and international craftsmanship world, and considered a place where innovation and tradition blend together, forging works of rare beauty. www.mostraartigianato.it/en/ (info about ticket prices, the expo histor, stands maps an more).
A Whole Night of Music, Concerts & Entertainment

If you happen to be in Florence on April 30, don't forget the Notte Bianca (literally, white night) during which there will be street music festivals, stands, concerts, live performances and much more from 7 pm to 4am. Shops, restaurants, pubs will be extraordinarily open until late at night.
May 1 & 2: Culture opens its doors to the public!
On occasion of the public holiday on Sunday, May 1, many places of art will be open for the day: the Bargello, the Palazzo Davanzati and the Cappelle Medicee Museums will be open from 8.15am to 2pm, entrances allowed till 1.20pm. Seeing as it is the first Sunday of the month as well, you will also be able to take advantage of free entry into all three!
While some of the state and city museums will be closed on Sunday, May 1, they will be extraordinarily open on Monday May 2: the Uffizi Gallery (from 8.15am to 6.50pm), the Boboli Garden, the Costume Gallery and the Silver Museums will be open instead from 8.15am to 6.30pm, the Orsanmichele Church (from 10am to 5pm).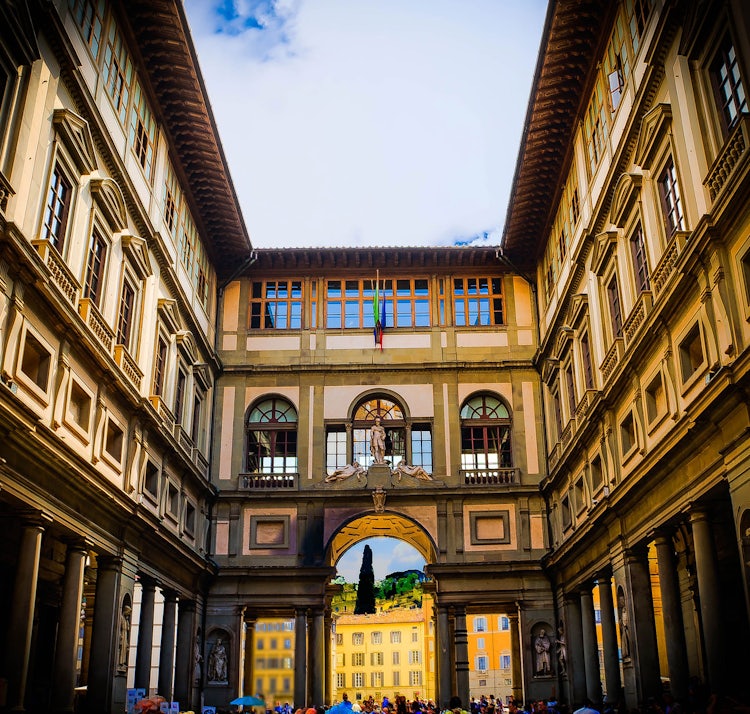 Enjoy a glass of Chianti in the Florentine countryside
Stepping out to the province, one of the most outstanding events is the Mostra del Chianti (Chianti Exhibit) in Montespertoli; in its 59th year, it will take place from May 28 to June 5th. An exposition totally dedicated to the Made in Tuscany and the local tradition that has contributed to spreading Chianti wine fame all over the world. Tastings of local products, conferences, technical workshops and historical parades will give life to an entire week of interesting workshops and more, all focused on the current leit motiv, that change from an edition to another. Wait just a few days for visit the website Mostra del Chianti for more information and scheduled events, since it still needs to be updated.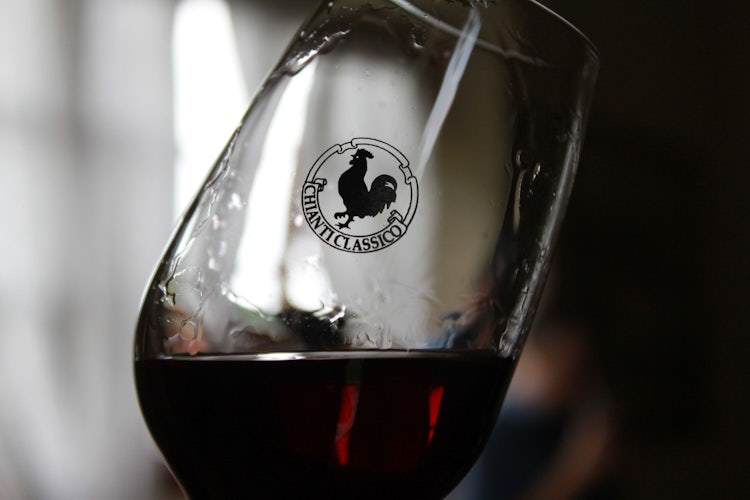 Speaking about Chianti - and consequently, the first thing that comes into my mind is wine - Saturday May 28 and Sunday May 29 is the annual weekend called Cantine Aperte, during which wine producers across all of Italy will open their doors to visitors and experts to taste their wines and local products, visit their wine cellars and discover their ancient secrets about wine production. This year, Tuscany will be promoting a special association between wine and an historic symbol of the region: the vespa, the great made-in-Tuscany motor scooter that has traced the story of the Italian means of transport. Hope on your Vespa to the discovery of the wineries of the Wine Tourism Mouvement, take a look at this page for more info.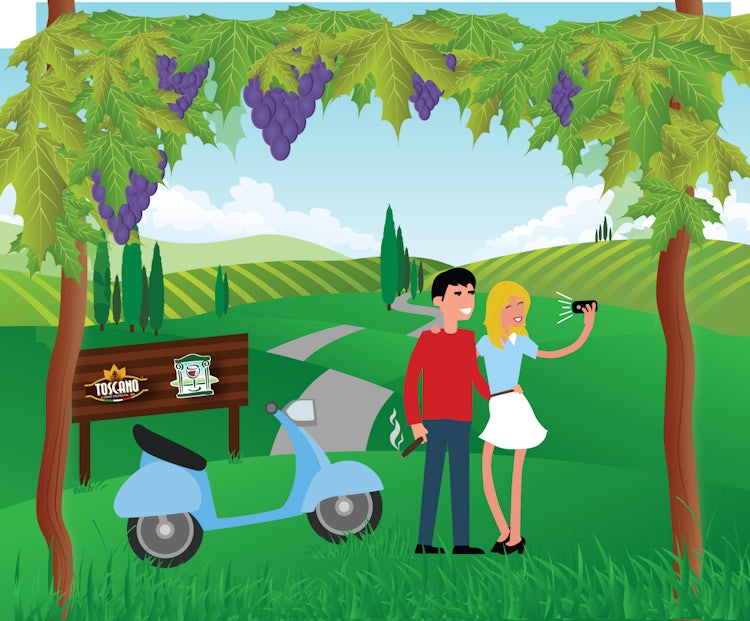 On May 1st, Pontassieve will be home to the traditional half marathon which, last year, brought sport and food together with the Footstock: along with this competitive half-marhaton, the magnatona was a sort of fun and pleasant walk amidst nature during which all participants had the chance to taste some of the most delicious recipes prepared by renowned Italian chefs and offered paired with Chianti wines. This year, while the official competition has already been confirmed, the magnatona hasn't yet, so we suggest you stay tuned for updates since the event was really great!
Missing the traditional food festivals? Don't panic, Monteloro is going to offer a nine-day feast dedicated to the wild boar and local dishes (Wild Boar Festival, from April 23 to May 1).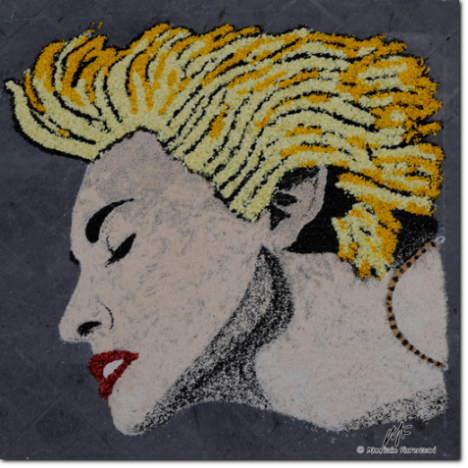 Moving to the Mugello valley, we run into another traditional event that takes place annually on the last Sunday of May: Infiorata, a colorful and creative manifestation taking place in Scarperia, a charming village famous all around the world for its high quality production of knives. On May 29, all the tiny streets and squares of the town will be decorated with original and bizarre artistic creations made up with flower petals by the local citizens, following a common theme previously arranged. Above is a creation all in petals from a past edition - amazing isn't it?
InCanti e Banchi: Antiquariato, Collezionismo e Artigianato. This local craftsmanship exhibition will be held in Castelfiorentino from May 20 to 22. There will be many stands with a bit of everything on display; visitors will venture out into another dimension in time with things, objects, practical demonstrations and artifacts reminding us of their past.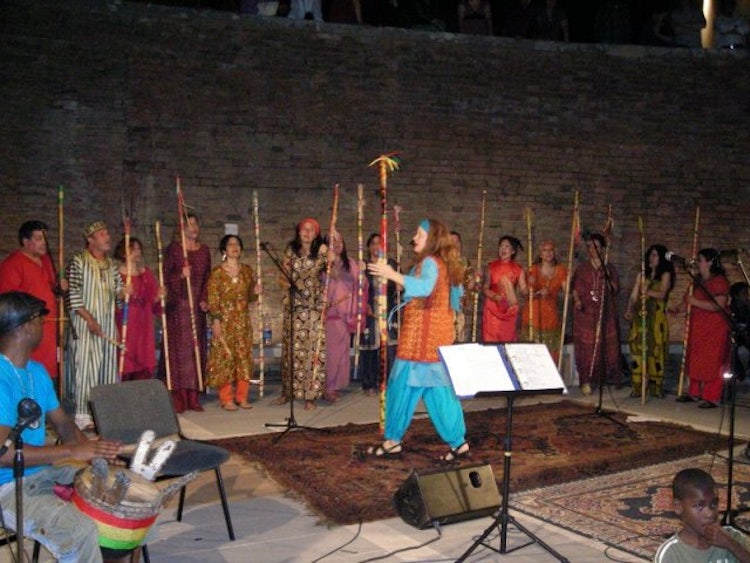 On May 10, Scandicci will be home to the San Zanobi Feast, a whole day dedicated to celebrations of the city's patron saint: a historical parade with holy Mass, a pilgrimage to the San Zanobi Cave and finally, at the end of the manifestation, entertaining games for children and grown-ups. The week before will offer concerts, sport competitions, interesting exhibits and many other events to mark the opening of the great feast.
From May 6 to 8, Dicomano will be housing the Fiera di Maggio (May Festival), an agricultural-zoological exposition where there are also craftsmen, artists and people who eagerly await this date to take part in the local competition.
And now... where to head to this May? The choice is up to you :-)