Colorful, Exciting Events Await you!
April 6, 2020 UPDATE: Since Italy continues to be on FULL LOCKDOWN, all events are cancelled. A few have been delayed and planned for summer dates but whether those will take place will be seen further on. The information on the page below has not been updated, we hope we can update for events in 2021. Stay safe!
The Tuscan countryside is filled with plants and trees in full bloom which let off their inebriating perfumes: the warmer time of the year is knocking at our door and May pays its tribute to the rebirth of nature with a lot of events celebrating the enchanting sight of parks and city gardens during this period. Here are some of our suggestions if you just want to spend some time at Florence's top gardens.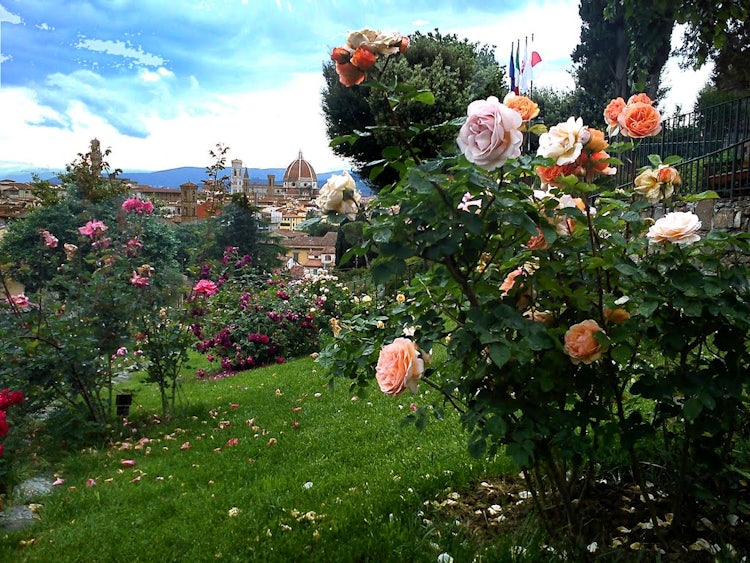 Staying outside and enjoying the days as they get warmer before they get oppressively hot is the best advice one may receive. Especially in Florence and its surroundings you'll breathe an atmosphere full of a "contagious" joy, where time seems to stand still and you'll have the chance to recover your natural rhythm of life amidst nature, enjoying the secular rural traditions of the Tuscan countryside while taking part in those events designed to spread and share the ancient popular culture of these places - that's what a vacation is for, right?
Getting back to what's going on in Florence and surroundings in May, here are our selections of what we consider some of the most important or interesting events you could take go to.
Author's Note: This article was last updated on January 25, 2020, to make sure we're giving you up-to-date info, if the dates have not yet been announced then we indicate TBA (to be announced).
NATIONAL HOLIDAYS
Italy | FESTA DEL LAVORO | May 1st
Italian Labor Day
The first article of the Italian constitution states: "Italy is a democratic republic, founded on work". Therefore the Italians have declared it a national holiday and (at least in theory) should be able to celebrate by not working ! Beware that public transport schedules will be "festivi" and not run as often as on a normal work day.
---
Italy | GIORNO DELLA MAMMA | 2° Sunday in May
Italian Mother's Day
For all of those traveling with their Mom in Florence, remember to give her an extra hug and wish her Happy Mother's Day, Italian style of course...that means a double scoop of gelato!
---
MONTHLY APPOINTMENTS:
Scarperia | COLLEZIONISTI IN PIAZZA | 1st Sunday of May
Antiques in the Square
Actually, the first Sunday of month heralds this event in Scarperia. Just imagine a stroll through this picturesque town center to find a wide range of goodies including vintage, antiques, clothing, and more, Stands are set up from 8:30 am to 7:30 pm.
---
Panzano in Chianti | APRILANTE | 1st Sunday in May
Handcrafts & Vintage
We know they call the fair "April" ante, but it really goes all year round! This monthly market in the streets of this charming town in Chianti is where you will find handcrafts, vintage and delicious typical foods and all of it this is just outside in the countryside surrounding Florence.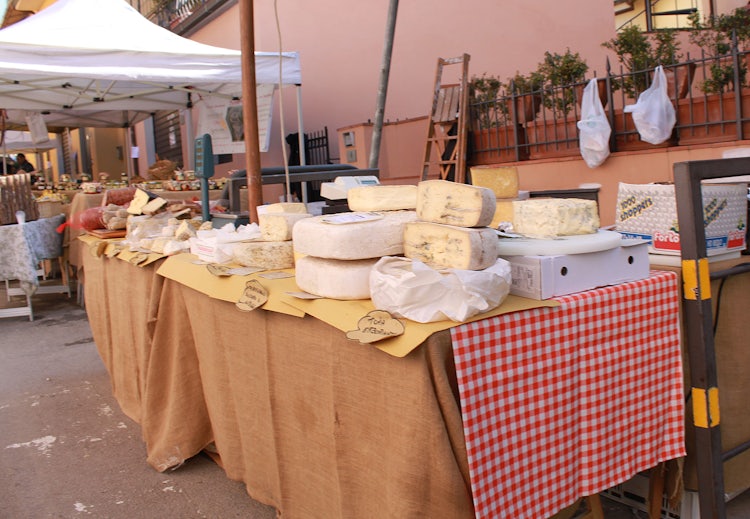 ---
Greve in Chianti | IL PAGLIAIO | Every 4th Sunday of May
Organic and Artisan Market
Piazza Matteotti is filled with locals who feature goods from their gardens, their kitchens, and their workshops. Often you will find not only great bargains but music and opportunities to do some taste testing.
---
HIGHLIGHTS IN MAY:
Fortezza del Basso | INTERNAZIONALE DELL'ARTIGIANATO | April 24 - MAY 1
83rd Edition of the International Handicrafts Trade Fair
An event which hosted the most important master craftsmen of history inside a privileged space, where tradition and innovation merge to create extremely valuable handmade products.Admire the work from famous Florence workshops, as well as remote arts which are being rediscovered both in the regions of Italy and worldwide.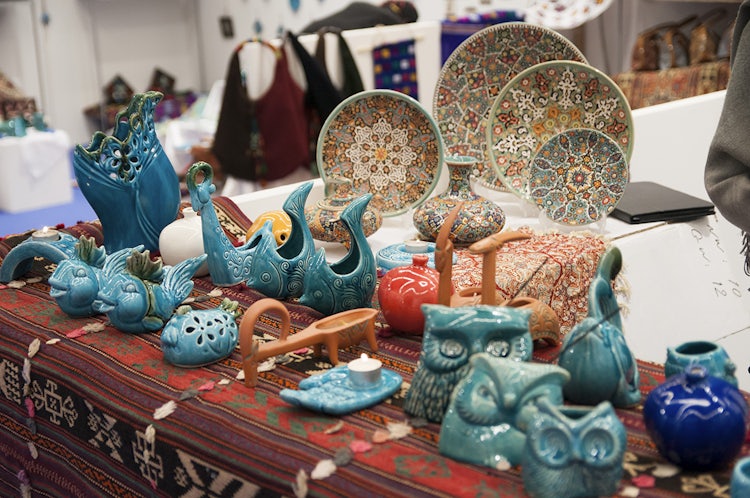 ---
Certaldo | SAGRA DEL CINGHIALE | May 1 & 3 - 5, & 10 - 12
The Delicious Flavor of Wild Boar
The opening of the spring season signals the opening of great new food festivals all over Tuscany - starting with the Wild Boar sagra in the beautiful scenery of Certaldo. Choose from a full menu which includes lots of wild game - the options are all delicious!
---
Piazza Signoria | IL TROFEO MAROCCO | May 1
Colorful Flag Throwing Exhibition
Magnificent colors flying through the air, the tapping of the drums echoing in the square and the gasps of surprise as each of the four competing groups pull new tricks out of their period customs. Bandierai degli Uffizi, Sbandieratori e Musici Città di Lucca (LU), Sbandieratori e Musici Città di Giove (TR), Sbandieratori e Musici del Palio dei Terzieri di Montecassiano (MC) will delight and amaze this year - be there to lend your support.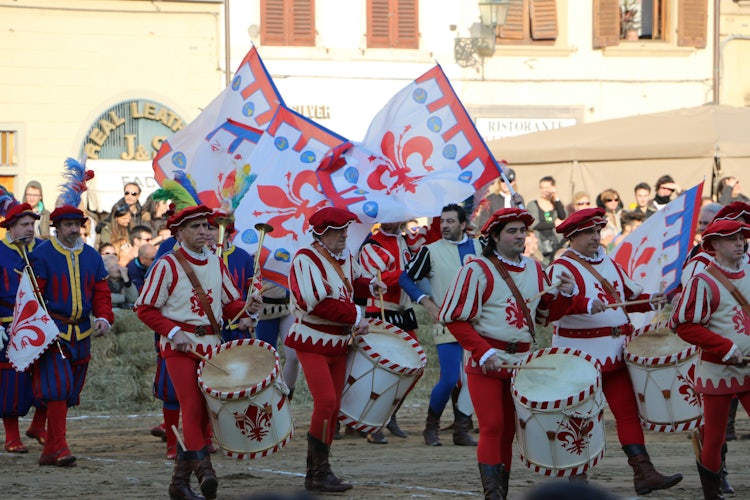 ---
Dicomano | MAGNALONGA | May 1
A Holiday for your Tastebuds
10 or 20 km of savoring local delights and antique recipes. You choose the length of road you want to hike and the little town of Dicomano will take care of the treats. Sign up for the Dicomano and enjoy a hike from DICOMANO – PIEVE DI S. MARIA – IL LAGO – FROSINANA – CASA ROMANA – PODERE MONTE – BOVANA – PIEVE S. MARIA – DICOMANO. There will be four programmed stops where you can taste cheese, cold cuts, fruit, wine, and special delights like bread soaked in wine and crusted with sugar...that will keep your energy level up for sure.
---
Pontassieve | MOZZAFIATO | May 1
A vision to behold
This town just outside of Florence, and easily reached by train, will be home to the traditional half marathon which is nicknamed "mozzafiato" - this literally means "takes your breath away". But not for the reasons you think! No sir, it leaves you breathless for the fantastic views you encounter.
---
Dicomano | FIERA di MAGGIO | May 4 - 6
Another way to appreciate the local culture through this agricultural-zoological exposition where there are also craftsmen, artists and people who eagerly await this date to take part in the local competition.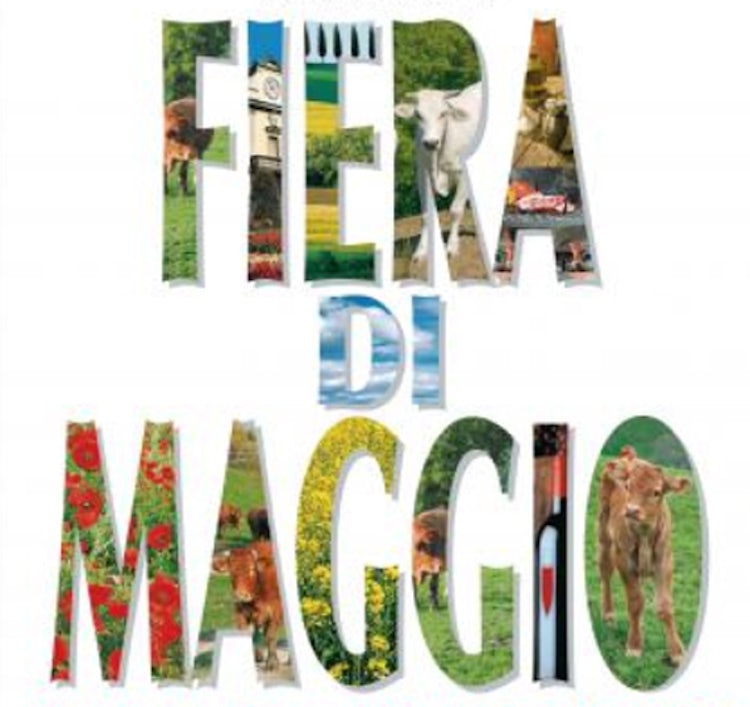 ---
Iris Garden | GIARDINO DELL'IRIS | May 6 - 11
61° International Iris Competition
The garden is open from April 25 - May 20 but the Irises don't usually start blooming until the second week of May (but of course it depends on the weather - the sunnier it is, the faster the buds will open up). 6 - 11 May is the annual International Iris Competition, which participants have been preparing for years!
Official link to the Competition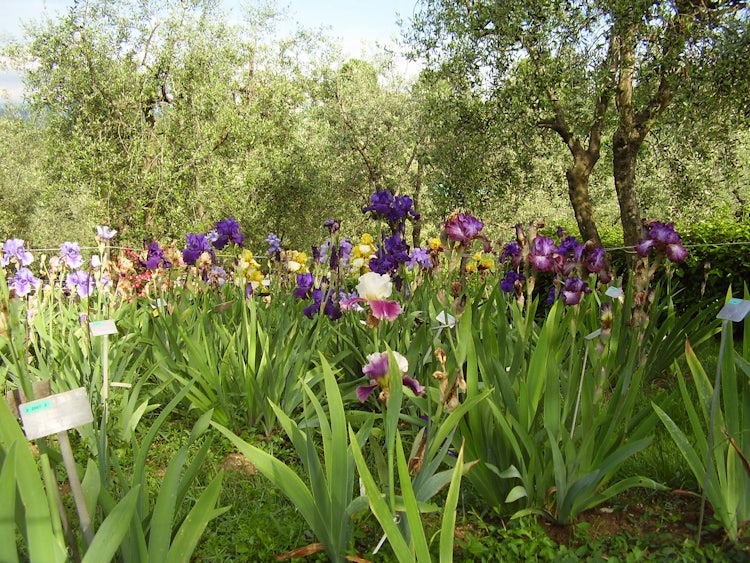 ---
Barberino del Mugello | Cantà Maggio | May 10 -13
Palio dei Rioni, a manifestation running for 4 days dedicated to entertainment, live performances, food stands and itinerant music concerts winding their way through the streets of the town. Cultural and culinary initiatives will be taking place each evening in one of the 5 contrade (or quarters) of Barberino, which will also compete against each other during the Palio in 5 different games, and in the end, a winner will be declared. On the last day of the manifestation, the May Market will crowd the town streets with stands and local products.
---
Scandicci | FESTA DI SAN ZANOBI | May 10
Saint Zenobius (337–417) is venerated as the first bishop of Florence and the patron saint of Scandicci. The town celebrates with a historical parade followed by Holy Mass, a pilgrimage to the San Zanobi Cave and finally, at the end of the manifestation, entertaining games for children and grown-ups. The week before will offer concerts, sports competitions, interesting exhibits and many other events to mark the opening of the great feast.
---
Lungarno Zecca Vecchia | DeeJay TEN MARATHON | May TBA
10 km around the City Center of Florence
Get those sneakers ready to hike through the streets of Florence and up the hills to Piazzale Michelangelo! And be ready to do it like a DeeJay! Starting at the tower called Zecca near the Arno river this path will lead you on a panoramic view of Florence.
---
Corsini Gardens | ARTIGIANATO E PALAZZO | May TBA
"Fiori d'arancio" is the theme
Throughout the 23rd edition of the exhibition, visitors discover how artisans create their objects by hand by watching them work in the small workshops erected in the garden and orangeries. The event will be held in the 16th-century gardens Corsini Gardens designed by Gherardo Silvani and open to the public especially for the occasion. The theme of "Fiori d'arancio" and wedding bells, highlights Florence as a destination wedding venue.
---
Castelfiorentino | IN/CANTO E BANCHI | May TBA
Nights filled with magic
Enchanted evenings, where many open-air theaters scattered around the ancient hamlet of Castelfiorentino, will host spectacle of magic, manifested in its many shades: from great illusions to manipulation, from transformation to the ground and to stilts to illusionism, from the Mentalism in the performing arts. A mysterious and dreamy journey into the world of fantasy and illusions.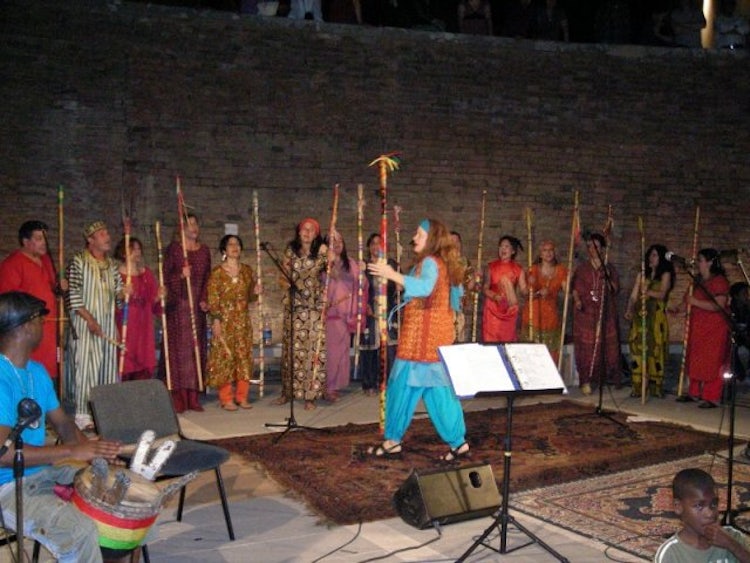 ---
Florence | FLORENCE WALKING BY NIGHT | May TBA
don't miss the chance to take part to a one-of-a-kind walking throughout the historical center of Florence: the Florence Walking by Night is an occasion to take a 5 km long and non-competitive walk through the artistic and cultural marvels of the city by night with Milena Megli, a renowned athlete. The walk starts at 9pm touring Le Murate and Piazza Madonna della Neve
---
Piazza della Signoria | FIORITA COMMEMORATION | May 23
A True Florentine Tradition
The Fiorita Commemoration takes place at the circular plaque embedded in the stones in Piazza Signoria, the very spot where Savonarola was put to death. Just as the townspeople had done the morning after the hanging of the preacher, the citizens of Florence leave flowers the man and revolutionary who ruled the Florence Republic from 1494 to 1498. The ceremony includes mass in the Palazzo Vecchio Priory Chapel, the floral tribute in the square and a historic procession that reaches Ponte Vecchio, from which flower petals are tossed into the river.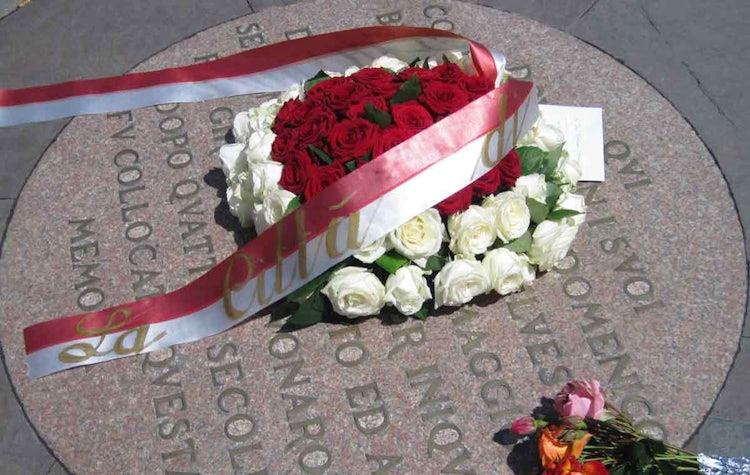 ---
Cascine Park | FESTA DEL GRILLO | May 25
music, entertainment, & food
Though the connection to the cricket (grillo) is a little vague and lost in history, there is an important "religious" interpretation which explains why this feast was celebrated on May 25, the Ascension Day. The winter cricket larva stayed underground and took flight in May, much resembling the resurrection. At one time it was celebrated today by the purchase at the Cascine Park of a little cage where a cricket was placed. This custom has lost its fascination over time, ever since 1999, when the City of Florence issued a law prohibiting the sale of crickets.
---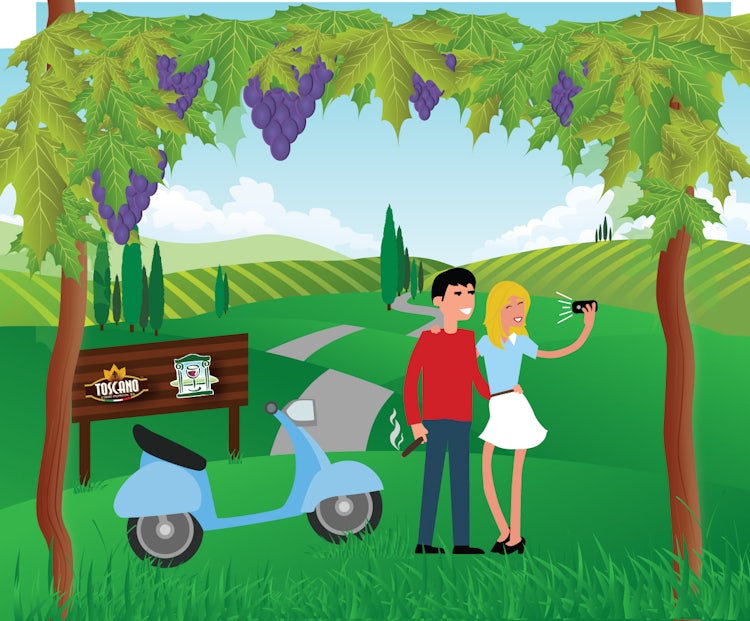 Tuscany Wine Cellars | CANTINA APERTA | May 30-31
Bring your tastebuds & wine glasses
This special event includes the opening of many famous and not so famous vineyards throughout Tuscany. Surprises in everywhere with wine tasting, food, and tours of this interesting areas. Read here for more information on this event.
Click here to find who is open
---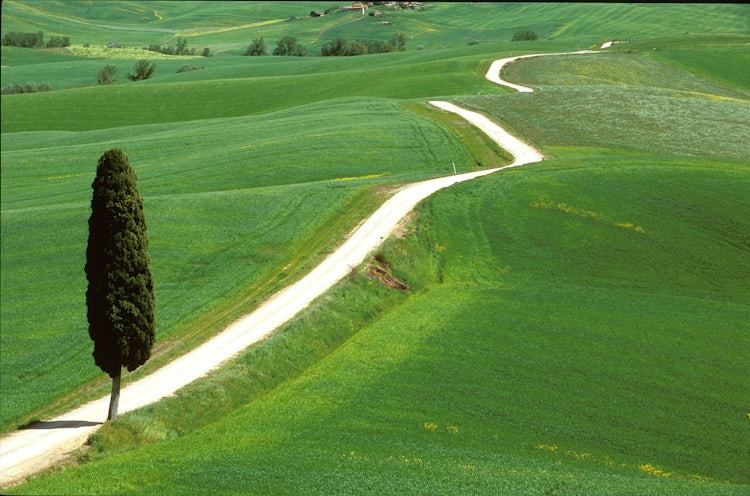 ---
Scarperia | INFIORATA | last Sunday of May
The fragrance of Spring in Mugello
The picturesque streets and squares of Scarperia will be decorated on May 27th with original and bizarre artistic creations made up with flower petals by the local citizens, following a common theme previously arranged. This year's theme comic strips in flowers.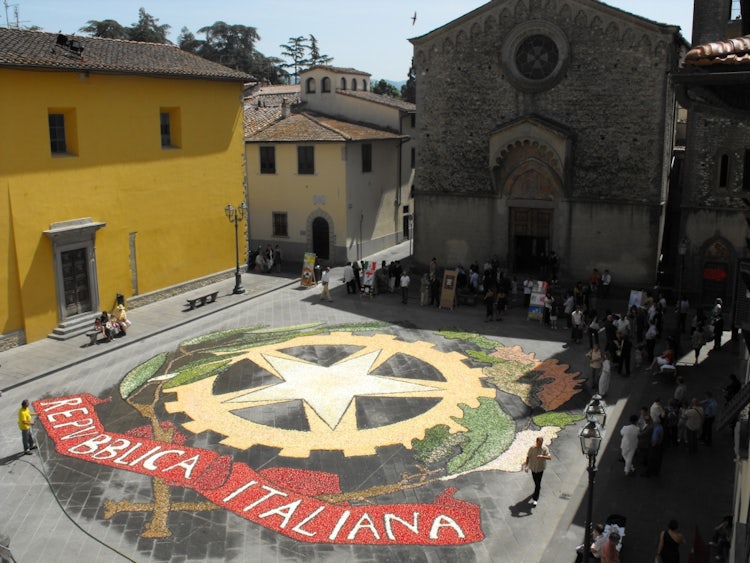 ---