This year we have FUTURA in Florence, the event with performances online, on TV and on the radio
A different New Year's Eve, that's for sure! This year there won't be music in the piazzas and dancing through the streets as we toast in the new year due to the pandemic. Florence, however, does not give up having an evening with some fun and thus the city has organized 2 special events that anyone can follow from home that include music, performances and shows for the children.
The event is called FUTURA, in homage to the famous song by Lucio Dalla. As a message of hope as we await the end of this pandemic. We must remain positive and hopeful, continuing to live as best we can in the meantime.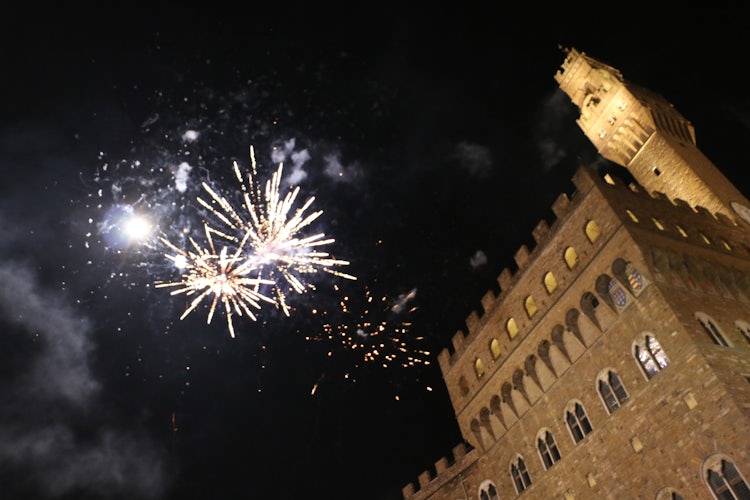 The evening will be broadcast on two different videos on the City of Florence's YouTube channel and on the local TV channel RTV38, while anyone moving about can follow the evening on radio by tuning in to Radio Bruno or Controradio.
The Children's New Year's Eve is planned for 1:30pm on RTV38 and at 4pm on YouTube Città di Firenze.
The Musical Show is at 7pm on YouTube Città di Firenze e and at 9pm on TV on channel RTV38 and on radio on Radio Bruno and Controradio
Both videos will remain on YouTube to be watched at any time in the following days.
There will always be music
The musical show, written and directed by Edoardo Zucchetti and Francesco Cacchiani, will follow the theme of the magic contained within the "magical box" of Palazzo Vecchio.
Indeed, the city landmark will be the special setting for all of the performances planned for the evening. Across the incredibly gorgeous rooms of the Palazzo Vecchio museum, anyone who tunes in to watch will be able to see the setting as well as the signers Daniele Silvestri, Ghemon, Gabriella Martinelli, along with Erica Mou. The violoncellist Naomi Berrill will play to accompany the dance steps of ballerina Jennifer Rosati, prima ballerina of the Opus Ballet, created and directed by Rosanna Brocanello. Actor Maurizio Lombardi, in the role of the magician, will guide viewers through the evening.
Magic for the kids!
The illusionist Mattia Boschi, the magician from the Disney Channel, will host the show for the youngest viewers made up of dreams and magic. An event that will focus on the spectacular, to use magic and imagination to guide our view on the past months and look ahead to the new year, full of energy to confront reality dressed up with our hopes and dreams. A show that should be fun for the kids and maybe just as much for the adults as well.

The evening is organized by the Comune di Firenze and MUS.E with the support of Toscana Energia.
Wherever you are on this planet, we hope you enjoy a great start to the new year!