Countryside between Florence & Pisa
Built to offer the best of Tuscany to the traveller looking for spectacular views, direct contact with nature and absolute convenience, La Masseria Casa Vacanze is an inviting vacation home for up to 13 persons. It was an exceptionally hot late spring day when I met up with the owner and your hostess, Saida Robucci, but you wouldn't have guessed with the cool breezes that greeted us on the hilltop — which were more than welcome.
Perched on a dominant hill in the countryside between Empoli, Chianti and Florence, the fields surrounding the three vacation rental apartments were already light gold in color, ready for the grain harvest, and you could see the green gems of the next crop peeking through the neighbouring fields.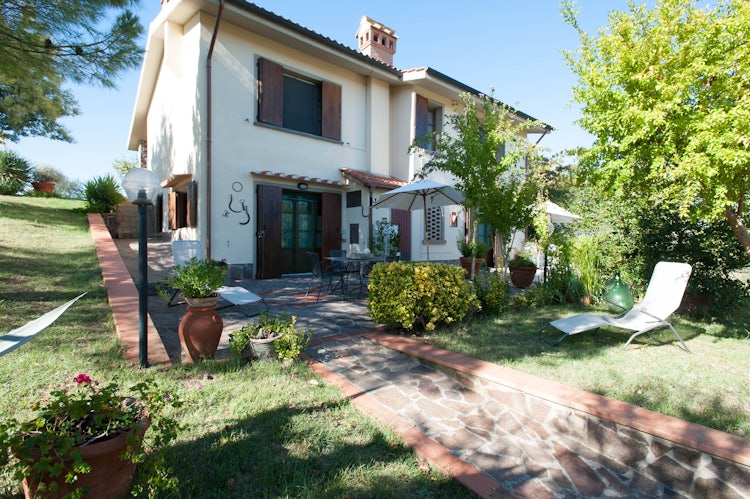 Book Direct with La Masseria Casa Vacanze
Montelupo, Empoli and Pistoia were all visible in the skyline, as were the vineyards and olive groves of nearby farms. The pool a green oasis, was tempting me to come dip my toes in the crystal clear waters. I resisted the urge however, and sat down on the covered terrace where I could easily envison the family enjoying a Tuscan styled picnic of fresh mozzarella, home grown tomatoes and fragrant "basilico".
Instead of this delicious local fare, I started to quiz Saida because my curiosity was on fire! Normally anyone who chooses such an enchanting position, and builds "ex-nuovo" (brand new) a home like this, isn't thinking about future guests but of their own retirement — so I was curious why her father created this paradise to then to share it with others.
Somethings are Destined to be Beautiful
A Review of La Masseria Casa Vacanze
We loved: family oriented atmosphere & absolute tranquilty
Ideal for: families or groups looking for privacy yet space to stay together, perfect for exploring all of Tuscany
It was just too beautiful a place to keep for oneself. My Dad has his origins in Naples, as you can tell by the name of the vacation home, La Masseria which means farm buildings in the south. But when he found this hill top, the olive trees and the views, he fell in love with it and just knew he had to share it with others.
I can see his point, the fenced in property protects just about 4000m² of prime Tuscan land, with priceless panoramic views. The three apartments, which are commonly rented as a whole to small groups or two or three families travelling together, might not be an antique property but they do boast an elegant and gracious decor with the modern accessories that will make your holiday comfortable and memorable.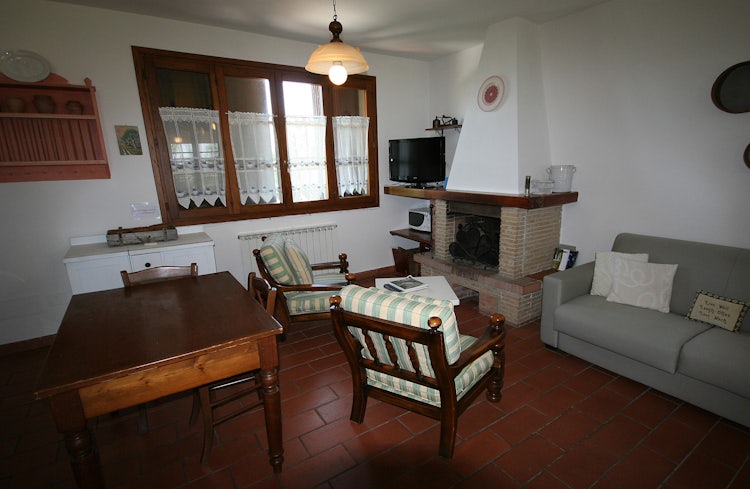 The light and neutral colors that made up the overall color scheme at La Masseria accented the practical interiors and are easy to keep clean and organised while on vacation. Divided into three independent apartments with private terraces, the accommodations share a pool less than 20 meters from the vacation rentals.
As we sat at the lovely garden table, I was able to admire not just the unencumbered view of the valley, but also the bright pre-summer blossoms and the beautiful manicured gardens. Saida explained, that though they were a bit late this year, her father enjoys keeping a small veggie garden for the guests.
Home grown tomatoes, zucchini and basil are just as much part of the Tuscan landscape as small hilltop towns, the leaning tower of Pisa and the art museums in Florence. My Dad has quite the green thumb, as you can see by the gardens, and we have yet to see someone turn down fresh picked veggies!
In addition to the goodies from the "l'orto" there are serval fruit trees on the property which come into season at various times, providing more sweet Tuscan flavours for their guests.
Enjoy Tuscan Outdoors
I would definitely say that the garden area surrounding the pool is the crowning jewel of the property, loaded with colorful flowers and shady trees. The fenced in pool area is divided into a swimming and water fun section and an outdoor "salotto" with ping pong and games. It is here you can prepare a Tuscan style BBQ, enjoy a meal outdoor or spend some time relaxing and soaking in the sounds of Tuscany, which may include the occasional tractor, a few birds that have a nest nearby and in the summer the cicada's song, who let you know that in the valley it is hot.
But you wouldn't know that, because the position affords you an excellent opportunity to catch all of the cool breezes. The grounds of La Masseria benefit from the solar position, however, Saida's father knowingly planted several trees that have grown into the perfect shady areas protecting the vacation villa rental from the warm and ever present Tuscan sun.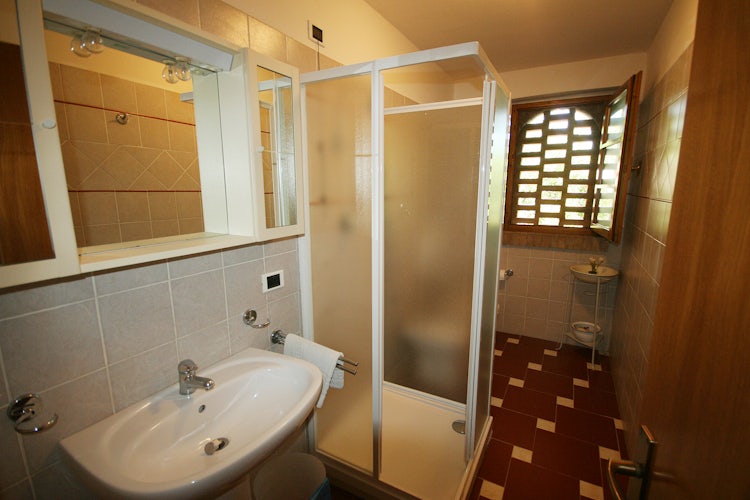 La Masseria Casa Vacanze in a Glance:
Type:3 self catering apartments or an independent villa rental
Location: Empoli, 7 km (11 min)
Distance: San Gimignano (40 km) & Pisa (45 km)
Transport: a car is necessary
Sleeps: 13 total
Type of board: no meals
Four Holiday Options
The vacation home is divided into three completely independent apartments, which can be rented out separately. However La Masseria lends itself to groups travelling together; one large property offering space and privacy for everyone yet ample common areas where the entire group can assemble for meals and activities. Thus there are four ways to use the property: as three independent holiday apartments or as one free standing villa. Family reunions, or friends travelling together can be assured privacy with separate entrances, each with a full kitchen, WiFi and Sat TV.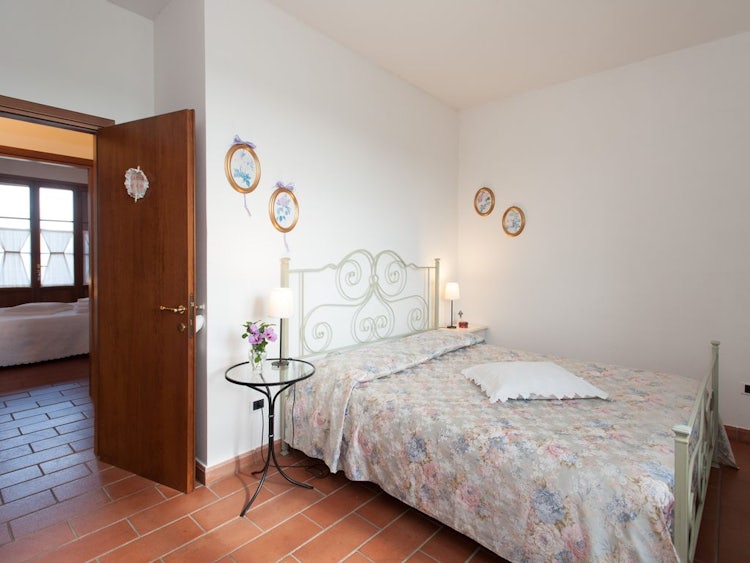 Apartment MASSERIA - The largest of the two, with two bedrooms, two bathrooms a large area dedicated to a formal dining room, living room (with sofa bed) and kitchen. Great covered terrace!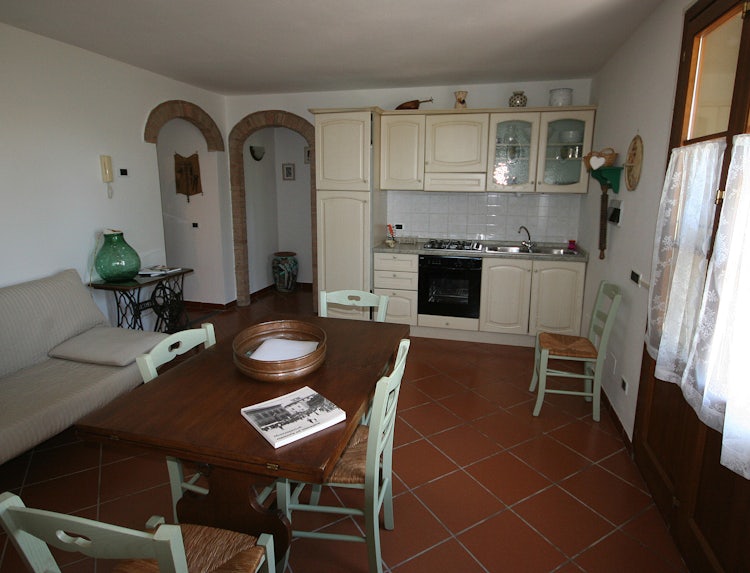 Apartment MULINO A VENTO - The entrance is located on the opposite side of the house and boasts a bedroom with bathroom and shower, and a bedroom with a single bed, ideal for a child. The main entrance is dedicated to a dining room, living room and kitchen. Shady private patio.
Apartment LA MEZZANA- The smallest of the three, with two bedrooms, one of which is a single, suitable for a young child. A bathroom with tub and an area dedicated to living room with sofa bed and kitchen. A shady corner of its own with table and chairs.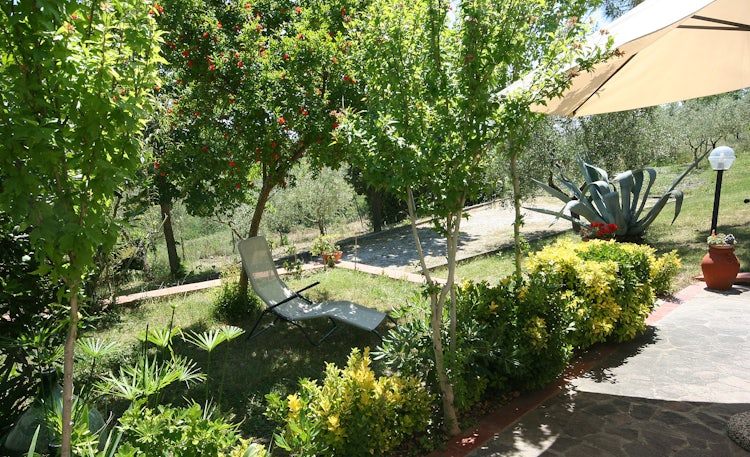 A Tuscan Adventure
Besides the inviting pool area, the delicious gardens and the well proportioned apartments, La Masseria commands an excellent position for those looking to explore the fascinating towns, museums and landscape of Tuscany. Centrally located close to Pisa and Florence, only a short distance from a major highway, you can program day trips with the car or public transport almost every where.
A day to the Accademia in Florence to see David, a trip to the coast to dip your toes in the medieterrian waters or go south my friends, and visit the vineyards of Chianti, Montalcino and Montepulciano. But donn't forget to ask about their family produced olive oil!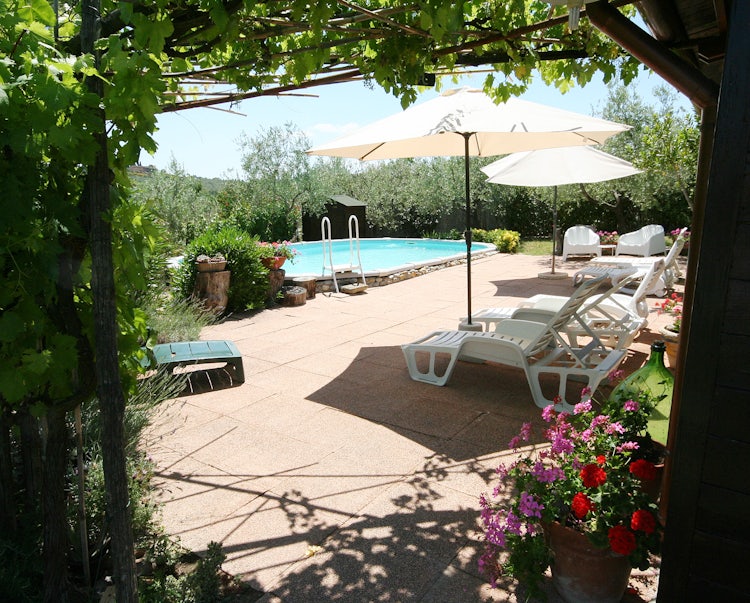 Though it really isn't necessary to go too far to enjoy the singular personality of the Tuscan region. There are several close by towns, shops, restaurants and monuments to explore near the holiday rentals; between relaxing poolside and adventuring forth on some site seeing you will find that the La Masseria is a great base for your holidays.
In addition you couldn't ask for more attentive hosts, who have made it their personal goal to know the area and help you get the best of the best. Saida was quick on the draw with a few local restaurants and their "piatto forte". Her husband, Francesco, has quite a few itineraries that include the local vineyards. You can either get details from him, or take advantage of his services as a private driver, and let him navigate the Italian roads and cantinas.
I like what I do, working with guests who have come to Tuscany to learn about our culture. Sometimes I can offer them something new, and many times the guests come home and surprise me with a new corner of this large region to discover.
Though Saida does not live on the property, her home is only minutes away and she is always available to assist with itineraries, tickets, or explanations about the area. When she isn't helping her guests at La Masseria, then she can be found at the local tourists office surrounded by maps, local destinations and helpful ideas.
Family Style Vacation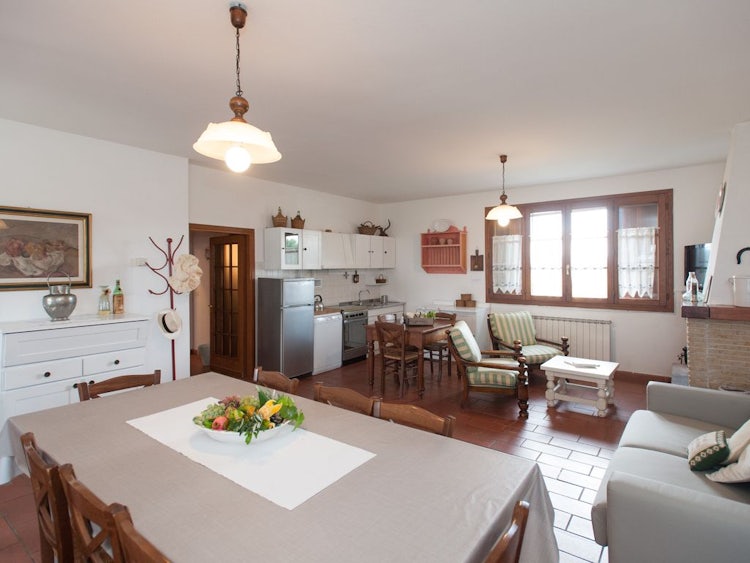 When her father, born in Naples, built the guest house, he had a vision that this part of Tuscany would be popular - he saw what, he was sure, others would see when they stepped onto the hillside — the uncontaminated beauty of Tuscany. The family has worked to create a special oasis in their own private corner of Tuscany with clean and comfortable accommodations close to all of your favorite Tuscan destinations. Plan your next vacation in comfort, relax and convenience here at La Masseria with Saida and her family.
Reserve Now at La Masseria Casa Vacanze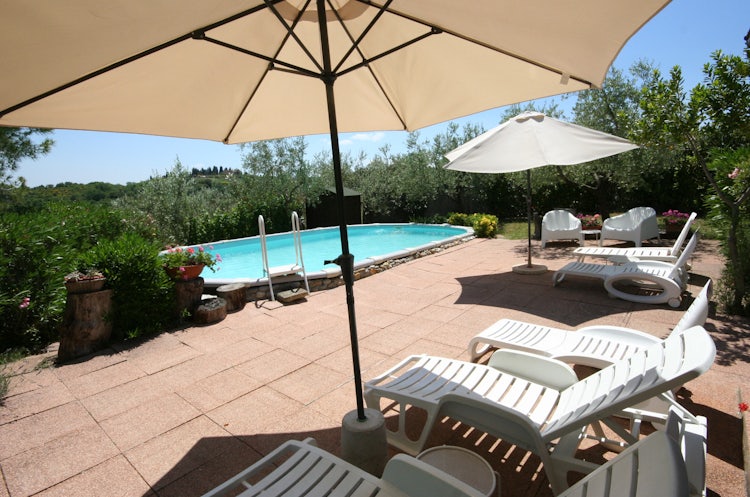 This is a Sponsored Article but reflects the honest opinion and experience of the author. More details »