Getting around on two wheels
Moving around Florence on a bike can be an adventure! There are many Florentines (including me!) who use bikes as their sole means of transportation, so you would not be alone. However, you do have to be very careful as it's the motorists that can cause problems, near misses or accidents as they try to pass around you or cut you off to make a right turn right in front of you! It has happened to us countless of times that is why we warn about these specific behaviors.
If you will be in the historical center of Florence, getting around by bicycle is very practical as many areas are closed off to motor traffic. As long as you're willing to take the challenge of sharing the road with cars, scooters and pedestrians, then you should rent a bike while you are in Florence and have fun!
There aren't any bike paths within the historical center, you'll have to go along the main streets along with everyone else. However, if you intend to move outside of the center, it would be convenient for you to first check out the map of the bike paths from the Florence's city council website.
Follow the rules!
There are over 90km of bike paths in Florence, with plans to add another 20km by 2020, but the majority of them are outside the city center and along the Arno (away from Ponte Vecchio). If you're an urban cyclist back home, then you already know that you need common sense as well as a general idea of road rules to stay safe!
In particular, we have to point out the Florence's city hall has decided that cyclists are not allowed to go down one-way streets in the opposite sense even though it is common in many other European countries. Previous administrations had tried to work out a system to identify streets that were wide enough to be "safe" for cyclists to use in the opposite sense of direction but current rules have decided finally 100% to not allow cyclists to do so at all! So pay attention where you are, especially in the city center, and follow the flow of traffic. If caught going in the wrong direction, fines are around 41 euro. Residents are not happy: many one-way streets make getting down one block a long and tortourous trip, many times going around and around. The solution: get off the bike and walk the part in the opposite direction to get to where you are heading a bit faster.
The city plans by 2020 to add another 1000 bike racks to the city, for now there often isn't a place to park bikes. Do not park them along sidewalks where they block pedestrians! Try to find a bike rack and park there or nearby. Also, get down from the bike to cross along crosswalks, don't ride on them.
"Mille e una bici" Bike Rentals
"Mille e una bici" is a program run by the Florence City Council to encourage the use of bicycles in Florence. For details, visit the official website. Details are only in Italian but the cost and locations are pretty clear to understand.
Bikes can be hired at the following points:
Central railway station (Firenze SMN)
March-October: Monday-Saturday 8am-7pm, Sundays in June-September: 9am-7pm
November-February: Monday-Saturday 10am-5pm
Piazza Ghiberti
March-October: Monday-Saturday 9am-6pm
November-February: Monday-Saturday 10am-5pm
RATES
Tourists: 1 hour - € 2; 5 hours - € 5; 1 day - € 10
Residents in Florence and province (as well as Customers of public car parks)
1 hour - € 1; 1 day - € 3; 1 month - € 22 (Monday-Friday)
You can also rent bikes for more days.
Mobike Revolution Bike Sharing arrives in Florence
Read about the recent arrival (August 2017) of Mobike to Florence: bike sharing through an APP that does not require you to go to a specific spot in town to rent a bike. Just pick up bikes from wherever you find them, parked across the city.
For now, while Mobike sounds super convenient, note that only Italian mobile phone numbers can download and activate the APP! We've been in touch with Mobike (October 2017) and been told that it should be possible for international numbers to use the bikes in Florence. So for now, make note of the bike sharing program you can use listed above.
Getting around by motorbike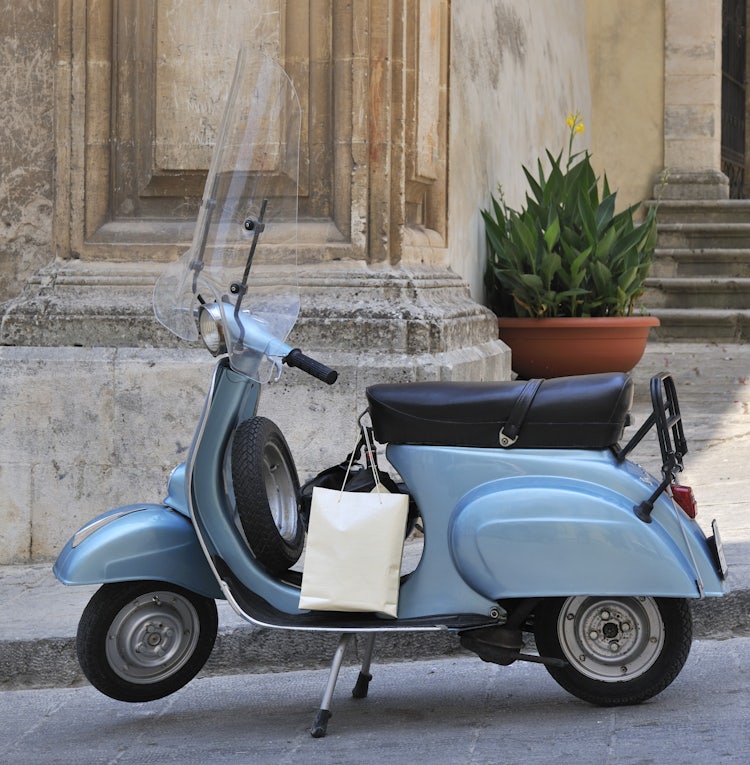 We strongly recommend to consider renting a scooter or a motorbike only if you have prior experience! If you wish to visit the city center, we recommend a bicycle rental as Florence's city center is mainly a pedestrian area and scooters/motorbikes are not allowed on those streets of the historical center (although they can be used within the ZTL area without a permit).
Scooters and motorbikes are perfect for visiting the areas outside the city center and the surrounding hills in Florence. In order to rent a motorbike or scooter for a day or two, you will need to show your passport, a valid driver's license and provide a credit card. A helmet is obligatory.
You can also rent a Vespa to do a panoramic tour of Florence here or a Vespa to tour the nearby Tuscan hills here. Take a look at other Vespa tours you can do in and from Florence into Chianti and Tuscany here.