In 1287, with a decreto (decree) of the Florentine Republic, Piazza of Santa Maria Novella was to be created and given to the Dominicans for decoro, or decorum and ornament, as the new church of Santa Maria Novella was being built. Right away, the piazza became theater to festivals, tournaments and other contests. The two obelisks of marble from Serravezza, each one sitting atop four bronze turtles by Giambologna and topped with a Florentine lily, were the "goals" for the "Palio dei Cocchi".
On the side opposite the church, the Loggia of the San Paolo hospital was built at the beginning of the 13th century. In the second half of the 15th century, the hospital was enlarged given the need there was for hosting pilgrims and taking care of the sick. The arches between each column have round glazed terracotta reliefs of saints by Andrea della Robbia. The lunette shaped relief of The Embrace between St. Dominque and St. Francis over the right portal is also by Andrea della Robbia. The hospital no longer exists today - it is now the home of the Novecento Museum, a museum dedicated to contemporary works of art in Florence from the 19th century to today. Now you also know a little more about the building's history.
Today, several elegant hotels and restaurants overlook the recently cleaned and renovated square, from which you can enjoy a splendid lunch or dinner with a view of both the Santa Maria Novella church and its square not quite square shaped. Some interesting metal and glass benches were installed in the middle of the square with the renovations, quite useless on hot summer days as they get burning hot! Maybe it was the intention... ? ;-)
Interested in a hotel in Piazza SMN?
Want to stay in Piazza Santa Maria Novella with a great view of the square or rooftop view of Florence? Here are a few suggestions of hotels you can book online that overlook the square of Santa Maria Novella.
At number 16 in Piazza Santa Maria Novella, the Grand Hotel Minerva offers a spectacular terrace from which you can admire all of Florence.
Book your room now »
At number 24, the Hotel Orologio offers comfortable rooms, each floor dedicated to a different watchmaker brand. Marble bathrooms and excellent views over Florence.
Book a room at Hotel Orologio »
View photos of Piazza Santa Maria Novella »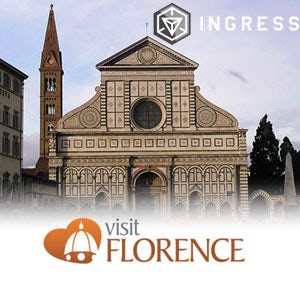 Are you playing Ingress by Niantic Labs @Google?
When you play our mission in Piazzale Santa Maria Novella, you'll earn our badge!