February is the Month for Romance…
And in a city where romance is practically taken for granted, sometimes you might need a little help or some pointers on how to make the most of the elements that are always present and some events which are new this year.
If you are going to be spending the romantic month of February in Florence here are my suggestions for adding a bit more romance (with a capital R) to your itinerary.
Flowers – Always a good start
One of my favorite floral corners is right next to the newly restored Loggia del Pesce in Piazza Ciompi. It is a little outdoor kiosk with a colorful bunch of blooms always on display. No need to get a full bouquet, just stop by smell the roses (so to speak).  If you are inspired, maybe pick out one bloom that will accent the outfit of the day.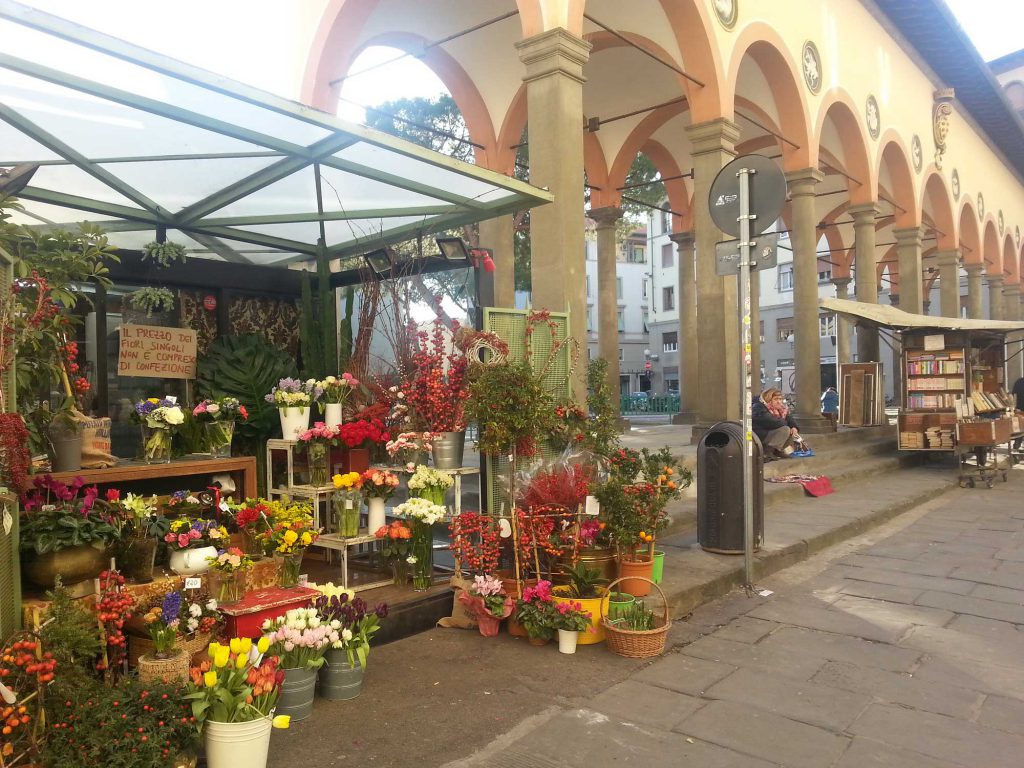 The Market at Sant'Ambrogio
Not far from my floral corner, you can stroll through the fresh flavours of the season. Both inside and out of the market will offer a great selection of typical Florentine smells, specialties and treats. A favorite is one of the cheese stands right on the corner across from the frozen goodies. They are friendly and offer tasting samples.  I always like to indulge and buy something to munch on later…
Take a Bus Ride
From the market of Sant'Ambrogio, you can walk two blocks towards Piazza Beccaria to catch ATAF bus number 13.  This bus ride will take you up to the picturesque square of Piazzale Michelangiolo. I encourage you to walk down the hill taking in the crisp air, the fresh scents and the skyline as it changes with step towards the city below.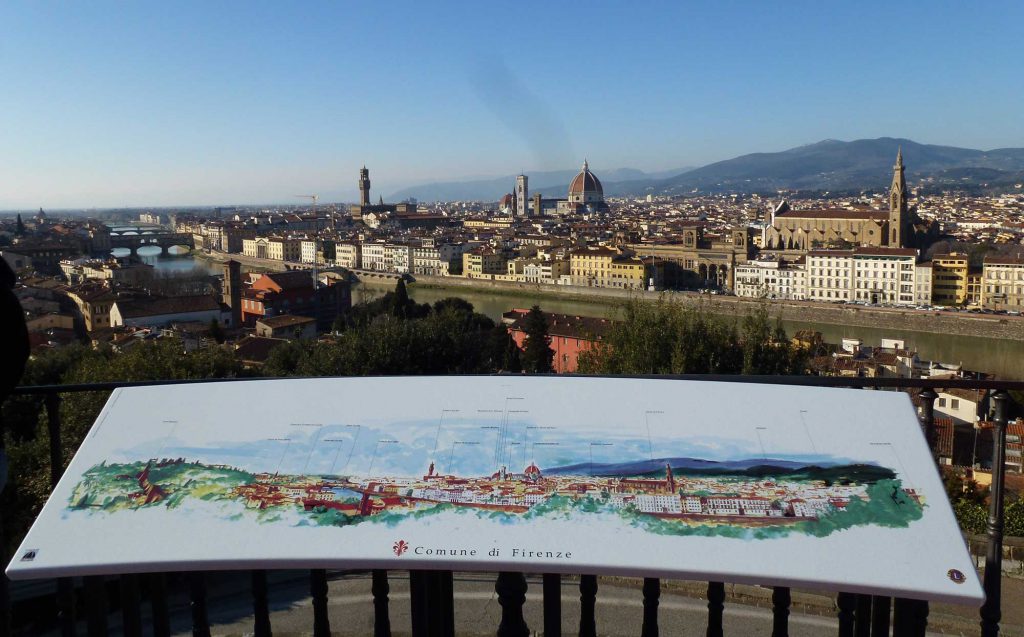 Sweets for your Sweetie
Be sure to pass through the Piazza of Santa Maria Novella.  Why? Because in this picturesque square you will find the FIERA DEL CIOCCOLATO from the 10 – 19 of February.
And what says "I love you" more than chocolate???
50 shades of Art
A mix of color, shapes and bling with the master of eroticism.  This would include a visit to the multimedia exhibition of Klimt.  This is evocative show will make the the art work pop and bring you closer to appreciating the Austrian artist.
There are several exhibits open during this period – choose one from our updated list of exhibits.
Quality Couple Time
Not into the classical art scene (and are looking for some quality "couple time")?  Then head over to the Asmana Wellness center, one of the largest wellness, spa and heated pools in Florence.  This is the place to take part in aromatherapy, saunas, hammams and more.  You can even include a light lunch and a snuggle on the swinging chairs in the Nido Room. (check out our discount coupon on this page.)
A Classic Tradition (in Italian)
A movie with your sweetheart is always a classic date night…and in Florence you can enjoy the big screen in original language at the Odeon. This is a fabulous setting with high gilded ceilings and comfy velvet seating…it's worth it just to relax in the beauty of this theater.
Are you a music lover?
Book a ticket for the opera, or a concert at one of the many theaters in Florence. These elegant and suggestive environments will add the allure of romance to your adventure. In particular, Teatro Verdi is opening its doors on the 14th of February to honor Andrea Tacchi, a talented musician who passed away just recently. They will feature a program of the classics (Mozart, Haydn & Mendelssohn) makes for a lovely evening.
Walking Hand in Hand
And what would a romantic evening be like without a stroll through the city vias or Lungarno where you can see the streetlights reflecting in the water. Maybe a bit of stargazing, looking for constalleation "Leo", the harbinger for the first signs of spring in the stars and planets above.
Create your own magical fireworks in Florence.  Be sure to let us know where you found romance during your stay in city.